Note: The east end is is anything east of Yonge St/Parliament. For the purpose of this article, we're discussing location as it relates to real estate investment. This is not a discussion about where you should move to next.
Okay, so before you start berating me with tweets about your beloved Toronto neighbourhood, I'm going to preempt this article by saying personally, I'm a west-ender but I also own 6 properties on the east end.
I think it's flawed logic when agents — or anyone for that matter — gives advice on which area of Toronto is the best place to invest or is going to see the highest growth because really, there are duds in every market. It's actually about what product you're are buying and why you think it could make you money.
"Don't be fooled, just because it's a great area doesn't mean it's a great investment."
You need to ask questions like:
"Is there new infrastructure?"

"Is there easy access to transit?"

"Where is the retail located?"
Retail is important because I believe this is a big signifier of a lusted after— or soon to be — neighbourhood. People want to be in walking distance of restaurants and shops so I'm a big proponent of buying near retail. The Junction, Roncesvalles, Parkdale, West Queen West, Dundas West, King and Queen West are all examples of areas with a myriad of established retailers.
Also to be considered is gentrifying neighbourhoods. You should ask questions like:
Is the area sandwiched between two other neighbourhoods that are already desirable?

How long before this area can catch up to the others?
Is it feasible to think the area will gentrify?
"There are opportunities — great opportunities at that — on both ends of Toronto for significant growth in 2017. My favourite areas are Trinity Bellwoods, Roncesvalles, The Junction, central King St, Corktown, Riverside and Leslieville."
East or West
Currently, there is more hype around the east. There's simply more planned infrastructure, new developments and architecturally significant projects in the east end. In general it also tends to be more family oriented, but that still varies from neighbourhood to neighbourhood. Closer to the city core, between Yonge and Parliament, there is more development with a younger vibe. As of late, the east end has seen more growth in the condo market. But there are far fewer buildings and therefore less inventory that comes up on a regular basis.
"What I love about the east end is that for the most part it still consists of small independent retailers, not big box stores and chains."
The density in the west end — for the most part — resides in the buildings that I hate and would never sell. Yes, you heard me right… I avoid buildings that I don't believe are good investments for my clients. If I wouldn't invest in it, neither should you!
The west is established, upbeat and a bit more expensive. It tends to be less family oriented, with greater entertainment options. It could be said however, that some of the neighbourhoods in the west were horribly developed. My candid opinion, architecturally some don't reflect our vibrant city vibe and look as though they could have been designed by a first grader.
Download our free guide to learn how you can retire on $10MM through real estate
What's Up In The East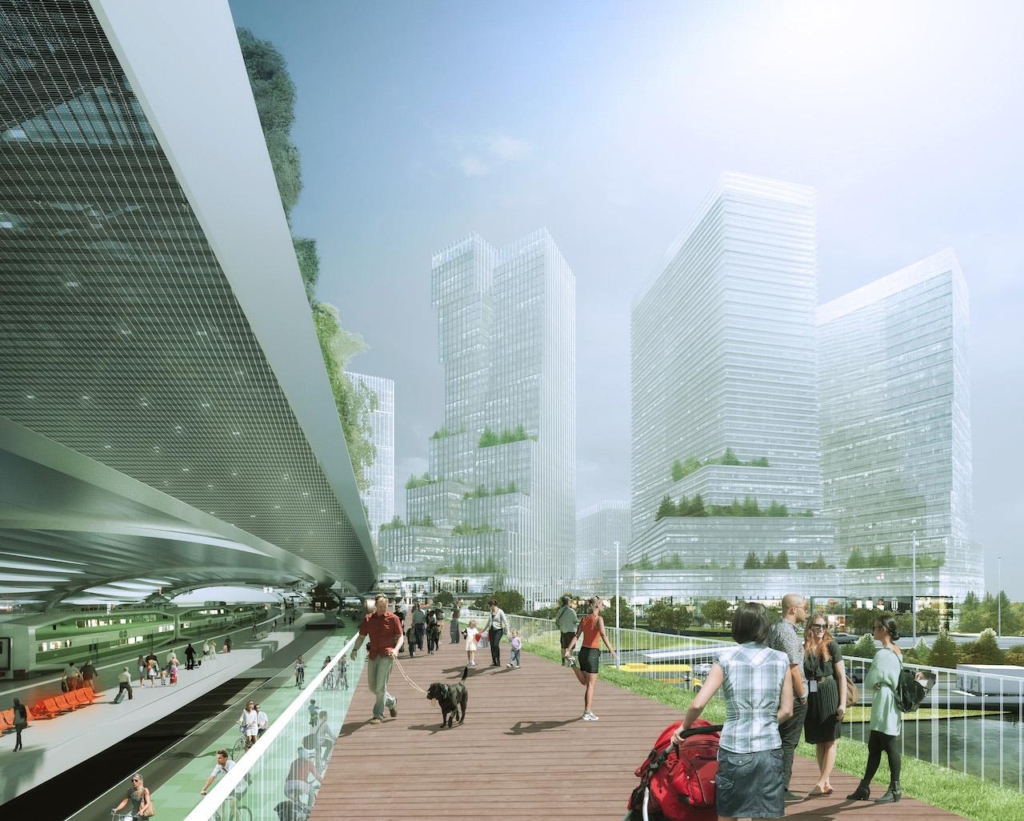 Photo Credit: Urban Toronto
Obviously it's the East Harbour development at 21 Don Roadway! It's the the largest commercial land development currently underway in Canada. Once complete it'll cover 12-million square feet, add 70,000 tech jobs and have a unique mix of office and retail space. It'll add two subway stops and by 2023 you can expect a railway station. Expect East Harbour to be a development catalyst for critical Toronto infrastructure.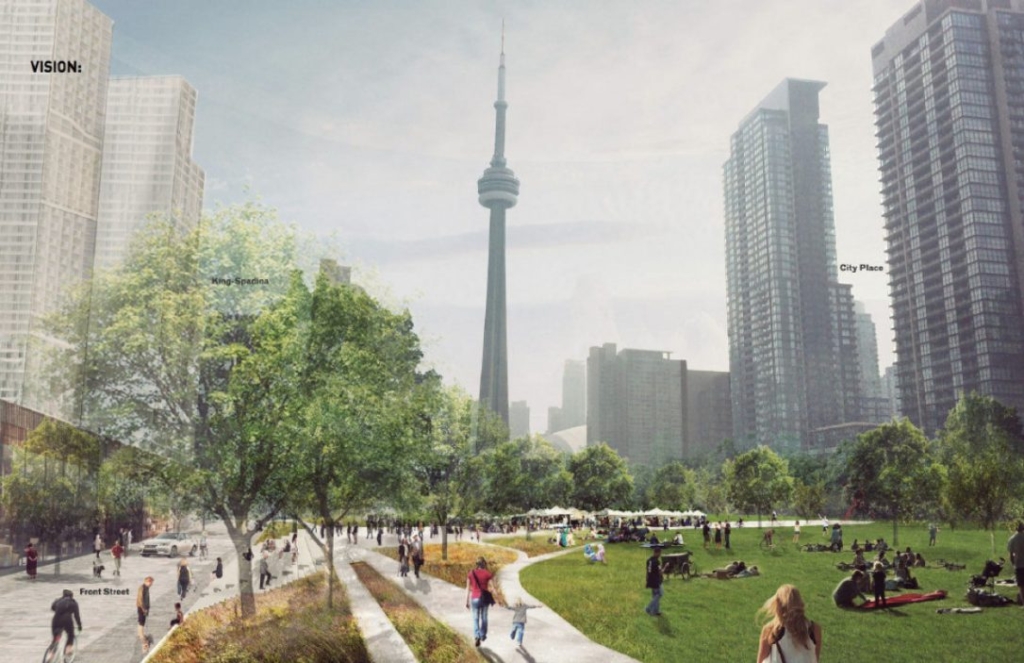 Photo Credit: Toronto Star
Definitely the Rail Deck Park atop of the Gardiner. The City of Toronto plans to create an 8.5 hectare park that will cover the railway tracks between Bathurst Street and Rogers Centre.
This ambitious and exciting project has the potential to catapult this area into a standout Toronto attraction. No timeline or cost for the project as of yet but with City Place's sh*tty towers, this park is a god send for its investors. Let's cross our fingers and toes that Toronto actually follows through on these ideas!
How I Answer the Where to Invest Question
I'm a big fan of investing in specific buildings vs. overall neighbourhoods. Generally speaking I'm a fan of smaller developments. I typically fall for mid-rise boutique buildings that don't have a ton of units. They are simply put—special. They come up on the market less often, so finding a product that is desirable and will continue to be sought after in the future is one of the ways you can protect your investment. I know it can be argued that that's everything in Toronto when the market is great, but if the market turns, a desirable building will better weather the storm.
I also prefer anything on a major road. They tend to have great access to transit, have great retail and make it easier to commute in and out of the city. For example, DNA in King West sells for more than Liberty Village.
My favourites in the West include Robert Watson Lofts, The Candy Factory, Art Condos, 66/75/156 Portland.

On the East end, you've got the Broadview Lofts which is my favourite building in the entire city (we just sold a unit here for WAY over asking – see the property here). I also love 90 Broadview, The Carlaw, Flat Iron, Work Lofts and 318 King St. E. The King strip east of Yonge is a hot one to watch because once the new East Harbour development is complete, there will be an influx of jobs to the area. Since King is a main street and close to retail it will undoubtedly boom.
For me, I don't care if you purchase with developer A or developer B. My job is to find you the property that will have the highest margin. I want to help you build your wealth exponentially and create a relationship for life. So that when you're ready to re-invest — and you will be — that I'm your go-to person. If you are thinking of investing in real estate signup to be notified about my opportunities to invest in Pre-Construction condos. I've got some great buildings at an inside price on the horizon. Signup as an Insider and never miss an opportunity here.