This week we're taking a slightly different approach to last week's blog post about how we can make the most of single-use urban structures like bridges and in this case, overpasses. The Bentway, an exciting project currently underway, aims to maximize the empty space below a section of Toronto's Gardiner Expressway.

The Gardiner has been quite the hot topic in the news over the past couple of years because it's quite literally falling apart. When Toronto City Council announced that they were committed to rehabilitating the Gardiner, Judy and Wilmot Matthews generously donated a whopping $25-million to renovate the surprisingly beautiful vacant space below the expressway. While it's common for institutions like schools and hospitals to receive charitable funding, The Judy and Wilmot Matthews Foundation have made several donations over the years with a focus on developing and improving public spaces around the city.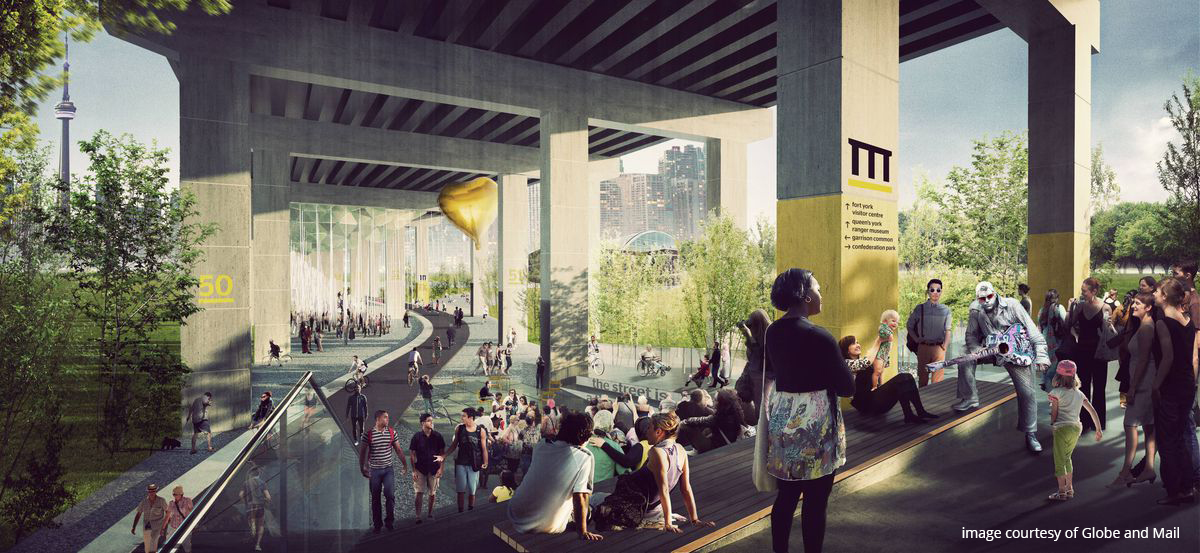 The name for the Bentway, which was put to a vote over a 3 month period, comes from the bents which are the column and beam structures that support the Gardiner and, in essence, frame the space below. The plan for the Bentway, which kick-started in March 2017, is to develop a 1.75km route below the Gardiner Expressway into a multi-use trail that connects seven Toronto neighbourhoods: City Place, Wellington Place, Bathurst Quay, Fort York, Niagara, Liberty Village and Exhibition Place.
With its proximity to these seven Toronto neighbourhoods there's said to be about 70,000 people within a ten minute walking distance of the trail. Book-ended by Strachan Avenue and Spadina Avenue and following the original shoreline of Lake Ontario, the Bentway will connect and engage communities by offering year-round activities and events. They've even instituted a new not-for-profit organization, The Bentway Conservancy, which will be the administration behind the space. "The Bentway Conservancy is a respectful steward of this unique public space, committed to accessibility and openness, while cultivating a culture of discovery and community participation." [1]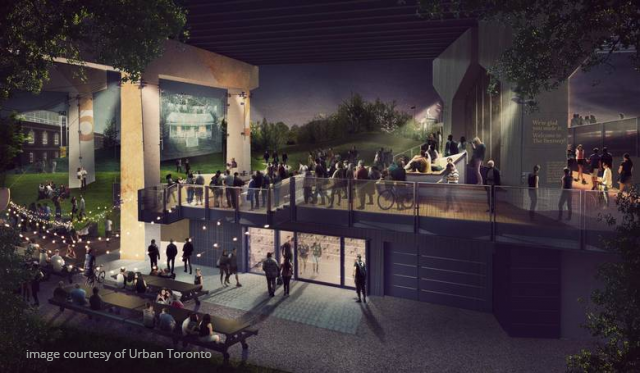 (Updated July 23 2018)
Urban designer, Ken Greenberg, in collaboration with Public Work, successfully designed the trail that offers people a new way to move through the city. Showcasing the sections along the path as urban "rooms", this 5-storey underpass houses recreational amenities, a skating rink + building, gardens, theatres and more.
The first phase, which opened in December, includes a lawn amphitheatre with seating for 500 extending from the Fort York Visitor Centre, a skating trail building and an open performance space with bleachers to seat 250 people at Strachan Avenue. In early 2018, the smaller (though extensive) details such as lighting, furnishing and remaining landscaping were completed and different phases of new art spaces and park infrastructure have been rolling out all year. 
Despite having one of the coldest winters in recent history — or so it seemed — there were many brave souls that took advantage of the Bentway's kilometre-long ice rink with weekly events and DJs setting the vibe for each skate. Those who live in the immediate area could even opt to skate to work if they were so willing.
There are seasonal events taking place at the Bentway as well. From January through to March there were a series of different art exhibitions and installations and workshops, including pop-up skate instruction.
This summer they are celebrating skateboard arts and culture from June 30 through to August 2, turning the ice-skating rink into a skatepark. They kicked off the celebrations on Canada Day weekend introducing a new art installation that features skateable sculptures. Throughout the summer they will also have skateboard-related workshops from videography to designing skatedecks. For a full schedule of the different workshops visit The Bentway's Event Calendar.
Another exciting event series taking place each Sunday at the Bentway until August 12 is the Sunday Social at the Bentway Beer Garden. Each Sunday features a free outdoor concert and beer available for purchase by Collective Arts and ciders from Strongbow. Grab a blanket or your lawn chair and come spend your next Sunday Funday at the Bentway.
Ever since the project was announced last year there has been massive support from the community and even Mayor John Tory himself had helped to expedite the process. With all of the bad press that the Gardiner has been getting, it's nice to see some actionable improvements getting prioritized for its underbelly. For all of you living along the Bentway stretch, make sure you swing by and see what festivities are taking place. 
For more on the Bentway or if you're interested in becoming involved in the project, visit www.bentway.ca