BEST PRE-CONSTRUCTION CONDOS IN TORONTO LAUNCHING IN 2021
Jump to: Best Pre-Construction Condos in Toronto for Investment
Jump to: The Best Priced Pre-Construction Condo in Toronto
Jump to: Most Affordable Pre-Construction Condo in Toronto
Jump to : Best Pre-Construction Condo In An Up And Coming Neighbourhood
Jump to: Best Pre-Construction Condos on Transit Lines
Jump to: Coolest Architecture & Pre-Construction Condos Toronto
THE BEST OPTIONS FOR
INVESTING

IN PRE CONSTRUCTION CONDOS IN TORONTO

In this fast-paced market spotting the right pre-construction condo in Toronto can be tough. There are always a number of new condos in Toronto being built. There are also a number of factors to consider from builder reputation to location and most obviously, Toronto pre-construction condo prices!

I'm constantly scouring the Toronto market for investing in pre-construction condos in Toronto for my clients. Last year my investors realized equity gains of 8% to 28% on their 2018 Toronto pre-construction condo investments. See my client returns for yourself here. If you're looking for a great ROI on your Toronto condo investment we should absolutely talk. Book a call with me here and mention you'd like to know what projects I'm recommending to my investors and what Platinum launches are coming out this year that you should know about. I'd be happy to help.
Download: Free Guide to Investing in Pre-Construction Condos Toronto

Register: Become a pre-construction condos Toronto Insider and never miss a launch
Here are my picks for best pre-construction condo investment in Toronto:
Junction Square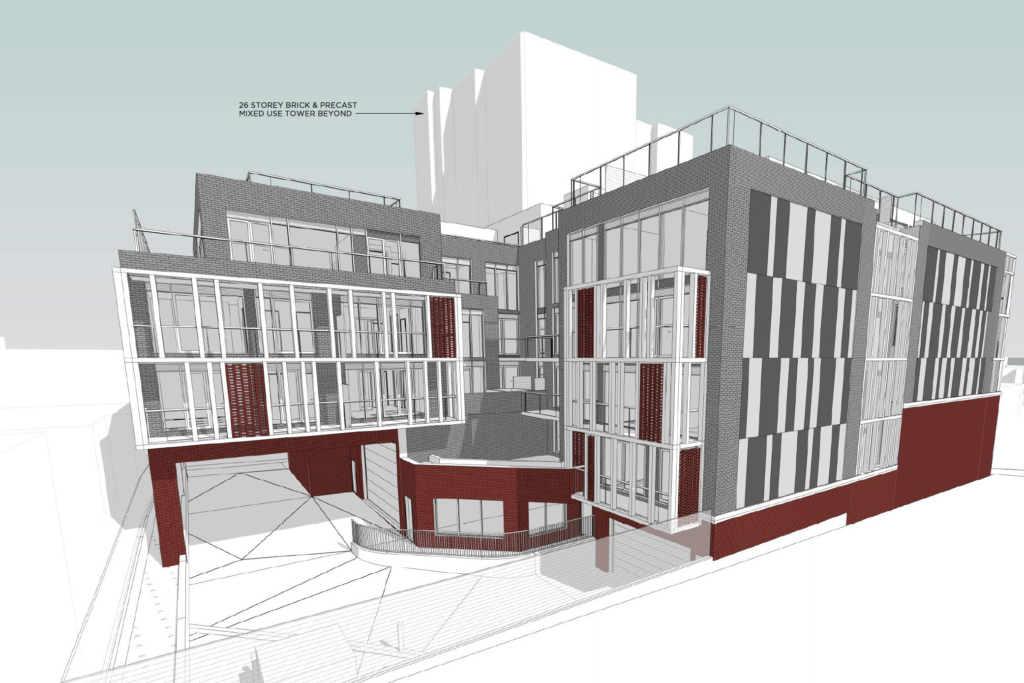 410 Keele St, Toronto
Neighbourhood: The Junction
Pre-Construction Condo Launch Date: 2021
Completion: 2025
REGISTER HERE
Junction Square Condos will be coming to Toronto's ever increasingly popular Junction neighbourhood! A low-rise development at the major intersection of Keele and Dundas Street West. Junction Square Condos is a 5-storey, 64-unit boutique building coming to Toronto's vibrant west end in 2021. Known for developing 57 Brock and Savile on the Roe, Block Developments has already made its mark and aims to create stunning homes and structures in the best locations. You'll enjoy their not so "cookie-cutter" suites because with Block Developments at the hem you know you can expect this project to have style!
We love this developer, Block developments for a number of reasons, but our investors specifically love that they get THE BEST DEAL when it comes to purchasing their unit. The Pierre Carapetian Group works closely with Block Developments often receiving inventory well before it is released to other agents or the public. So, when you're ready to buy you can trust that we can get you the very best pricing and a selection of the most lucrative units available.
Register now for this pre-construction Toronto condo launching in 2021
The Goode

33 Parliament St. E, Toronto
Neighbourhood: The Distillery District
Pre-Construction Condo Launch Date: September 2021
Completion: 2025
REGISTER HERE

Coming to one of the most sought-after locations in Toronto — The Distillery District —  The Goode condos at 33 Parliament St. E will be the first building to launch in the neighbourhood in over a decade. This 32-storey, 540 suite building in the heart of Toronto's most picturesque neighbourhood has everything you could need at your fingertips. The Goode in the Distillery District offers over 20,000sqft of indoor and outdoor amenities, a 94% walk-score and a perfect transit-score.
Toronto's east is undergoing a ton of revitalization and development including the addition of a new subway line, East Harbour which will bring 50,000 new jobs, East Harbour Transit Hub, Ontario Subway Line, and the billion-dollar Portland redevelopment which includes a new Toronto island. Looking for investing in pre-construction condos in Toronto?
Register now for this Distillery District pre-construction condo launching in 2021
The Groove – Details Coming Soon
129 Vaughn Rd., York
Neighbourhood: Humewood/Hillcrest Village
Pre-Construction Condo Launch Date: 2021
Completion: 2025
THE BEST PRICED PRE-CONSTRUCTION CONDO IN TORONTO
57 Brock Condos
57 Brock Ave, Toronto
Neighbourhood: Parkdale
Pre-Construction Condo Launch Date: 2018, Live Inventory Currently Available
Completion: 2022
REGISTER HERE
57 Brock is a condo and townhome development coming to Queen West and it's absolutely one of my favourite Toronto pre-construction condos for sale. Just north of Queen on Brock Ave, this 6-storey boutique building with 97 units and will be ideally situated off the vibrant strip of Queen West with iconic bars like The Cadillac Lounge, The Drake Hotel, or get your vegan "Big Mac" at Doomie's. In fact, this area has been named Toronto's very own Vegandale neighbourhood. The neighbourhood also has a strong art scene and a great spot to get your hands on great vintage clothing and home furnishings alike.
57 Brock Condos is my pick for the best priced pre-construction project in Toronto as it is in a great up and coming neighbourhood and in my opinion is one of the best pre-construction condos Toronto currently has to offer. I've been able to secure my clients additional discounts and incentives that are not available to the public. When you couple this up and coming Toronto neighbourhood, Parkdale, with a lack of available inventory and an unbeatable price you've got yourself a great pre-construction Toronto condo investment.
When you purchase with us you'll get access to 57 Brock Condos at a per square foot price between $1060 and $1075. Comparable and competing buildings in the neighbourhood are selling their live inventory between $1300 and $1500 per square foot with inferior, pre-existing re-sale buildings in the area selling for over $1100 a foot.
Related: Why Toronto's New Price Per Square Foot Reality is $1000PSF
MOST AFFORDABLE PRE-CONSTRUCTION CONDO IN TORONTO
ARTE Condos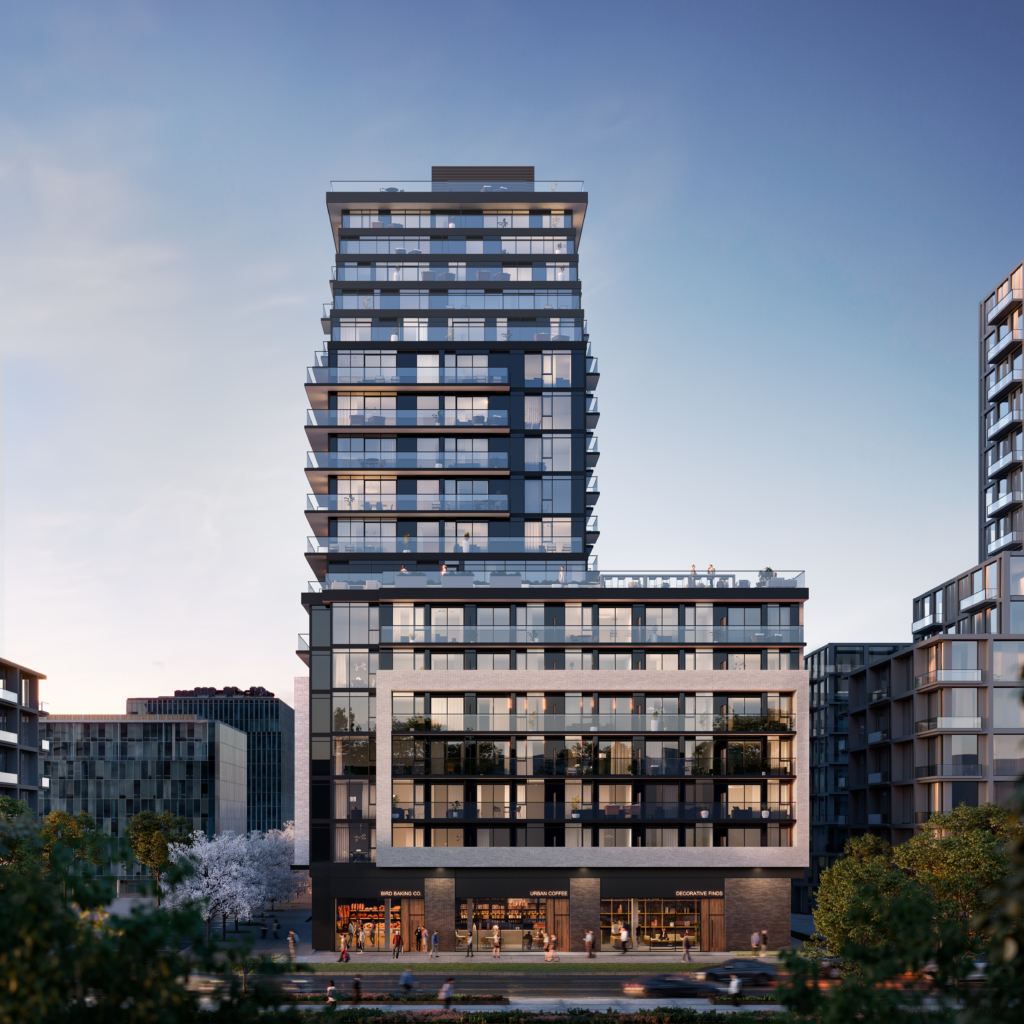 89 Dundas St. W, Mississauga
Neighbourhood: Cooksville
Pre-Construction Condo Launch Date: 2021
Completion: 2025
REGISTER HERE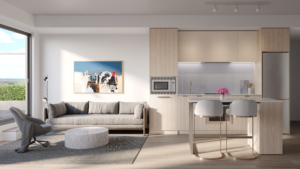 A collaboration with globally renowned artist, Daniel Mazzone, ARTE Condos at 89 Dundas St. West in Mississauga combines creativity and quality materials.
This project may be our top pick for most affordable but it's also one of our top picks for best Toronto pre-construction condos on a transit line and in a master plan community. Cooksville is set for major change and revitalization through the extraordinary Dundas Connects master plan with the Dundas corridor set to grow by 52,000 new residents and 9,600 jobs. This makes it one of the best affordable options for investing in pre construction condos in Toronto.
Arte Condos is also conveniently located steps from Hurontario St. and Dundas St. ARTE Condos will be well connected to the city and an convenient option for commuters. Easily get to Downtown Toronto by GO Train or car in less than 30 minutes.
Only 300 meters from future Dundas LRT stop on new 18KM Hurontario Rapid Transit (LRT) line, now under construction.
Only one stop from Cooksville GO Station.
5 stops from Square One
Easy access to TTC subway and University of Toronto Mississauga campus
BEST PRE-CONSTRUCTION CONDO IN AN UP AND COMING NEIGHBOURHOOD
Danny Danforth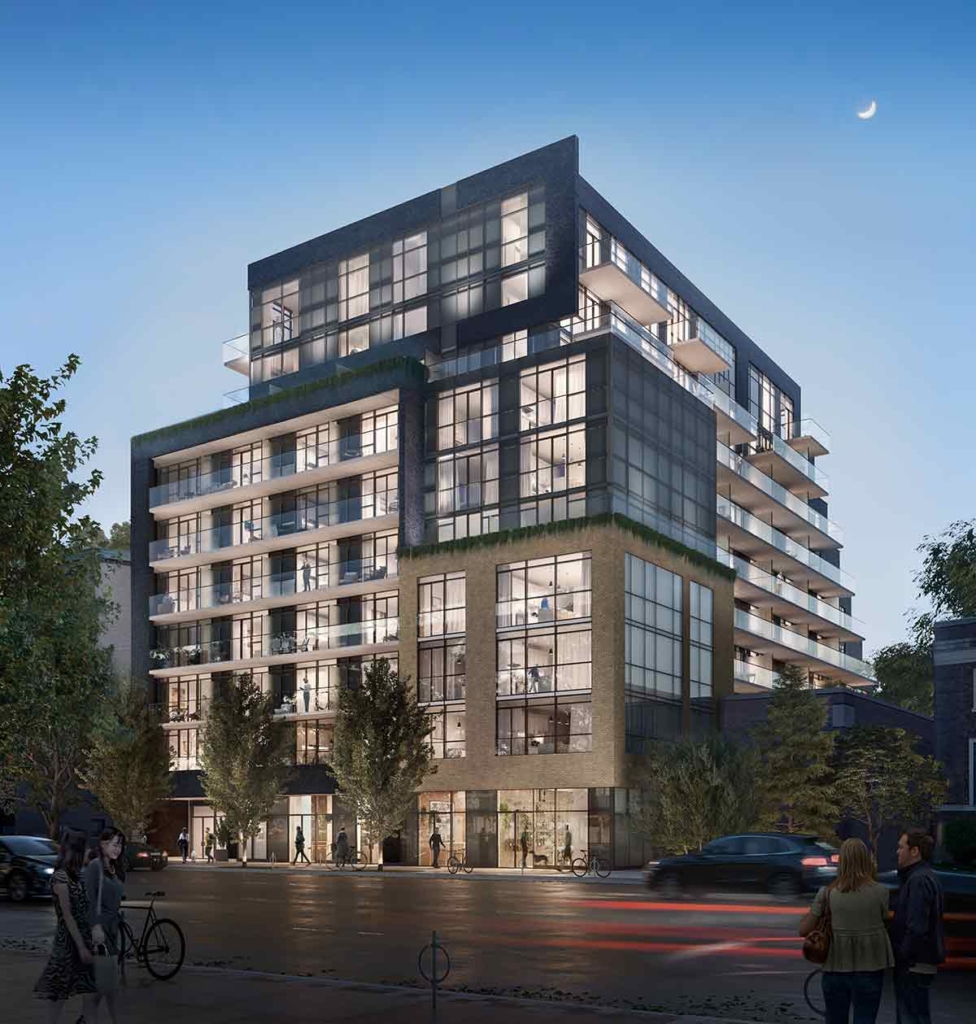 2359 Danforth Ave., Toronto
Neighbourhood: Danforth / East York
Pre-Construction Condo Launch Date: 2021
Completion: 2025
REGISTER HERE
Coming soon to Danforth between Woodbine and Main is The Danny Danforth Condominiums. A charming, low-rise building just minutes to the subway, streetcar and GO Transit lines. This up-and-coming neighbourhood holds lots of promise. Areas along transit lines are always bound to bring new development and much of the subway's east end is still untapped making it an affordable neighbourhood for buyers who'd like to find a home along the subway line. Buying or investing at The Danny Danforth Condominiums means you can expect future developments to launch at a higher price point and lend year-over-year equity gains for your investment.
THE BEST PRE-CONSTRUCTION CONDOS

ON TRANSIT LINES
This year's top choices for condos located on transit lines also happen to be our top-picks for the best masterplan communities. Investing in a pre construction condos on a transit line obviously has its benefits but did you know that real estate values actually favour condos on transit lines with a direct connection to the subway said to carry an 18% premium to property values? Now those are some stats we can get behind.
The best pre-construction condos we've selected below are on transit lines but they are also masterplan communities. Investment condos purchased in early phases of masterplan communities are great for investors. Phased launches mean that future launches will set price-precedence, meaning you can only gain equity as future phases of the building launch.
Related: Four Reasons To Invest In A Master Planned Community 
Universal City East – Downtown Pickering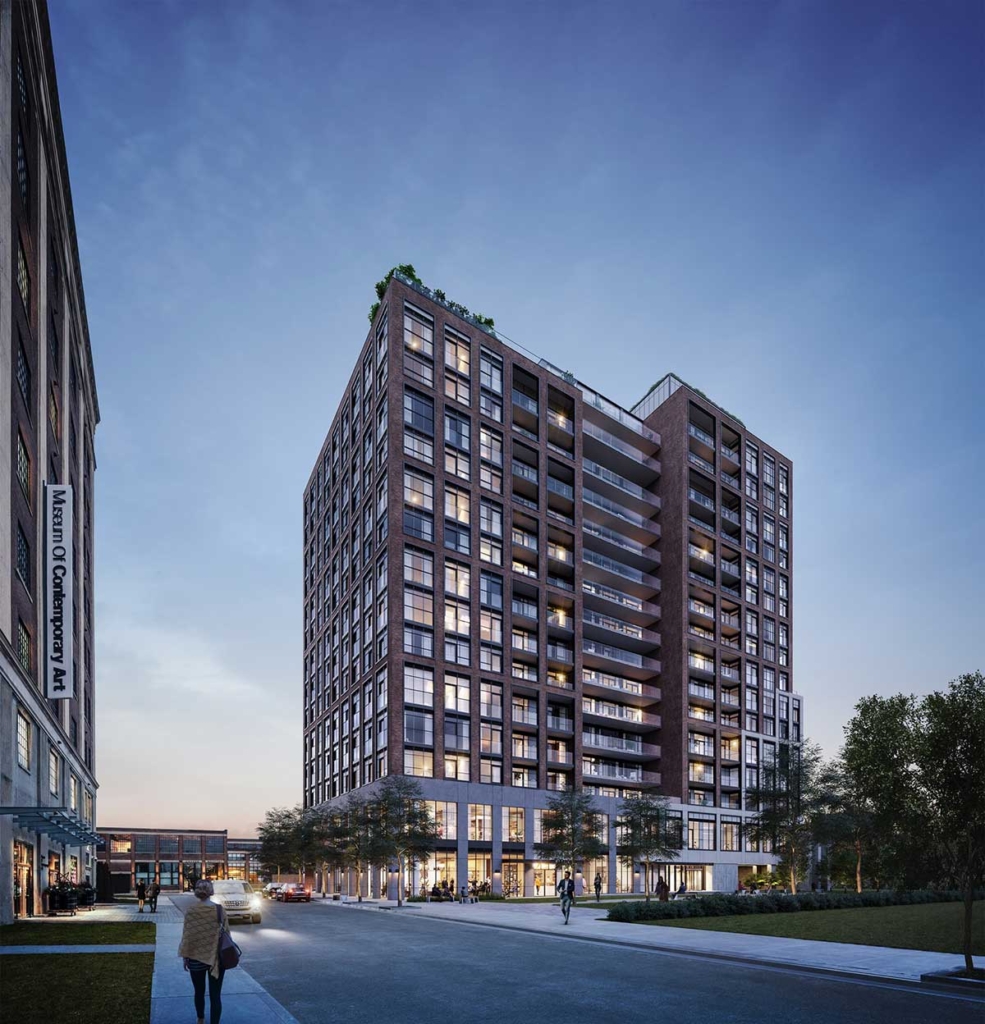 181 Sterling Rd., Toronto
Neighbourhood: Junction Triangle
Pre-Construction Condo Launch Date: 2021
Completion: 2024
Register here for live inventory and Platinum Broker pricing.
House of Assembly – the first phase of the highly-anticipated Sterling Junction master-planned community has finally arrived! Developed by Marlin Spring and Greybrook Realty, House of Assembly will be located on Sterling Road in Toronto's expanding Junction Triangle neighbourhood.
Residents of House of Assembly will be in the heart of a network of exceptional transit options. Just a short walk from 4 transit lines: UP Express, College, and Dundas Streetcar, and Bloor lines. House of Assembly's 100-transit score can't be beat!
With the Junction Triangle set to see an influx of jobs, new residents and many new shops and restaurants, House of Assembly makes for a well-connected and integrated condo!
The Galleria on the Park Condos
1245 Dupont St, Toronto
Neighbourhood: Wallace-Emerson
Pre-Construction Condo Launch Date: 2021
Completion: TBA
Register Here for the Platinum Launch of future phases for Galleria on the Park.
Galleria on the Park Condos is an eight building masterplan project set to transform the approximately 19 acre site at the corner of Dufferin and Dupont Street. The Galleria Mall redevelopment plan includes 2,846 condo units across eight residential towers all of which will be released in pre-construction launch phases.
After a very successful first launch, Galleria 01 has already sold out! Recognizing the value in this up-and-coming neighbourhood, we are now registering interested buyers and investors for future phases, set for 2021. Start investing in pre construction condos in Toronto now.
An ode to the history of the Galleria Mall Toronto knows and loves, there will be a redesigned retail experience at grade level along new pedestrian focused streetscapes. The master plan is designed with a pedestrian-first approach by adding more community gathering spaces and laneways. The cycling community hasn't been forgotten. There will be designated bike lanes and bike infrastructure throughout the development. Check out this news article on CTV news on investing in pre construction condos.
Read all about the new Galleria Mall Condos and the Reimagine Galleria masterplan here.

REGISTER: Platinum Access, Pricing & Floor Plans Galleria Mall Condos
THE COOLEST ARCHITECTURE & DESIGNED CONDOS IN TORONTO
Mirvish+Gehry Toronto Condos
260 King Street West, Toronto
Neighbourhood: Entertainment District
Pre-Construction Condo Launch Date: 2022
Completion: TBD
Register here for access to the Mirvish+Gehry Condos launch
Mirvish+Gehry Toronto is still in the very early phases so details about this pre-construction condo launch haven't been released yet. However, renderings or rather conceptual designs for this two tower supertall skycraper pre-construction condo along King West have us excited for Frank Gehry's fresh perspective.
The master plan for Mirvish+Gehry Toronto will have 209 hotel units, a new art gallery, and includes over 85,000 sqft of multi-level retail opportunities in the heart of Toronto's Arts and Entertainment District. These spaces offer unlimited potential for all kinds of businesses, from national retailers to international brands, specialty restaurants, fashion boutiques and furniture shops. Mirvish Gehry Toronto condos is set to house 1716 suites across two towers in this prime King West location.