1. HUMAN-CENTRED DESIGN
Bringing in IBI Group as the lead architect, the design approach to Line 5 Condos is focused on the residents and how they live. "We apply human-centred design and technology to create resilient, connected, smart cities of tomorrow." As North America's lead partner for the Smart Cities Council, IBI Group will help to maintain Toronto's status as one of the world's top Future-Proofing Cities.
IBI is ahead of the curve with respect to urban infrastructure and bringing their expertise to residential living in a multi-tower project as grand as Line 5 Condos was a wise move. They thrive in creating innovative solutions to our quickly evolving way of life.
2. INNOVATIVE AMENITIES
Reevaluating how Torontonian's live their daily lives, the Line 5 Condo amenities have been designed creatively to accommodate the different services and technologies that rule our everyday routine.
For example, Line 5 Condos will have a designated cold and food storage room off their gorgeous lobby to house the growing number of residents that use meal delivery services like Hello Fresh or Chef's Plate.
Vehicles for these services, as well as ride-sharing apps like Uber and Lyft, will have their own designated lane to keep traffic running smoothly.

Both the North and South towers of Line 5 Condos share the same main podium and the ground floor is all about you. Save big on your gym membership with Line 5 Condo's extensive 10,000 square foot fitness facility. Just off the lobby is a weight room, yoga studio, interactive training studio, outdoor yoga and zen garden. Grab a beverage from the Juice and Coffee Bar then unwind alongside the indoor pool in the spa-lounge, just past the sauna and steam room. 
On the seventh floor of the North Tower you'll find not one, but two outdoor BBQ and dining lounges. One partners with the party room while the other pairs with an outdoor theatre. Feeling crafty? You'll also find an art studio on this floor.
Two floors up is the "entertainment district" of amenities. Both the North and South Towers have their own respective BBQ and lounge areas, there lots of greenery and a small kitchen too. Inside, you'll find a gorgeous social club and workspace decorated with marble, gold and black finishes. Great Gatsby comes to mind. Perfect for those who work from home that need an "office" beyond their condo walls.
On the rooftop connecting the two Line 5 Condo towers is a designer pool and lounge with cabanas. Around the corner from the North Tower's social club is an outdoor games lounge with giant chess and ping pong tables. You won't find a better selection of amenities anywhere else.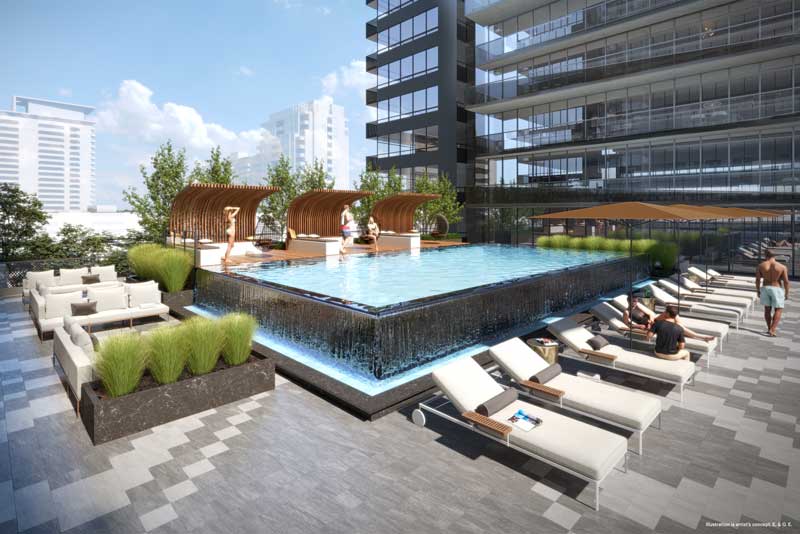 3. THE A-TEAM
Leading the development is Reserve Properties, who are repeatedly recognized for high quality developments, and Westdale Properties, with projects like Nobu Residences, Charlie and the highly anticipated Mirvish+Frank Gehry high-rise coming to Toronto's Entertainment District.
If that's not enough to impress, the designers of U31 are bringing their talent to the interiors. This award winning interior design firm designs with intent and elevates the overall style of Line 5 Condos to be both functional and contemporary.
4. THE YONGE AND EGLINTON EXPERIENCE
Yonge and Eglinton has matured from its former reputation as "young and eligible" to an area where the population is largely young families. The area hasn't slowed down though. Known as the highest foot-traffic area of Toronto, there are countless bars, restaurants, comedy clubs and amenities to keep you here.
This dense urban centre is surrounded by residential bliss and for those young families, there's no shortage of schools here either.
Just west of the Yonge Eglinton Centre is the 22-acre Eglinton Park. Here you'll find give multi-purpose sports fields, four tennis courts, two baseball diamonds, a playground, wading pool and two ice rinks come winter.
5. INVESTING AT LINE 5 CONDOS
With the addition of the Line 5 Eglinton Crosstown, you can expect to see continued residential price growth for the area. We know that price growth favours properties near transit lines, and with Yonge and Eglinton to become a major transit hub, there's great profit potential for Line 5 Condos.
Read "Why You Should Invest in Toronto Real Estate: The 20 Year Transit Plan"
The average price of condos in the area of Yonge and Eglinton has increased 12% year-over-year and 33% since 2016. With Line 5 Condos being added between two of the Line 5 LRT stops and only minutes to the subway's Line 1, this will further increase price growth and investors can expect to see great returns by expected occupancy in 2022.
It goes without saying, good things come in fives and Line 5 Condos is launching its second tower of five this month. This first phase ,which launched in the fall, was a huge success and sold out very quickly. The Line 5 Condo prices of the first phase were highly appealing to those looking to buy a Toronto condo as well as investors looking to invest in Toronto pre-construction. We anticipate the launch of Phase II the South Tower to be just as sought after. You can register for first access to Line 5 Condos South Tower here.
If you want first access to this promising development coming to Yonge and Eglinton, register now for Platinum Access or sign up as an Insider to get all of the hottest pre-construction investment opportunities coming to Toronto!