Toronto is known as the city of neighbourhoods and we, Toronotians, are very proud of the neighbourhoods from which we come. Beyond the nearly 140 neighbourhoods, there are also eight distinct districts; each district acts like a stamp of the area's history and character. Starting in the west end, let's take a tour of Toronto's eight districts and what makes them worth distinguishing.
Fashion District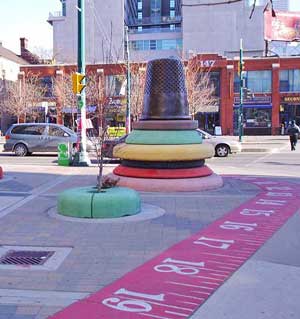 Bordered by Bathurst to Spadina and Queen to Front Streets, Toronto's Fashion District dates back to the early twentieth century. Easily identified by the permanent art piece, Uniform Measure & Stack, the area — also referred to as the Garment District — was once home to many fabric and textile factories due to its proximity to the rail lines just to the south.
Today as you stroll down Spadina Avenue and look up, there are beautiful brick buildings lining the street, many of which were built in the 1920's and 1930's and feature art deco and gothic style architecture.
Swapping sewing machines for computers, many of these nearly century-old factories now house tech firms, publishers, art studios, and residential lofts or condos. If you're looking for fashion, Queen Street West at the top of the district is the place to shop.
Entertainment District
To the east of the Fashion District you'll find Toronto's Entertainment District. Aptly named, this district is the best place to be entertained. Whether it's dinner and a show, a concert or a baseball game, the Entertainment District has you covered.
Along King Street West between Spadina and University you have more bars and restaurants per capita than anywhere else in Toronto. Scattered throughout the plethora of cocktail bars and delicious eateries you'll find The Royal Alexandra and Princess of Wales Theatres to catch the latest off Broadway show post-dinner.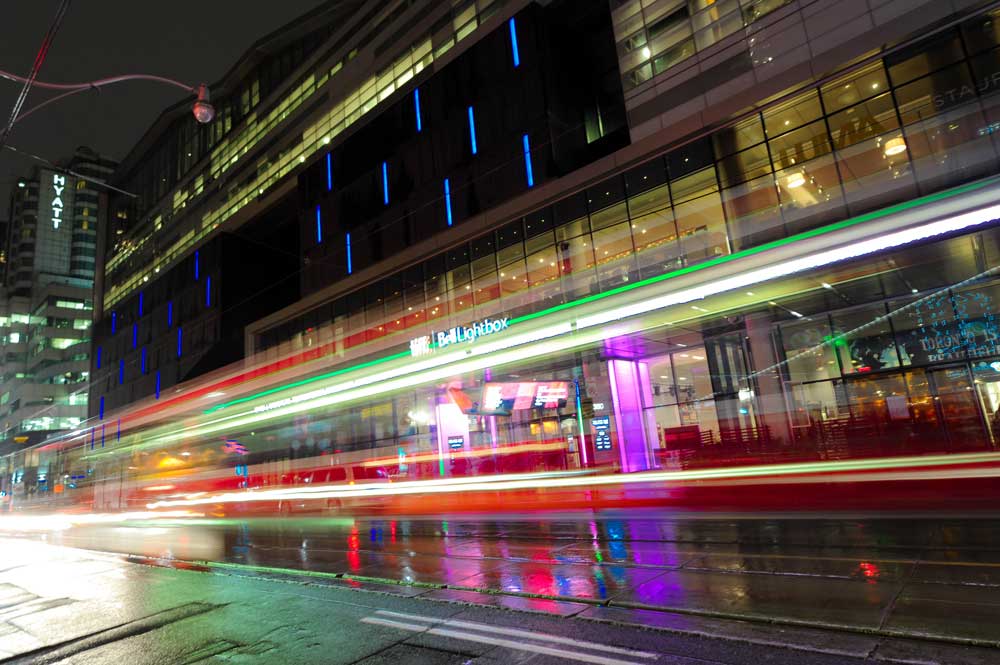 the TIFF Bell Lightbox on King Street West is festival headquarters and screens films year round.
Roy Thompson Hallis a popular venue during the Toronto International Film Fest each September where A-list celebrities strut their stuff on the red carpet. It's also where you can catch the Toronto Symphony Orchestra among other concerts throughout the year.
It's not the only concert venue in town though. At the south of end of the Entertainment District along Bremner Boulevard you'll find the Scotiabank Arena and the Rogers Centre, both of which play double duty as concert venues and sports stadiums.
Financial District
From fashion to entertainment — now let's talk business. On the other side of the Entertainment District is where you'll find Toronto's Financial District. Home to the Toronto Stock Exchange and the five major banks —TD Bank, CIBC, Scotiabank, RBC, and BMO — each of which have their own soaring tower.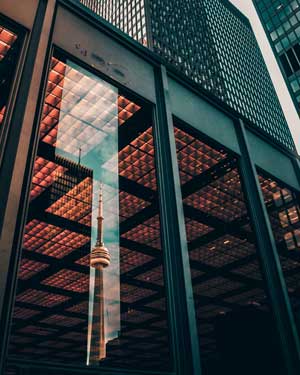 Here in the Financial District it's hard to find the sunny side of the street with most of Toronto's tallest business towers all in one district. In fact, First Canadian Place, where BMO has their offices, was the tallest building in Canada at 72-storeys (298 metres) until the CN Tower made its debut.
Monday to Friday this area is bustling with business professionals. The streets are filled with men in suits and women in heels jumping in cabs or off to their next meeting. It's absolutely chaos. At five o'clock on a Friday these bankers, traders, and lawyers scurry over to the Entertainment District next door for a much need libation.
If you happen to come through here on a weekend, it's a very different vibe where the only folks you see may be a few lost Blue Jays fans and taxis driving the streets.
Discovery District
Heading north from the Financial District is Toronto's Discovery District. Here you'll find the attire of choice is hospital scrubs as this district has more than five hospitals. Not just any hospitals though — ground-breaking, world-leading hospitals including the Princess Margaret Cancer Centre which is one of the world's largest cancer centres.
The Discovery District is a hub of learning, innovation and health care. MaRS Discovery District brings great minds — researchers, entrepreneurs, and social scientists to name a few — together under one roof to collaborate and innovate and revolutionize the world of tomorrow.
For future world-leaders, you'll also find University of Toronto students making their way around campus here in the Discovery District. Nearby, you'll find the Royal Ontario Museum where people of all ages can fuel their curiosity and discover the world's rich history.
Garden District
In the heart of the Garden District you'll find the luscious Allan Gardens. This fifteen acre park features six greenhouses at the centre. A perfect place to escape in the cold Toronto winters, these botanical gardens offer a colourful collection of plants and flowers from around the world.
The Palm House is the crown jewel of the conservatory with its beautiful glass dome which was built in 1909 and houses tall palms, a variety of tropical plants and a climate to match.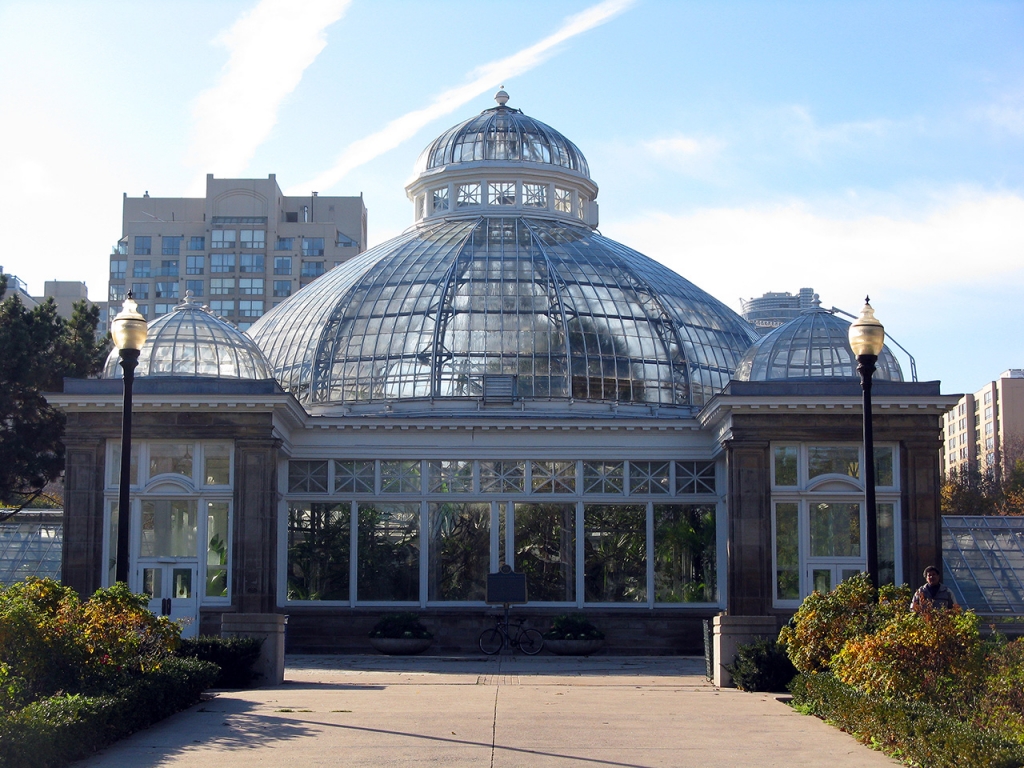 While Allan Gardens is the only real garden in this district, you'll also find Maple Leaf Gardens and The Elgin and Winter Garden Theatre. The latter, located on the western edge of the district, dates back to 1914 where it was a popular vaudeville theatre. Inside, the Winter Garden stage is designed as if you're sitting in a large park. Today, the theatre continues to host concerts, plays and film screenings.
The historic Maple Leaf Gardens was built in 1931 as a new larger arena for the Toronto Maple Leafs with room for 14,550 spectators. Over the years it also the go-to home for professional wrestling, NBA games (Toronto Huskies short-lived existence in the mid-1940s), the opera, and concerts to name a few.
Maple Leaf Gardens became too small for its various ventures and remained relatively dormant from 2001 until 2011 when it was renovated to become a multi-use facility with a flagship Loblaws grocery store and Ryerson University fitness facility and skating rink.
Design District
King East between Church and Parliament you'll quickly see why. The area has storefront upon storefront of designer furniture, textiles, and art galleries.
With many condos and lofts along King East and surrounding neighbourhood, residents don't have to go far to find the best designer furnishings from independent and world-renowned designer brands.
Amidst this concentrated stretch of high-end designer retailers is George Brown College's School of Design. Web designers, graphic designers, production artists, and design consultants are among the programs available here.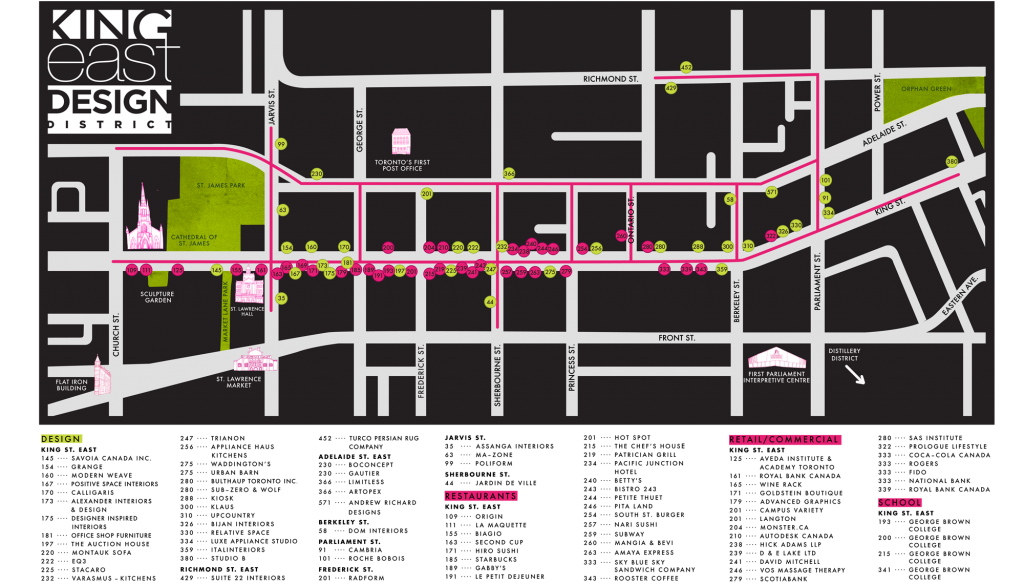 Distillery District
The Distillery District is both a neighbourhood and district in Toronto's east end. James Worts and William Gooderham founded their distilling company in 1832 and it grew to be widely known as the largest distillery in the world.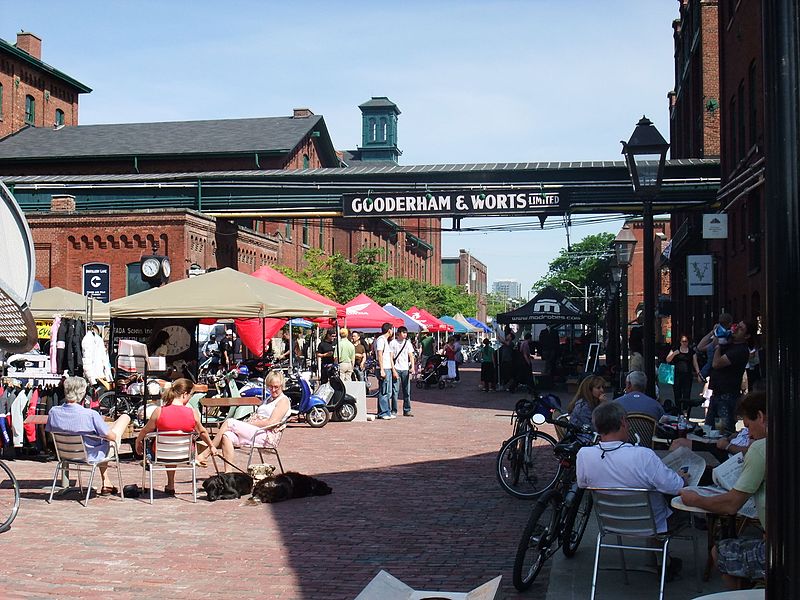 Named after the Gooderham and Worts Distillery that was built on the site in 1859, the Distillery District is the largest and best-preserved collection of Victorian Industrial Architecture in North America with 44 heritage buildings.
Today, the old heritage properties are filled with boutique shops, galleries, restaurants, and even a small stage theatre. Arts and culture is the vibe here. The Distillery is no stranger to events either. Art markets, farmers markets, and their famous Christmas Market are frequently held along these cobblestone streets.
As if you've been transported to a different time, the Distillery District has become a popular filming location for major motion pictures like X-Men and Chicago. Just don't pan up or the era escapes you when you see the three condo high-rises emerging from their historic podiums.
Studio District
Our final district isn't a tourist destination, though what happens here is nothing short of magic. Toronto's Studio District is our own little slice of unassuming Hollywood. The area's not that glamorous but its here that you'll find facilities for Toronto's growing film and tv industries.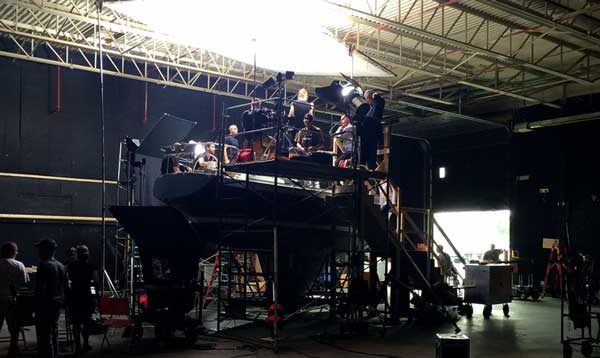 Pinewood Toronto Studios is located on Commissioners Street and has 12 film stages including one mega-stage. Notable movies that filmed here are Molly's Game and IT. Just north of Pinewood Studios at a third of the size is Cinespace Studios. With only four stages, they have been involved with major motion pictures like Chicago and Pompeii.
Directly adjacent to the Studio District is the old Unilever site. This 60-acre plot is soon to become East Harbour, a mixed-used space with 10-million square feet of office space and a new major transit hub. The redevelopment at East Harbour could help Toronto's Studio District to expand and continue to grow as a premier destination for film and media.
Whether you're a born and raised Torontonian, new to the city, or just visiting, be sure you make a point to explore one or more of these eight districts. Much like the many neighbourhoods in the city, these distinct districts all have their own unique character and story to tell.