Change is in the air down at Front and Spadina. If you've been by in the last few months, you'll notice that extensive excavation has begun at what was formerly the home of the Globe and Mail for the past 43 years. While it's not the most attractive sight right now, there are big plans for the area.
Ten years from now this part of the downtown core will be completely transformed. With the Bentway now open to the south, talks of a Rail Deck Park, and even a possible Spadina GO station, there are lots of minds working on the future of Front Street. Today, we're putting the spotlight on The Well: a multifaceted development that will serve as a spectacular one-stop-shop community.
Adjacent to two residential communities – Fort York and City Place – this condo-dense area could favour some extra joie-de-vivre. The intention of the designers and developers is to provide a place where you can live, work, and play…well. The materials used are inspired by the lofts of King West using steel, natural wood beams, and exposed brick. There is also a huge European influence in the design, creating an open-air market of shops and restaurants interconnected through pathways and bridges.
EUROPEAN INSPIRED SHOPPING
One could argue us Torontonian's already have a one-stop-shop at the famous Eaton's Centre, but we all know how frustrating it can be to navigate through the crowded hallways of tourists and locals focusing more on their phones than the space around them. Claiming to be "the only one of its kind in Toronto" [1] The Well will offer a European inspired retail experience. Similar to the Galeries Royales Saint-Hubert in Brussels, a beautiful glass canopy ceiling will flood the space with light but none of the precipitation.
The 54 retail units plus 5 larger retail spaces add up to 400,000 square feet of shopping bliss. Get your Fit Bit out – you'll be tracking a lot of steps here.
Shopping inevitably works up quite the appetite and there will be plenty of selection in The Well's Food Hall on the upper terrace level. This urban market will surpass your expectations of a traditional food court, offering an elegant food experience with a range of foods from around the globe.
In lieu of the traditional food court offerings, like New York Fries and Manchu-Wok, are small upscale restaurants all concentrated near the centre of the hall, placing all of the seating to the glass-walled perimeter. So even if you're just grabbing a quick bite you'll be dining with a great view.
If you'd prefer to finish off your day of shopping with a more elaborate meal, you can opt for traditional dining at one of the nine restaurants at street level, some of which will have patios extending on to Wellington Street's new promenade design. (More on that later).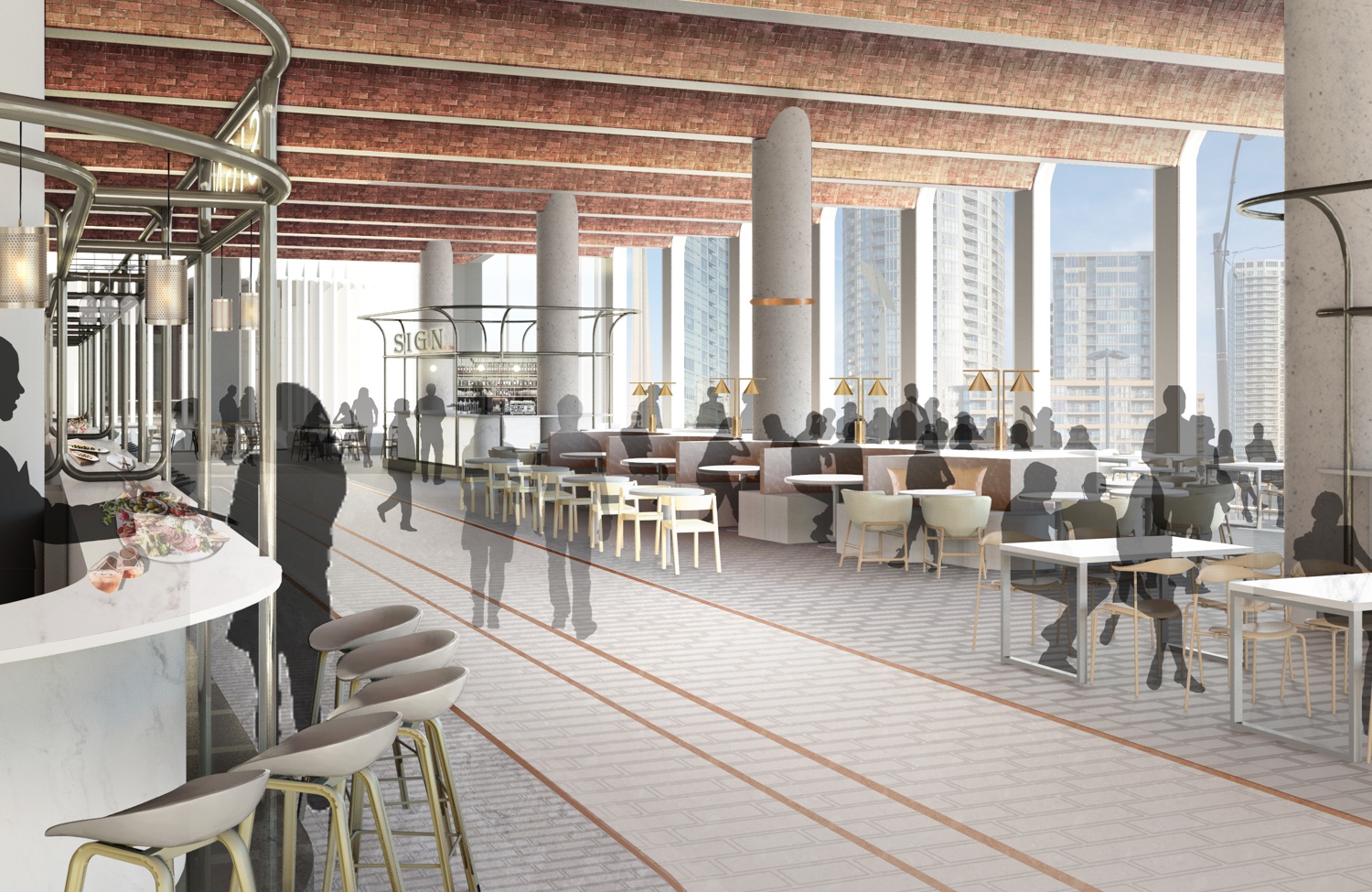 EUROPEAN MARKET HALL FIT FOR A FOODIE
In addition to the shops and restaurants, many of Toronto's foodies will be attracted to The Well's European Market Hall. With upwards of 90 market stalls selling local produce, meats, and seafood as well as exquisite wines and cheeses – this is St Lawrence Market's hot younger sister. Using words like artisan to describe it, you can find the best food, high-end cookware and even take a culinary class to amp up your kitchen prowess.
As part of the redevelopment of the area, Wellington Street will also be getting a makeover. Landscape architect Claude Cormier + Associates wants to transform Wellington Street between Clarence Square and Victoria Square into a beautiful promenade. Imagine this: wide sidewalks lined with trees, public terraces and cats! Yup. Cats. Word on the street is they'll be introducing a feline-themed park to complement Berczy Park, the dog-themed park that opened last summer.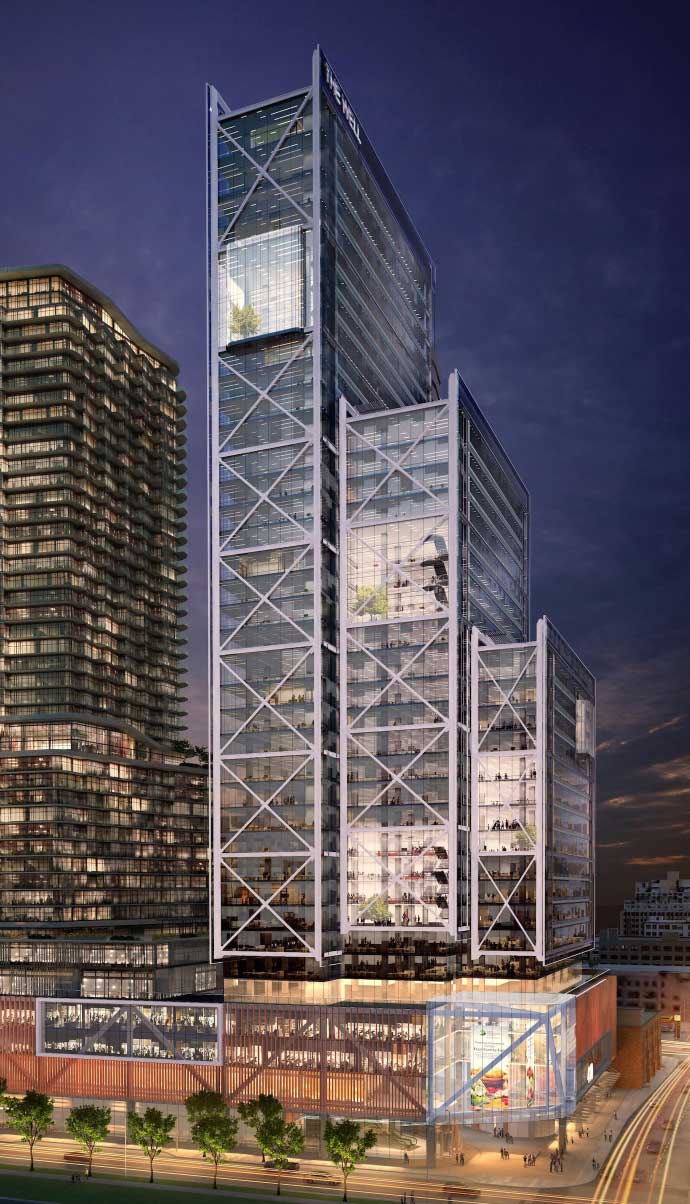 PLENTY OF COMMERCIAL AND RESIDENTIAL SPACE
Getting excited? This is just the beginning. The Well also includes a series of residential properties and a three-tiered office tower on the east end of the block. Let's start with the office tower. With the tower's proximity to Clarence Square, the 3-tiered design of the building is intended to limit any shadow impact on the park by "stepping back" from it.
The stacked design, as they describe it, is composed by the base of the tower housing retail, a stunning lobby with 25-foot ceilings and several outdoor gardens; a low-rise (19 storeys); a mid-rise (28 storeys) and a high-rise (36 storeys) all fused together. Additional gardens will grace the rooftops of both the mid and low rise levels with a rumoured restaurant on the upper-most floor.
It was announced yesterday that they already have two major office tenants on board and two more in the works. If the latter two sign, they'll have 80% of their 1.1 million square feet of office space leased. With Toronto's commercial and industrial vacancy rate at just 2.2%, it's no surprise the commercial spaces are getting leased before the walls are even built. They are aiming for office occupancy by 2022.
So now, with the addition of over one million square feet of office space and the nearly half million square feet of retail space, what about housing? There will be 1.43 million square feet of residential space spanning between six different buildings. A little something for everyone.
The artist renderings depict three low-rises and three high-rises of varying heights. A mix of luxury condos for purchase and premium rental suites are said to total 1587 units. While there isn't much yet in the way of specific details for the condos, they do claim "The Well will become the standard by which all future residential standards will be judged." [2]
Considering all that is being added to this block and the high-demand for housing, I suspect people will be chomping at the bit to get their hands on these units. Condo prices for this year's Q1 in the area have increased 8% since Q1 of last year and are expected to continue to climb.
Without a doubt, The Well, and its long list of impressive deliverables, is a development to keep your eye on. It's going to be a lot of work and while we have ten years of anticipation until all is said and done, I'm sure it will be worth the wait.