You may have noticed over the past couple of years that Toronto's got a thing for pop-up shops. People go crazy for limited edition anything and in the case of pop-ups, it's the experience that has an expiry date on it. No matter what it is, there is always an inevitable hype that is generated around the latest pop-up shop. But what about an entire pop-up market?
That's what the guys behind Stackt have been working hard to develop. Tyler Keenan and Matt Rubinoff are bringing to life a shipping container market and community gathering place to the unused 100,000 square feet of land at Front and Bathurst Streets. But it's not forever. Much like our beloved pop-up shops, this too is temporary. The area on the north-west corner of Front and Bathurst Street is slotted to eventually become a park, but until then, Keenan and Rubinoff have a temporary 2.5 year lease in place.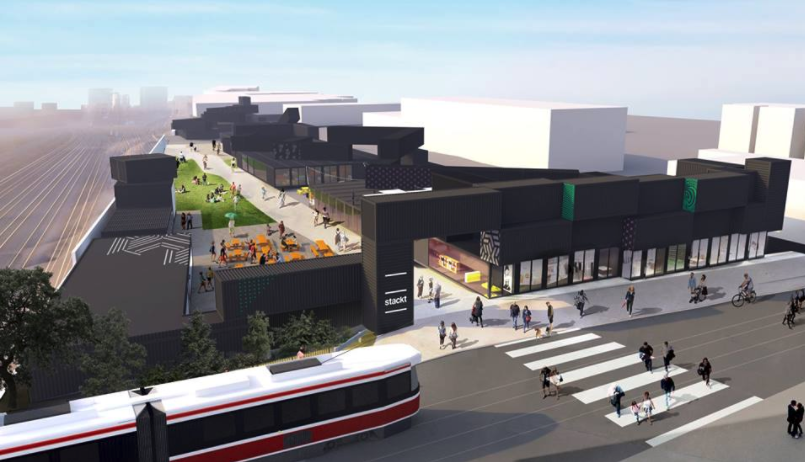 Using shipping containers as their building blocks is the key to making use of the space for the public while avoiding extensive construction knowing it all has to come down in a couple of years. "It's limitless what you can do with these things," [1] says Kevin Lee, the Executive Director of the Scadding Court Community Centre who launched Market 707 in 2010. They have been using shipping containers along a small stretch of Dundas West to house a variety of vendors, from coffee shops and food vendors to bike repair and even a tattoo parlour.
In fact, in 2013 an award was both created and awarded to Market 707 at the Toronto's Urban Design Awards to celebrate the business model and revival of the previously dull sidewalk. What's so incredible about implementing these types of retail spaces is that they are low-cost, so they give small businesses and entrepreneurs an opportunity to further develop their business where they may not otherwise be able to.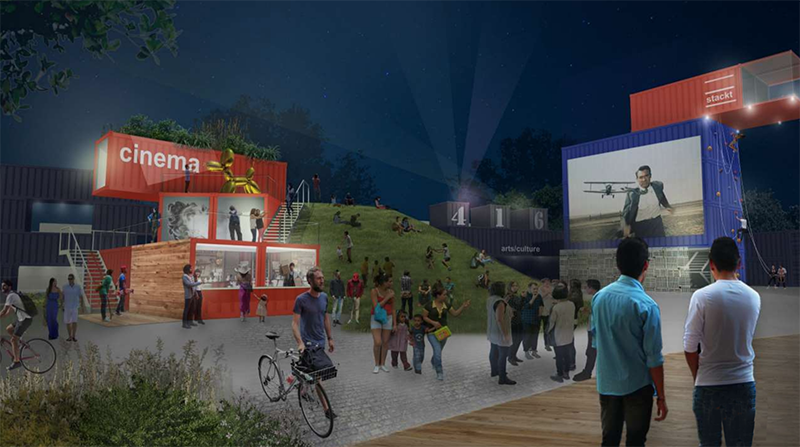 Stackt, however, won't be strictly commercial. They say that only 15% of the area will be retailers, the other 85% is dedicated to events and culture. There are said to be a few anchor tenants, including a craft brewery, but the goal is to offer flexible leases and have the market itself be a hub for pop-up shops. Similar to the ever-changing skyline of Toronto, they want the community there to be perpetually dynamic.
Stackt is set to open late Spring of 2018, and while no official word on who will be there come launch day, they say there will be artist studios, non-profits, social enterprises, a fitness provider and even an outdoor cinema, to name a few.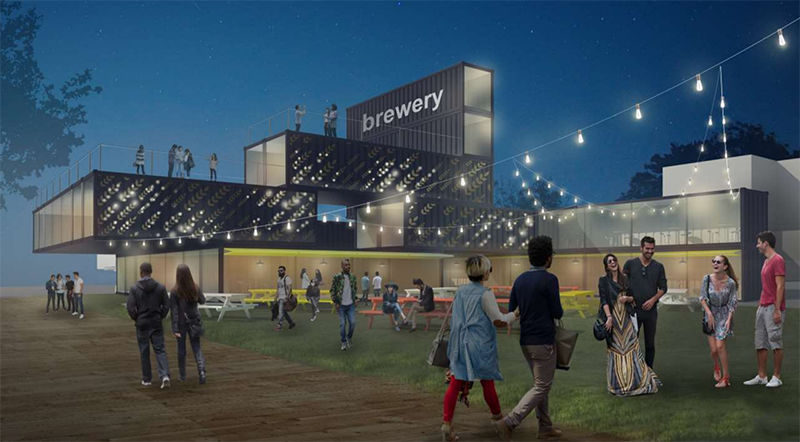 The same architects that worked on Market 707, LGA Architectural Partners, are working on the design for Stackt. It will act as a test ground for the potential that exists in neglected spaces throughout the city. Even with a park slotted for the same land down the line, why can't the land be used in the interim? And who's to say Stackt can't just pick up and relocate at the end of its lease? The success I anticipate for the project, but also the community at large, is due to the low cost infrastructure that allows for new businesses, fresh ideas and the community to gather and thrive.