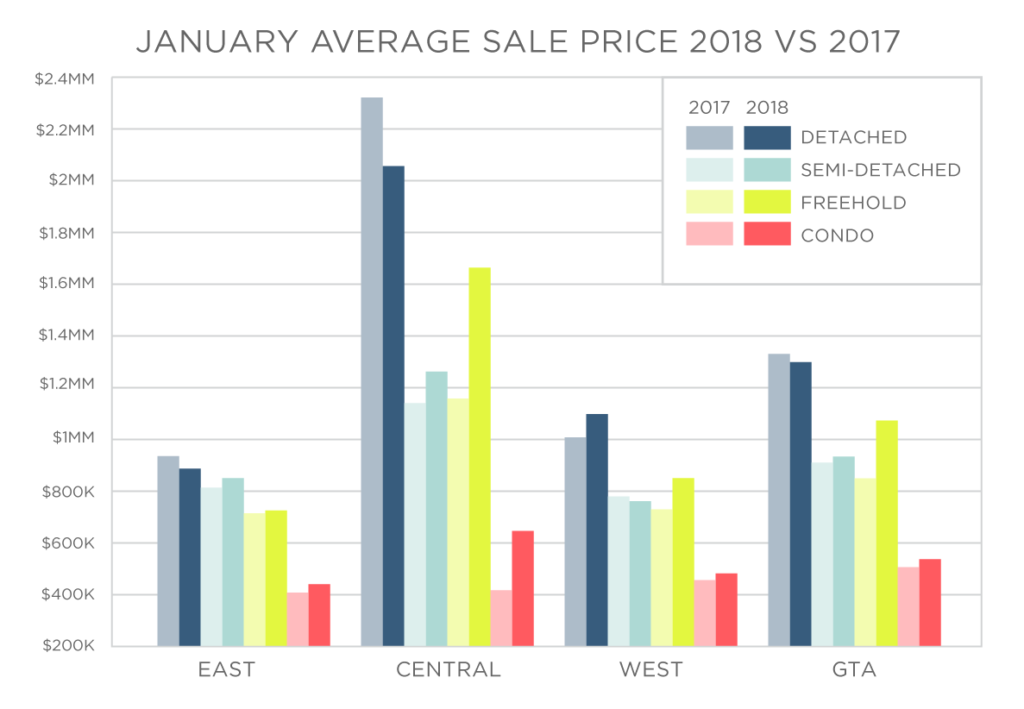 The weather isn't the only thing that's chilly in Toronto this new year. Real estate has been off to a slow and, some would say, cold start as TREB releases its January stats.
Of note this month is obviously the average home sale price, which fell 4.1% year-over-year to $736,783. January also marked a month of lower transactions with sales volume dropping 22% from what could still be considered a peak market in January of 2017.
The segment of the market taking the hardest hit is detached homes which saw prices fall an average of 9% year-over-year. However, the condo market is still holding strong, rising 15% year-over-year. 
REAL ESTATE IN JANUARY IS HISTORICALLY SLOW
Anecdotally we can say that for the last two years we've seen a fairly fast-paced and active January market. This is not the norm, it was highly influenced by the 'hot' Toronto market as buyers struggled amongst exceptionally low inventory. So, to see activity begin to settle back down amidst the Fair Housing Act, recent mortgage qualification rules, and increased borrowing costs is, quite frankly, to be expected.
EXPERTS PREDICTED A SLOW JANUARY 
Ontario housing experts predicted a slow start to the new year as consumers begin to settle into the 'new' 2018 market amongst stricter lending guidelines and increased borrowing costs. This slower market however, is expected to be short lived. Tim Sirianos of the Toronto Real Estate Board quotes, "As we move through the year, expect the pace of home sales to pick up, as the psychological impact of the Fair Housing Plan starts to wane and home buyers find their footing relative to the new OSFI mandated stress test for mortgage approvals through federally regulated lenders." Jason Mercer, TREB's director of market analysis says, "…today's more balanced market fundamentals will eventually lead to greater price growth [in 2018]."
OUR TORONTO REAL ESTATE PREDICTIONS FOR 2018
It's expected that the condo segment of the market will likely continue to drive price growth in 2018. We've already seen the market react to the new changes, as condos on the low-end (specifically $500,000 or less) are in multiple offer scenarios. We were actually working with a client who was looking to break into the market and found themselves waiting 45 minutes just to do a walk through of a unit because there were over 130 showings in as little as three days! 
The Downtown Toronto condo sector is what will continue to push the market along. We expect pressure on this low-end of the market to eventually trickle up. As one bedroom condos begin to sell for an increased price due to bidding wars, this will begin to influence 1+Den and two bedroom suites. 
Buyers will need to adjust their expectations based on their new borrowing power. Once that happens and they mentally make the shift they'll know their new purchasing parameters and should jump into the market as soon as possible. A lot of people are hoping that the sky falls so that they can get into the market, but the honest broker truth is that prices in condos, especially the low-end, are just going to be driven up. Fuelling this trend is the market's low inventory. Today alone there were only 7 homes listed and 18 condos (at the time of posting this article), which is a pitiful inventory amount. 
If you're searching for semi or detached home, we suggest you jump into the market today as prices in these markets are down on a year-over-year basis and they are expected to bounce right back in the coming spring market.