Hover or click over a community to see the local sale prices from March.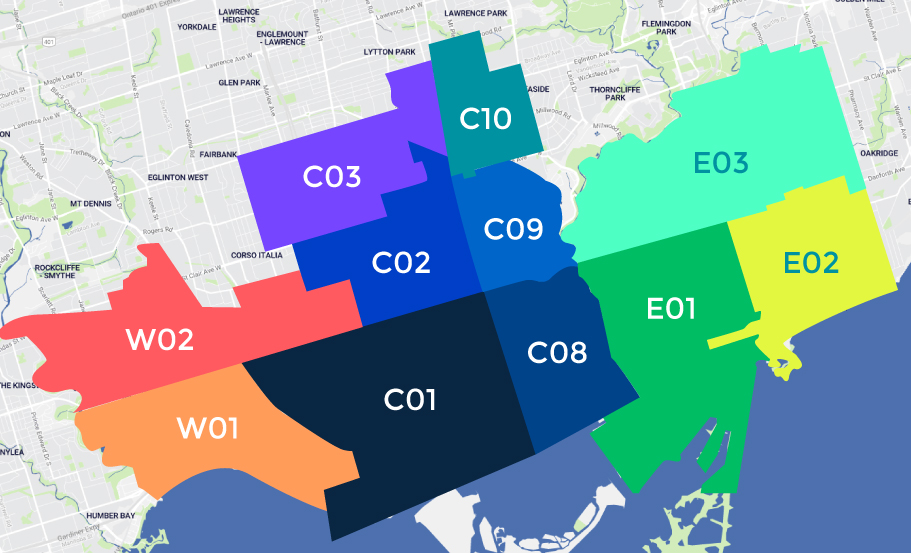 March wrapped up the end of Q1 for Toronto's real estate market and TREB's predictions seem to be pretty accurate. We haven't been able to get away from the effects of the fair housing plan, stress test and higher borrowing costs that had some buyers sidelined. In their recent Market Outlook report TREB predicted a slow Q1 and expects home sales to be up relative to 2017 in the second half of this year.
Every time we put out this report I preach about how local stats matter and this month, we went REALLY local to help you figure out exactly what's happening in the Toronto market and your municipality. And when I say Toronto, I'm referring to the shaded areas on the interactive map above. Do you have a condo in King West? Great, find your local area, in this case that's C01 and check out the stats in your 'hood.
Although the average selling price for the GTA was down 14.3% compared to peak prices in March of 2017, when we look at the individual Toronto municipalities, there is really a quite varied picture that the year-over-year stats paint. Check out this chart below: C01 Condo markets are up 10% while the Semi, Townhome, Detached and Freehold markets were down in this area. So that hypothetical condo of yours in King West is up about 10% from 2017.

If we take a look at the Downtown Core though (C08, C01, E01), the picture here is still fairly varied. The condo market is up for C08 and C01 and down 2% for E01. C08 is up YOY in the semi, townhome and condo market, while down in the detached and freehold market. C01 is only up in the Condo market while E01 is only up in the freehold market. Let's face it, the stats are all over the place downtown, which is why paying close attention to your neighbourhood stats and specific unit type become so important.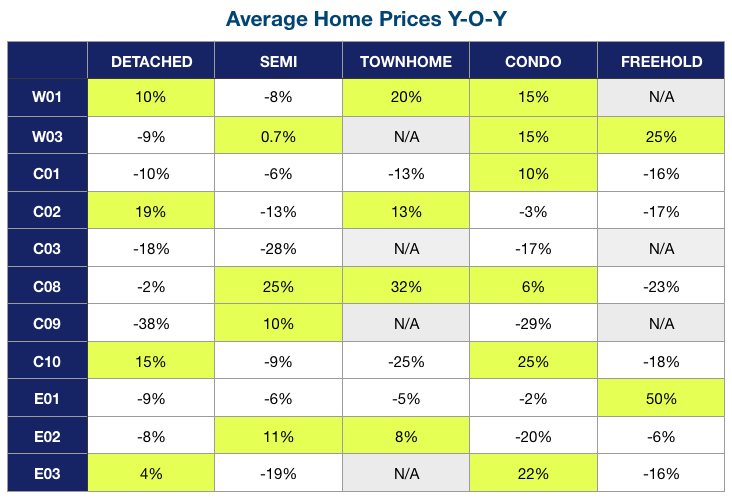 Of even greater importance though, is that when you compare 2018 to 2016 numbers, they are — for the most part — way up! Keep in mind that the historical average growth of the Toronto real estate market is 5% year-over-year. If we take the E01 Condo market from the above example, it may be down 2% year-over-year, but its up 19% from 2016 showing that it has still outpaced that 10% historical average. This trend continues for almost all home-types and municipalities and if we segment the Downtown Toronto Core (C08, C01, E01) all have outpaced that historical average, with the exception of (C08 Freehold, C08 Semi)

What this means is that, yes the fair housing plan, stress test and higher borrowing costs have had a large impact on the short-term market, they have successfully slowed the crazy hot market that we saw last year. BUT they haven't squashed it. The market is just stagnating, it's still healthy and we expect it to pick right back up very soon. If you purchased before 2017 and are thinking of selling, you've likely gained a ton of equity over the years and will probably make a great return on your property. If you're thinking about buying and you've been hoping for prices below their 2017 peak, you're in luck — as long as you pick the right community and act quickly.