If Toronto's affordable housing crisis needs a symbol of hope, mass timber may be it. This emerging form of construction is getting lots of attention lately for its countless benefits from sustainability to affordability. The Ontario government is putting money behind mass timber research and development and it may just hold the key to curbing Toronto's housing affordability issue while simultaneously fighting climate change.
ONCE AGAIN, B.C. LEADS THE TREND
Building with timber is an emerging trend that is sure to revolutionize the way we build our future. As it stands now — no pun intended — the tallest mass timber building in the world is the University of British Colombia's Brock Commons. Standing at 18-storeys, this UBC residence is home to more than 400 students and took only 70 days to build.
Imagine the time we could save producing some much needed housing in Toronto when the build time could be under 100 days? Unfortunately, the Ontario Building Code limits buildings of mass timber to just six-storeys but there are efforts to amend the current code to allow for progress with this new type of building.
In fact, an exception was given to George Brown College who has plans to build the Arbour, a 12-storey mass timber building on their waterfront campus. Construction is set to start in 2021 and The Arbour will be Ontario's first tall wood building. It will become the home of the Mass Timber Institute serving as an experiment in mass timber technologies and an ongoing research facility for future mass timber buildings.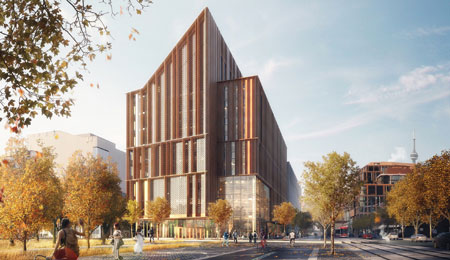 Key Benefits to Building with Mass Timber
• Low carbon footprint
• Fire safety
• Faster construction time
• Benefits for Ontario's forest industry
• Cost savings that can be passed on to consumers
THE ENVIRONMENTAL BENEFITS OF BUILDING WITH MASS TIMBER
The Ontario government is investing $7.8 million into the Mass Timber Program. The funds will go towards researching and developing mass timber building systems and specialized training for architects, engineers, builders and so forth.
The Mass Timber Program is also part of Ontario's Five-Year Climate Change Action Plan. If we can start using mass timber instead of steel, this renewable resource could reduce carbon dioxide emissions by 15% to 20%.
How?
Not only does wood absorb carbon reducing greenhouse gases, it's also a naturally occurring resource that requires far less carbon to produce. "In contrast to concrete and steel, which require a lot of carbon for their production and transportation, wood is something that occurs naturally, and it can be transported lightly" says Gilbert Delgado, the University of Toronto's Chief of University Planning.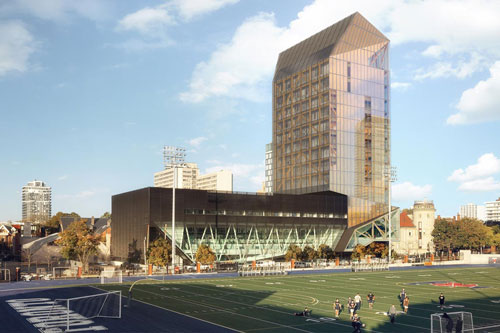 U of T is working on another mass timber structure, a 14-storey academic tower that will be North America's tallest timber and concrete hybrid tower.
THE SAFETY BENEFITS OF BUILDING WITH MASS TIMBER
It may seem counter-intuitive that a building made of wood would be safer in a fire than one made from a steel frame, however, the evidence shows that wood burns more slowly due to the build-up of carbon in the wood.
In a fire, the wood will actually char on the outside, protecting the interior wood from damage and maintaining the overall structure. Steel, however, will begin to melt at high temperatures and concrete loses its compressive strength quite quickly.
When it comes to construction safety, mass timber panels that are used in tall wood buildings are prefabricated and assembled on site. This means construction sites of mass timber buildings are safer and the timeline to build, as we mentioned earlier, is much shorter.
HOW MASS TIMBER BUILDINGS CAN POSITIVELY IMPACT TORONTO HOUSING AFFORDABILITY
Whether Toronto allows Sidewalk Lab's Smart City to come to fruition or not, the innovative minds behind Google's parent company are planning for an all-timber development in the future Quayside.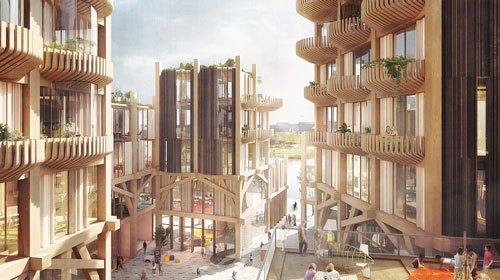 The reason building with timber may help curb Toronto's housing affordability issue is two-fold: both the time and cost to build are less.
The labour and material costs for pre-construction condos in Ontario have increased significantly over the last few years. Construction costs rose 7.2% alone in 2018 and that's been reflected in the cost to buy a pre-construction condo in Toronto.
Timber is easy to source and manufacture when compared to steel and concrete (not to mention the boost to our forest industry). To build with timber, you can manufacture the panels you need off-site, send them to the construction site and assemble them in a fraction of the time.
The cost to build with timber is cheaper and faster, both of which gets passed on to the consumer. If we can build these mid-rise buildings in 70 days, as was the case with Brock Commons in B.C., we can hopefully produce more housing units at a pace that is conducive to our quickly growing population along with a more affordable price tag that will help level out our housing crisis.
We haven't even gotten into the aesthetic benefits that timber buildings provide. Wood has a warmth and naturalness to it that is proven to be comforting. Being surrounded by wood can actually have stress-reducing phycological effects, similar to those you experience when in nature.
We can see that the timber revolution is underway. With government funding for research, the benefits for climate and housing, it'll be nice to see some of our concrete jungle to have a bit of softness to it.
Lead image from Urban Toronto