WHY INVEST IN TORONTO REAL ESTATE?
The real estate market, especially in Toronto, is one of the fastest growing in this part of the world. The huge boom can be explained by the forever increasing demand for housing in this cosmopolitan city coupled with the limited supply of houses here.
Based on the fact that Toronto's prominence as an international center of business and finance is only rising, the housing market is not expected to die off any time soon. In fact, it's only supposed to grow in both stature and value. Moreover, this multicultural city with one of the most diverse populations in the world also serves as the country's technological hub, attracting people from all over the globe. As talented and qualified professionals come to the city in search of lucrative job opportunities, the demand for houses will continue to explode over time.
The message is plain and simple: Invest in new condos in Toronto or in any other type of residential property in the city and enjoy a steadily growing investment.
LOWER RISK
History tells us Toronto real estate is a safe long term investment. On average, the Toronto real estate market grows 5% per year. Combine that with our principles and investment strategy for results that outperform the market.
Our clients have already seen 8% to 28% equity gains on their 2018 investments.
HIGHER RETURN ON INVESTMENT
Compare real estate returns to your RRSPs, stocks, bonds and mutual funds over the last decade—there's likely no competition. Real estate outperforms almost every time, decade after decade.
BUILD EQUITY
As one of the leading Toronto real estate investors and brokers, we take pride in being an expert on everything related to our domain, be it resale vs. pre-construction houses or investment condos for sale.
We know where people want to live, what the real estate market responds to and what trends will affect your investment over both the short and long-term. We'll make sure you are building equity no matter what type of property you choose to invest in.
Invest in Toronto Real Estate with Success
EXPERIENCE PAYS
Pierre's tenured advice will guide you towards the best investments in Toronto. However our guidance is not only confined to finding the right property; we also provide you with a roadmap on how to make the most money with what you already have. Whether you're after a cash-flow positive investment, equity gains, or just a great ROI, Pierre has the experience and proven track record to generate high returns.
Read what our investors have to say about working with Pierre here.
Investing in Toronto Real Estate with Pierre
Pierre bought his first property when he was 18 years old. By the time he was 21, he took that one property and turned it into six. Today we use the same strategy, fundamentals, and precedence Pierre has developed. He's turned this strategy into a career that gives clients the tools they need to build wealth through real estate and develop their portfolios.
When you invest with Pierre, you get the highest level of service. We believe in educating our clients on the best real estate investment opportunities in Toronto and ensuring the entire process is hassle-free. Beyond guiding clients towards lucrative investment opportunities, our full service team and network of professionals takes care of all your Toronto real estate needs.
It's not about buying one thing; it's about buying the right thing.
PRE-CONSTRUCTION VERSUS RESALE
If you're a first-time investor, you probably have a lot of questions on your mind like how to invest in Toronto real estate or whether to buy pre-construction or resale property. And as experts in our field, we're proud to share with you our expertise in investing in real estate acquired over the years.
Furthermore we're constantly tracking the active market and are adjusting our strategies in order to earn our clients the best returns possible. By monitoring trends and pricing in all areas and on all products, we are finding the best investment opportunities based on the market at the time.
INVESTING IN PRE-CONSTRUCTION
Pierre's expertise in Toronto's pre-construction condo market has earned him Platinum Broker status among Toronto's top developers. Working with us gives you the opportunity to invest in the Toronto's most buzzed about properties at the best possible prices.
This allows you to gain equity on signing, build equity during construction and rent your unit at a premium. When you're ready to sell, you can rest assured that you'll earn a high return, as your investment is a premium layout in a desirable building and a sought after Toronto neighbourhood.
If you meet these three major qualifications you're likely a good candidate for investing in pre-construction:
 • You have a 15% down payment available or you already have equity in a property
 • You can save enough over three years to qualify for a mortgage
 • You're willing to be a landlord when the building takes occupancy
INVESTING IN RESALE
More than just condos, the resale market ranges from multi-residential to commercial storefronts. While these will have a higher price tag, if it's within your means, these make for excellent long-term investments.
Beyond the multiple income streams you earn from multiple rent rolls this high revenue earning investment is also a great way to build significant equity. The equity you are able to build in the freehold market is substantial. In downtown Toronto freehold prices have been skyrocketing between 10-20% per year over the last decade.
If you meet these three major qualifications you're likely a good candidate for resale investing:
 • You have a 20%+ down payment ready to go
 • You've met with a mortgage professional and can qualify for a mortgage today
 • You don't mind being a landlord for an extended period of time
REAL RETURNS
Pierre's experience both as an investor and a real estate agent gives him the ability to guide his clients towards investment properties that will yield high returns.
His experience selling pre-construction condos in Toronto means he has an eye for spotting profit and only recommends properties with the best investment potential. He won't recommend anything he wouldn't personally buy himself.
These carefully curated picks for investing in Toronto real estate are based on layout, price per square foot, exposure, quality of view, profitability, and investment potential. Have a look at the recent success some of our clients have had with their investment properties below and read the success story of one of our clients in our client Case Study.
COMPLIMENTARY PROPERTY MANAGEMENT SERVICES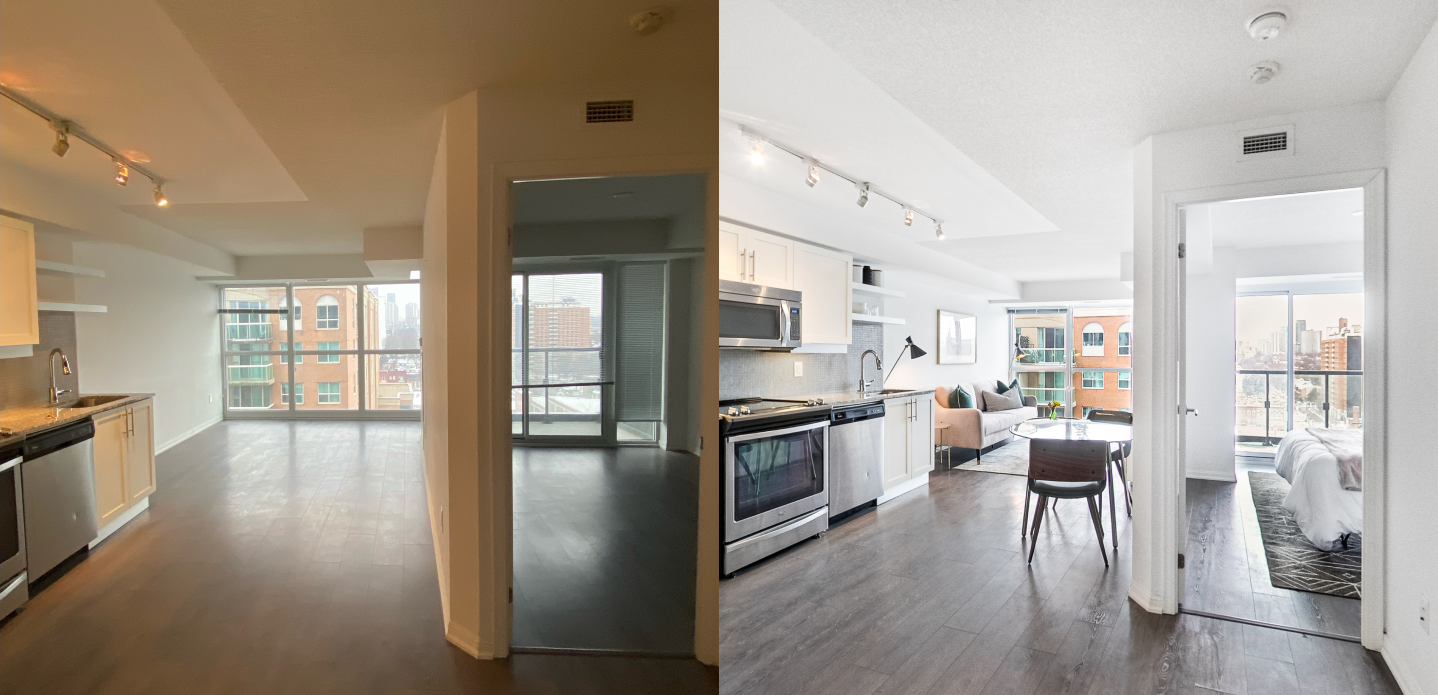 When you invest in real estate in Toronto with the Pierre Carapetian Group, you get the highest level of service. We'll help to ensure leasing your property is a hassle-free and enjoyable experience. From finding and vetting tenants, handling and storing all of your leasing paperwork, to tenant relations, maintenance and repairs – we've got you covered. Download our Property Management Booklet for a full range of our services.