Whether you're looking to buy a Toronto home or are simply dreaming of one, realtor.ca is a sufficient tool to start browsing around. But that's pretty much all it's good for. In today's highly fierce real estate market, you need a competitive advantage to ensure you get that home of your dreams when it hits the market. So when should you use realtor.ca and when should you use a Realtor?
I'll try not to knock the real estate search platform too much, but you'll know when you land on the website that what you see is what you get. The design is quite lack-lustre and the features aren't much better. So when is it good to use realtor.ca?
WHEN REALTOR.CA IS THE RIGHT CHOICE
If you aren't in the market to buy — at least not seriously

If you are just casually looking at properties

If you are just getting an idea of what's available within your price range

 
WHY REALTOR.CA ISN'T FOR THE SERIOUS HOME BUYERS
It can be time consuming as you have to filter through all the listings one-by-one

It lags behind MLS listings and can take up to two days for a new listing to appear

 

House listings aren't actively updated so you'll be shown some listings that have already sold
It's a good place to start, but when you're getting serious about your home search, using a Realtor will make the process far more efficient and enjoyable. Not only will you save so much time filtering through listings, but your Realtor can create a custom property search for you and send you daily prospects that actually match your criteria. They can send you a list of homes that "have open houses today". Beyond that, they have access to listings the minute they hit the market, whereas realtor.ca can sometimes take up to two days before listings hit their site. This real-time access can be the difference between getting your dream home or watching someone else nab that pad.
And did we mention that it's completely free? When buying a home, you pay zero fees to use a real estate agent.
SEARCH #LIKEAREALTOR
If you prefer to be hands-on and want to stay active in your property search, we have a tool that extends our realtor-exclusive access to all of the newest listings directly to you. Using our app means you can search #LikeARealtor, getting real time search results even before they appear on Realtor.ca. Not only do you get real-time access, but you get far more details than realtor.ca.
Click on the image below to compare the listing details from realtor.ca versus those found on our app for the same property.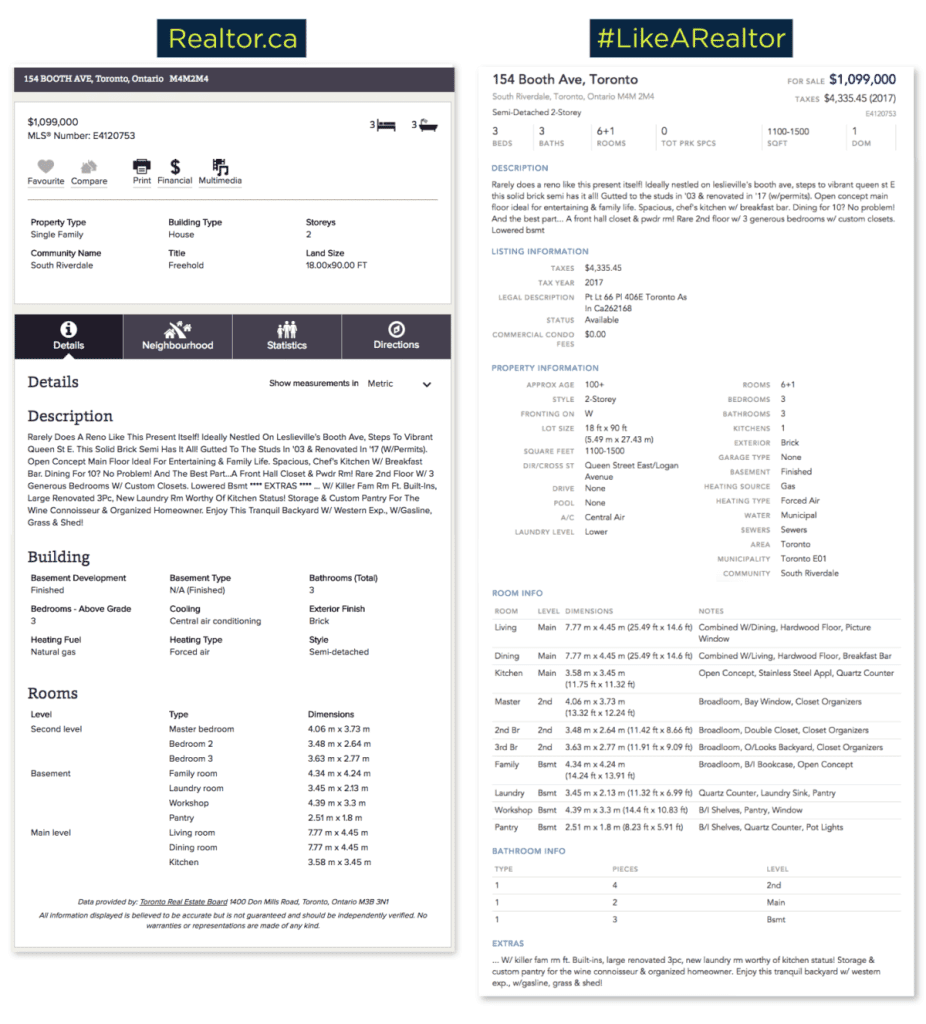 This quick snapshot shows that there are minimal details served up with the listing when on realtor.ca. While you may not be desperate to know the legal description of the listing, there are key details that realtor.ca neglects to offer like square footage, days on market (DOM), status and property taxes. It even goes as far as to describe each room's specifics from finishes and flooring to closets and lighting.
Keep in mind, this is just the snippet of property details. Our #LikeARealtor app also calculates the estimated monthly mortgage payment including the breakdown of principal and interest, property taxes, and maintenance fees (for condos).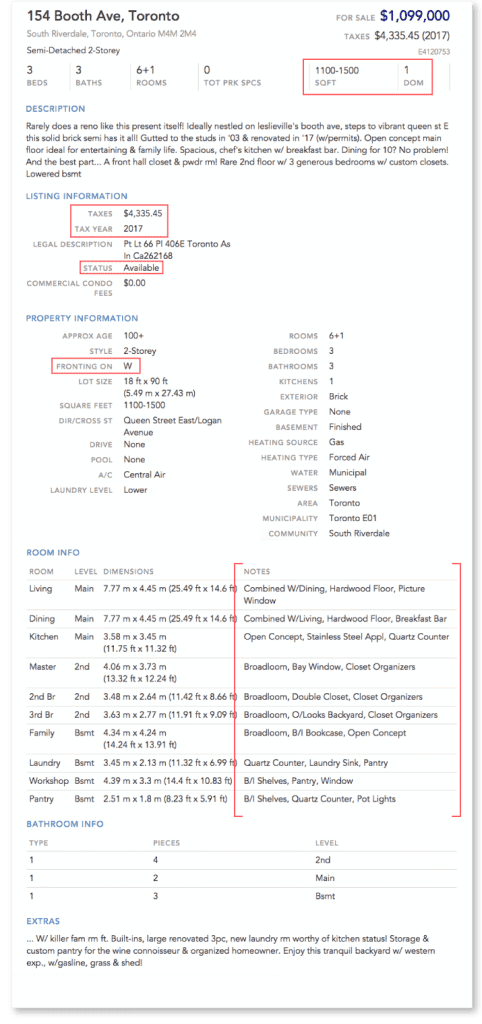 So if you're just starting to explore the Toronto real estate market, using realtor.ca will certainly help paint a picture of what you can expect to find within your price range. But when you're serious about buying, and you want to upgrade your searching abilities, you'll want to use a Realtor who will find properties that are best suited for you, within your budget and will help you find the home of your dreams.
If you want to learn more about Search #LikeARealtor and wanand want to get ahead of the competition in your home search, tell us you're interested and we'll send you an invite!