With the new year around the corner — gasp — there's lots of excitement in the air. Buyers and investors who have long awaited their Toronto pre-construction condos to rise from former parking lots will soon have a move-in ready condo. What's great about many of these new condos taking occupancy in 2020 is the addition of some much needed family-sized inventory.
Whether you're looking to buy an assignment or are in the market for a brand new rental in 2020, here are six Toronto condos occupying in 2020 to keep on your radar.
Canvas Condos | East Danforth | January 2020
Riverside Square | Leslieville | Winter/Spring 2020
Platform Condos | Danforth | Spring 2020
Harris Square Condos | Corktown | Spring 2020
The George Condos and Towns | Leslieville | Summer 2020
Birchcliff Urban Towns | Birch Cliff | Fall/Winter 2020
1. Canvas Condos
2301 Danforth Avenue | East Danforth | January 2020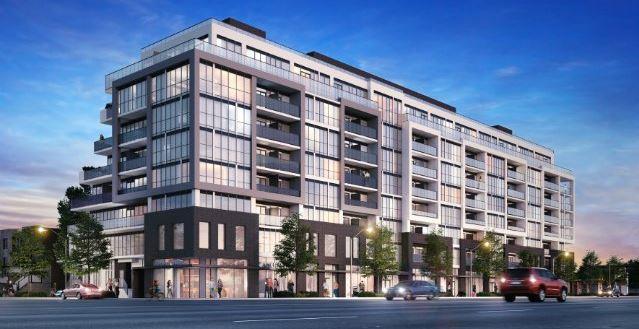 Originally slated to be move-in ready for the summer of 2019, Canvas Condos is now expected to take occupancy in January 2020, adding some much needed inventory to Toronto's east end. This ultra-modern boutique condo is nestled between two subway stations along the Danforth. Canvas Condos is the first of a few new condo projects that seem to be hitting Toronto's East Danforth.
Designer suites are surrounded by incredible amenities including a gorgeous rooftop terrace, a modern party room, fully equipped fitness centre and even a pet spa for your four-legged pal.
The neighbourhood is a great place for those who like to be outdoors. Surrounded by some of Toronto's best ravines, walking and biking trails or be the first to the Beach in the summer.
While rents in the area are less than downtown, the demand for rentals in Toronto continues to be high. If you're looking for modern living for less, keep your eye out for rentals when Canvas Condos takes occupancy in the new year.
Average monthly rental prices from Q3 2019 for this community are:
1 bed $2,222/month
2 bed $2,787/month
3 bed N/A
Related: New Condos and New Development for Main and Danforth
2. Riverside Square
30 Baseball Place | Leslieville | Spring 2020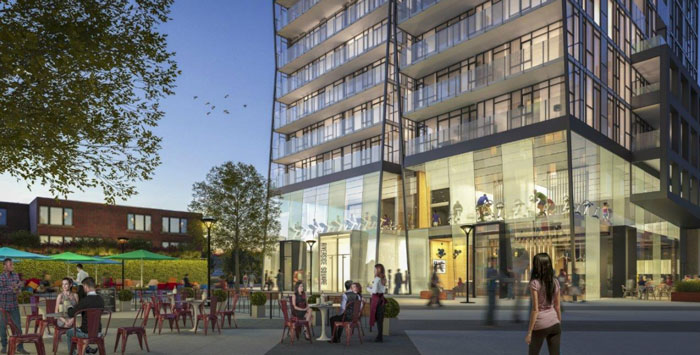 Riverside Square's five phase condo community has been on the rise for over a year now. The first two condos, 25 Baseball Place and 15 Baseball Place, have already taken occupancy. Next up is 30 Baseball Place and is estimated to begin occupancy in March 2020. The rooftop of 30 Baseball Place is home to the pool lounge with stunning unobstructed city views. Just in time for summer 2020 — those current and future residents of Riverside Square are anxiously awaiting that pool's debut!
Located on the cusp of Leslieville and Riverside, the Riverside Square development, in addition to lots of new condo and rental inventory, will bring a small park, public spaces and retail to this area just east of the Don Valley on Queen East.
This highly desirable neighbourhood will definitely benefit from new rental inventory being added to this area. With amenities including a rooftop pool and lounge, fitness centre, party room and guest suites, the new condos at Riverside Square have already been a popular spot for those looking for new rental opportunities.
Average monthly rental prices from Q3 2019 for this community are:
1 bed $2,267/month
2 bed $2,838/month
3 bed N/A
3. Platform Condos
1177 Danforth Ave | Danforth | Spring 2020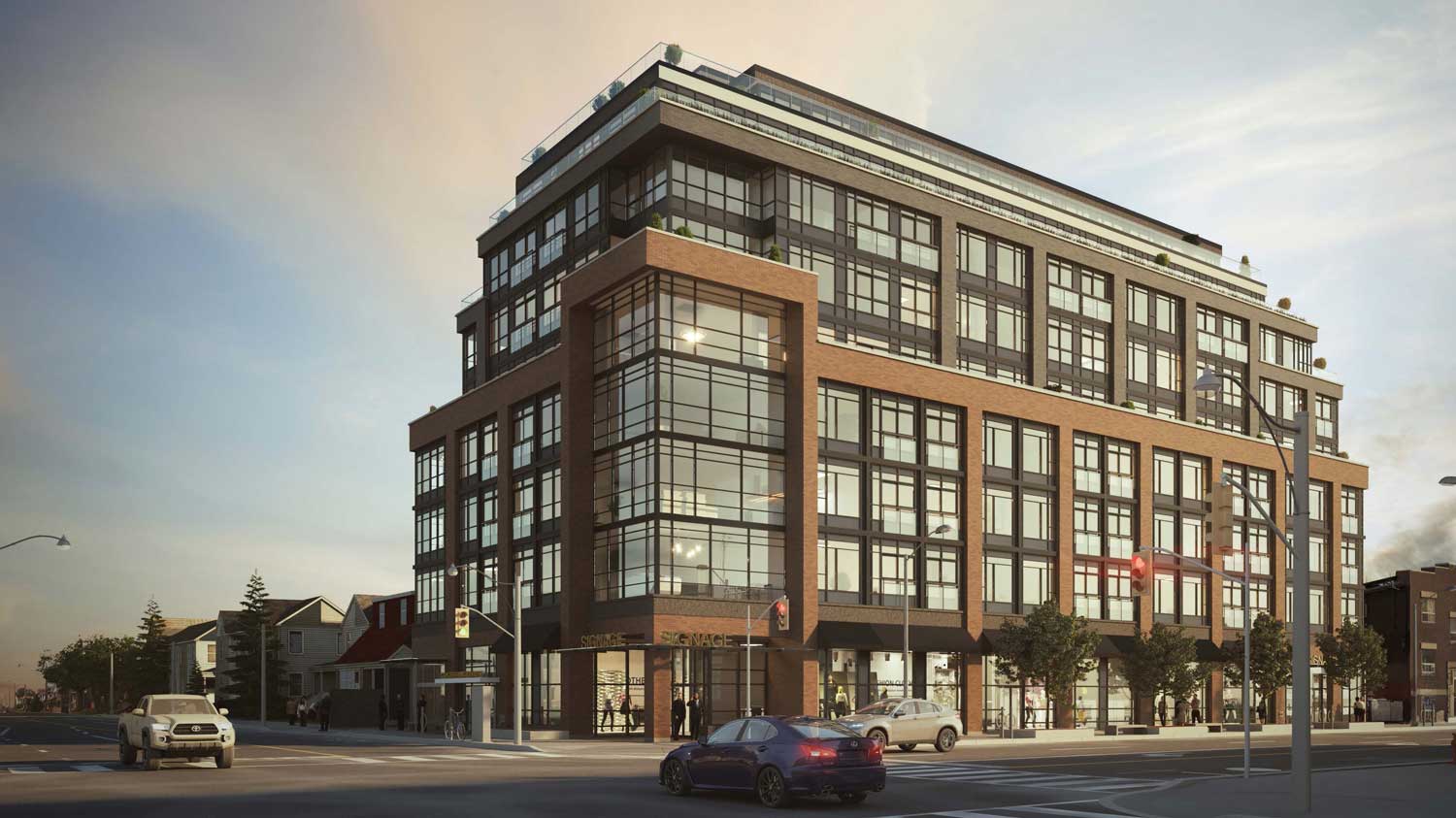 When Platform Condos launched their pre-construction sales in 2017, it was a sold out success. Recognizing the lack of condo inventory along Toronto's east end, investors were quick to pounce at the opportunity.
Designed by Kirkor Architects + Planners, this boutique residence has only 92 condos to take occupancy in the spring of 2020. Even with just shy of 100 condos in total, they have a variety of suite sizes ranging from studios to three bedrooms plus dens.
Amenities include a gym, large outdoor terrace with BBQs and firepits, lounge with chef's kitchen, party room, and games room. If you're not entertained enough at home, hit up the vibrant Danforth stretch, one of Toronto's friendliest neighbourhoods. The location is has many of the best restaurants, pubs, shops and essentials.
Those looking for rental opportunities come spring, should keep their eye on Platform Condos.
Average monthly rental prices from Q3 2019 for this community are:
1 bed $2,267/month
2 bed $2,838/month
3 bed N/A
4. Harris Square Condos
Lower River Street | Corktown | Spring 2020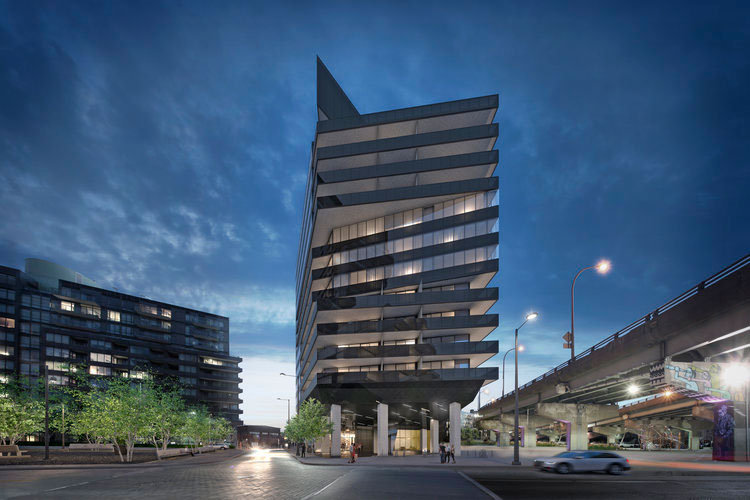 Taking shape alongside Adelaide Street East and Lower River Street is the final condo of the River City community, Harris Square. This boutique residence brings the design expertise of Saucier + Perrotte Architects for what they proclaim to be the most design forward residential development in Toronto, setting a new standard for condo design.
Named after the quietly elegant public square that it faces, Harris Square will be a series of gyrating pentagonal plates, reflecting the five sides of the site itself, and allowing for oversized balconies and terraces on most floors. Condo suites range from 359 square foot studios to 1,780 square foot three bedroom plus dens.
Harris Square is also a stone's throw away from the future East Harbour development which will see 50,000+ new jobs and a huge new transit hub for Toronto's east core.
Average monthly rental prices from Q3 2019 for this community are:
1 bed $2,378/month
2 bed $3,218/month
3 bed $4,466/month
5. The George Condos & Towns
1331 Queen St East | Leslieville | Summer 2020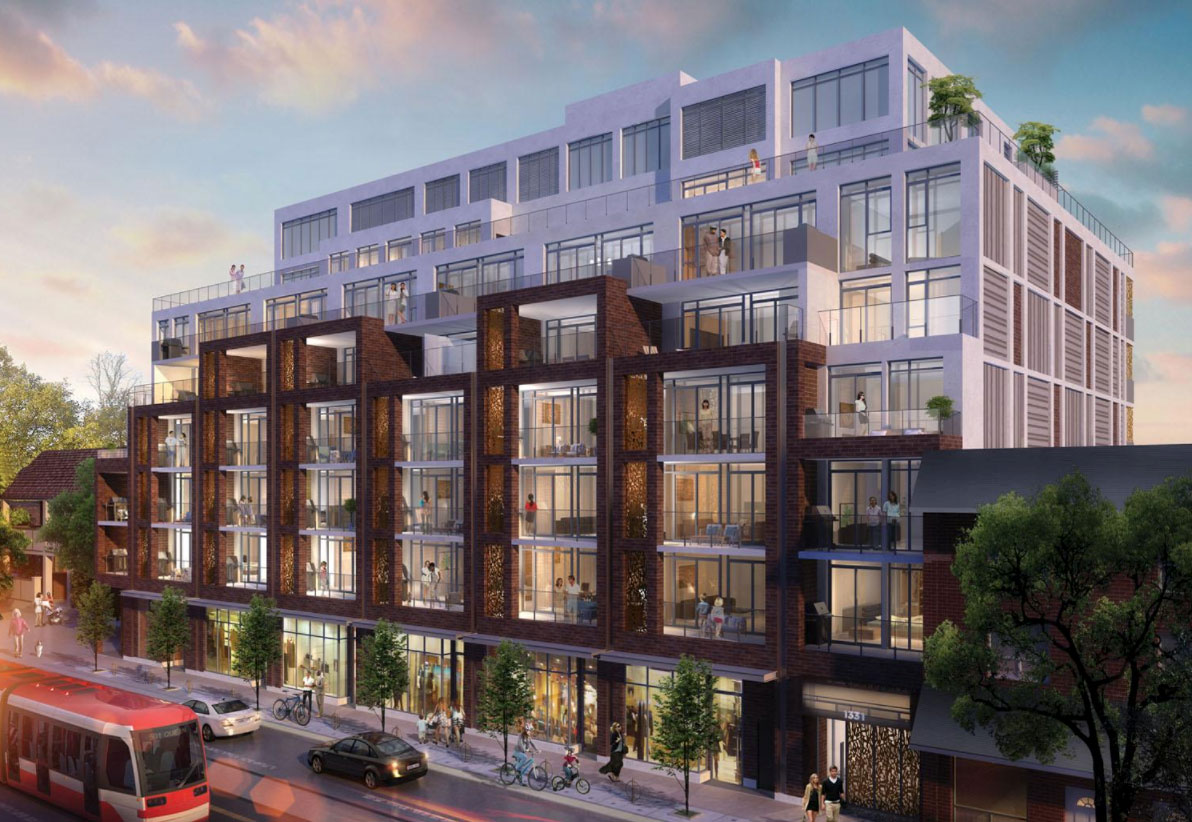 Located in trendy Leslieville, The George Condos and Towns is an intimate 8-storey boutique residence featuring 83 units and 8 modern towns. Named for George Leslie, the famous Toronto horticulturalist and founder of this historic community, George is built for design-conscious urbanites with an eye for the good life.
Redefining outdoor space, the "Urban Yards" are ultra-deep, recessed balconies that expand the living spaces dramatically and range in sizes up to 30 feet wide and up to 10 feet deep, with room for patio furniture, plants, and a kids' play area.
Those looking for a chance to rent in Toronto's beloved Leslieville neighbourhood are best to keep their eye on the market when The George takes occupancy next summer.
Average monthly rental prices from Q3 2019 for this community are:
1 bed $2,267/month
2 bed $2,838/month
3 bed N/A
6. Birchcliff Urban Towns
1665 Kingston Road | Birch Cliff | Fall/Winter 2020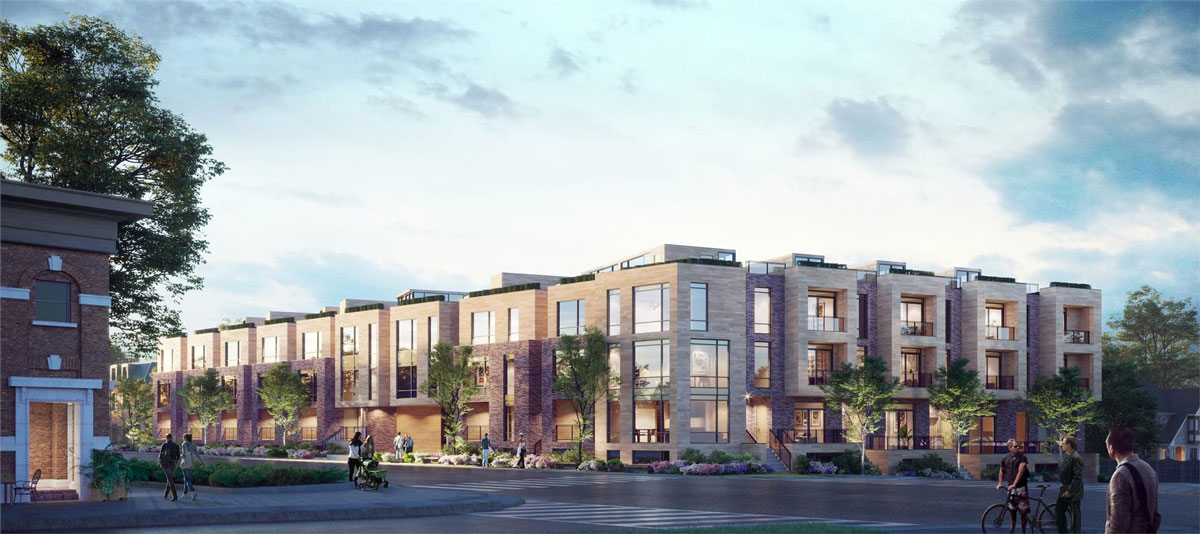 Birchcliff Urban Towns is a master-planned community just steps to Lake Ontario. Surrounding a central landscaped courtyard are 52 urban towns, each part of their own collection and all of which offer garden patios or rooftop terraces.
The contemporary urban towns at Birchcliff have an abundance of natural light, open-concept living spaces and modern kitchens. Outdoors, residents of Birchcliff Urban Towns will love congregating in the beautiful garden courtyard in the afternoon or spending evenings on the rooftop terrace BBQing and entertaining in style.
The location of Birchcliff Urban Towns is hard to beat. Sheer minutes to Lake Ontario and adjacent to Birch Cliff Public School. The Birch Cliff neighbourhood is neighbour to the beautiful and picturesque Scarborough Bluffs, The Toronto Hunt Club, the Toronto Beaches and Danforth neighbourhoods and so much more!
Average monthly rental prices from Q3 2019 for this community are:
1 bed $1,913/month
2 bed $2,300/month (condos)
2 bed $2,690/month (townhomes)
3 bed N/A
Related: Why Toronto Families Should Consider Urban Townhomes
Whether you're looking for a condo to rent in 2020 or are interested in buying an assignment, these six Toronto condos are worthy of your attention. If any of these condos or other pre-construction condo projects are of interest to you, book a call with us to discuss. We're happy to help you navigate the market and achieve your real estate goals.