Announced last week is the city's plans for The Meadoway, a 16-kilometre long park that will become one of Canada's largest linear parks in an urban space. The project was originally initiated by two pilot projects back in 2012 funded by the Weston Family Parks Challenge. These projects successfully revitalized 100 acres of the Gatineau Hydro Corridor into meadows, multi-use trails, and gardens and now The W. Garfield Weston Foundation has contributed another $10 million towards revitalizing the remaining 400 acres of the hydro corridor.
The Meadoway will connect sections along an existing hydro corridor into one 16-kilometre long park. The park will stretch from Rouge National Urban Park in Scarborough to the trails that follow the DVP right into the downtown core.
The Meadoway, which runs east-west, will connect four ravines that run north-south, 15 parks, and 34 neighbourhoods over 500 acres of land. In fact, 17% of Toronto's land is made up of these ravine systems that it will eventually serve to connect.
In a press release last week, Tamara Rebanks from The W. Garfield Weston Foundation said "As Canada's cities continue to grow, we need to develop smarter ways to bring nature back into our neighbourhoods and our lives."
The revitalization of this green space will become home to over 1,000 diverse species of flora and fauna. With cycling and walking trails throughout, it will give Torontonians a path from Scarborough to downtown Toronto without ever needing to leave the natural surroundings.
Additionally, there will be ten agricultural gardens throughout the Meadoway for communities to grow their own food while also building connections for stronger, healthier communities.
WHAT ARE THE GOALS?
First and foremost, this is an incredible opportunity to offset the carbon emissions that urban areas have on the environment. Toronto's avid cycling community can opt for a greener commute on weekdays and have access to uninterrupted nature trails on weekends.
The Meadoway also aims to reconnect the city's residents with nature. By connecting 34 east-end neighbourhoods by way of countless trails, ravines, parks and gardens, residents can get lost exploring the flora and fauna that now exists in their backyard while simultaneously engaging in a more active lifestyle.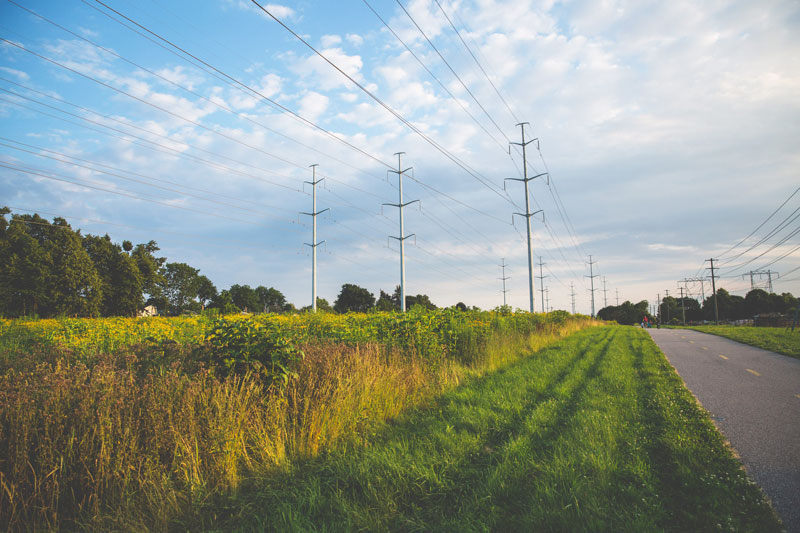 Meadows and parks will see new life in more ways than one. With a rich landscape of new plants and wildflowers, a home for birds, butterflies and our ever-scarce bee population will have a place to thrive.
HOW ARE THEY DOING IT?
The project has a price tag of $85 million — $34 million of which has already been raised. The city of Toronto has committed $6.3 million of their capital budget to build the trails as well as their ongoing maintenance.
Mentioned earlier is the generous $10 million contribution from The W. Garfield Weston Foundation. This foundation has been committed to funding land conservation, education, and medical research for the past 60 years. They have also pledged to contribute an additional $15 million as the project gets underway.
The projected timeline for the Meadoway is seven years. If you're interested to learn more on how you can get involved or donate to the project, visit themeadoway.ca