When it comes to heritage conversions, Toronto has no shortage of funky made-to-order units that have managed to stand the test of time by combining fresh and innovative design with century-old construction. These old buildings are already brimming with character so the purpose of a restoration is simply to retain the unique features reminiscent of old-times, while giving the property in question a much-needed facelift.
From repurposing an ancient church to overhauling a derelict factory, developers know that the real value of a historical property lies in its minutiae, from exposed brick walls to drop-ceilings made from old-growth pine, to fine lattice woodwork and tall, cascading windows, adorned with unusual tinted opaline glass. There's a reason why some of the most popular condominiums on the resale market are heritage conversions. In celebration of Toronto's rich history and shifting real estate landscape, we're shining a spotlight on five of our top heritage picks, built decades ago but still standing, stronger now than ever before.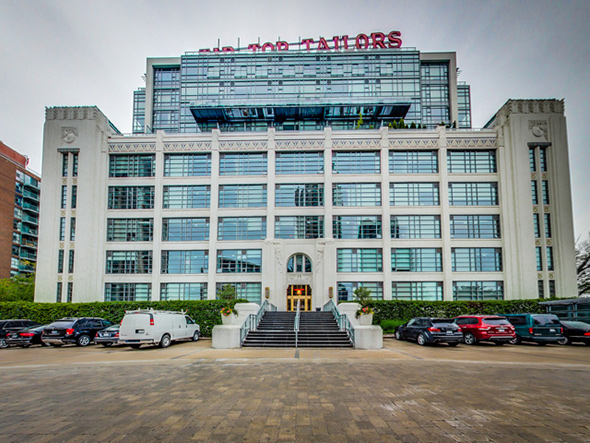 TIP TOP LOFTS
637 Lakeshore Blvd West
Originally constructed by Bishop & Miller in 1929 at the height of the art deco design era, the Tip Top loft building was the manufacturing, warehousing and retailing hub of the popular Toronto clothing retailer, Tip Top Tailors Ltd.. Designated as a heritage property by the city of Toronto in 1973, this industrial structure was well endowed for a retrofit into hard lofts featuring expansive windows, exposed duct work and concrete ceilings and floors. The exterior is characteristic of art deco builds with a symmetrical façade, strong vertical lines, large brass doors and an array of colourful Terra Cotta panels detailing the fifth floor. An added bonus of this iconic heritage conversion is that the surrounding neighbourhood has maintained its old-town feel, so every day holds a hint of that modern-day blast from the past.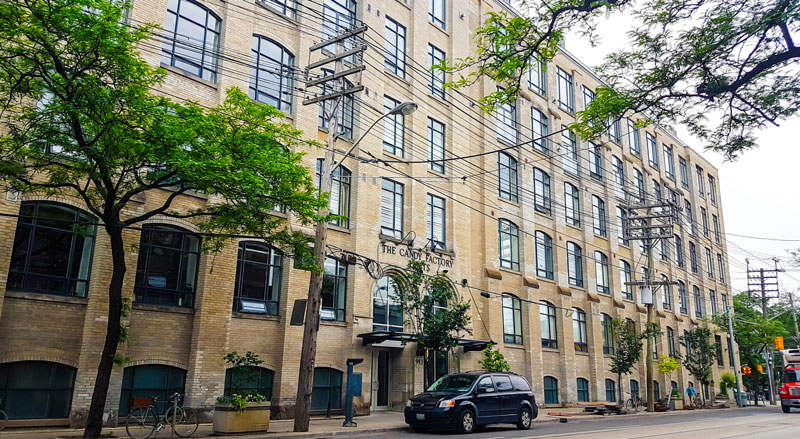 CANDY FACTORY LOFTS
993 Queen West
A relic from the 1930s, this heritage conversion is aptly named, having served as the former home of Ce De Candy Company, a confectionary company famous for its invention of Halloween staples like Smarties, Rockets and Fizzers. This old post brick and beam conversion underwent remodelling in 1999, culminating in 121 original-feature lofts characterized by funky layouts, 12 to 14 foot ceilings, sand-blasted exposed brick, plank hardwood floors and all of the modern amenities one could ever need interspersed throughout. The Candy Factory warehouse originally covered an entire city block, and the rejuvenation project is still widely acknowledged as the catalyst to the redevelopment of the downtown west district.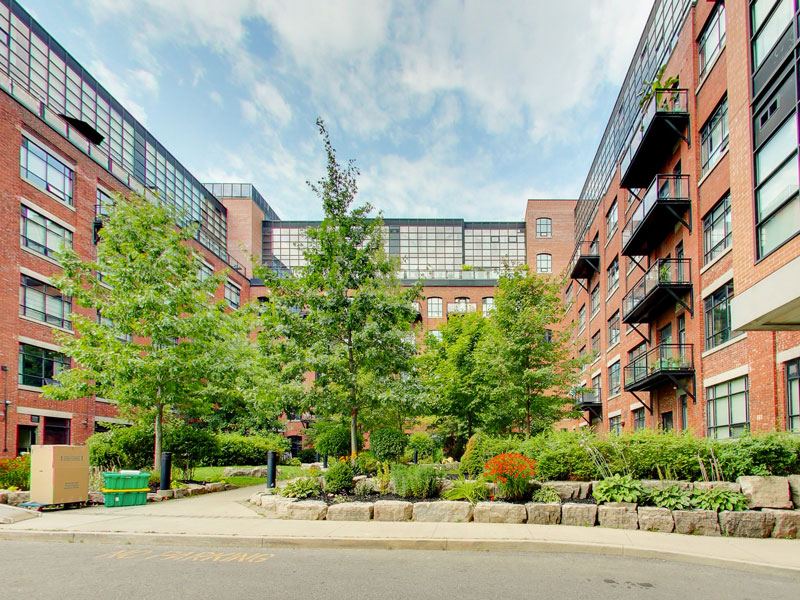 BROADVIEW LOFTS
68 Broadview Ave
The five-storey building was constructed for the United Drug Company in the 1920's to house the Rexall Drug Warehouse. This heritage conversion retains many of the beautiful brick and beam features that distinguish hard-loft living in downtown Toronto. Consisting of an original warehouse turned undisputed hard-loft space, this 166 unit, seven-storey building retains much of its industrial eccentricity, with high ceilings, wood columns, polished concrete floors, flowing open concept designs and expansive windows that allow for plenty of natural light. Upgraded features for modern-day living include top-end appliances like Bosch dishwashers and full-sized Samsung washer and dryers.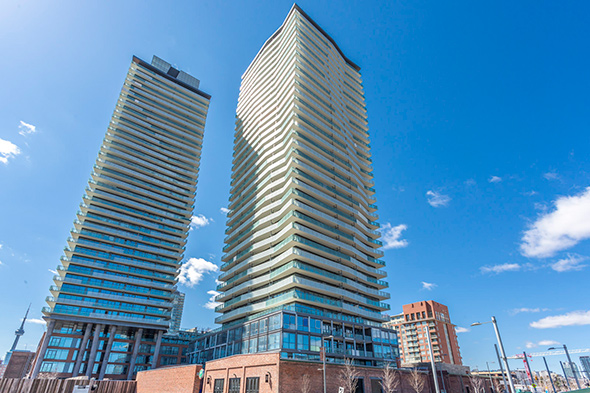 THE GOODERHAM
390 Cherry Street
Set in the heart of the Distillery District, the Gooderham is one of the first residential components added to the former grist mill turned whiskey distillery turned Victorian walking district. Named after the Gooderham family who grew wealthy in the distilling and banking industries, this relatively new build boasts modern interior suites plunked down amidst a feature of preserved warehouses in a vibrantly restored 13-acre historic site. Though a part of the bustling downtown core, The Distillery District is a return to days gone by, a refuge from the trappings of modern existence, and the Gooderham offers to its privileged residents a return to an old-town way of life.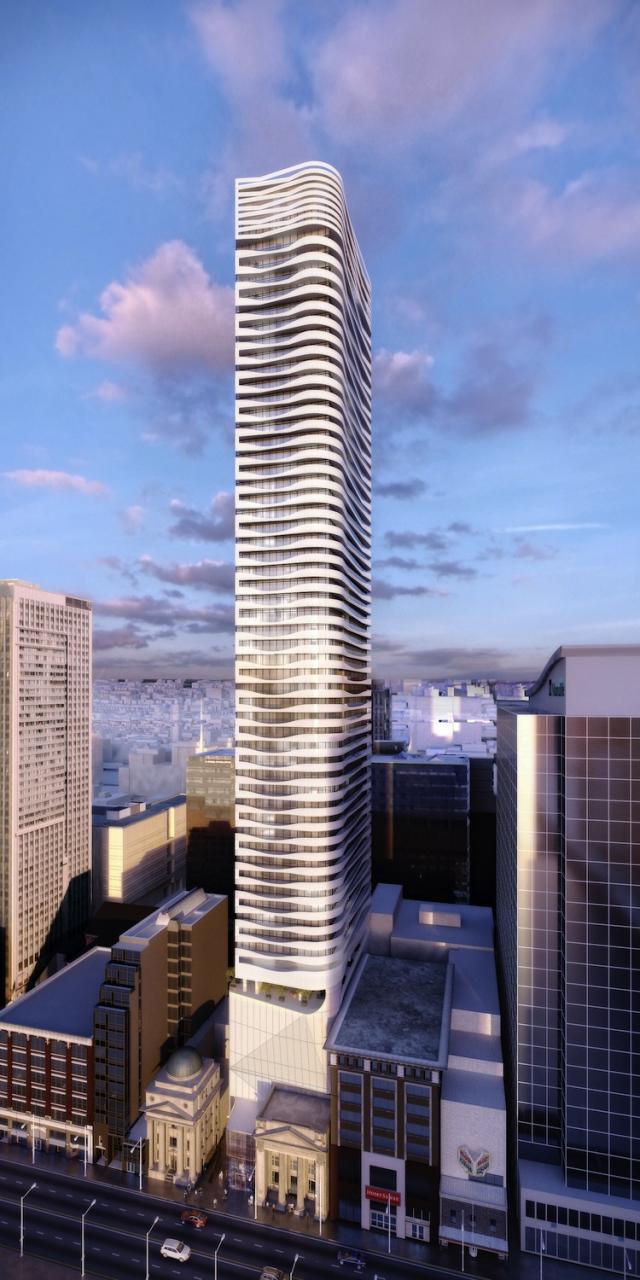 MASSEY TOWER
197 Yonge Street
Massey Tower is a new complex under construction, by award-winning Hariri Pontarini Architects. Massey Tower's design aims to embrace the historic façade of the 1905 Canadian Bank of Commerce headquarters, which has been sitting vacant since the 1980s. With interior plaster moldings and a circular mosaic floor, the Massey Tower proposes to retain the classical features of this financial giant, while adding 700 residential units to an area of notable cultural significance which houses remarkable Canadian establishments including Massey Hall and the Elgin Theatre.
Love heritage conversions? Read our article about Toronto's old Weston Bakery and its future as a hard-loft in Leslieville