A lot can change in a decade: you might have switched careers once or twice, maybe you got hitched and want to start a family or perhaps the neighbourhood you're in no longer suits your lifestyle. Whatever the reasons are, you've outgrown that house or condo you bought back then and you're ready to buy your next Toronto home.
The Toronto real estate market has also changed a lot in the last decade and if you bought a few years ago you'll likely have gained some great equity. But overall the prices are higher, the mortgage rules are tougher, and the competition is fierce. Stick with us and we'll help guide you towards the best approach to buying your next Toronto home.
GETTING FAMILIAR WITH YOUR CRITERIA, THE LOCAL MARKET AND ITS AFFORDABILITY
First things first: decide what you're in the market to buy. How has your lifestyle changed? What Toronto neighbourhoods do you prefer? If you have kids or are planning to have kids, how are the schools in those neighbourhoods? Will you need a few extra bedrooms? Make sure you consider these elements along with any must-haves and dealbreakers to narrow your search criteria.
The next step is to start browsing the market to get a sense of what's out there and what the going-rate is for homes that match your criteria. Realtor.ca is always a great place to casually browse the real estate market but as you get more serious about your search, get in touch with your Realtor. Have them set up a prospect match so you can get all of the newest listings sent directly to you.
Read this article about when you should use Realtor.ca and when you should use your Realtor
UNDERSTANDING YOUR FINANCES: FROM MORTGAGES AND CLOSING COSTS TO YOUR HOME VALUATION
The earlier you can establish what you have to work with financially, the better. The first step is to get your mortgage pre-approval. As I said, the lending guidelines have changed quite a bit and you'll want to know what you'll qualify for with the new Stress Test in place among before searching for your next Toronto home.
The next step is to have your Realtor do a home valuation on your current property. You'll want to know what they believe you'll realistically get for your property when you go to sell. It's good to be conservative so when you're crunching your numbers budget on the low end of their valuation.
Knowing what you'll likely get for your home, start calculating all of the costs affiliated with selling your home and those involved in purchasing your next home. These costs include:

• commissions
• outstanding mortgage balance
• Land Transfer Tax
• legal fees
• moving expenses
Calculating thoroughly will help give you a realistic expectation of what you'll have for a down payment when buying your next Toronto home. Let's say you're able to sell your current property for $800K. After paying the remainder of your mortgage along with the above expenses considered, you might only be left with $250K for a down payment. Keep in mind, if you plan on buying a home that will need renovations you'll need to deduct any renovation budget from your down payment.
Read Reno Versus Ready for an in-depth look at these two types of home purchases
WHY YOU NEED A HOME APPRAISAL BEORE YOUR SERIOUSLY START SEARCHING
Getting an accurate home appraisal on your purchase property is essential in determining your financial situation. Lenders will only lend you up to 80% of the property's appraised value. So if you offer on a house with a $1MM price tag but the bank appraises it at $750K, you'll want to ensure you have enough monies to account for that $200K difference.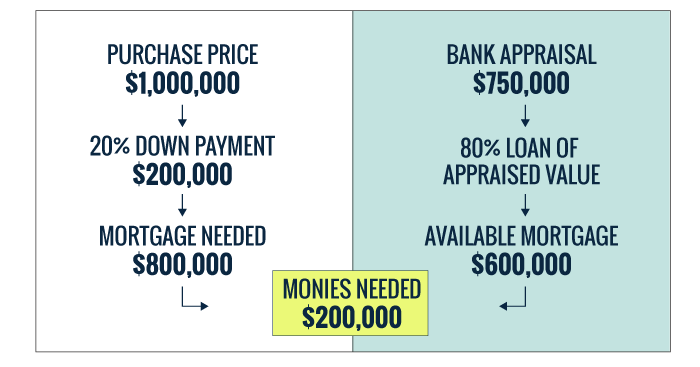 An experienced Realtor will be able to give their professional opinion on the property's value despite what the listed price may be. Have them guide you towards properties that they believe are less likely to be undervalued by the bank.
HOW TO MAKE A STRONG OFFER ON YOUR FUTURE HOME
In a seller's market it's common for properties to hold an offer date and buyers need to be ready to compete for the property they want. Going in with a strong offer to beat out the competition is key. Keep these three things in mind when preparing your offer.
1. HAVE YOUR DEPOSIT MONEY READY
Ensuring you have access to your deposit money is essential. A minimum 5% deposit is standard and having a certified cheque ready to go tells the seller you mean business.
2. BEST POSSIBLE PRICE

Trust your Realtor when they suggest an offer price. They'll be able to establish an appropriate offer price that is inline with the true value of the property as well as the state of the market at the time.
3. GO IN FIRM

With limited inventory, bidding wars become a common tactic and choosing to waive clauses like status certificates or home inspections can prove to the seller you mean business and is attractive to sellers eager to close.
If there is an offer date, ensure you use that time to have a home inspection done if the seller hasn't done one already. This is important if you're serious about buying and may impact your decision to purchase.
HOW TO TIME YOUR HOME PURCHASE
One of the trickiest things about selling one property and buying the next is how to ensure you don't end up homeless in between transactions. While it's good to sell before you buy so you'll know exactly what your financial situation is to make your purchase, you don't want to sell your home and find yourself struggling to find a new home that you actually like.
Find out from your Realtor how long homes in your area take to sell. Establish with them the process time they'd need to have your home sold. This means prepping your home, staging, listing and marketing it to sell.
Once you have this established, if your dream home comes along your Realtor will hopefully have enough time to sell your home by the time your purchase property closes. The goal is to have both closing dates match up and have buying your next Toronto home a smooth and enjoyable experience.
Are you thinking about moving up in the Toronto real estate market? If so, I can help you answer questions like, "What am I working with financially?" and "What's the best strategy for Toronto's current real estate market?". If you'd like to chat, book a call with me here.