It's Saturday evening, you've got a glass of wine in hand and for some reason you find yourself watching back-to-back episodes of Property Brothers. As one glass turns into two, you start thinking, "Hey, we could totally do that. Look at all the money we'd save."
Property who? Well, Property Brothers is a popular Canadian real estate TV show featuring twins – Drew & Jordan Scott – who help homeowners answer precisely this question: to move or renovate? 
Now let's jump out of the TV screen and back into the real world. Renovating a property is not as easy as the twins make it look. That fixer-upper might look like a great deal but it has significant moving costs attached to it. As you move funds from your down payment into the renovation budget – you end up increasing your upfront costs. This means, if you're on a budget, you'll be walking a fine line between your renovation cost and a cash down payment that's large enough to actually get you that fixer-upper. This is the number one thing that most people overlook as they consider their options.
But before I lose you in the move or renovate debate – jot down your response to these three questions: 
"Do I like the neighborhood where this house is located?"
"Does this home make my life any easier"?
"Is the home big enough to accommodate my family today – and tomorrow?"
No matter which way you go, there's going to be a trade-off – be it cost or convenience. But if you are able to confidently answer the three questions shared above – you will be able to look at the pros and cons of both options and make an informed decision. Ultimately, I am writing this blog from a real estate agent's perspective to help you pick what's right for you! 
Move Or Renovate: The Key Is Not To Hesitate
When's The Best Time To Move To A New Home?
Summer is the best time to move to a new home in Canada. If you have kids, you may want to wait for their summer vacation in July-August. The long and warm days make this the busiest season for movers – which is reflected in the moving costs. 
Unless you're really, really tight-strapped for cash – avoid moving in the winter months i.e after September. Due to the lack of demand in winter, you do save up a little on your moving costs. However, I assure you that moving in winter is not a pleasant experience and can end up costing you more damage to your health or property!
How Much Does It Cost To Move To A New Home?
On average, movers in Toronto will cost you approximately $150/hr. This rate generally includes 2 or 3 movers plus one truck. Brace yourself for additional charges though. A few common reasons why movers add an 'extra fee' – heavy item fee, stairway fee, fuel surcharge, extra km – the list can go on and on.
Do your research, and get multiple quotes before picking a mover. A couple of other factors that influence your cost to move in Toronto: 
Number of bedrooms
Number of hours services needed
Number of movers needed 
Number of trucks needed depends on the weight and space of the items
Distance that needs to be traveled
Services included such as packing, moving, assembling, etc. 
If you're like me and love numbers and formulas, here's a simple one that you can use to compare the costs of different home movers – and make an informed decision.  
Moving price = Mover's rate (standard rate) x Number of hours + Extra fees (such as fuel surcharge, extra km, etc.)
When's The Best Time To Renovate?
The spring months are the best time to get all your outdoor renovations done. All major renovation projects that cannot be completed in the winter months should be prioritized for the spring/summer. 
But believe it or not; for small repairs and indoor renovations, November might just be the perfect month. Renovating your home in the off-season is a lot more affordable and it's a nice way to increase your home's value in the eyes of potential buyers.
November in particular is a month when the demand for renovations drops drastically. This gives you leverage over contractors allowing you to command a discounted price. Winter months also have great deals on appliances.
How Much Do Home Renovation Costs Amount To?
If you're looking to renovate your home in Toronto, my advice to you would be to set aside at least $150,000 – $200,000 as your home renovation budget. The final cost may of course vary depending on the work done. High-end home renovators charge you approximately $250 – $300 per square foot but if you're on a budget, you can find professionals who charge about $100 – $150 per square foot. Of course, if you do end up going for the more affordable option – don't be too surprised by the difference in quality! You can also consider leaving your kitchen and bathroom untouched to help you reduce the overall costs of the project!
Let's look at an example to see the actual costs of a home renovation project.
Address: South Riverdale Semi Detached Example ~20ft lot, 3 bed, 2 bath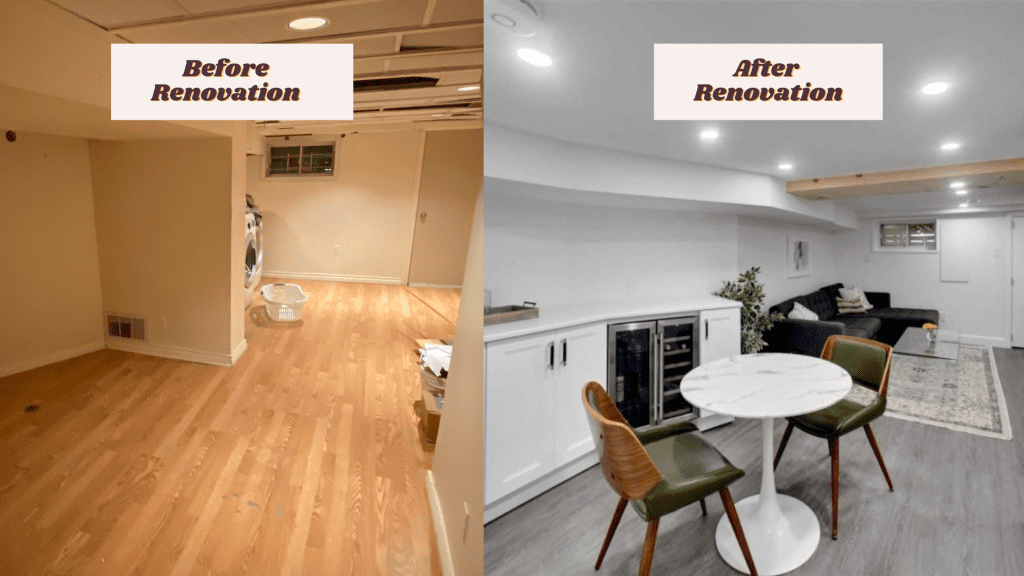 | Home Renovation Project | Home Renovation Cost |
| --- | --- |
| Semi - Renovated | $1.65 million |
| Semi - Livable - dated and in need of renovations | $1.2 million |
| Semi - Total Gut Job | $ 1 million |
| Full Renovation - Gut Job | $500K |
| Kitchen | $30K |
| Bathroom | $10K each |
| Basement | $50K - $75K |
Move Or Renovate: Pros & Cons
Moving To A New House
We've all seen the HGTV shows those present home buyers with a living space that checks all of their must-haves. The catch is always that this property seems to be right at the top of their budget. It's true—for a move-in ready home, you need to be prepared to spend more.
Let's say a move-in ready home is going to cost you $800K. You'll need at least $160K for the down payment and will need to qualify for a $640K mortgage. (Keep in mind that with today's new lending guidelines, this means you'll need to qualify at a rate that is 2% higher than your negotiated rate.)
Moving To A New House Can Be Stressful
Nearly 60% of Canadian experience high-stress levels when moving to a new house
28% of Canadians believe that moving is one of the most stressful events in their life – more than planning a wedding, quitting smoking, or starting a family 
Residents of Ontario are the most stressed-out group with British Columbia coming in second 
26% of the respondents admit that last-minute packing is one of the biggest reasons behind their stress
76% of Canadians surveyed were not considering a move within the next 12 months
Source: BigSteelBox Annual Home Moving Survey
Moving to a new place can definitely be stressful – especially if you've to look after all the aspects of your move – from finding a new property to figuring out all the moving logistics. Working with professionals can ease your burden. For example, if you're stuck in the 'finding your dream home phase' – you can book a call with me or some other real estate agent and use their services to make an informed decision!
Pros of moving to a new house
 New House, New You: The best thing about moving to a new house is that you get the opportunity to start afresh and truly create a space that reflects your lifestyle and needs. You have the freedom to build your dream home – right from choosing the location to all the value-added amenities.
Modern amenities: If it's been a while since you purchased your old home – odds are that its 'features' are now outdated. The problem with outdated features is that their repair and maintenance costs are often high. Modern homes today often come with cool & sustainable amenities such as modern appliances, energy-efficient features, and smart home technology which help you save some money in the long run.
Location, Location, Location: Location is convenience. Moving gives you the flexibility to choose a new location that better meets your changing lifestyle needs. You can move closer to work, schools, or amenities, which can improve your quality of life and save you commuting time.
Potential for Equity Growth: Depending on where you choose to purchase your new property, there's always potential for equity growth if you're a homeowner. Toronto's real estate market is super competitive and each neighbourhood works like a mini-market of its own. If you buy your new home in an up-and-coming neighbourhood, your property value may appreciate over time giving you the opportunity to leverage your home's equity to buy another one whenever you choose to do so!
Cons of moving to a new house
Expensive process: Moving is expensive. You need to have enough cash at hand to buy a new home, sell your existing one, and then prepare for the move. You may also need to consider other buying and selling expenses like property taxes, closing costs, and moving fees, which can add up quickly.
Disruptive process: Moving will disrupt your routine for a short period of time. It involves a lot of work such as packing, unpacking, and adjusting to a new environment, which can be stressful and time-consuming. All family members are likely to be impacted by the change in scenery. It's imperative to be mentally prepared before you do actually make the move.
How Does Moving Impact Your Home Insurance?
Most home insurance policies will cover both: your new home and the current home for the first 30 days from your move-in date. But don't take this for granted. You have to inform your home insurance company before moving out of your current home – preferably at least 30-60 days in advance. 
Though you're covered for the first 30 days, moving to a new home marks the end of your current insurance policy. Once you notify your insurer about your move, they will likely issue you a new policy that reflects the characteristics of your new home – not the current one that you're vacating. 
Major Renovation Of Your Existing Home
The alternative to a move-in ready house is to buy a cheaper property and then renovate it. Let's say you find a property for $600K but it has a laundry list of renovations. In order to buy this property, not only will you need the 20% down, but you'll also have to factor in the cost of renovations. Both of these expenses will need to be in hard cash.
In this example, you'll need $120K for the down payment and another $100K to renovate the property. That's $220K in cash upfront. While you'll need to budget for the higher upfront costs, your monthly carrying expenses will be lower.
The fixer-upper will cost your roughly 38% more upfront compared to the move-in ready property. However, your monthly carrying costs will be about 28% lower. Which option better fits your budget?
If you're ready and willing to take the renovation route, it's important to consider what features will boost the value of the home at the time of resale. The big four facets to pay attention to are – kitchens, bathrooms, painting, and landscaping. Do your own research or book a call with your realtor for advice on what features are sure to increase the value of your home. If there is a lot of competition in the market when you do go to sell, people are willing to pay more for things that look perfect and pristine.
What Do The Numbers Say About Home Renovation Costs
In 2022, Canadian homeowners on average spent $13,000 on indoor renovations – up from $8,300 the previous year
In 2023, Canadian homeowners expect home renovation expenses to cost nearly $25,000 – double the previous year
50% of Canadians plan to go ahead with their renovation plans despite the increased costs
80% of homeowners use cash or their previous years' savings to cover their renovation costs
Interior painting (43%) is the most popular indoor renovation project
Exterior landscape design (29%) is the most popular outdoor renovation project
Source: HomeStars 2022 Home Renovation Report
Pros of renovating a house:
Full control over customizations & costs: Renovating your current home allows you to customize it to your liking. You can upgrade or add features that suit your lifestyle and incorporate your design preferences. You can make your home a unique space that reflects your personality and style. Another aspect of home renovations that you have control over is the cost. You can set a budget for your renovations and control your finances throughout the process. In case you find yourself short on funds, you can always postpone or phase out your home renovation project.
Opportunity to stay in the same neighbourhood: If you're already in the perfect neighbourhood that caters to all your must-haves – you probably do not want to relocate. In that case, renovating your current space is your best bet. Staying in the same neighbourhood has multiple advantages. You already know the neighbourhood, the people and the shops. This can provide you with a sense of stability and comfort, especially if you have deep roots in your community.
Cons of renovating a house:
Disruptive process: If you're choosing to stay in your home while the renovations take place – you may need to think again. Renovating your house can be an extremely disruptive process that's made unpleasant due to excessive dust and noise that inhibits your daily routine.
Difficult to accurately forecast all costs: Yes, you decide your budget for your renovations. What you can't predict though are unexpected issues that may arise during the renovation process, such as hidden damages or design changes. Anything that's not been accounted for before can result in additional costs and delays.
Limited scope based on your existing unit: Renovating may have its limitations based on the existing structure of your home. There may be certain design or layout constraints that cannot be easily changed, which may limit your ability to achieve your desired vision for your home.
May not always lead to an appreciation in home value: Believe it or not – renovations can hurt the value of your property. It's simple math. Don't spend more than what you think your property is worth. If your property is worth $600K – spending $200k on its renovation may not always be a good idea. It depends on the value of your property and the neighbourhood it is in. If you're confused, you can always book a call with me. I'd be happy to look into your renovation plans and share my perspective on their impact on your home's value.
How Do Renovations Impact Home Insurance?
Renovations can have a positive or negative impact on your home insurance premiums. It all depends on what you're renovating and its impact on the property's rebuilding costs or replacement value. 
Examples of home renovations that help you lower your insurance premiums: Installing a new roof, improving plumbing, fixing electrical circuits, installing heating/cooling appliances, and anything that improves the security of your living space.
Examples of home renovations that can increase your insurance premiums: Building a swimming pool, adding any fixture that facilitates a home-based business, additional space, and any unique design feature that requires additional protection
How Does Moving / Renovating Impact The Value Of Your Home Equity?
Another element of this comparison to consider is the return on investment. With a move-in ready property, you will actually get a higher return with less money down compared to the fixer-upper. If the market goes up 10%, you earn $80K with $120K down compared to the $60K with $220K you needed to buy and renovate the fixer-upper. So while the immediate returns are better with the move-in ready home, you are still banking on the fact that the work you put into a fixer-upper will boost your property's value come resale.
Related: How To Prepare Your Home For Sale In Under 30 Days In 2023
Final Words
My parting words for you – your financial situation and what's available in the market are big variables to be considered. Neighbourhood to neighbourhood, what's priced as a move-in ready home in one place may have the same price tag as a fixer-upper in another. The question you need to ask yourself is which trade-off suits your needs at the time. There's no ideal way. It's never a one size fits all strategy.
Evaluate your list of must-haves, your finances, and your reasons for buying. You can download our Buyer Guide today to help you prepare or set up a call to discuss your unique goals and financial situation.