It's a dogs life over in Leslieville. If you live in the neighbourhood or are thinking of renting or buying in Leslieville, you won't have to sacrifice your social life for your canine roommate. This charming residential neighbourhood has so much to offer both you and your dog. To help get you acquainted, we've put together a list of the best dog-friendly cafes , breweries and patios in Leslieville.
LESLIEVILLE'S DOG-FRIENDLY CAFES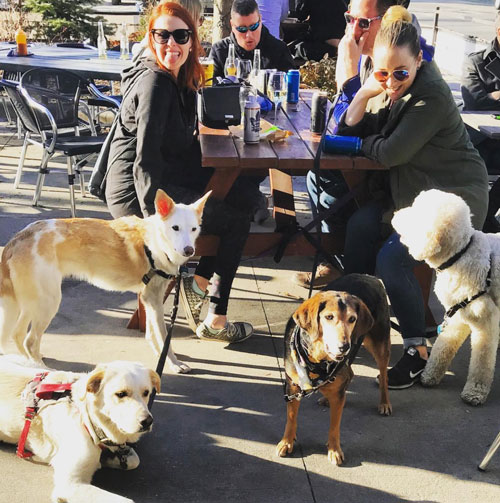 1173 Dundas Street East
Dundas and Carlaw has become a Leslieville staple. This large patio at, you guessed it, Dundas and Carlaw is neighbour to so many of Leslieville's top lofts and condos. Residents at The Carlaw, the Work Lofts, and the Wrigley Lofts — to name a few — can enjoy this dog-friendly cafe and bar for patio season. Dundas and Carlaw serves not just coffee drinks but an array of beer and cocktails. Be sure to try their famous garnish-heavy caesars!
2 Matilda Street
Tucked away between Dundas and Queen Street East, next to Joel Weeks Park, you'll find the charming Merchants of Green Coffee. The art of coffee is certainly celebrated here and all of their beans are organically farmed from sustainable sources. Their coffee, baked goods, and atmosphere are everything you crave in a local cafe. If you are stopping by to grab a coffee with your dog, they've got treats for them too.
983 Queen Street East
Te Aro is Pilot Coffee Roasters' Queen Street East location serving up their own roasted brews, cold brew, kombucha on tap, and an array of sandwiches, breakfast bowls, salads, baked goods and much more. For your pet? Pick a spot on their deep, set-back patio out front to chillax with your furry friend. This large terrace-like patio offers a bit of a cozy alternative to those patios sharing much of the sidewalk on a busy street.
479 Broadview Ave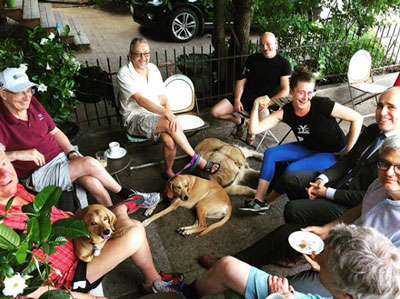 Not only is this dog-friendly cafe the only cafe along Broadview between the Danforth and Gerrard Street East, they also offer some of the best patio views in the city. Technically residing in Riverdale, Rooster Coffee House just could not be overlooked. If it weren't for the arrangement of small tables and umbrellas out front, you may miss it as it fits in so harmoniously with the neighbourhood homes.
Their Broadview location (one of three in Toronto) overlooks Riverdale Park and the city skyline. While you can't bring your furry pal inside, outside your dog will feel right at home with water bowls and a mat to cozy up on.
1186 Queen Street East
For those looking for a Leslieville place that have dietary restrictions to accommodate, YAYA Leslieville has farm fresh food that will appease vegans and meat lovers alike. Focusing on breakfast and brunch, if you're gluten-free or doing Paleo, they can deliver! Out front you'll find a cozy set up of tables and chairs where both you and your dog are always welcome and are sometimes treated to some live local music. 
LESLIEVILLE'S DOG-FRIENDLY BREWERIES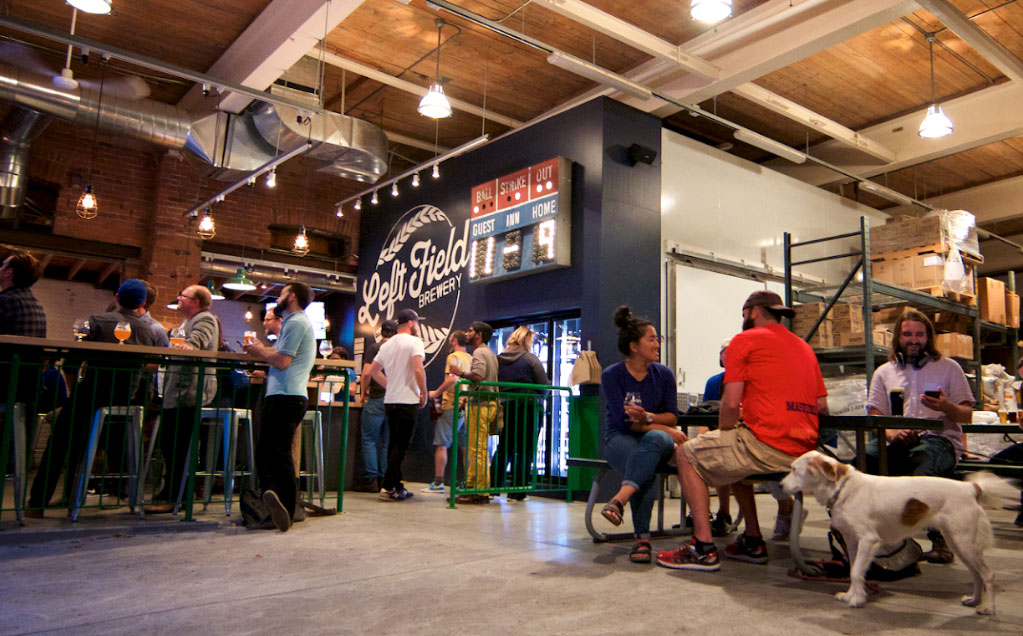 36 Wagstaff Drive
Left Field Brewery is the perfect place to grab a pint with your pet. This dog-friendly brewery even has their own unofficial mascot, Wrigley, to welcome you. In fact, both Wrigley and the Toronto brewery just turned four! It's a rare occasion that you would visit this local Leslieville brewery and not run into a dog from the neighbourhood. This place is the perfect spot to stop for a cold brew or grab some beer to go when you're out for a stroll with your pooch.
818 Eastern Ave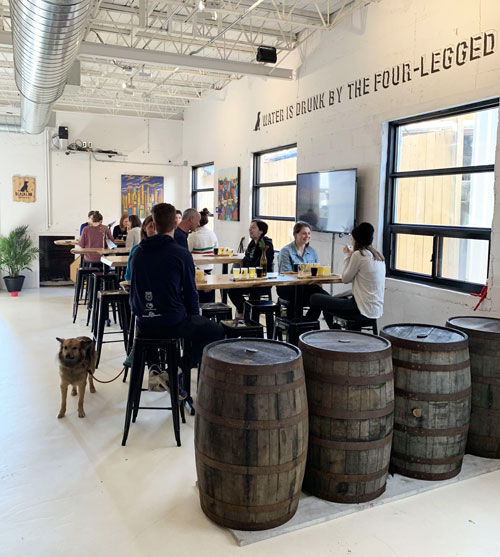 Relatively new to the neighbourhood is Black Lab Brewery, and much like their brethren at Left Field, they too have an in-house dog, Snoopy. Snoopy is the black lab that inspired the brewery's creation and they pride themselves on being a dog-friendly brewery.
Painted on the wall reads "Water is drunk by the four-legged beast; man prefers it with hops, malts, and yeast." Just up Leslie Street from the Martin Goodman Trails, Black Lab Brewery is a great place to stop in to hydrate or watch the game with your canine friend.
Want to live in Leslieville near Black Lab Brewery? Check out The Poet Condos 
31 Saulter Street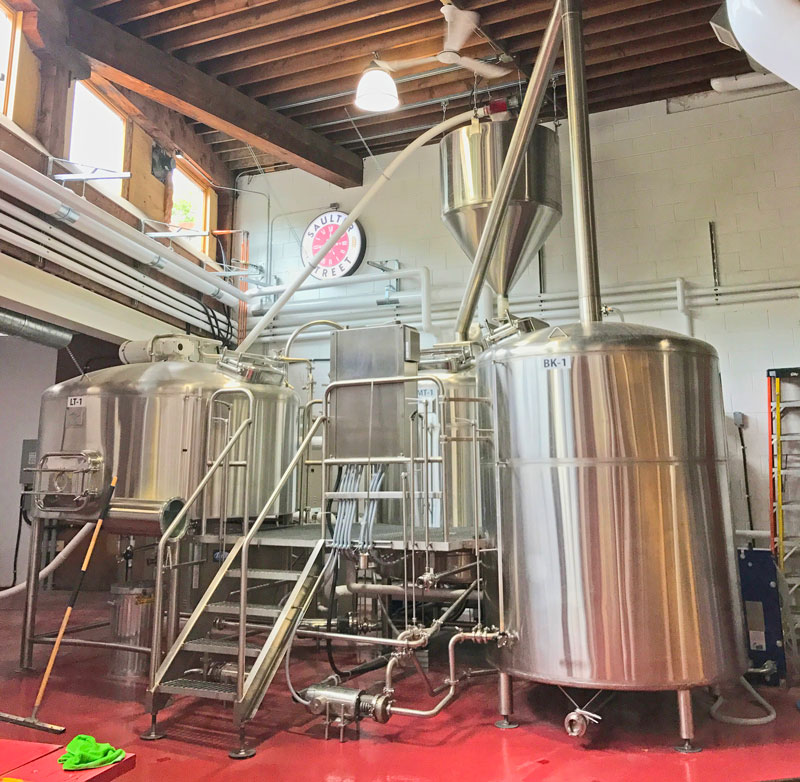 Tucked away behind a row of houses on Saulter Street, you'll find an endearing old barn with a brewery inside. The big red barn doors give the brewery a plein-air feel and though small inside, your dog is more than welcome to join you, make sure you bring their leash. The atmosphere is super friendly, and once you visit, you'll be sure to return.
Moving to Leslieville? Search Leslieville lofts for sale or all Leslieville listings.