While we patiently await for spring to show up, we find ourselves day-dreaming of the days where we can finally enjoy the warm sun and a cold brew — without bringing our umbrella. Just in time for the weekend, we've created the Ultimate Guide to Toronto's East End Breweries to make planning your sud-seeking quest a breeze. Whether you're stocking up on new local brews from their bottle shops or plan to brewery-hop, here are nine of Toronto's east end breweries you gotta try.
EASTBOUND BREWING CO.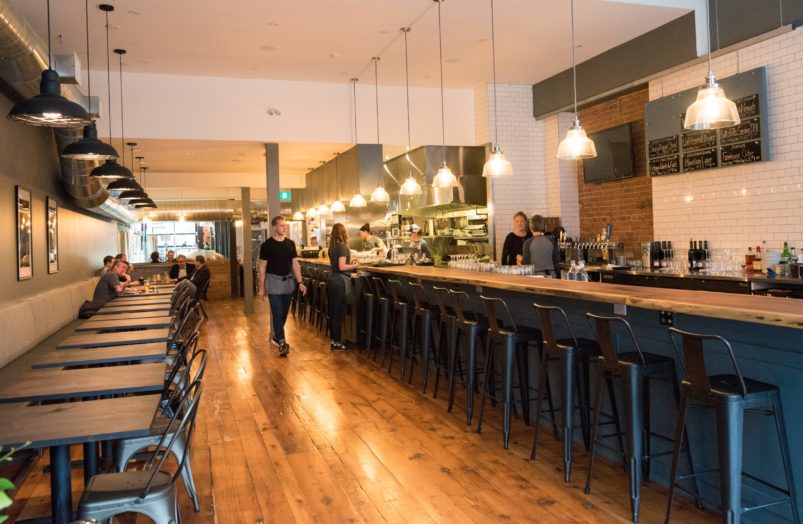 700 Queen St East
eastboundbeer.com
Est: 2017
Food: Upscale Pub
Tours: No
Patio: No
Come on over to beautiful Leslieville and stop into Eastbound Brewing located next to the Broadview Hotel. This brewpub is a partnership of former Mill Street brewmaster, Dave Lee and the chef behind Toronto favourite, Bar Hop, Tara Lee.
While you may come for the beer, the food served here is hard to beat. Seating up to 80 people, you can sit at a table or the 50 foot "chef table" bar where your food is carefully created before your eyes. Come on Tuesdays for their weekly $5 draft & $5 mussel deal or savour in their seasonally focused menu that is as beautiful as it is delicious.
Just beyond the narrow dining and bar area is where you'll find the tanks. Looking down upon their subterranean brewery floor you'll find a small brewhouse, five fermenting tanks for packaged beer, and half a dozen tanks that service the taps out front — talk about fresh.
Hefeweizen, Dark Porter, Belgian wit, IPA and more… a true smorgasbord of beers to try and the list is always changing. Grab some beer to go from their bottle shop before you leave, but know that you'll be back for the next batch sometime soon.
Hours: Pub Tue-Wed 4-12 | Thu-Sun 11-12 || Beer Shop Mon 11-9 | Tue-Sun 11-11
SAULTER STREET BREWERY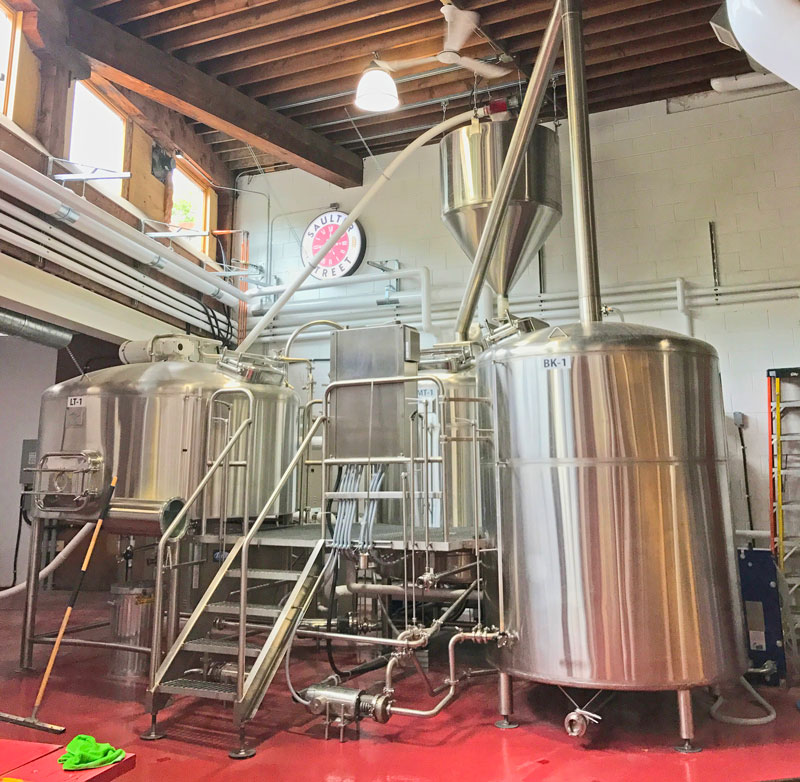 31 Saulter St
saulterstreetbrewery.com
Est: 2016
Food: Snacks
Tours: No
Patio: No
This east end brewery opened in 2016 in Riverside and is quickly growing in popularity. Tucked away behind a row of houses on Saulter Street, just south of Queen Street East, you'll find an endearing old barn with a brewery inside. Their flagship beer is a a hoppy Czech-style pilsner made with local malts and a generous amount of Saaz hops, a must-have ingredient for any true Czech-style pilsner. Their brewhouse is small, only 25 hectolitres in size, and beyond their Riverside Pilsner they also have a rotating selection of small batch beers that can be tried in-house or to take home in your very own growler for only $5.50.
While there aren't any formal tours offered, their staff are extremely friendly and knowledgeable and will happily tell you their story. Set up shop in their cozy 40-seat tap room that overflows into the brewhouse. Snack on complimentary pretzels and peanuts or grab a plate of meat and cheeses that come from the Leslieville Cheese Market. If you find yourself on a stroll with your dog and get a thirst for beer, stop by Saulter Street Brewery opened daily 12-9pm and both you and your pooch are welcome.
Hours: Daily 12-9
RADICAL ROAD BREWING CO.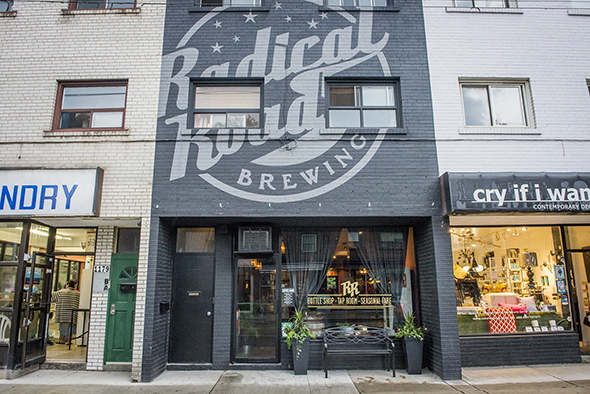 1177 Queen St East
radicalroadbrew.com
Est: 2016
Food: International Pub Food
Tours: Yes
Patio: No
Located amidst the charming shops of Queen Street East in Leslieville is Radical Road Brewing Co. This Toronto east end brewery has a small brewpub and bottle shop — the bottle shop is an antique fridge at the front — that suit the Leslieville vibe surrounding it. The brewpub has a modest list of delicious eats like meatloaf and mash, queso and chips, and Japanese style pork ribs to name a few.
Back of house is where the real magic happens. Their focus is on small batch beers all made in-house and there's a style for every beer lover: pale ales, IPAs, sours, and saisons. For $15 you can tour their small operation and enjoy a flight of their beers. But wait, there's more. They also offer a Become a Brewer for a Day Tour! This tour is exclusive to Mondays, lasts about three to four hours, includes a flight of beer, snacks, merchandise and two bottles of the beer you helped make when it's ready. This one-of-a-kind experience costs $75 but is a small price to pay for the beer-lover in your life. So get in and try out their brews, maybe you'll get the chance to make one some day soon.
Hours: Mon 6-11 | Tue-Thu 4-12 | Fri 3-1 | Sat 12-1 | Sun 12-11
Bottle shop closes at 11
RORSCHACH BREWING CO.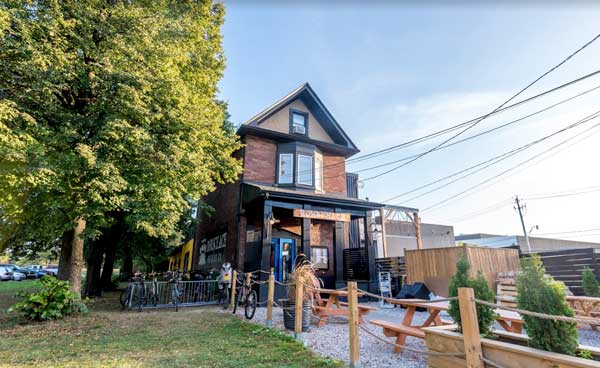 1001 Eastern Ave
rorschachbrewing.com
Est: 2017
Food: Pub Food
Tours: Yes
Patio: Yes
Arriving at Rorschach Brewing Co. you might think you're in the wrong place. This east end brewery that opened in 2017, is located in an unassuming century-old home. The house they've set up shop in is a unique building, stitching together the house with a former boat-building shop and occupies a long and narrow plot alongside the park.
The guys behind Rorschach all met as chemical engineering students and pride themselves on their creative and experimental beers, always having 16 styles on tap that change each week. Their current beer list includes sours, dry hopped IPAs, saisons, gristles, stouts and even a strawberry dessert lager. If you're in need of a palette cleanser, you can switch to one of three wines also on the menu.
Only a 10 minute walk to the beach, book end your beach day at Rorschach. Weekend brunch includes items like egg and avocado pate and huevos rancheros. Come back and enjoy some post-beach beers on their rooftop patio or inside where the beer-makin' happens.
Hours: Tue-Wed 5-11 | Thu-Sat 12-12 | Sun 11-9
BLACK LAB BREWING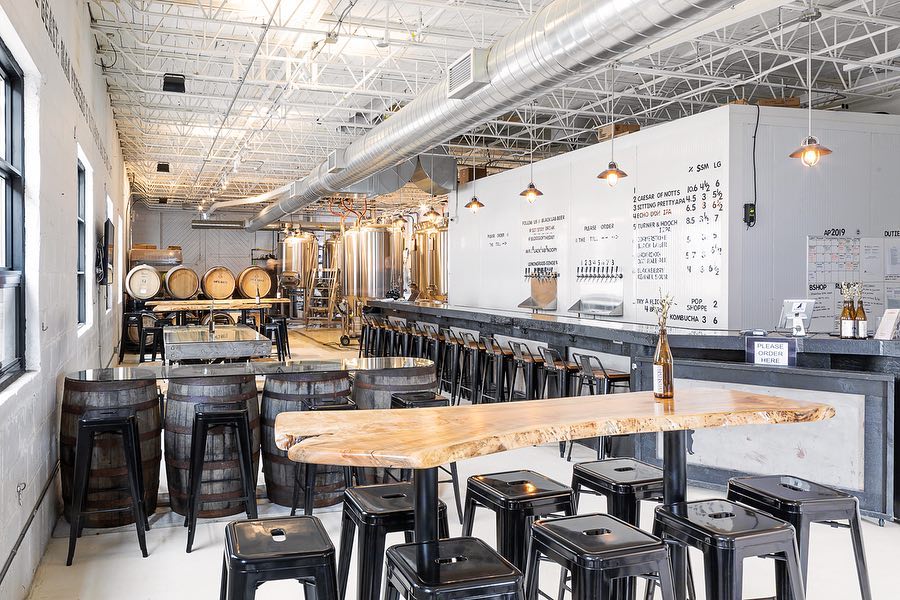 818 Eastern Avenue
blacklab.beer
Est: 2018
Food: Occasional vendors/bring your own
Tours: No
Patio: Yes
The newest brewery to come to Toronto's east end is Black Lab Brewing. Inspired by the owners' black lab, Snoopy, they waned to create a brewery that could serve the neighbourhood and their canine friends. Located in a former woodworking warehouse on Eastern Avenue — now appropriately painted black — it's just up the road from the Martin Goodman Trails and just south of Queen Street East.
At the front of the large space bright and white space you'll find large high-top tables, some green plants and though it has a few TVs for the sports fans, does not feel like a sports bar. Toward the back just past the taps, you'll find the many pristine tanks where the variety of brews are made. They don't have a kitchen but they do host frequent pop-up shops. Most Thursdays through Sunday they have a food vendor on site. If that doesn't satisfy you, you're more than welcome to order in or bring your own eats.
Hours: Tap Room Wed-Mon 11-9 | Bottle Shop Wed-Mon 11-10
GODSPEED BREWERY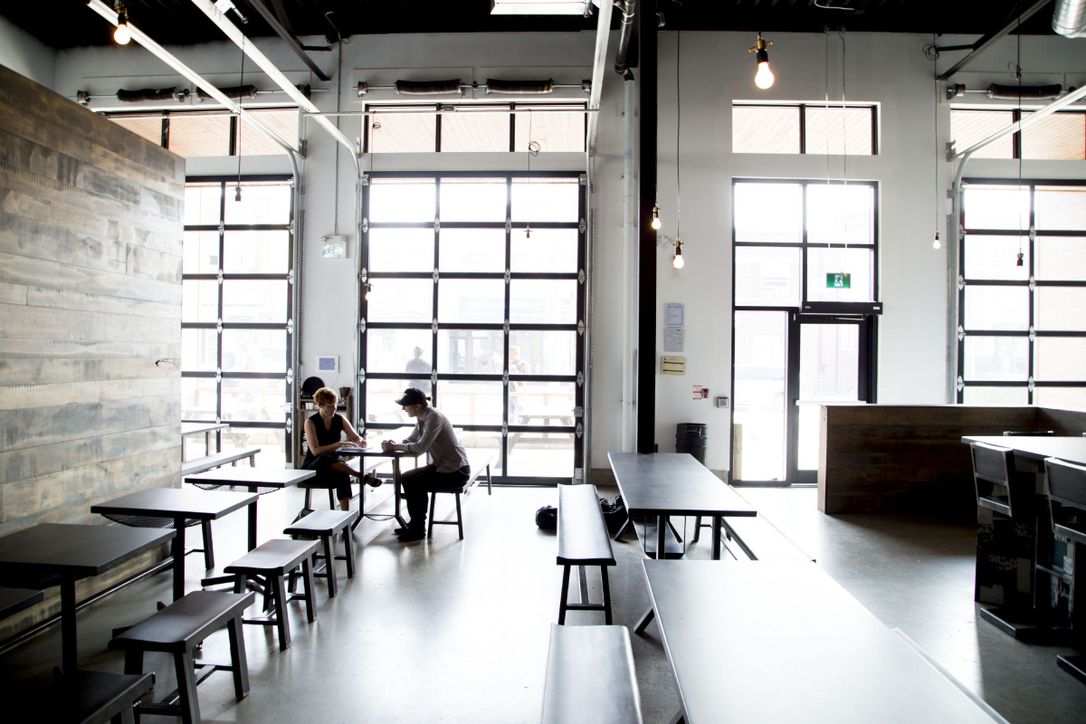 242 Coxwell Ave
godspeedbrewery.com
Est: 2017
Food: Japanese Comfort Food
Tours: No
Patio: Yes
When you walk into Godspeed Brewery you are pleasantly surprised. Situated in "up-and-coming" area, one might say, the brewery itself couldn't be more refined. The space is well designed, has a number of long communal tables throughout, a live-kitchen at the centre and a backdrop of pristine beer tanks.
The owner, Luc Lafontaine, was a former head brewer at Montreal's Dieu du Ciel before opening his own brewery, Ushitora, in Japan. This is where the Japanese inspiration throughout Godspeed comes from. The beers range from stouts and IPAs to a smoked saison and their popular Dortmunder lager for something more easy-drinking. They also serve wine, cider, and kombucha.
This Toronto brewery is where you come to indulge in great beer and great food. The menu is full of delicious Japanese comfort food like Katsu sandwiches (pork cutlet) and their very popular Karaage (Japanese fried chicken). Grab a glass and a plate and a spot on the patio out front — you're not going to want to leave.
Hours: Retail Mon-Thu 1-11 | Fri-Sun 11-11
Pub Mon-Thu 4-11ish | Fri 3-2 | Sat 1-2 | Sun 12-11ish
LEFT FIELD BREWERY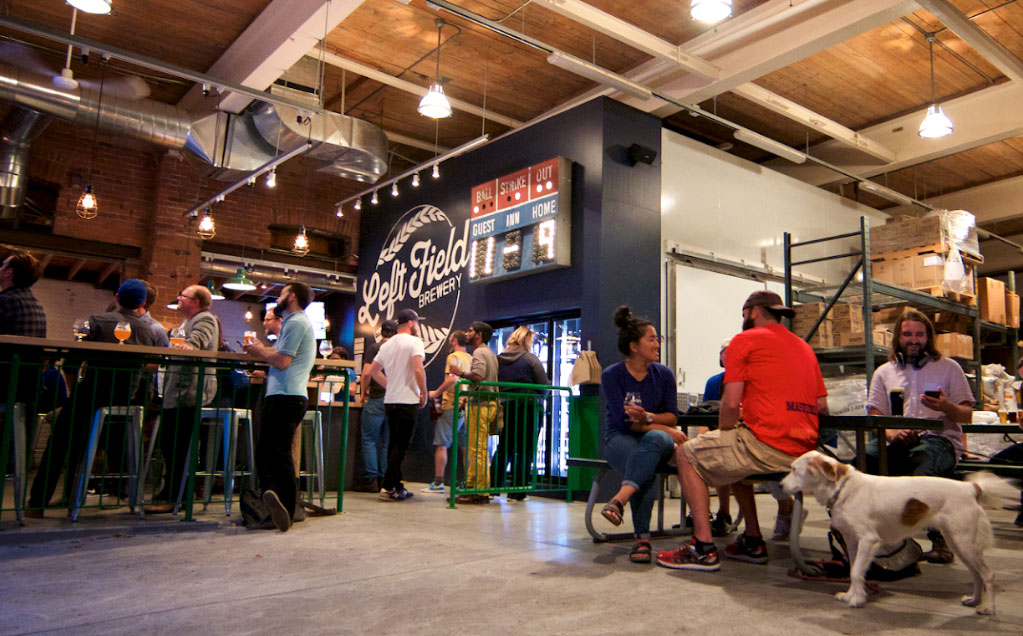 36 Wagstaff Dr
leftfieldbrewery.ca
Est: 2013
Food: No, can bring your own
Tours: Yes
Patio: No
A neighbourhood staple, Left Field Brewery has been around since 2013. This small, family-owned operation is tucked away off Greenwood Avenue and is often filled with families, neighbours and dogs alike. Their line-up of brews is always well rounded with something for everyone; from their well-known Eephus Oatmeal Brown Ale and selection of IPAs, to a seasonal list of different sours and everything in between.
If you're looking to learn about the beer-making process this east end brewery offers tours on the weekends at 1pm for $10 (first-come-first-served) that includes a 10-12oz beer. They're no stranger to pop-up shops, from food vendors like Mama Raty's Meat Pies and Steam Box Dumplings to Sausage making workshops and Blue Jays Trivia Nights. If you're hoping to enjoy a brew outside this summer, they don't have a patio but they do open their big garage door and make you feel like you're in your own backyard.
Don't leave without saying hello to the brewery mascot, Wrigley.
Hours: Daily 11-9
BRUNSWICK BIERWORKS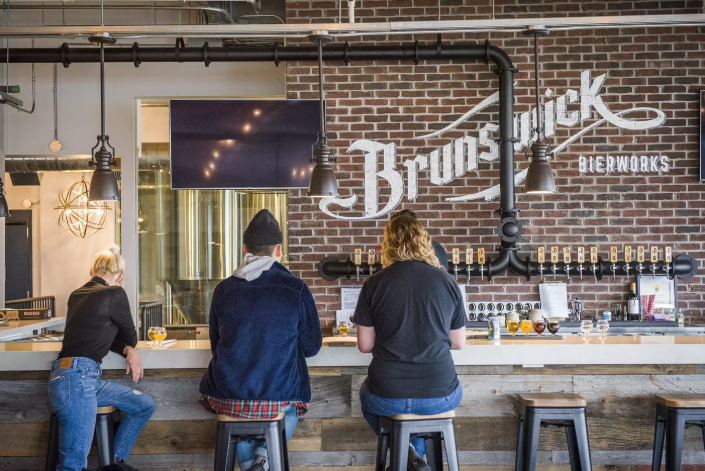 25 Curity Ave
brunswickbierworks.com
Est: 2016
Food: Snacks
Tours: No
Patio: No
For those of you looking to travel north-east, you'll find Brunswick Bierworks — and you won't be disappointed. This stunning beer haven is worth the trip. They've been around for a couple of years but hadn't opened their 150-seat beer hall until last summer.
What's unique about Brunswick is that they contract brew for over 20 local and international brands. They help smaller craft breweries, like Ace Hill and Woodhouse Brewing, by brewing and packaging their beer for them. The equipment at Brunswick is top-of-the-line and cost a whopping $10 million. It's a sight to be seen.
Right now their 3,500 square foot beer hall is only open on Saturdays but there are plans to extend weekend hours. Inside you can try flights of partner or collaboration brews, seasonal, and limited release brews that pour from their 20 taps. Bring your canine friend as they're dog-friendly and have some classic board games on hand! Want beer to go? Their biershop is open Thursdays and Fridays 3-8pm. If you're planning a special event, take a peak at their gorgeous private event room that is hard to beat.
Hours: Taproom Sat 11-8 | Biershop Thu-Fri 3-8
MUDDY YORK BREWING CO.
22 Cranfield Rd
muddyyorkbrewing.com
Est: 2015
Food: Snacks
Tours: No
Patio: Yes
Just down the street from Brunswick Bierworks is Muddy York Brewing Co. This small batch East York brewery is run by a husband and wife team — he brews, and she designs. Each style of beer has an intricate label and a story to tell. Be sure to ask them.
Open every day, come enjoy the fruits of their labour at their tap room or beer garden outside. While the majority of Muddy York's beer is produced at Brunswick Bierworks down the street, they can produce up to ten hectolitres on-site. 
Grab a flight from one of their 12 taps serving up a variety of brews, some dark, some bitter, some light, some strong. Their famous for their Gaslight Helles Lager, but on the other end of the beer spectrum they have their Misdirection Double IPA that has 75 IBUs. Not for the faint of heart. They have a a few snacks on hand and a fridge full of beers to go. Be sure to stock up!
Hours: Sun-Mon 11-6 | Tue-Sat  11-8