Home staging has become a huge trend when listing a home for sale, and can be a great tool to both raise the interest level of your buyer and also increase the number of offers you receive. But what type of staging should you choose? Below we break down both the pros and cons of physical home staging versus virtual staging so you can decide for yourself.
WHAT IS PHYSICAL HOME STAGING?
A proven and powerful sales technique, physical home staging is the act of arranging furniture and decor in a room that creates an experience for home buyers. Physical home staging is also a visual presentation of a property, selling a lifestyle with each staged space. The goal with physical home staging is to draw focus to the best-selling features of the home so that your property's potential is magnified in the eyes of potential buyers. Physical home staging requires manual labour, typically done by a professional home stager.
PROS OF PHYSICAL HOME STAGING
As the old saying goes, "You only get one chance to make a first impression". Imagine yourself in the shoes of a potential buyer. When you are scrolling through various home listings on MLS or online, the ones that are professionally staged and have professional images will be the ones that you are more interested in doing an in-person viewing for. A professionally staged home is really the best way to attract more interest in buyers when they see your listing on MLS or online. The photos of a listing can make or break it; as they are often the deciding factor on whether or not to see a listing in person.
Furthermore, when the buyer goes to see the home in-person, the arranged decor and furniture will allow the potential buyer to create an emotional connection. The warmth, coziness of the home, paired with the well-arranged and comfortable furniture, allows potential buyers to feel like they could sit down and relax in the home. They will see themselves in the home, making them more likely to buy it.
Having your home physically staged will also make your home appear bigger. Home stagers know how to get the most out of every room. Staging can help potential buyers see how open the floor plan of your home is, and it can also take the guesswork out of things for buyers. Home stagers create a flow to the home in a way that is beneficial to potential home buyers. When buyers see how the space is used and arranged, they will be less likely to get caught up on factors such as how the home may have an awkward layout or small floor plan, which increases their chances of buying the property.
Physically staging your home can also potentially expedite the sale of the home, and add value to your home that will benefit the sale price. According to stagedhomes.com, 88% of homes sold at or above the list price when they were staged. Take a look at the two images below. Which one would you be willing to pay more for?
BEFORE: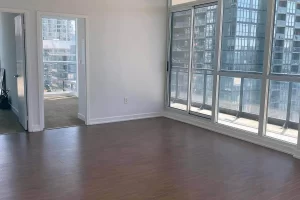 AFTER: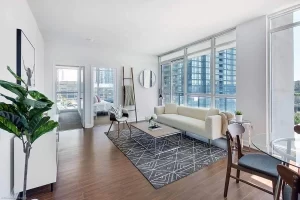 CONS OF PHYSICAL HOME STAGING
Although the pros of physically staging a home outweigh the cons, it's still important to take in these factors.
Firstly, the cost of physical home staging can be expensive. Depending on the size of the home, the location, and the scope of work, it could be thousands of dollars. Typically professional home stagers will charge you for an initial design consultation, and then an additional amount per staged room. If you decide to hire a full-service realtor, they may include the initial design consultation as part of their services, but not always so always be sure to ask. When you sell your Toronto home with us, we provide complimentary home staging. We have a whole team that goes in so that your experience is stress-free and pleasurable. We don't just add appealing furniture and decor, we also take care of things that may go overlooked. Crack in the wall, bathtub needs to be re-caulked…we take care of it all!
Having your home physically staged can also be time consuming. You have to schedule the staging with the home stagers, if the property you are hoping to sell is tenanted you will have to coordinate with the tenants, and/or you may have to schedule elevators if it is a condo unit. If you are in a hot Real Estate market, you may not want to deal with a lag.
WHAT IS VIRTUAL HOME STAGING?
Virtual home staging is really just staging your home without making any physical changes. So, unlike physical home staging where a home stager would actually go into the home and furnish or decorate your space, you would depend on technology to help make it seem as though your home is staged. Typically this is done by taking a picture of the room and virtually staging it with furnishings and decor using a specialized software.
PROS OF VIRTUAL HOME STAGING
If the cost of hiring professional home stagers is out of your budget, staging your home virtually is definitely the more cost-efficient option. All that is required is having professional photos taken of the rooms and home, and then decluttering and staging the space virtually just the way you would like. The cost for virtually staged images can range from $40-$60 per image. You would still be getting the same great first impression as you would with having your home physically staged, as many home buyers will start their home search online meaning that the first impression they get of your home is the picture of it.
Virtual staging also means you don't have to deal with scheduling hassles. So if you have tenants that are hard to work with or they may have questionable furniture taste, you won't have to worry as you can take it out virtually. Virtually staging a room for a photograph is also a lot faster than moving in or adding furniture.
CONS OF VIRTUAL HOME STAGING
We believe that virtual staging should never replace physical staging, as they do not have the same effect. We understand that there may be different circumstances where you may want to do one or the other, but we always tell our clients that physically staging a home is really the way to go.
The biggest con of virtually staging a home is that potential buyers may feel duped into thinking that the home is actually staged. Think of it from a buyer's prospective. You're on MLS seeing this gorgeous home that looks to have been staged, but when they actually book a showing and visit the home, they'll find it nowhere near the way it was portrayed on MLS. The whole idea of home staging is to entice prospective buyers. They need to imagine themselves in the home. If your home is virtually staged, the buyers will be enticed when they view the images online, but when they actually visit the home you could lose their interest. This is why we believe that you should never replace physical home staging with virtual home staging.
Every time we have had the chance to stage a property for our clients, we always sell it more than the last comparable sale. Find out how much more your property could see for through professional staging today, or book a call to discuss your options!