Every year, the National Association Of Realtors conducts a study to profile home staging and understand its impact from buyers and sellers points of view. According to the 2023 report – home staging had an effect on 58% of the buyers helping about 81% visualize the property better.
I believe this report more than others because it correlates with my findings from what I have seen in the field myself. Another important insight shared in this report is that nearly 20% of the staged homes sold for 1%-5% more than the asking price. 
These numbers excite me – no doubt. But I am a real estate agent who's more into the reality of things than generic statistics. In my opinion and first-hand experience over the last 20 years, condo staging is immensely valuable as it helps you sell your unit quicker and for the best price possible.
With so many similar condos to compete with in the market, proper staging is a sure-fire way to elevate your condo's appeal and have your listing stand out over the unit just down the hall. I have watched first-hand as my professionally styled suites receive top-dollar offers and fast (typically within a week) when only weeks prior, the exact same suite sat on the market for weeks and sold for less money. In this blog, I break down how you too can get a top-dollar offer, fast!
Selling A Condo In Toronto? Get It Staged!
Why Is It Hard To Sell A Condo In Toronto?
The biggest challenge when it comes to selling a condo is finding viable financing routes. But let me put it this way. Some condos in Toronto are hard to sell – not all. A lot depends on the location of the condo, the size and location of the unit within the condominium and finally – its amenities. 
For example, it's always going to be easier to sell a large unit on one of the higher floors than a smaller unit on the lower levels of the building. The same applies for a condo that offers its residents gated parking vs one that doesn't do so.
It's the finer details that can sometimes make selling a condo a bigger challenge than it's supposed to be. But that's precisely when condo staging jumps in to save the day!
Is Condo Staging Worth It?
If you ask me, the value of staging your condo is absolutely priceless. Forget the costs involved for a minute (and if you list with us there are none). Focus on its incremental value. Staging your condo gives prospective buyers a glimpse into the hidden potential of your property. By doing so, you're able to forge an emotional connection with your prospective buyers right from the moment they walk through your doors. In my experience, when emotions get involved, properties sell quicker and for a lot more money!
How To Prepare Your Condo For Sale? 
Before you go ahead and list your condo for sale – think about what you can do to make it stand out from other similar units in the market! Toronto is a very competitive real estate market in which sellers are usually spoilt for choice. But even then – even if you're operating in a seller's market – there are things that you can do to grab attention to your listing! For example, consider getting your property cleaned, staged and repaired or renovated – depending on its current condition. All the extra work that you put into preparing your property for sale does will not go unnoticed by your prospective buyers. Don't worry – if you put in the extra effort, you will see its impact come closing day! 
If all this work sounds like a hassle, consider working with a real estate agent to help your prepare your condo for sale! If you need help, you can book a free call with me or somebody from my team. I assure you that we'll do everything to make sure that your unit shines bright – and we'll stage it for free!
Related: How To Prepare Your Home To Sell For More Money – Fast
Staging Your Condo To Sell: Tips & Tricks
How To Stage A Condo For Sale: 10 Tips
1. Light, Bright & Repair
Good staging is more than just bringing in beautiful furniture. There are a lot of small details that can go unnoticed but will go a long way when selling. Before you stage, take the opportunity to repair any appliances, screen doors, replace light bulbs and all of those minor flaws that — believe me — buyers will notice. Light and bright is the way to go so ensure all of your windows and balcony doors are thoroughly cleaned and blinds are pushed back to allow your place to be flooded with natural light. And for those areas the sun can't quite reach, make sure to add layered lighting to illuminate the space. Bonus, adding more light will make the space feel larger.
2. Tone Down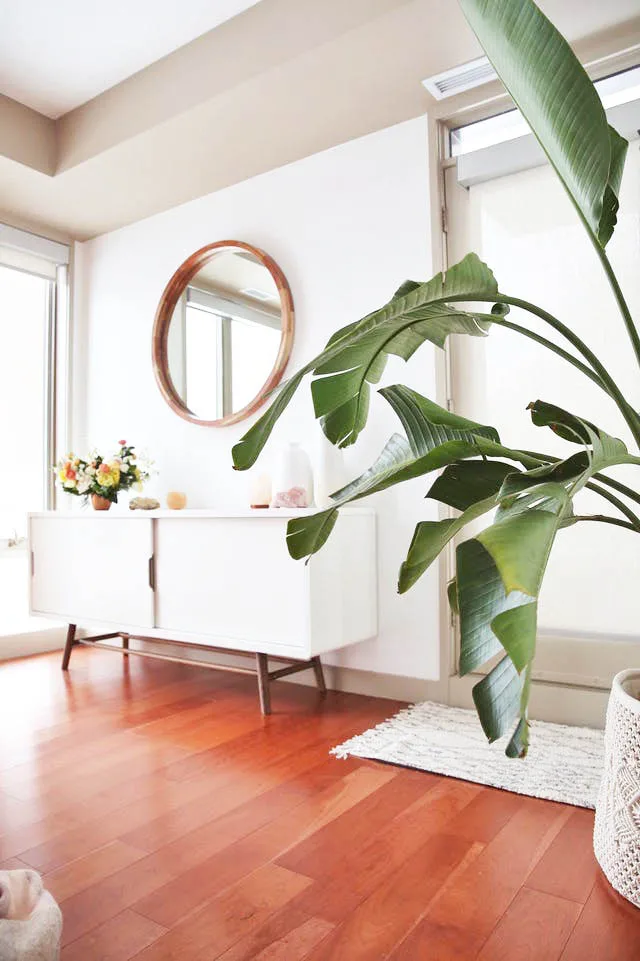 On the notion of light and bright, the same goes for your wall colour. No matter the trend at the time or your love for a navy statement wall, bring your condo's walls back to neutral with a fresh coat of paint. Your wall colour will set the mood of the condo and a dramatic colour may distract from your condo's full potential. Opt for a fresh shade of white (beware, there are literally thousands) or a soft grey or beige.
3. Know your audience 
When it's time to start staging the space, consider the buyer you're trying to attract. For example, If you want a high-end buyer and your condo is in King West, make sure you're designing the space for that demographic. Your brown sofa and Ikea dining set are not likely to attract those types of buyers. The furniture you currently own just might not be enough. This is where hiring a professional stager or using a Realtor who offers complimentary staging with their listing services can bridge the gap between any buyer and the right buyer.
4. Create the space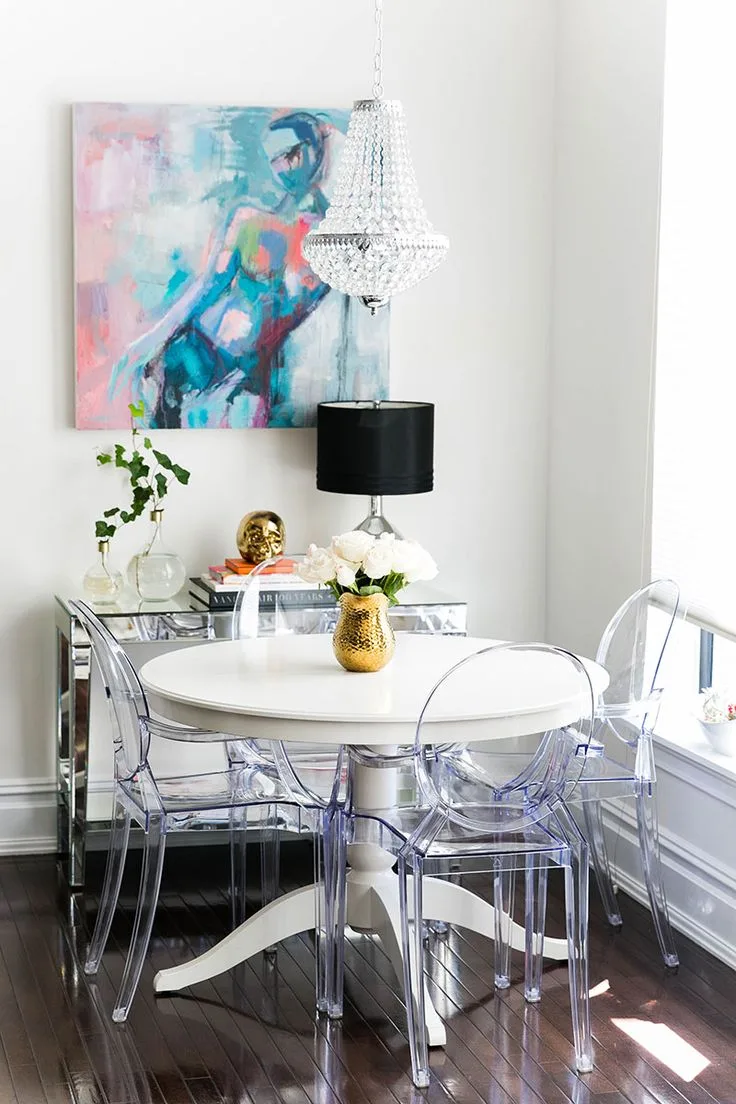 Some condos can have awkward layouts but through proper staging you're able to arrange furniture in a way that designates spaces and creates traffic flow. Use this opportunity to show buyers how to best utilize and maximize your condo's unique layout. Be sure to use proportionate furniture and avoid oversized sofas and chunky items. As Toronto condos tend to average around 650 square feet, opt for ghost chairs and tables with thin legs as to not clutter the space.
5. Art attack your condo
When selecting artwork for your walls, choosing the right size and hanging at the right height are essential. When a piece of art is too large it can be overwhelming. Art that is hung too high can feel awkward and make your ceilings feel low. The general rule to follow is any art that's hung above furniture should be 75% the width of the furniture. When it comes to hanging art, the centre of the image should fall around eye level. Choose art that fits the room's colour palette for a truly cohesive look.
6. Bedroom vibe = hotel vibe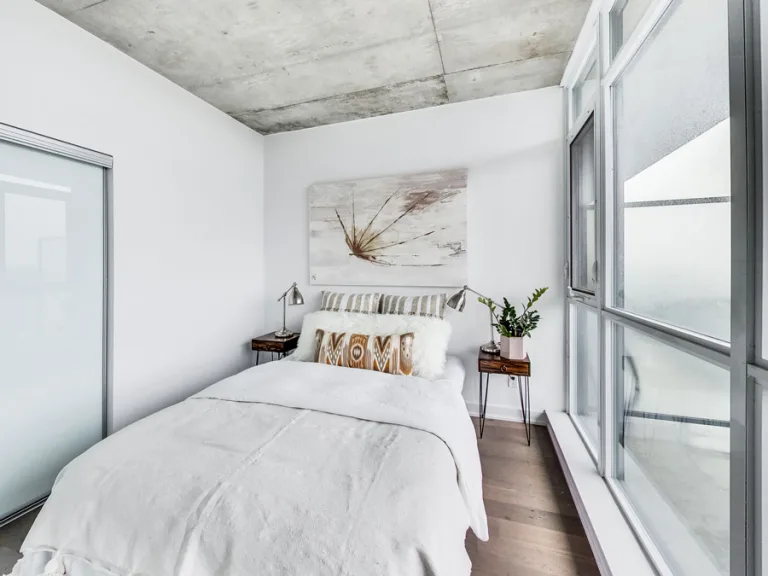 Everyone's room has their own personality but when it comes to staging your bedroom, strive for that hotel vibe. White crisp linens and pillows exude comfort. Pair that with a throw or accent pillow for a punch of colour. The bed is the focal point so, if there's space, opt for two matching nightstands on either side for symmetry or a headboard if your condo has tight quarters. Be sure to remove laundry baskets and unnecessary clutter. Less is always more.
7. Follow the 'rule of three' 
Odd numbers are more pleasing to the eye so when it comes to tchotchkes and decor, the golden rule is grouping things in threes. Arrange three candles or vases of varied heights and dimensions or stack three books of different widths. Similarly, arranging a stack of horizontal books with two vertical objects is a classic arrangement for any designer coffee table.
8. Don't forget the balcony!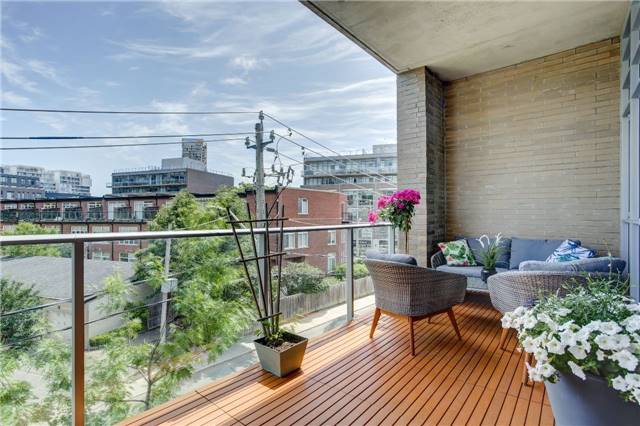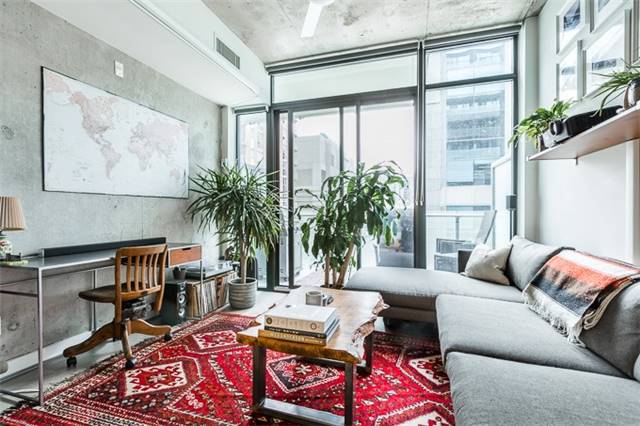 Any Toronto listing I see that incorporates plants into their design always draws me in. When you're 15+ storeys up in this concrete jungle, having some greenery is a great way to bring the outdoors in. Especially for condos with exposed concrete that can otherwise feel quite industrial, having some leafy greens are a simple way to breathe some life into your condo. Fig leaf trees are all the rage right now and make a perfect compliment to condos with exposed brick or wood.
10. Stage to not just impress but actually add value to your bottom line
The benefits of staging are undeniable. Even compared to a clean empty unit, by staging your condo you are adding value to the product that will ultimately benefit your sale price. Last year, we staged and listed a condo in Toronto's west end at the same time that another agent listed an identical unit in the same building. Their listing was marketed completely empty and sold* for $452,500. Our identical unit was staged and sold for $540,000, earning our client $87,500 more than the other guy. The impact that staging has on a property's value — along with excellent marketing and expert negotiating skills — is indisputable.
How To Stage An Empty House Without Furniture?
Staging an empty house without furniture might sound like a challenge, but don't worry, you've got this! Let's sprinkle some fairy dust and see what you can do to bring your house to life.
Here are 7 tips to help you stage an empty house without furniture:  
Mirror, Mirror on the Wall: Hang mirrors strategically to make the space look larger and more inviting. Mirrors not only add a touch of elegance but also reflect light and create the illusion of more room to roam. For example, picture a sleek and modern hallway adorned with a series of elegant floor-to-ceiling mirrors. As you walk through, the reflections make the space feel endless, like stepping into a magical hall of mirrors.
Let There Be Light!: Brighten up the place with fairy lights, floor lamps, and table lamps. Light up every nook and cranny and make the house feel warm and cozy. The more twinkles, the better!
Art Attack: Showcase artwork on the walls to add personality and charm. Whether it's paintings, prints, or posters, art can speak volumes about the home's character. For example: you can hang a gallery wall in the dining area, showcasing a mix of contemporary prints and vintage paintings. Each piece tells a story, leaving potential buyers mesmerized by the home's artistic charm.
Greener Pastures: Embrace the green thumb! Place some potted plants and greenery around the house. They'll bring life and freshness to the space, making it feel like a breath of fresh air. For example, in the sunny corner of the living room, place a lush fiddle leaf fig tree in a beautiful terracotta pot. Its vibrant leaves and earthy charm make the space feel like a little indoor jungle escape.
Fluff and Puff: Throw some fluffy cushions and soft blankets around. Who wouldn't want to snuggle up in such a delightful space? It's like a hug for your home!
Book Nook: Set up a cozy reading corner with a bookshelf and some inviting books. This will not only show off potential storage space but also appeal to bookworms. For example, in the study area, set up a cozy book nook with a rustic bookshelf filled with classic novels and a comfy armchair. It's the perfect spot to get lost in a good book while feeling right at home.
Sweet Scentsation: Light scented candles or use some room diffusers to fill the air with pleasant fragrances. It will create a welcoming atmosphere and leave a lasting impression. Imagine this – as you enter the master bedroom, the delicate aroma of vanilla fills the air, emanating from a trio of scented candles artfully placed on the dresser. The scent wraps around you like a warm embrace.
There you have it – a delightful mix of tips and examples to help stage that empty house with a touch of magic! 
Final Words
If you're thinking about selling your Toronto condo and want to ensure your property is presented in the best possible light, staging will certainly get you that extra dough your property deserves. We offer complimentary staging valued at $5000 for our listing clients as a value-add service. When you team our professional staging with our negotiating skills and market knowledge, we will be your competitive advantage Find out how much your condo could sell for with our professional staging here.