Attention all home sellers! The value of staging your home before selling is priceless. I repeat. Home staging is worth it as its value is literally priceless! Just look at the numbers [I share key home staging statistics below]. A staged home sells faster and for a higher price than a non-staged home. That's a fact. 
I have been a real estate agent in Toronto for nearly two decades now. Home staging is one of my favourite strategies to prepare a home for sale because it allows potential buyers to form an emotional connection with your property – even before moving in! 
Yes, working with a good seller's agent is super important when it comes time to list your property. But so is home staging. In this blog, I introduce the concept of home staging along with its value. I give you its pros and cons along with some key statistics and examples to help you understand the concept! 
An Introduction To Home Staging
What Is Home Staging?
Home staging is done to optimize your living space for potential buyers making it easy for them to view all the rooms of the property and visualize themselves actually living there! By decluttering, adding lighting, etc. the goal is to accentuate each room's key features and offer buyers a place they can envision themselves living in.
In my humble opinion, staging your property is the most common, easy, and cost-effective way to boost your home's value before you sell. Unlike renovations, home staging work doesn't require significant investment. In fact, it might even be free for you! [Spoiler alert: we offer all our clients complimentary, professional home staging services]
What Is The Difference Between Home Staging & Interior Decoration?
The difference is in the nuances. The objective of home staging is to highlight your property's most noteworthy features and depersonalize your living space to allow potential buyers to visualize themselves living there. On the other hand, the objective of interior decorations is quite the opposite. Interior decor projects focus on using personal items to imprint your personality on your property. In my opinion, that's not as effective as home staging as it doesn't allow prospective buyers to make an emotional connection with your property.
Who Pays For Home Staging?
Home sellers are responsible for paying all home staging expenses. Depending on the size of your property and the resources on hand – you can choose to stage your property yourself or opt to use the services of professional stagers. With that being said, many luxury realtors offer complimentary home staging services to all their clients. We do, more on this below!
Do Realtors Help With Home Staging?
In my experience, there are many luxury real estate brokerages that offer home staging services as a benefit to listing with them. They know the value it provides for you as their client. Not only does it reduce the days spent on the market — and the ongoing hassle of prospective buyers visiting your property — but the value is seen in the subsequent offers buyers make.
However, some listing agents do charge you for furniture rentals or freelance design commissions – especially if you have a large property.
Related: How To Stage Your Condo To Sell 2x Faster
What Is Included In Home Staging?
There's a lot that's included in home staging. Today, the market is highly saturated and there's a lot of competition among professional stagers. As a result, each professional home stager has started specializing in their own niche and the services are now a point of differentiation!
But as a whole, these are the most common home staging services that you will come across in Toronto:
Interior design consultations

Decluttering of home

Fresh paint makeovers where necessary

Accessories & furniture rental [size & quantity varies by package]

Furniture storage and moving services

Home evaluations

Vendor cheat-sheet

Professionally shot photographs
Is It Necessary To Stage A Home Before Selling?
It's definitely not necessary to stage a home before selling. But it does help. Just look at these statistics and then you can decide if it's worth it or not!
Before I jump into the stats below, let me tell you about a recent staged property we just sold, 705 King St. The exact same unit had sold two weeks prior but it was unstaged and poorly presented. Our professionally staged and styled suite was the exact same as the unstaged unit from two weeks ago sold for $15,000 more and 12 times faster. That's the power of staging! Beyond the dollar value, this meant the homeowners were only accommodating showings for a few days rather than an entire month — a difference you notice when you're trying to live and/or work in a perfect show home.
Related: 10 Best Renovations To Increase Home Value Before Selling
Home Staging Statistics: Canada
Let's look at the latest Home Staging Industry Statistics 2022 report by the International Association Of Home Staging Professionals (IAHSP) to see what the numbers say about home staging in Canada.
Luxury home staged sell 2x – 8x faster than unstaged luxury homes

On average, staged properties sell for 4% – 20% over list price when compared to unstaged homes

Most important rooms that need home staging services: living room, kitchen & master bedroom (in this order)
To sum it up – you can think of it this way. You can attend a ball dressed in your everyday clothes and still find a partner to dance with. But if you attend the same ball, dressed to impress, what do you think will change? You will receive multiple offers from multiple people all vying for your attention!
Can you visualize the leverage you have in the latter case?
Staged Homes Vs Unstaged Homes
What Are The Benefits Of Home Staging?
First Impressions Are Key
First impressions are everything. Just like you would put on your best outfit and have your hair done for a headshot, you want your listing photos to look their best and command the attention of prospective buyers. Having a professionally staged home is the best way to attract more interest in buyers when they first see your listing on MLS.
Highlight The Home's Assets
Not everyone can see the true potential in every space, but home staging will help them get there. Staging offers buyers the opportunity to see your property in its best possible light, a place where they can truly imagine living.
Sell Your Home For A Higher Price
Even compared to clean, empty property, staging adds value to your home that will ultimately benefit your sale price. As an example, we sold a condo at The Carnaby Lofts for $87,500 more than an empty identical condo due to professional staging and photography.
Which would you be willing to pay more for?
Sell Your Home Faster
Collectively all of the benefits we mentioned above add up to a quicker sale. According to stagedhomes.com, 88% of staged homes sell at or above the list price and, on average, sell in 10 days versus 85 days for unstaged homes. We like to tell our clients who are on the fence about staging that the better it shows, the faster it goes!
Home Staging Toronto Properties: Why They Sell for More
Examples Of Home Staging – Before & After
I know you've been waiting for this. After all that talk about home staging, I'm sure you'd like to see some examples of what it looks like in action and whether we're any good at all or just talk.
Ask and you shall receive – for here are some home staging examples with some before and after pictures to help you visualize its impact!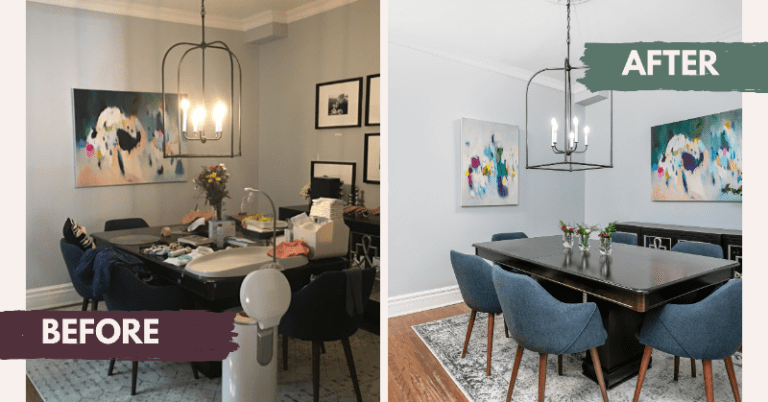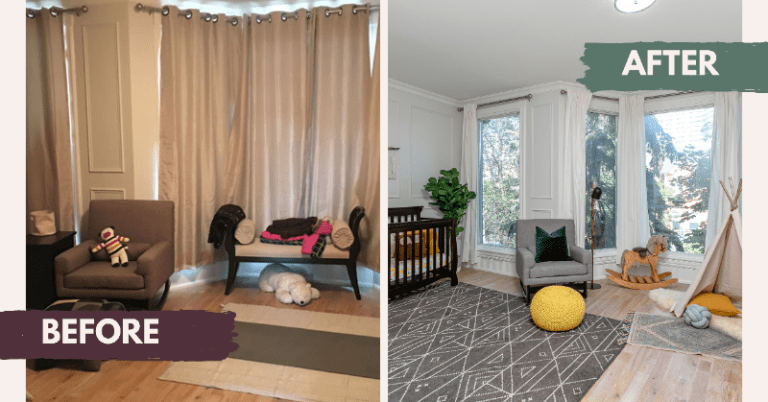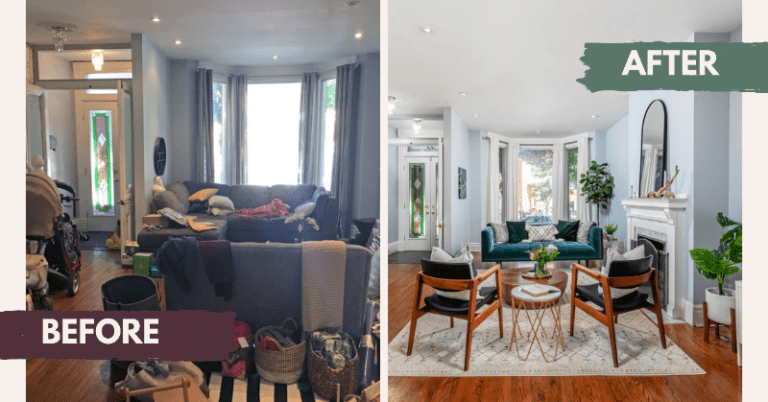 What Are The Disadvantages Of Home Staging?
Expensive: Home staging is highly valuable but it does not come cheap – especially if you plan on using the services of professional home stagers. In Toronto, home staging services on average will cost you anywhere between $2000 – $10000 depending on the size of your property and the scope of the project. On top of the staging expenses, you may have to account for some storage expenses. All the accessories and furniture that aren't being used to stage must be kept somewhere – unless you plan on getting rid of all of it! Finally, depending on how long your property takes to sell, the bills could pile up and end up costing you a lot more than you initially anticipated!

Disruptive & Time-Consuming Process: If you plan on staying in your property until it gets sold, home staging can be a particularly disruptive process. Your house will need to be cleaned every day, you will need to set aside all the accessories and furniture that's not being used in another room or a storage facility. There will be potential buyers who will frequent your property. None of which is convenient to do on a daily basis!
Our Approach To Home Staging
At the Pierre Carapetian Group, we take selling your home seriously. We have an entire team of professionals that make sure your property is ready for its debut. While we offer complimentary staging to our clients, we do so much more than that.
We make sure any repairs – from screen doors to dishwashers – are working their best; that the walls have been cleaned and, if they need it, get a fresh coat of paint. If we think it will add value, we'll even give your front door a makeover.
We gave our clients a front door makeover as part of our staging offer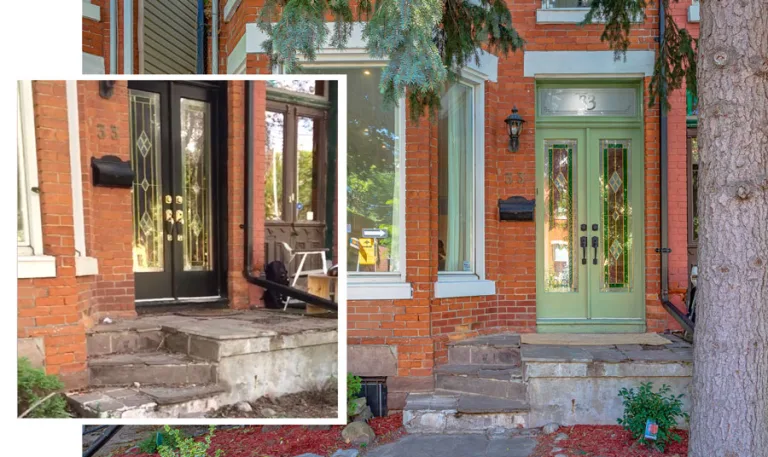 Sometimes we even send in our Marketing Manager to recaulk your shower.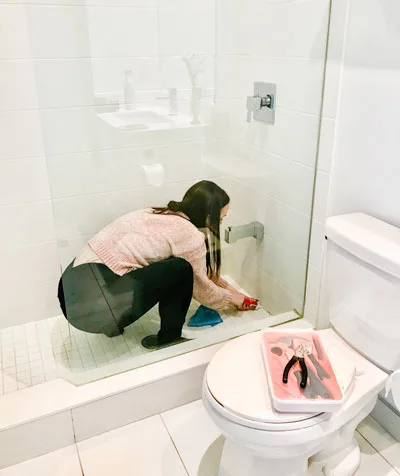 These are just some of the things we do to go that extra mile, and it doesn't go unnoticed. Our lead stager got recognized for her incredible work by Toronto Life where we sold a condo in King West for $32,000 over-asking in just one day!
Final Words
I believe that home staging is worth its weight in gold. Because every time we have the opportunity to stage a property for our clients, we end up selling it for more than the last comparable sale. Do you? If you do and would like to take the next step, book a free call with me or somebody from my team and help us, help you sell your property for the most amount of money possible!