When it comes to buying a home, what are your must-haves? Some people may say things like modern kitchen, proximity to transit, or skyline views but what about energy efficiency? More and more builders are implementing green building standards to reduce their environmental impact. The best green condos in Toronto all share common sustainable practices. We discuss what to look for as a buyer, who is leading the industry, and what new sustainable technologies are in the works.
Things to look for when buying an eco-friendly condo
What should I look for when buying a green condo in Toronto
Top Toronto developers who build green condos
Best green condos in Toronto
What you can expect to see more of in terms of green building
THINGS TO LOOK FOR WHEN BUYING AN ECO-FRIENDLY CONDO
If you're looking for the best green condos in Toronto to buy, there are a number of things you can look for when choosing the right building. The most common and easy way to shop green is looking for condos that are LEED® Certified.
What Is LEED® Certification?
There are four levels of LEED® certification based on how many points a builder has earned among several categories, primarily:
Location and Transportation

Sustainable Sites

Water Efficiency

Energy and Atmosphere

Materials and Resources

Indoor Environmental Quality

Innovation
What Should I Look for When Buying a Green Condo in Toronto?
If a building is recognized as LEED® Platinum they hold the highest LEED® ranking for green building practices. The rankings follow with LEED® Gold, LEED® Silver, and LEED® Certified.
If a building isn't LEED® Certified you can still look for these other key green practices when buying a condo in Toronto. Here are some key highlights from the Canada Green Building Council's Green Condo Checklist:
Condos that are individually metered (proven to promote better energy conservation)

Condos with green roofs or gardens (absorbs heat and cleans air)

Condos with water-efficient plumbing and fixtures

Condos that use any renewable energy sources (wind, water, solar, and/or geothermal)

Condos that use ENERGY STAR® appliances

Condos that use high-efficiency windows and doors

Condos with a 40% window to 60% wall ratio

Condos with flooring and finishes that are non toxic with low volatile organic compounds
Green Living Tips for Homebuyers
In addition to the building's sustainable and green practices, you should also consider the location: is it close to work? Will you need to rely on transportation or can you walk or bike. When you furnish your property, are you choosing materials that are made from renewable or recycled materials? Are they sourced locally?
TOP TORONTO DEVELOPERS WHO BUILD GREEN CONDOS
It seems there are two developers in Toronto who continue to lead the industry with their sustainable condos. Tridel is a nine time recipient of the Green Builder of the Year award by the Building Industry Land Development (BILD). They've held this title consecutively since 2015.
The Minto Group has also been the recipient of BILD's Green Builder of the Year award for their environmental and sustainable initiatives as well as the Ontario Home Builders' Association (OHBA) GREEN Builder of the Year. They also publish an annual Sustainability Report.
BEST GREEN CONDOS IN TORONTO
CINEMA TOWER – 21 Widmer Street
This condo along King West by Daniels Corporation offers energy efficient fixtures as well as water efficient toilets and faucets in each condo unit. In the building overall, they have a responsible waste management system, rainwater collection, and electric vehicle parking.
THE BERCZY – 55 Front St East
Located in the St. Lawrence Market, The Berczy is LEED® Gold Certified and has environmental features like green roofs to absorb heat, energy saving mechanical and electrical systems, and reused building materials.
ONE COLE CONDOS – 1 Cole Street
As part of the Regent Park revitalization, One Cole by Daniels Corporation is LEED® Gold Certified. Some of their green practices include garden plots for residents, two green walls that filter the air, and a 20,000 square foot rooftop garden with 40 trees. Inside the units exist energy efficient lighting, low-flow fixtures, and energy efficient appliances.
MINTO 775 – 775 King St West | 78 Tecumseth St
Minto 775 is, as the name may suggest, built by the Minto Group. This condo is LEED® Certified and among their green initiatives you'll find electric vehicle parking, rainwater collection, three-chute recycling system, energy efficient fixtures, low-flow fixtures, green roof to absorb heat, and eco-friendly, non-toxic building materials and paint.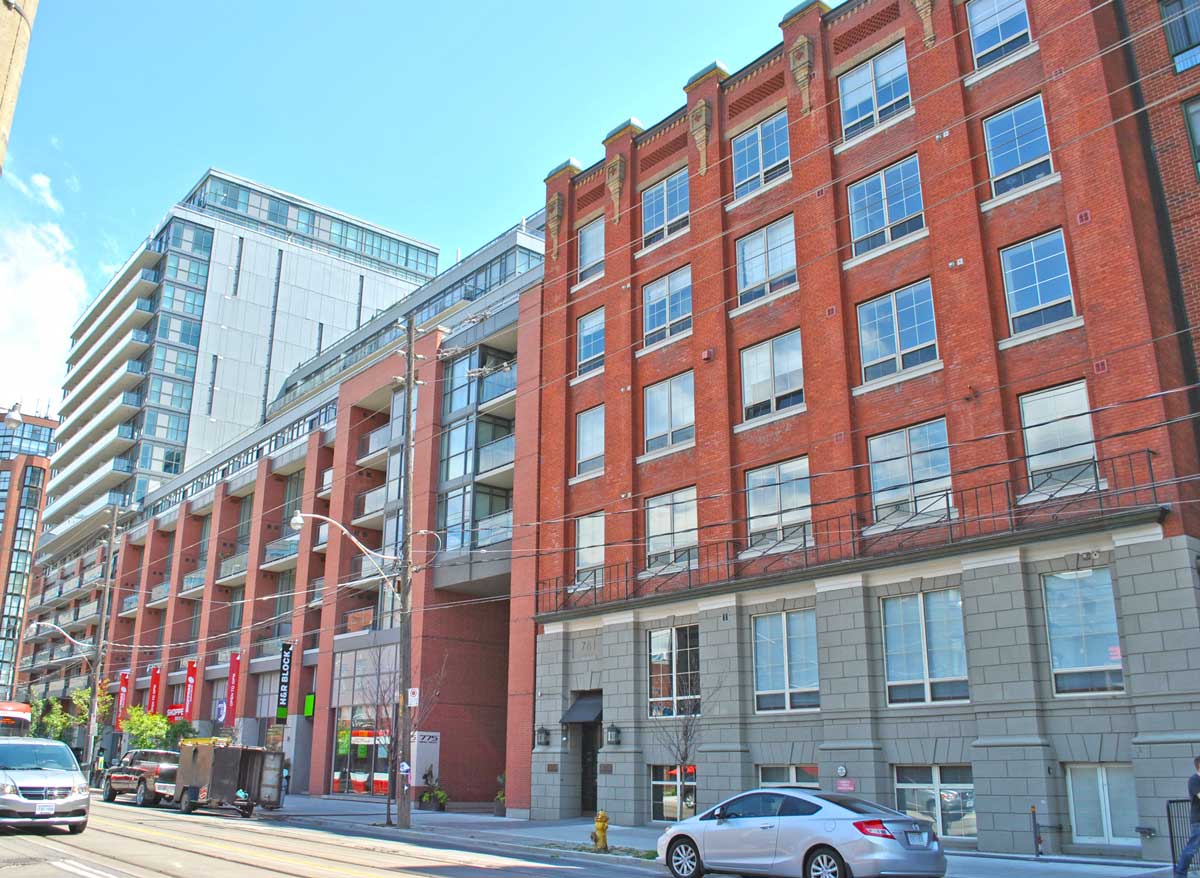 M5V CONDOS – 375 King St West
Another eco-friendly address is M5V Condos in King West. This LEED® Certified condo offers six foot deep terraces that help keep condos cool in the summer while also offering generous outdoor space. The building also uses an energy recovery ventilation system that serves as an energy efficient heat exchanger.
Related: Read about the sustainable initiatives going in to the new Mirvish Village
WHAT YOU CAN EXPECT TO SEE MORE OF IN TERMS OF BUILDING GREEN
MASS TIMBER
The biggest champion we've been seeing more and more in terms of sustainable building practices is mass timber. The environmental benefits of building with mass timber include reducing carbon dioxide emissions by 15% to 20%, it's a local renewable resource, more fire safe, and can reduce build time.
Even Google's Smart City wants to build an all-timber development in the future Quayside. However there are several code restrictions in place that restrict how tall timber buildings can be built in Ontario. Read more on the benefits of building with mass timber here.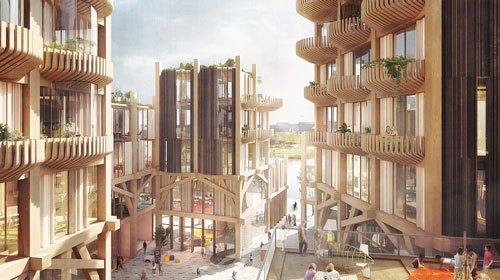 PRE-FABRICATED CONSTRUCTION
Another energy efficient building practice we've been reading more about, also introduced with Google's Smart City, is the use of prefabricated or modular construction. Materials such as window panels and walls prove to be high-performing when preassembled in a factory — not to mention the lower production costs.
"A recent market study by Frost & Sullivan projected 6.3% annual growth in the global modular construction sector, with that expansion driven by reduced costs as well as an increased emphasis on sustainable building techniques." [1]
VERTICAL FORESTS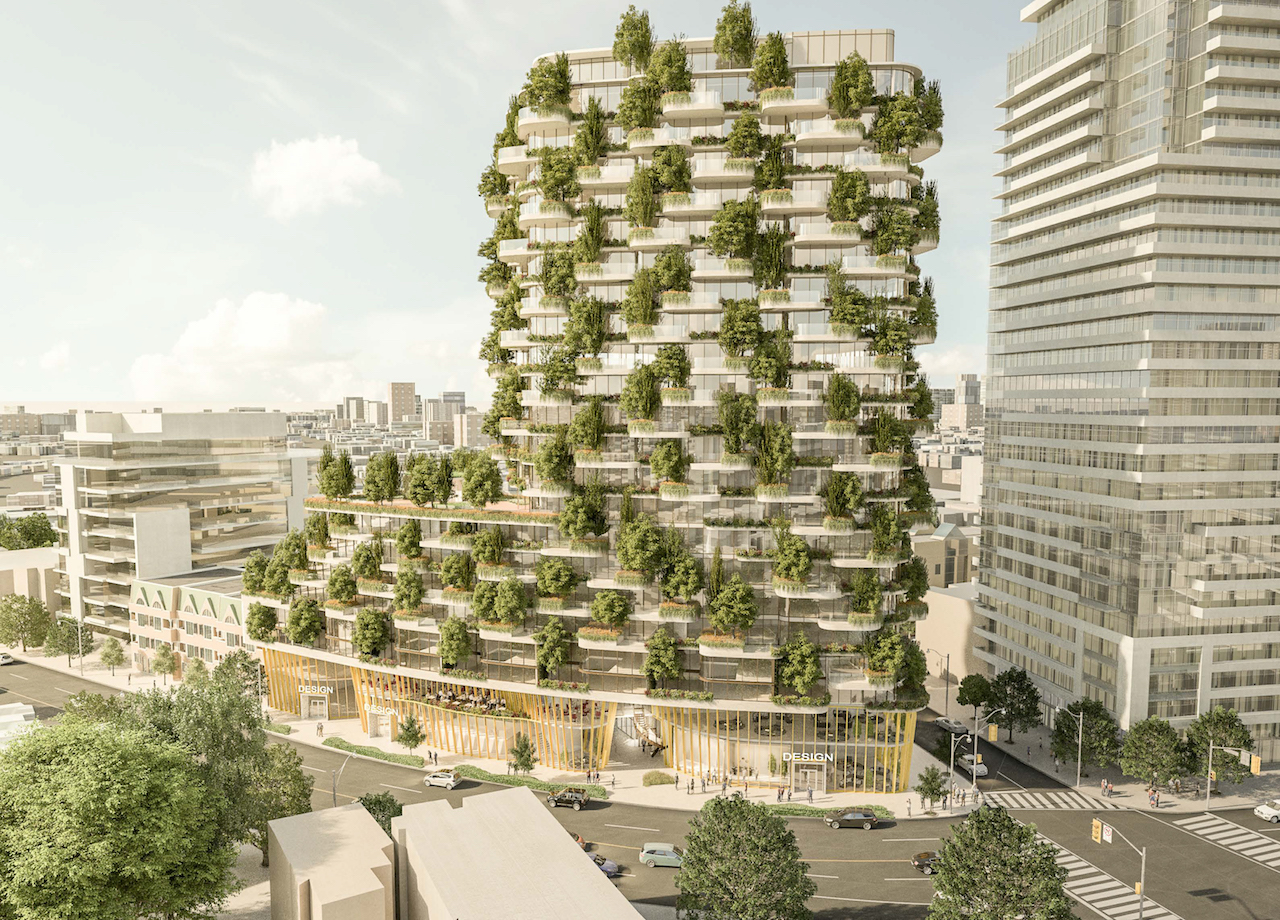 Designing buildings with more green space is not new, but designing buildings that incorporate their own sustainable microclimate is something else altogether. We've seen an example of this in KING Toronto which promotes urban farming and even offered greenhouse units.
Another example is Citizen Group's plans for Designers Walk which will be home to North America's first vertical forest. Architect Brian Bisbin of BBB Architects said to the National Post "The irrigation and water reclamation is built into the design to create a sustainable microclimate." The benefits include offsetting carbon emissions, the heat island effect and promotes overall wellbeing.
These are just some of the new technologies and practices being implemented more and more. There are lots of ways you can make green lifestyle choices and buying a condo that prioritizes environmental practices means you can sleep easy living green. If you need help searching for the best green condo in Toronto, book a call with us to get started.