One of our favourite condo developments in recent years, Riverside Square Condos, has begun occupancy on the first two (soon to be three) condos of its five phase development. Over the last decade Leslieville Toronto has quickly grown in popularity and Streetcar, the developer behind the project, was wise to build a residential community in Riverside just on the cusp of Leslieville.
WHY RIVERSIDE SQUARE?
In one of the earliest proposals for the Riverside Square development the developers said it "was critical to engage in a meaningful master planning exercise and re-imagine how the site could be transformed to make a positive contribution to Riverside." Recognizing back in 2014 that the neighbourhood was growing and evolving.
Riverside Square is more than just a collection of residential mid-rise towers, it's a community in the making. Each of the five addresses, which vary in height from 6-storeys to 20-storeys, will be connected by a central stone roadway named Baseball Place. The name is an homage to Toronto's first baseball stadium which once stood there.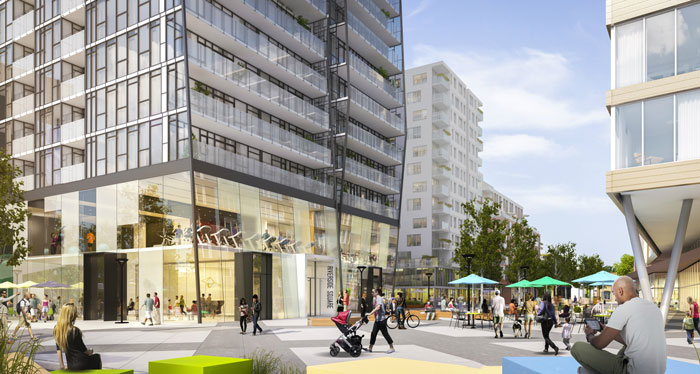 A vibrant public square will be at the heart of Riverside Square along with a well designed green space, a mix of large and small retail spaces including a grocery store, cafés, and restaurants — and that's just what's coming to the square, there's even more along Queen Street East. There's no doubt that residents will feel right at home in this new urban community.
Related: Why Toronto Developers are Building Residential Communities (Not Just Condos)
Residents of Riverside Square living in Leslieville Toronto also get exclusive access to the incredible designer amenities. At 15 Baseball Place is where the fully equipped fitness centre will be, with floor-to-ceiling windows overlooking the square. Next door on the tenth floor is where residents will soon be able to enjoy the panoramic city views from the rooftop terrace and pool lounge.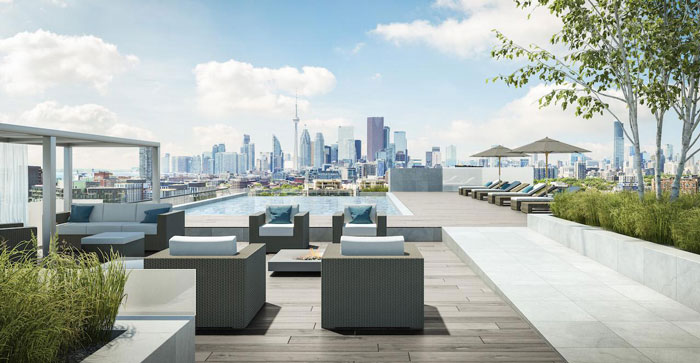 REASONS TO LOVE LIVING IN LESLIEVILLE TORONTO
If you haven't been to Leslieville recently, make it a top priority this fall. This beloved Toronto neighbourhood has grown in so many ways. As you cross over the Don Valley River along Queen Street East, you're transported to this charming community with tree-lined streets, boutique shopping, and an array of restaurants and micro-breweries to please.
Leslieville Toronto has earned its reputation as a family-friendly neighbourhood, a place where young professionals and young families can enjoy the community and still live a full urban lifestyle. There's even a parent meet up called Brew Babies for those parents who love beer. (Most parents do, right?)
Some of Toronto's top ranked restaurants are found in Leslieville including La Carnita, Tabulé (a Pierre Carapetian Group favourite), and Barrio are just some of the neighbourhood staples.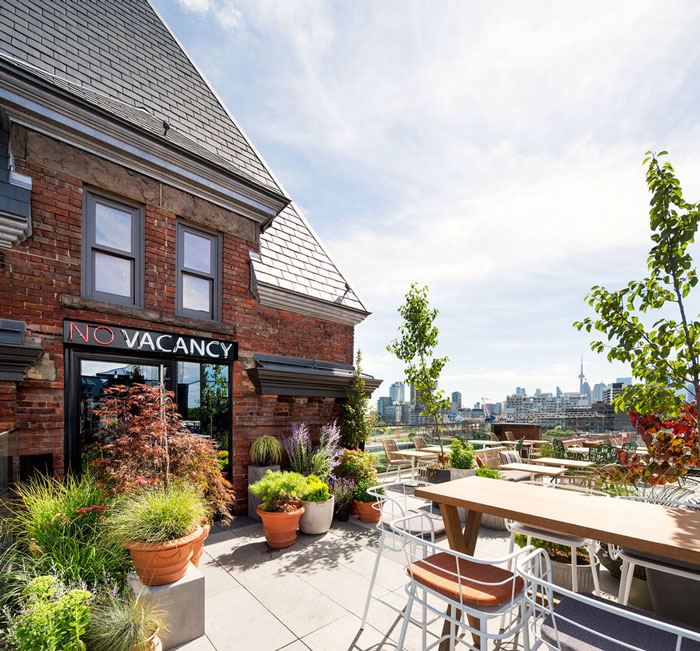 Three newer Leslieville Toronto restaurants can all be found at the Broadview Hotel just down the street from Riverside Square. The Broadview Bistro + Bar, which is open from 7am to late, offering a menu of café delights to cocktails at night. The Rooftop, which offers unbelievable 360º panoramic views of the city — and a perfect view of Riverside Square — and last but not least, the Civic, voted Best New Restaurant by Toronto Life in 2018.
For those who are in search of a neighbourhood brew, Leslieville has impeccable choice for both coffee and beer brews. Dark Horse, Tertulia, Boxcar Social, and Merchants of Green are the go-to coffee joints nearest Riverside Square.
For your last brew of the day Eastbound Brewing, Brickworks Ciderhouse, and Saulter Street Brewery are all along a small stretch of Queen East, but rest assured there are more and more as you go further through Leslieville.
LIVING IN LESLIEVILLE TORONTO'S NEW URBAN COMMUNITY
The third of five residential buildings in Riverside Square is slated for occupancy in February 2020. Among the five buildings there will be a total of approximately 1,100 condo units and they vary in size from one bedrooms to spacious three bedrooms, offering urban families a house alternative.
In a recent Globe and Mail article, architect Naama Blonder said, "'People have a sense that a tall building is the opposite of 'community' and it's not the case…Community is created when people see each other over and over in the public realm."'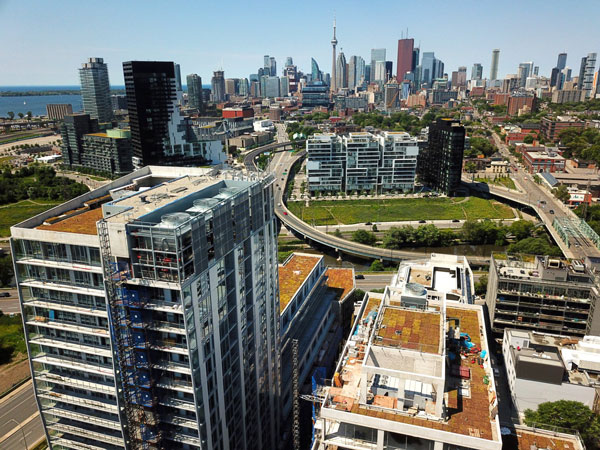 One thing we know for sure is that the current and future residents of Riverside Square will feel exactly that. This condo community was designed and built with purpose and intention and we believe it will benefit the residents, the community, and the property values in Leslieville.
For those who have been looking for Leslieville Toronto rentals or listings, Riverside Square is a perfect opportunity to live in a brand new condo in one of the city's best neighbourhoods. You can see what we have for rent and for sale at Riverside Square here.
If it hasn't been apparent yet, we are big advocates for this new urban community. We have sold over 40 pre-construction condos in this development alone — Pierre purchased an investment property here himself — and when it comes to Leslieville real estate, we know where the value lies. If you're looking to rent, buy or invest in Riverside Square, book a call with us to discuss our current opportunities.