There's been a shift in the real estate market over the last decade towards Toronto condo communities. Many first-time buyers are being priced out of the detached and semi-detached markets, making a Toronto condo the most affordable option. With an increasing number of Toronto residents turning to the condo market — from young families to seniors looking to downsizes — developers are shifting their approach to the evolving needs of this demographic. The best Toronto developers are building more than just condos, they're building residential Toronto condo communities.
ADAPTING TO THE NEEDS OF THE URBAN FAMILY
Raising a family in a Toronto condo may have seemed laughable 20 years ago, but today it's the new norm. We've already seen developers respond to the need for more family-sized units. Recognizing the growing demographic of young families in Leslieville, Streetcar's Riverside Square and Fieldgate Urban's The Poet Condominiums caters to this very need with the majority of their condos for sale in the two and three bedroom range.
Beyond the size of the condos, developers are starting to think outside the box — and by box, we mean condo. Hiring on more urban designers with each project to create not just a space to call home but a residential community that is designed with residents in mind.
THE CONVENIENCES OF LIFE IN TORONTO CONDO COMMUNITIES
Toronto Condo life is all about convenience, when done properly, and many developers are looking for opportunities to facilitate these services when launching their new condo developments. Let's highlight a few of these amenities we've seen both in and around pre-construction condos recently:
A grocery store in your building is a proven staple

Co-working spaces or public squares with wifi for home-office residents to work

Garden plots for urban gardening

Kid's craft and playrooms

A daycare centre within the community for easy drop-off and pick-up for urban families

Designated hot and cold storage rooms for food delivery services
All of these local conveniences that come with new condo developments also mean you may not be so dependant on your car and all of the added expenses that brings.
Public spaces in and around these Toronto condo communities can bring the residents together through shared spaces, community events and festivals. Designing these public spaces along with the condos themselves provides a sense of community where residents can take pride in their home.
THE TREND OF MICRO-COMMUNITIES
One of the residential communities that has somewhat spearheaded the trend is Riverside Square. Along Queen Street just east of the Don Valley you'll see the progress of the five mid-rise condo buildings taking shape — and rumours for a sixth and final phase sometime this year.
In Streetcar's early proposal for the development they said it "was critical to engage in a meaningful master planning exercise and re-imagine how the site could be transformed to make a positive contribution to Riverside." Recognizing even back in 2014 that the neighbourhood was growing and evolving.
The end result will have over 1,100 condo units surrounding a vibrant public square, rumoured to be named Baseball Place, as the area is where the city's first baseball stadium once existed. There will also be a few small parks, a mix of large and small retail spaces including a grocery store, cafes, and restaurants.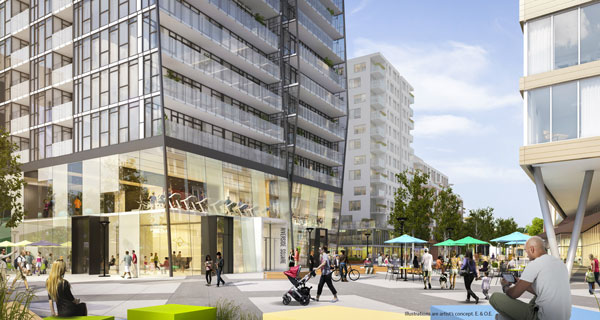 The opportunity to maximize the potential of the land there and design it in a way that caters to the needs and lifestyles of its future residents is key as we grow and develop. With a city growing in population as quickly as Toronto, designing these micro-communities where possible is just smart urban planning.
CREATING CONDO BACKYARDS THROUGH COMMUNITY GREEN SPACE
Urban designers, Public Work, have helped design many public spaces in Toronto, most recently bringing The Bentway under the Gardiner Expressway to life.
Starting with essentially a blank slate, Public Work and Choice Properties are planning on turning the ten acre lot at Bloor and Dundas Street to a treasure trove of indoor and outdoor green space. I think you'll be seeing a lot more of this priority on green space going forward.
Amidst the nearly 2,600 residential units that will be built here — 50% of which will be purpose-built rentals — the south end of the development will be referred to as The Drape. Capitalizing on its ample sun exposure, this green space will be thriving with cherry blossom and pear trees, a greenhouse, outdoor classroom, skatepark, even a stage for outdoor theatre.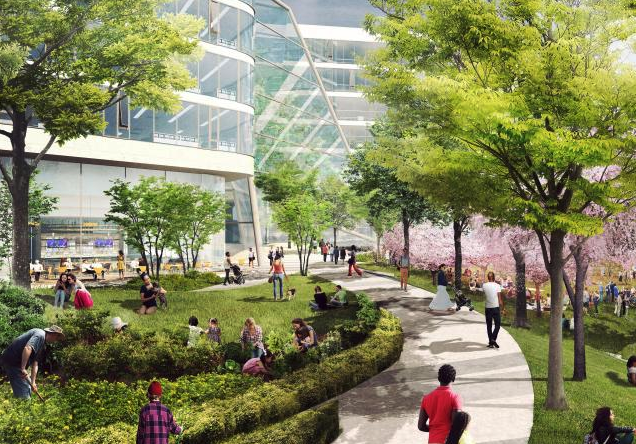 Their designs even have an indoor green space called the Winter Garden. This "jacket-free commute" is a pedestrian pathway housed in a glass galleria with grassy knolls and trees. So even on the coldest days of winter, you'll still be able to get your dose of nature and sit in the grass.
Joe Svec, Choice Properties' Director or Development said to the Toronto Star that their company is "not a condo developer; we're a long-term, community builder."
Coming to Toronto's King West is Bjarke Ingels' King Toronto condo development. Along with Public Work, they've got plans to add a hemlock forest in the central courtyard of the development's four distinct towers.
Read more about Bjarke Ingels' unique design approach at King Toronto here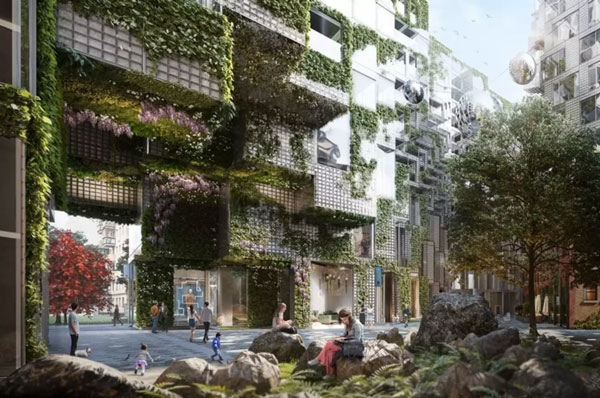 TORONTO'S MIXED-USE DEVELOPMENTS ARE ON THE RISE
Similar to the micro-communities we're also seeing more mixed-use developments. The Well at Front and Spadina is a great example of grand design when it comes to mixed-use developments. The intention of the developers here is to provide a place where you can live, work, and play…well.
Theoretically, you could live and work in the same square — if that's what you want. The Well will have a series of residential properties and a three-tiered office tower with more than one million square feet of space. Furthermore, there will also be a giant European-inspired retail experience with more than 54 retailers under a glass canopy ceiling connected through bridges and pathways.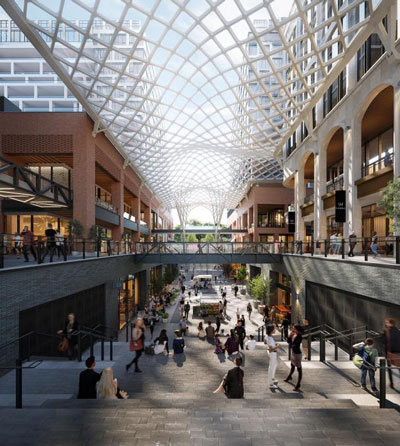 Residents at the Well won't have to venture far to get a good meal either. There will be numerous restaurants, an artisan food hall, and its own version of the St. Lawrence Market for fresh local produce, meats and cheeses. Throw in a new promenade and park along Wellington Street and you've got yourself a community you might never need to leave.
Whether you're a young professional, an urban family, or retirees looking to downsize, the point is in today's pre-construction condo market you've got options. There are lots of Toronto condos and Toronto condo communities on the rise, but make sure when you're shopping for your future condo that you find one that aligns with your lifestyle and needs. Book a call with us and we can help you find a condo that is right for you.T