We're all familiar with the traditional stages of adulthood: get a career, get married, start a family, buy a house. But for those of us living in Toronto, the latter may seem like a distant pipe dream. With the average house in the GTA costing $1,118,037 last month, many first-time homebuyers are turning to condos or leaving the city altogether. And what about starting a family? Can you really raise children in a so called "box in the sky"? ABSOLUTELY. And we're here to tell you all the reasons why.
SAVING TIME & MONEY
While it suits some people just fine to opt for that house in the suburbs, I can't imagine the time and money they spend getting to and from work each day that they can't ever get back. If you're commuting to work each day, you're roughly paying $300 per month on transit and if you're driving you've got gas, parking, and monthly car payments to consider. Oh, and that other thing it's costing you? Time.
While suburbanites are stuck in traffic, us city-dwellers are already back at home with our kids. Not to mention the savings this amounts to on child care. The beauty of condos is that they tend to bring about all the conveniences with them so you never have to venture too far for much. So if you don't need a car for work, don't bother. All that money you would have spent on your commute can be put towards a family vacation instead. And for the odd time you need a car, Toronto has incredibly affordable carshare programs like Zipcar, Communauto and Maven.
HEALTHY LIVING
Since you don't have a lengthy commute at the end of each day, you'll actually have the time to make real meals for your family. Sure, a frozen pizza is great to have on stand-by, but when you've got the time, you can ensure you're favouring healthier habits for both you and your kids.
Living downtown also encourages you to walk more. Grab that stroller and hit the streets. You're living in Toronto where you have access to so much culture: art galleries, museums, parks, festivals, you name it. While others have to make a day trip out of it, you can walk out your front door and see where your feet take you.
CONDO COMMUNITY
One of the most overlooked benefits to raising kids in a condo is the sense of community that comes with it. You don't just have two or three neighbours, you have a whole building full of people that look out for each other. Families attract other families and soon you may find yourself part of a stroller crew. Beyond making friends among neighbours, the socializing skills kids get being part of such a close knit community from such an early age is immense.
Today, more and more condos are even including kid-friendly amenities. Take Peter and Adelaide Condos that just launched this fall. Among their many amenities is a kids arts and crafts room. Similar to the Starbucks Effect, with more and more families living downtown, businesses around these condos are responding to their needs and are becoming more family-friendly.
One area that has been attracting young families in particular is the neighbourhood trifecta of St. Lawrence Market, Corktown, and the Distillery District. The area was already home to a few older condo buildings but it is quite literally surrounded by playgrounds, splash pads, and parks. With the addition of Corktown Commons and the fully equipped Cherry Street YMCA, kids in this area now have access to two swimming pools, a basketball court, and a running track, not to mention the youth programs and tens of thousands of square feet of green space.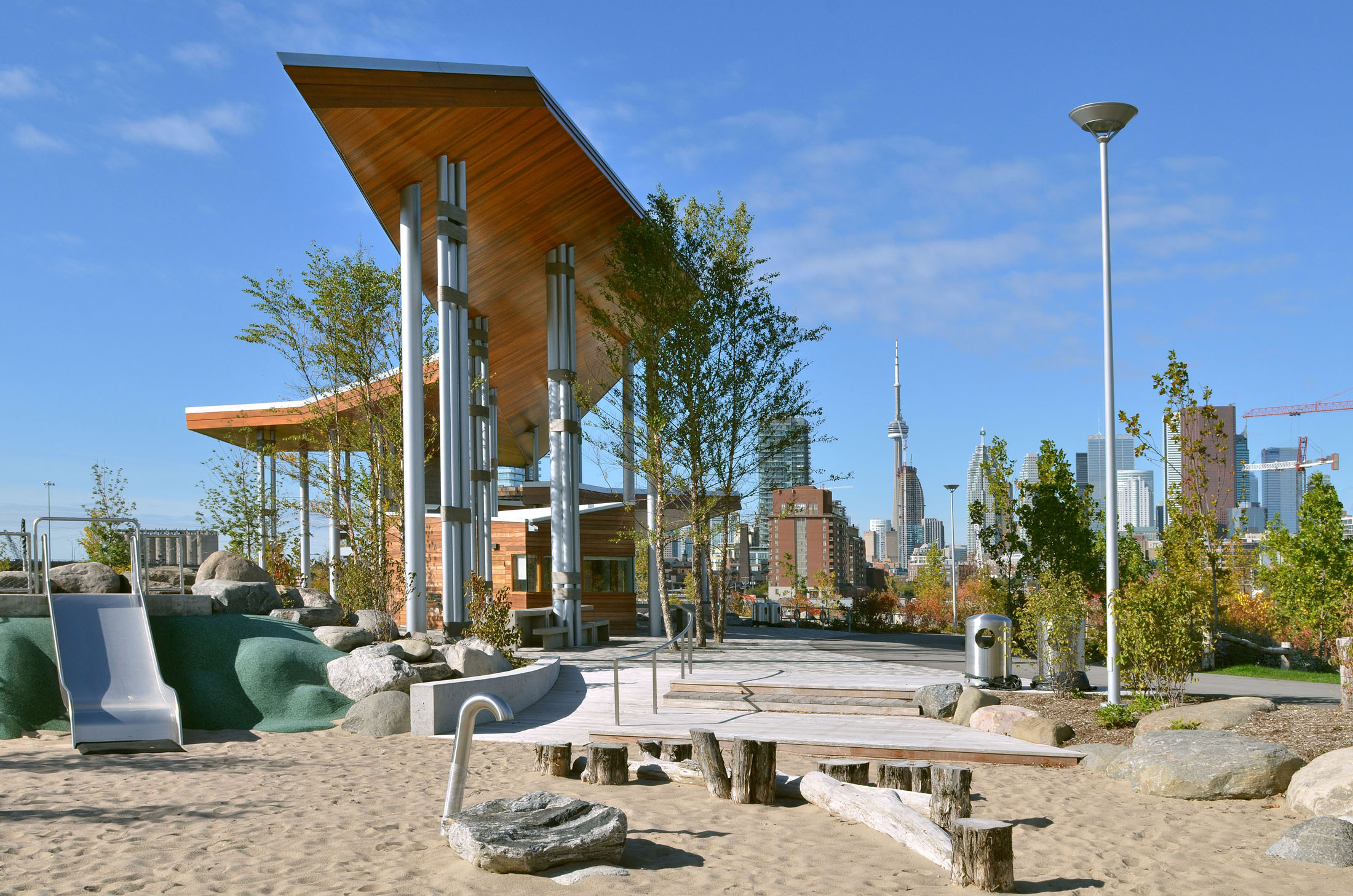 Corktown Commons
LIVE SIMPLY
One reality to living that condo life is you won't have a lot of space for excess anything. You'll need to learn to be selective towards what you buy and what you can keep and this goes for your kids' stuff as well. If they haven't used a certain toy for over a month – donate it. Use this as an opportunity to teach them about giving to the less fortunate while also indirectly teaching them not to be too possessive with things. When you live in a condo, you swap space for experience. While you may not have a backyard per se, the city is your backyard.
GETTING INTO THE MARKET
If you've been thinking about joining the increasing number of families who are opting to stay in Toronto, here are things to be cognizant of:
LIFESTYLE
Condo living is all about access and proximity. Consider your lifestyle when you begin shopping around for a property. Is it close to your workplace? Do you want to be near a lot of green space? Using a Realtor is key to help find you a property that suits your needs. A Realtor will also help find you a property with a desirable layout that will benefit your growing family. Maybe you'll want to ensure you have a den for a nursery and a bathroom with a tub. Also, look for units that have floor-to-ceiling windows. This will make your condo feel far more spacious and allow for plenty of light.
THE MARKET IS RESPONDING TO DEMAND
While people are concerned that one bedroom units seem to be outnumbering larger family-sized units, the market is responding to the need for larger condos. According to the recent study by Urbanation and the Ryerson University Building Institute, "41% of condo apartment units under construction or in the preconstruction phase in the GTA have two or more bedrooms." Similarly, buildings with over 100 units must allot 10% of them to be 3+ bedrooms. One pre-construction property that is about to launch is Riverside 5. This boutique property is set to have ALL large units, with the smallest being 2 bedrooms. This is a perfect investment for those looking to invest in their future.
PRECONSTRUCTION
As a first-time buyer, pre-construction condos are a great way to get into the market without having to spend too much upfront. Plan ahead. A typical pre-construction property will require a 3-4 year build time, during which the value of the property grows with the market, earning you equity. If you make a smart investment and get in early, you may be able to leverage your first property into a larger property by the time your toddler outgrows their space or that second child arrives on the scene.
[Download] A Free Guide to Investing in Pre-Construction Toronto Condos
The benefits of raising kids in a city, especially one as multi-cultural and diverse as our own, are exorbitant. Whether you're planning for your future or are already in the market for a property, there are plenty of options that will suit your lifestyle. If you're considering pre-construction condos we're always searching for our next investment opportunity. Register as an Insider today and we'll send all of our investment opportunities to your inbox the moment they become available.