There is a big misconception that exists around the question how much do real estate agents make in Toronto? Realtors seem to get a bad rap for "robbing" home sellers blind by taking thousands of dollars in commission. But, there's more to it than that. While it's true that some real estate agents have made very successful careers for themselves through real estate, we think it's important to shed some light on a real estate agent salary and how much of that they actually earn.
When it comes to pay evaluation and calculation for many types of jobs in Toronto, a variety of tools are often used, such as compa ratio tools. However, working out average salaries is not always as cut and dried as simply turning to calculation tools. For instance, many people are keen to know how much real estate agents make in Toronto, and this can vary based on many factors. 
When you sell your Toronto home or condo, you will likely pay 5% in commission. Both your real estate agent and the buyer's agent earn 2.5% respectively. So if your agent successfully sells your home at say, $1,146,254 — Toronto's current average home price as of June 2022 — that's $28,656 in their pocket.
But is it really?
The biggest shocker to most new real estate agents is the amount of fees they have to pay just to be a real estate agent. Every year they must pay fees to the Ontario and Canadian Real Estate Associations (OREA/CREA), Toronto Real Estate Board (TREB), and bi-annually to the Real Estate Council of Ontario (RECO), as well as have proper insurance. And those fees are due whether they sell ten properties or zero properties.
Beyond these real estate fees, Ontario real estate agents are required to work under a brokerage. Guess what? Their brokerage will have their own set of fees that their realtors are required to pay. These range from monthly brokerage fees to per transaction fees.
Breaking Down the Commissions of How Much a Real Estate Agent Makes
When addressing the question how much do real estate agents make in Ontario or Toronto it's important to take all of the expenses an agent has to pay into account and remember that a real estate agent's salary is $0 — they only get paid when the actually sell real estate.
Transaction Fees
Using the example above, if a real estate agent's commission on paper is $28,656 how much of that are they actually left with from that sale?
The transaction fees will vary per brokerage but these include a set deal fee that goes to the brokerage, a desk fee, and often their commission is split with their broker at a set percentage.
Brokerage deal fee 5%: $1,433
Desk fee: $875
Broker split 40%: $11,462
Total Transaction Fees Owed: $13,770
Operational Expenses
They also need to reinvest much of the money earned from your sale to cover overhead costs and everyday operational expenses. These include things like:
Car Payments
Gas
Insurance
Parking
Phone/Internet
Computer/Office supplies 
Marketing Expenses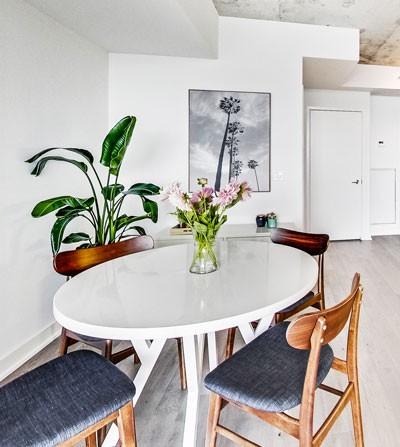 When it comes to listing your Toronto home, how your real estate agent markets your property is a significant part of their value. Are they taking the time to stage your home to sell or is it being photographed empty? Is your listing being professionally photographed or is your agent using their iPhone camera?
Not all real estate agents are created equal and, frankly, some realtors aren't worth their commission when it comes to their marketing. The best real estate agents will spend much of their commission towards successfully marketing your property in order to sell it for top dollar.
Cleaning $250-$500
Photography $500
Staging $2,000-$5,000
Movers for staging $500
Marketing $100-$1,000
Minimum Marketing Expenses $3,350
These costs will vary depending on the type of property. A one bedroom condo won't cost the same to clean and stage as a three bedroom house. However, these expenses will usually correlate with the sale price of the property as well.
Similarly, the general marketing budget can range from $100 to upwards of $1,000. For instance, if you are selling a unique property you'll likely spend more on a marketing campaign that may include something like an experiential open house, compared to a condo in a building that already sells well on its own.
Related: How to Find the Best Real Estate Agent Toronto has to Offer
Priceless Expenses
It's also really important to break down a real estate agent commission by looking at the job itself. Think about the amount of time they spend from your initial call to sell to when your property finally closes. Here's a general outline of the steps that need to occur to sell your Toronto home:
Initial site visit
Current market analysis
Pricing strategy
Listing preparation
Open house
Negotiating offers
Listing paperwork
Some agents do this all themselves, single-handedly. Others, like the Pierre Carapetian Group, have a team that works together to execute the listing successfully. Our steps to list include a team of five different people and a quality control check before your listing hits the market.
So, What is the Average Real Estate Agent Salary in Toronto?
I want to preface this by putting into perspective the "average" real estate agent before jumping into the average real estate agent salary. In Toronto there are some 50,000 real estate agents. Based on this 2017 report that came out regarding real estate agent transaction data in Toronto, the majority of realtors (50.3%) do only one or fewer transactions per year.
34% of them did zero transactions
10% of them did ten or more transactions
2.5% of them did twenty or more transactions
0.3% of them did fifty or more transactions – this is where you'll find Pierre Carapetian Group Realty Ltd
 
So if you're wondering what the average realtor salary in Toronto is, let's base this on a realtor who has had ten transactions in a year — because we wouldn't recommend you work with an agent who has fewer transactions than that!
Using Toronto's average home price of $1,146,254 a real estate agent commission of 2.5% would be $28,656.
$28,656 x 10 transactions = $286,560 gross earnings
Now let's factor in the expenses involved:
Real Estate Fees 3% – $8,596.8
Transaction Fees 49% – $140,414
Operational Expenses 6% – $17,193
Marketing Expenses 8% – $22,925*
Net Salary: $97,432
*Marketing expenses here are based on 5 transactions, supposing that 5 transactions were buyers and 5 were sellers.
In the end, a real estate agent might only earn about 34% of their gross salary — and that's before taxes. It takes money to make money and the real estate agents that become successful, high salary earners do so by building a good reputation through high-level service.
Your Agent Matters
When you work with Pierre, you're working with an agent who falls into the top 0.3% of Toronto realtors who do fifty or more transactions per year. Pierre has earned his success in the Toronto real estate market by having his clients' best interests at heart.
If he wouldn't buy it, he'll tell you. It's through this honest approach that he's built a loyal client base.
As an avid investor himself, he understands a good return on investment which is why he chooses to reinvest part of his salary into building his own marketing, creative, and administrative team to ensure that his clients get the highest level of service.
Beyond that, his expertise in the Toronto real estate market is proven in his custom pricing strategy and his client returns speak for themselves. When it comes to the Toronto real estate market, make sure you are working with the best.