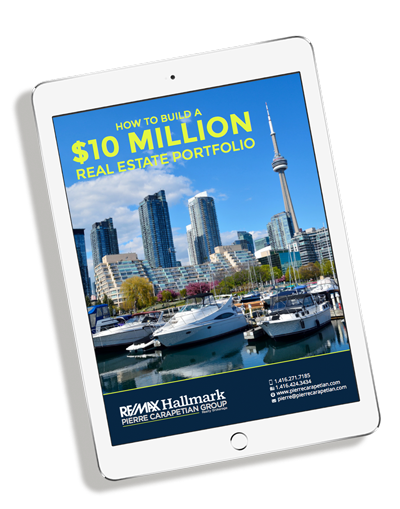 What You'll Learn in Our Retire on $10 Million With Real Estate Guide Guide
Why real estate is a low risk, high return investment
The simple math equation that equals 100% growth
The Power of Leverage
Why It's a Great Time to Invest in Toronto Real Estate
and much more..
How To Retire With Real Estate
With our guide, you'll learn the methodologies that Pierre Carapetian used to build his personal fortune. By leveraging the power of local real estate, you'll be able to retire with real estate while building a portfolio that maximizes your investment in the low-risk, high-return world of real property.
Don't let this opportunity pass you by. Opportunities like this only come by once in a lifetime, and if you've been paying attention these last few years, you know that real estate is one of the hottest investment trends in the world. Even if you're in a smaller market, you can use the strategies that Pierre has outlined to build your own local real estate fortune, and it doesn't require overhauling your life or living outside of your current financial situation.
How Much Real Estate Do You Need To Retire?
While it's hard to say exactly what you'll need to do to retire with real estate, there are simple formulas that you can apply to your real estate investments. First up, it's important to note that investing in real estate is not the same thing as buying real estate to live in. An investment property is something that you'll want to rent out, which enables you to collect income on the property while it also appreciates in value.
That's the real goal — using real estate to fund your retirement so that you don't have to wonder what it is that you're going to do when retirement age comes knocking. Without the right plan in place, you could end up dependent on social welfare programs or the support of family as you deal with how — or if — you'll be able to retire.
From multi-family investments to other rental properties, Pierre will teach you how to look for real estate that you can turn around and rent out, building your wealth and your monthly income. And since your tenants will be footing the bill, you'll be able to buy more and more properties on your way to true financial independence.