Toronto's real estate market has been stretched for some time now. By 2051, Toronto's population is expected to grow by 700,000. Low supply + high demand + growing population = a disaster. And to be fair, the government is aware of this and is proactively launching or proposing new regulations to ease the crisis.
In October 2022, the government announced the 'More Homes Built Faster Act' with the objective of increasing the supply of homes across Ontario, Canada. This new regulation – like many others before it –  aims to make real estate in Toronto affordable again. And, one asset class that's being specifically targeted now is the multiplex or multifamily property.
Until now, I have never really broken down multiplex properties or any type of multi-family real estate on this blog before. But should the regulations be passed next month (and I expect them to be), I believe that we might just see renewed interest in this market. This could mean good news for both: the real estate investing public and first-time home buyers and renters alike.
I've got my fingers crossed for some good news and in anticipation, I'm working on something big for my investors. Curious to know more? While I'm not publicly sharing these details yet, send me an email at [email protected] for more info.
This blog is meant for beginners interested in multiplex property investment or anybody who is looking to buy a multiplex in the near future.
The Resurgence Of Multiplex Properties
What Is A Multiplex Home? 
A multiplex is a single residential structure that's built to accommodate two, three, four, or five different units within it. Traditionally, they have been designed as low-rise homes. For investors, a multiplex home is a great rental property that allows you to earn some passive income on the side. 
A home with a single unit is simply called a single-family home. A multiplex with 2 units is called a duplex, with 3 units a triplex and one with 4 units is called a fourplex. A multiplex with more than 4 units is treated as a commercial property. 
Duplex Vs Triplex Vs Fourplex: What's The Difference?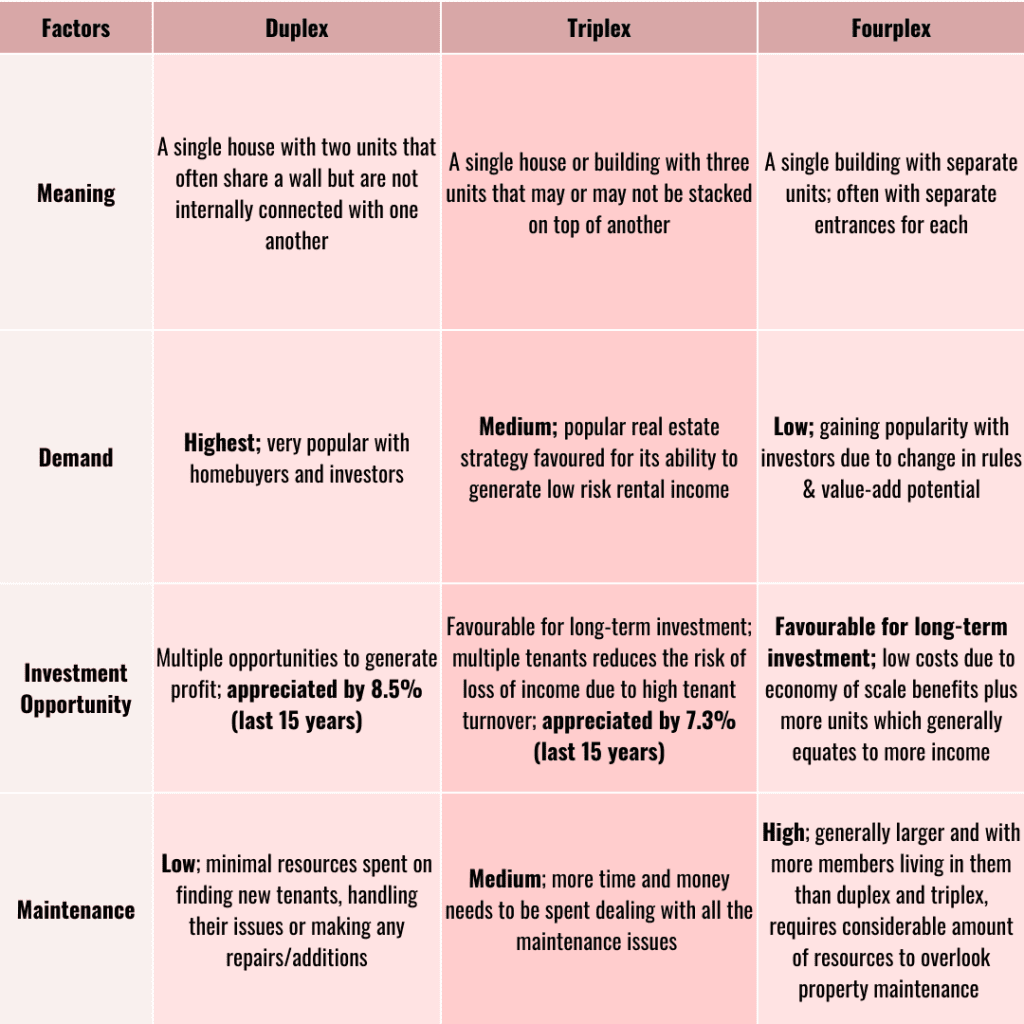 Potential Impact Of The 'More Homes Built Faster Act' On Multiplex Properties
The 'More Homes Built Faster Act' is an ambitious undertaking under which the government promises to build 1.5 million houses in the next 10 years. The focus of the bill is to reduce the costs associated with housing by removing some bottlenecks that plague the building process. 
Minister of Municipal Affairs & Housing, Steve Clark, expressed the real estate market's predicament best by claiming, "We're at the point of BANANA, where it's 'Build Absolutely Nothing Anywhere Near Anyone'. We can't continue to do the same things. We need to stop doing the things that aren't working and start to make the changes that Ontarians need."
Whether the act gets passed or not – we just need to be patient, wait & watch. Regardless of the ultimate outcome, below are some of the key recommendations of this new act – with special emphasis on multiplex properties: 
Municipal zoning laws may be overridden without any prior approval to accommodate & build more of those missing 'middle homes' 
Homeowners can convert a single unit into a duplex or triplex – without needing any prior permission from the municipality. Examples of additions that do not need any prior approval are – a garden house, basement house, or main residence.
Municipalities will not be able to regulate the size of the new additions; no restrictions set as of now
Units added to an existing single-family home will be exempt from development charges and parkland dedication fees
Set 10-year 'housing targets' for 29 major municipalities of Ontario; the goal set for the City of Toronto is 285,000 new homes by 2031.
Buying A Multiplex Unit: The What, Why & How
If the 'More Homes Built Faster Act' is passed this month, I believe that the future for multiplexes is extremely bright. Historically, as a group, we have built a reputation for maximizing our client's investments by always being ahead of the curve. Our 'Client Returns' tell this story best or if you'd like to chat with me, you can always book a call too.
Out of all the recommendations proposed in the 'More Homes Built Faster Act', I foresee two playing a massive role in boosting the multiplex market:
a) End of municipal zoning laws;
(b) Removal of approvals needed to convert single-unit family homes to multiplexes
If this bill passes, multiplexes could very well dominate the headlines for the next couple of years. So if you're keen to get a head start and jump on the bandwagon early, we've got you covered!
Why Should You Consider Buying A Multiplex Property In Toronto?
New regulations proposed by the Government favour investment in the multiplex market by reducing key bottlenecks and building restrictions governing new multiplexes. Multiplexes are being seen as one potential solution to the lack of supply in Toronto's housing market. In my opinion, this puts multiplexes in a great position for future growth.
A great option to diversify and expand your real estate investment portfolio. As with risk minimization in any other market, when investing in real estate you should have a diverse portfolio. Consider splitting your investment across different property types & asset classes to protect yourself from any external shocks (like the current housing crisis). Multiplexes have a good reputation for generating rental income with an average cap rate of 4% in the last 5 years (generally goes up to 5% but is currently at 4% because of the slump).
Gives you an opportunity to generate additional cash flow in the form of rental income. If you are living in a single-family home, and are thinking of ways to generate passive income – switching your single-family home for a multiplex could be one answer to your woes.
It can help you save some money by reducing your cost of living. In a multiplex, most of the living expenses – including maintenance and repairs – are shared by the multiple tenants occupying the building.
How To Buy A Multiplex In Toronto?
1. Pick A Location: Before you even start looking at different types of multiplexes, think about where you'd like to buy this property. Study the different neighbourhoods and jot down what you like or don't like about each. Look at historical trends: residents, average home price, average rental yield etc. Consult local real estate agents to complement your own research.
2. Find A Multiplex: Once you've shortlisted a couple of neighbourhoods/municipalities where you'd like to live or purchase a multiplex – the next step is to find the right unit. You can find multiplexes on sale online or get on a call with a local real estate agent to cover the market thoroughly. Some of the factors that you consider while evaluating different multiplexes include: size, number of units, rental yield, appreciation potential, building condition etc.
3. Do The Math: You've found the unit that you like but Toronto's housing market can be ruthless and you have to do the math to check if you can realistically finance your purchase. The unit you select – whether it's a duplex, triplex, or fourplex – and your primary reason for purchase – as a real estate investor or first-time home buyer – will play a major role in determining your financing needs. Compare different loans from different providers to find one with the most favourable terms. I think it's a good idea to compare different properties that you like on yield and appreciation potential to understand the long-term impact of your investment.
4. Submit An Offer: Once you have all the logistics in place – you need to consult your real estate agent or the home seller and submit your final offer to them. Before you do this, think about it beforehand and come to an understanding with yourself to avoid any surprises during the negotiation. Brace yourself for counteroffers and multiple rounds of negotiation. Everyone is trying to get the best deal and sometimes that can take time.
5. Remodel / Repair: Assuming that your offer has been accepted – you're now the new owner of a multiplex property. Most people choose to rent out a part if not the whole multiplex to earn some rental income. Whether you plan to do this or not – now's the time to do a thorough home inspection and identify any areas of concern that need major repairs or remodeling. I advise you to do all the maintenance work as soon as you get your hands on the multiplex because the more you delay, the greater the risk.
6. Create a Tenant Management Plan: Everybody does not have to create a tenant management plan. If you're living in a duplex, you may not need to do a lot of 'tenant management' considering it's just one extra family. But if you're buying a triplex, fourplex, or something with more units – you will probably need to create a tenant management plan. Basically, this is a document where you jot down all the roles, responsibilities, tasks, and budgets associated with managing the property. It helps manage properties transparently and settle any disputes that may arise amicably.
I've covered the implications of the 'Build Homes Faster Act'. You know all the steps involved in buying a multiplex. Now it's up to you to decide what you're going to do to stay ahead of the market. Are you going to buy an existing multiplex, convert a single-family property into a multiplex (add coach house, basement suites, or laneway house), or find land, a large plot in Toronto, and then build a multiplex? Whatever you choose to do – remember that new builds and conversions are what the government will be incentivizing. If you're currently sitting cash-rich, I strongly recommend that you give the multiplex market a second look. You can book a call with me or somebody from my team and we can help you make the most out of your investment.
How To Finance A Multiplex In Toronto?
Multiplexes can be pretty expensive. If you're purchasing a multiplex for investment reasons, you will have to set aside around 20% of the investment as a down payment. On the other hand, if you're going to buy a multiplex and live in it, the down payment for a duplex is 5% (up to $500,000) and for a triplex or fourplex, it's 10%. However, while this is the technical rule, since you're looking at properties in Toronto you're really looking at a 20% down payment. Multiplexes with five units or more are treated as commercial properties and command 15% as a down payment
If you're finding it difficult to save money for a down payment, you have a couple of other non-conventional financing options available as well. If you haven't looked at these options before, look at real estate partnerships, seller financing, or real estate crowdfunding to help you finance your first home.