When it comes to condo living, you must think creatively when designing your space. For those who have or are planning on buying a condo with a plus den floor plan, you might be thinking – what can I do with the den in my condo, or what can I transform the den in my condo into? Use these nine condo design ideas as inspiration for your Toronto condo.
1. CONVERT YOUR SMALL CONDO DEN INTO A LIBRARY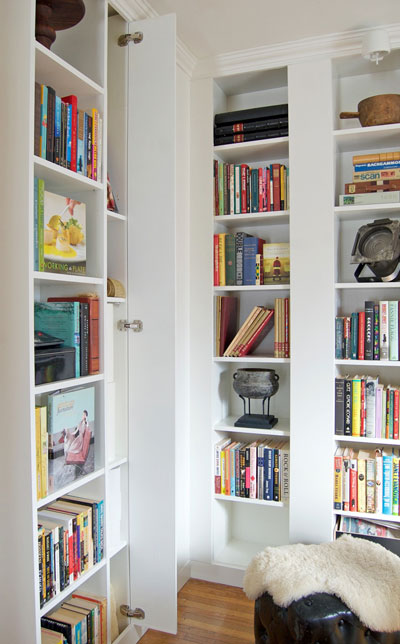 Sometimes a condo den is just a small awkward space that doesn't quite make any logical sense for the floor plan and you'll wonder why it exists at all. However, you can always put it to good use by making use of these slightly out-of-the-box condo design ideas. Even in the smallest condo den there is always room for books.
Whether you need to make a custom bookcase to fit the space or simply hang shelves, turning one wall of your condo den into a small library adds serious character. And if you have a passion for reading, it's a double bonus: you get to indulge in your favorite activity! If you're working with a windowless condo den be sure to add ample lighting to make the space feel bigger. Add a piece of art and your coziest chair and your library reading room is ready!
2. TURNING A DEN INTO A CLOSET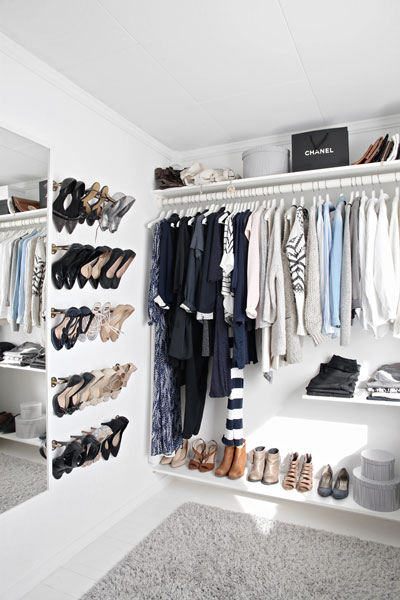 A Toronto condo listed with a walk-in closet could just as easily be listed as a plus den floor plan. That may be a stretch, but it's certainly our inspo for the next one on our list of condo design ideas.
If you never seem to have enough closet space for your wardrobe, you're not alone – many of us struggle with finding more space for our wardrobe items. But you're incredibly lucky if you have a condo den, which you can turn into your very own walk-in closet. Easily turn a den into a closet by using built-ins or stylish free standing racks, whatever your vibe is — organizing your wardrobe never felt so good.
When it comes to decorating small spaces, adding a fun rug and a vanity with ottoman to your condo-den-turned-closet-oasis is a simple but effective technique for elevating the look and comfort. It's a great condo design idea but here's a warning: Successfully turning a den into a closet may induce shopping.
3. CREATE A HOME OFFICE IN YOUR CONDO DEN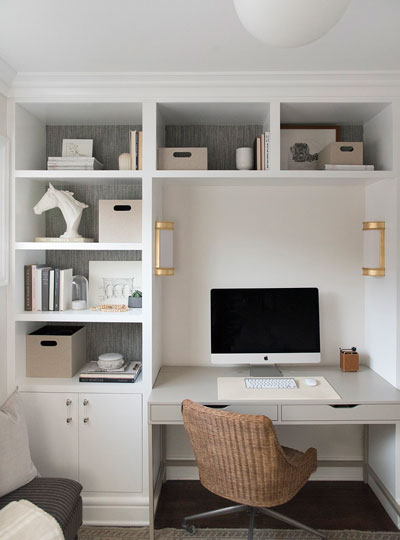 This is one we see time and time again. The condo design ideas for your home office will depend on your profession and personality. Are you maximizing your small space by adding bookshelves, a desk and a cozy chair, or are you designing your condo home office with a more minimalist approach?
Try adding plants if your condo floor plan places your den near a window, hang art that will inspire you, and prioritize proper lighting. The possibilities are endless with condo dens, just be sure your space is conducive to your own productivity and comfort.
4. TURN YOUR SMALL CONDO DEN INTO A YOGA STUDIO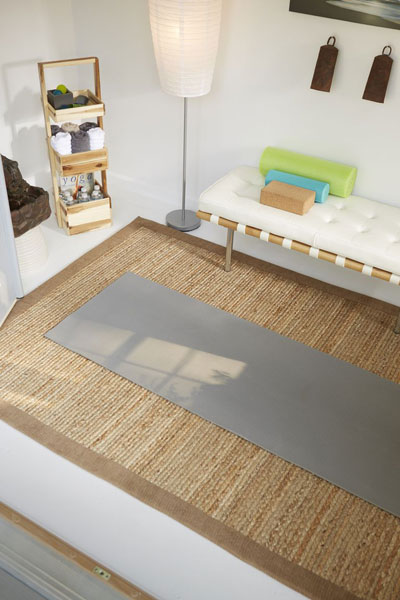 For those rather small condo dens, making the space into a yoga studio may be the perfect solution for your tiny space. Be sure to measure out the space to make sure you do in fact have enough room to stretch. To give the illusion of space, a tall mirror will lend itself well here. Mirrors can add breadth to any space, no matter how small.
The key to designing a den to be Zen is keeping it minimal but there's no reason you cannot add little fun elements here and there to add a calming touch. Add candles, a Buddha, and a Moroccan pouf for a place to meditate. You'll have no trouble at all focusing on gratitude in your very own designated yoga studio.
5. A CONDO DEN AT-HOME GYM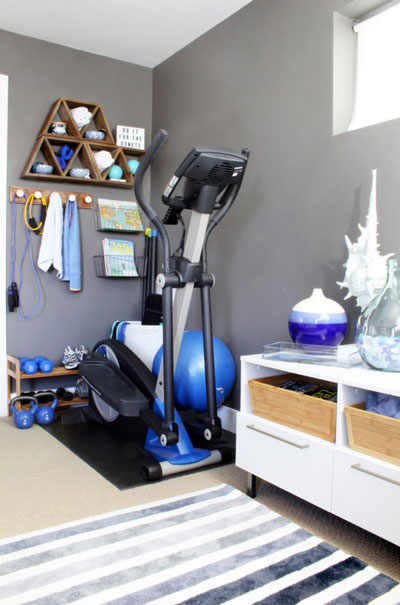 While most Toronto condos have a fitness centre among the common amenities, if you prefer working out in the privacy of your own home, a den can easily be turned into a home gym. Another bonus of having a home gym: you don't have to worry about dressing up in fancy workout attire!
Even condo floor plans with the narrowest of dens should be able to accommodate an exercise bike or treadmill along with free weights and maybe even an exercise ball, if that's your jam. Use these small condo decorating ideas for home gym hacks to optimize the space you do have.
6. TURNING A DEN INTO A NURSERY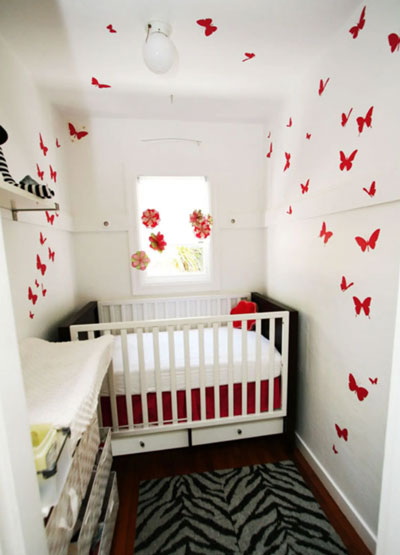 Let's face it, babies don't need a lot of space. With the rise of family friendly condos, Toronto is seeing young families or even those planning to start a family, considering buying a condo with a one bedroom plus den floor plans.
Buying a Toronto condo and turning the den into a nursery is a simple way to make space within your means for a growing family today. Plus it allows you to earn equity. Once the little one outgrows the space, you can use that equity to upgrade to a larger living space. Bookmark Buying Your Next Toronto Home for a guide on how to move up in the Toronto real estate market.
7. TURNING A CONDO DEN INTO A BEDROOM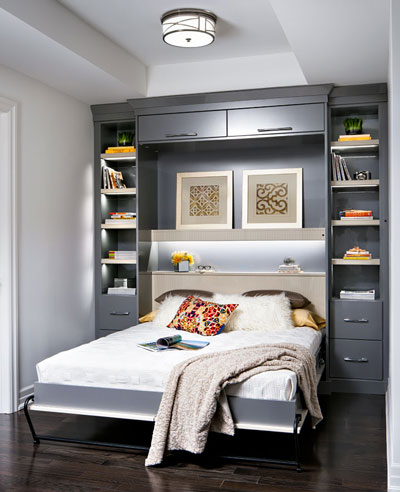 This is the hope for many one bedroom plus den floor plans, that perhaps it could serve as a two bedroom condo. While not all dens are created equal, you may be able to turn your condo den into a second or spare bedroom. You can approach this many ways through proper condo design ideas.
Making a den into a bedroom is a great idea, but you also have to remember to decorate the space with the primary function of the room in mind. When you have limited space, it becomes a luxury but you can optimize it effectively to cover varied functions. With the right layout and furniture arrangement, you can make the most of your den-turned-bedroom while also using it for other activities besides sleeping. For example, your condo den can act double-duty as an office and a bedroom if you opt for a Murphy bed or daybed to maximize the small space when it's not being used for sleeping. If you're wondering if a den can be used for a bedroom for your kids, bunk beds will certainly serve condo families well — at least in the earlier years. Make a den into a bedroom – it is no doubt a great condo design idea.
Responding to the increasing demand for family-sized condos, we've updated our list of the best pre-construction projects launching in 2022 and included a category for family-sized or family friendly buildings.
8. GET CREATIVE IN YOUR CONDO DEN STUDIO SPACE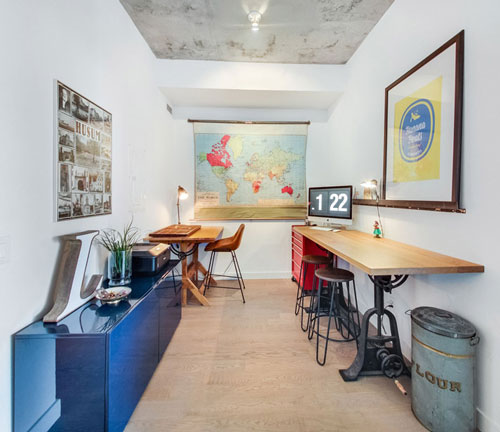 Whether it's your side hustle or your full-time gig, one condo den design idea is to create a space that inspires ideas. Make music, make art, design graphics or design clothes — whatever your craft, if you have a den in your Toronto condo, turn it into your own personal studio space. Having a separate room for your creative pursuits can work wonders. It serves as your own private haven where you can spend hours on building a fantastic masterpiece. It lets you unleash the full potential of your imagination and creativity, visualizing and creating in an undisturbed manner.
When it comes to condo decorating ideas for your studio den, that's up to you and your unique style. If the space is narrow, opt for long narrow desks like in our loft for sale at the Ninety Lofts. If you're making music, hang some tapestries to absorb the sound, and if you're making art, ensure you have plenty of light If you're going to be working with paints or colours, be sure to cover the floors with a protective layer such as a big disposable cloth or an affordable type of flooring. Also be sure to cover the walls – in a tight space such as a den, it'd be easy to splash colors all over.
9. TURN YOUR CONDO DEN INTO A DINING ROOM
If you're one who loves to cook and is no stranger to dinner parties, your condo den could be the perfect place to serve dinner. If the condo floor plan has the den close to the kitchen, that's a no-brainer.
Spend time finding the right dining room table that isn't too big for the small space. Over-sized furniture in small spaces is a faux pas when it comes to condo interior design. You may even want to try looking for a dining table that has a hidden leaf for when you have extra dinner guests.
When it comes to buying a condo in Toronto, there are creative ways to get the most out of any space. We hope these condo den design ideas were helpful in getting you inspired. If you're in the market for a functional layout that can incorporate one of these condo den design ideas, book a call with us to create a customized property search for your unique needs or start searching Toronto condos for sale by neighbourhood.