Condos may not be a one-size-fits-all solution but when it comes to living in Toronto, it is definitely the product of choice. With many buyers unable to afford a single family home, baby boomers looking to downsize, and more families living in condos — they're all competing for the same thing. The demand for family-friendly condos in Toronto is high and developers are listening.
Toronto Townhome Alternatives
Pre-Construction Family-Friendly Condos
Kid-Friendly Amenities in Toronto
Finding a Family-Friendly Condo in Toronto Today
TORONTO FAMILIES: FAMILY-FRIENDLY CONDO VS SINGLE FAMILY HOME
Let me drop this quick fact on you that may make your head spin: the average price of a condo today is what a single family home would have cost you in 2012! That was just over six years ago.
For many of this generation, the dreams of raising their family in a home with a nice yard in Toronto is nothing more than that, a dream. If it's a single family home they're after, they may be forced to relocate to the suburbs. But for those of us who love living in Toronto and want to stay here, urban condo living is the new family norm. With many developers catering to this crowd, residential communities and family-friendly condos in Toronto have been popping up everywhere.
The perks of raising a family in a Downtown Toronto condo are plentiful:
Amazing amenities to take advantage of

Gain equity faster than in the suburbs

Close proximity to so much culture

No

 need to rely on your car, transit is everywhere

No driveway to shovel or lawn to mow
Related: Why Condo Families are Getting it Right – Family-Friendly Condos Toronto
When it comes to a single family home vs condo investment, in many cases you're generating equity at a stronger, steadier pace by raising a family in a condo than in a detached home. Since 2012, the average condo price in the city of Toronto has increased 73% compared to detached homes which have increased only 59%.
And truth be told, if you buy the right product, you may be able to upgrade your living situation to a family home from your equity faster than you might expect.
URBAN LIVING IN FAMILY-FRIENDLY CONDOS
As the market shifts, people learn to adapt. Urban families looking to live in Toronto are adapting to living in smaller spaces and condo developers are shifting their design approach to favour the urban family.
What exactly are developers doing to adapt condos for families? If you're trying to design a three-bedroom condo under 1,000 square feet, efficiency is vital and they seem happy to take on the challenge.
THE TORONTO TOWNHOME ALTERNATIVE
One popular trend we're seeing is townhome collections being offered with new build condos in Toronto. The Junction House, for instance, has developed The House Collection which offers two-storey suites and laneway houses.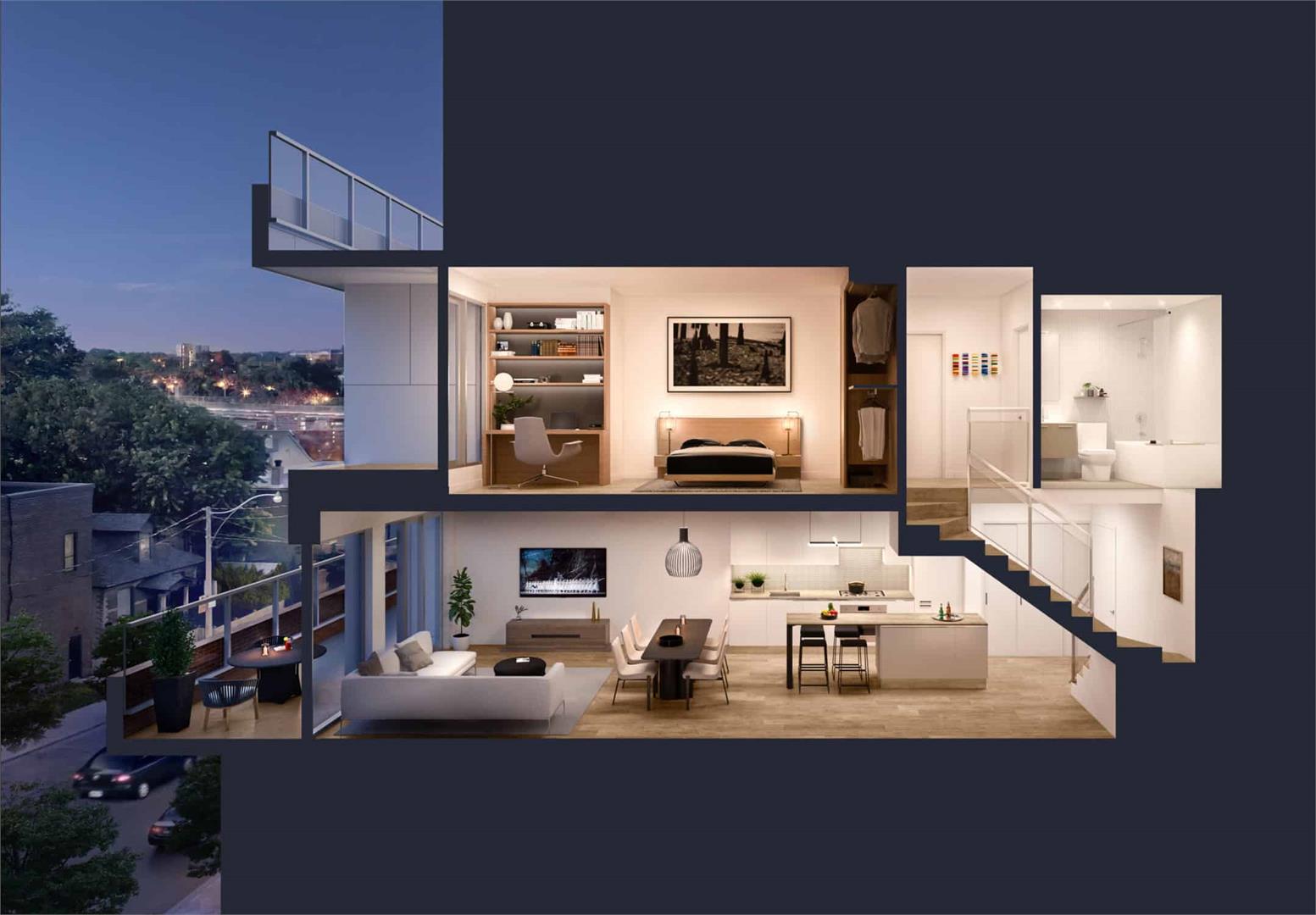 Thinking outside the box when it comes to condo design means urban families have the option of raising a family in a condo that feels more like a house without the added cost and responsibilities.   
Junction House isn't the only one that has townhomes for sale alongside condos though. The trend has become very common among east end developments over the last year, an area known to attract young families with its high concentration of public schools. The Poet Condos, The George, and Elevate at Logan all have townhomes for sale in Leslieville.
PRE-CONSTRUCTION FAMILY-FRIENDLY CONDOS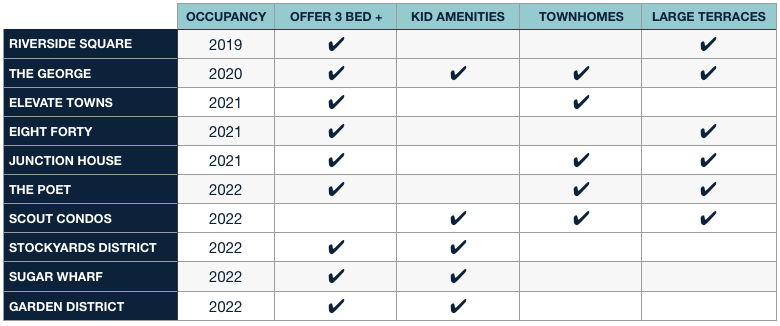 Examples of Pre-Construction Condos in Toronto suitable for families
Search these pre-construction condos for families here
KID-APPROVED AMENITIES IN FAMILY-FRIENDLY TORONTO CONDOS
Designing for families is more than just providing more square footage, it means offering more kid-friendly amenities. When you're living in a condo with small children, it becomes far easier to live in a smaller space when there's a kid zone that they can run off to.
Condos with kid-friendly amenities are aimed at attracting families. You can expect your neighbours to be families like yours so your kids will have other kids to play with. The communities really start to build themselves.
The multi-phase development, Sugar Wharf, is going above and beyond when it comes to designing family-friendly condos in Toronto. Developer, Menkes, recognizes the need to adapt to the demand for urban families, not just within the individual units but throughout the building by  creating wider elevator lobbies and even stroller parking areas.
There will be no shortage of kid-friendly amenities at Sugar Wharf either. They plan to have a kids party room, playroom, arts and crafts room, outdoor play area, a designated Lego room (this will appeal to some adults too, I bet), a music room and not one, not two, but three theatres.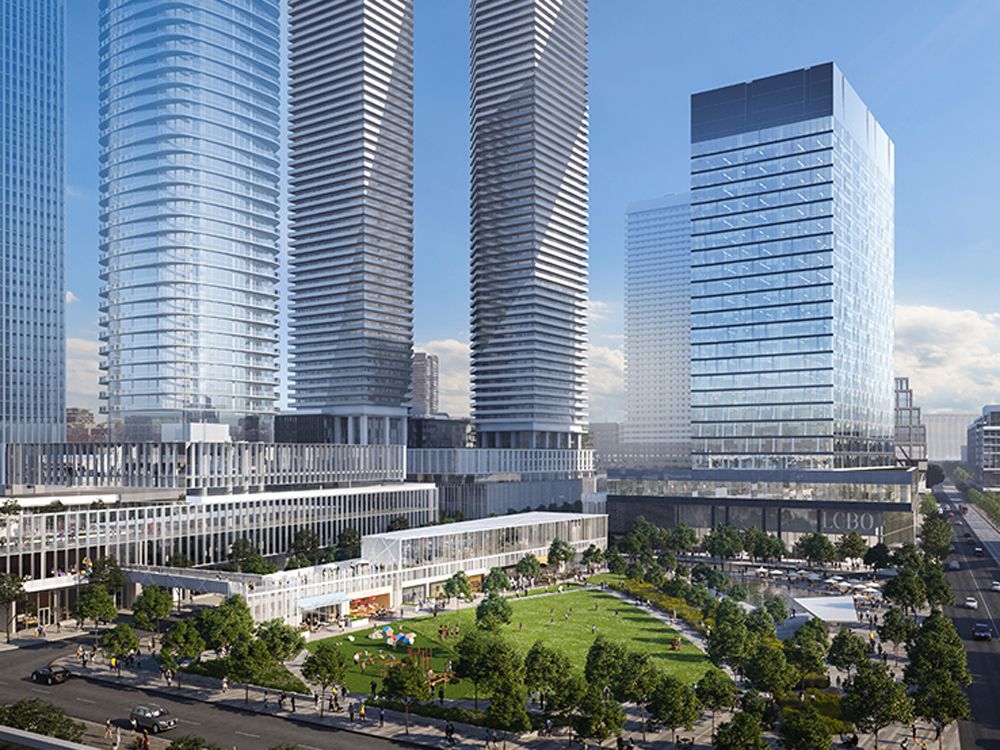 BUILDING RESIDENTIAL COMMUNITIES
The Sugar Wharf Development is more than just new residential, it is a master-planned community. With five new condo towers coming to this area along the harbourfront over the next several years, Menkes says they'll also be building a Toronto Public School on the first three floors of one of the later phased condos.
Talk about proper foresight. As more and more Toronto families are raising their kids in condos, the current public schools are having a hard time accommodating. Thankfully, Menkes is developing more than just condos on the 11.5 acre lot on the East Bayfront. They're also adding a 2.5 acre park, new retail and office space, and the Waterfront Innovation Centre — all of which will be directly connected to Toronto's PATH system. Learn more about Sugar Wharf Condos or register for pricing and floor plans here.
Related: Why Toronto Developers are Building Residential Communities (Not Just Condos)
FINDING A FAMILY-FRIENDLY CONDO IN TORONTO TODAY
While many of the aforementioned family-friendly condos are only in their pre-construction phase, there are plenty of resale condos for sale that are perfect for family life. In fact, many older condos — those that are 20+ years old — were often built with much larger floor plans. If you are looking to buy a condo for your family today, your real estate agent will be able to source you condos for sale that match your criteria.
For families and downsizers alike, the St. Lawrence Market neighbourhood has many condos with generous sized layouts. We highlight five Toronto condos with large floor plans and layouts here. Other family-friendly condos in Toronto are Harbour View Estates in Cityplace, St. Lawrence on the Park near the Distillery District, and Two Old Mill in High Park to name a few.
Buying a resale condo may be easier on your budget too. Depending on the price, you won't necessarily need to put the full 20% down and the price per square foot may be lower than buying pre-construction. Plus, you get to move in today, versus three to four years.
All of which is to say, buying a condo today could be the best way to achieve that dream of upgrading your family to a semi-detached or detached home in the future. So ask yourself: what you can do today to get that family home in the future? Book a call with us to get started.
For more info on buying a condo in Toronto, download our free Buyers Guide