Constraints on the Toronto real estate market have led many buyers to consider living long-term in large family-sized condos. From first-time buyers to young families and downsizers, Toronto condos have become the norm. Today let me walk you through why I'm personally investing in large family-sized condos and the luxury real estate market this year.
The Market Is Saturated With Small Condos
Condo developers obviously have one goal and that is to sell their building. Marketing, especially when it comes to affordability plays a large part in a building's success at launch day. Developers want the building to sell out while also maintaining profit and a viable, often record-breaking price per square foot (PSF).
Investors love small 'bite-size' units and love to hear an affordable starting launch price. So, condo developers launch projects with micro units, small floor plates and sell quickly. They advertise starting from $400k or $500k and as a means to maintain their profitable PSF they need to make micro-units. We regularly see buildings launch with suites starting as small as 250sqft, 325sqft and 400sqft. These are also always the first suites to sell, especially to investors and first-time buyers.
The cost of land in Toronto is increasing
Toronto is the economic centre of the country and for all of the job opportunity it provides, along with being very culturally diverse, it has become a popular destination for those both local and abroad. When it comes to Toronto though there is one driving factor and that is a simple case of supply and demand. Our population in Toronto is increasing quickly. Toronto is a world class city, with growing popularity and record immigration levels. However, Toronto has constrained land resources not only are there fewer sites to build on year after year, there is also been record construction in our city for years and demand cannot keep up with supply.
The average Toronto pre construction condo is now launching at over $1400PSF. For more on the average PSF of Toronto pre-construction condos give this article a read.
Big is the new Small!
Post Covid-19 people's Daily habits and lifestyles changed. Everyone spends a little bit more time at home these days with many working and living from home. This has led to many buyers looking for more space outside of the city but also a lot of people looking for more space in the city. Perhaps looking for that second bedroom to turn it into a home office or workout studio.
Many Toronto Downsizers are choosing to stay downtown, many have lived their all of their working lives and although they may be ready for a smaller home, they aren't ready to leave their beloved city and, often times even their neighborhood. As an example, I most recently purchased property in one of Toronto's most sought after neighborhoods and the buyers we're actually only moving around the corner to a very large but easily maintainable condo. This is the downsizing story we're hearing time and time again lately.
There aren't enough large units in production
We mentioned why there's little inventory being built and why developers choose to prioritize building smaller units over large units. Now let's talk about what this means for investors. Just like detached homes are the "hot ticket" item in Toronto. For many similar reasons, large family sized condos (including lack of inventory and constrained supply) will soon be the next hot ticket item. By the time there is any sort of correction to the number of large units being built we will already be in a huge deficit as it pertains to supply and demand.
For reference, in Q4 of 2021 just under 60% of all buildings launched were 1 bedrooms or smaller with 3 bedroom suites and large capping out at less than 5% of total production.
Many 2 Bed and 3 Bed units are 1000sqft or smaller.
While many do it every day, families with two children or even no children at all might be hard pressed for space in some of these standard two bedroom and three-bedroom condos. When you add in the fact that many homeowners now work from home and need additional space for their home office these standard small builder grade condos just don't cut it.
Making A Good Investment On Paper & The Re-Sale Market
Just like we consider different neighbourhoods or cities when investing, so to should we consider what we're buying. I've always been a big proponent of buying investment condos that are good on paper today and also good on the resale market tomorrow. When it comes to the resale market it's important to have a beautiful floor plan that's functional with things like windows in the bedroom. It's just as important to get that unit for a good price per square foot.
The trends in the market today are leading me to bet on not only the right neighborhood and the right functional floor pan but now I'm also saying if you can afford it, choose to invest in a large two or three-bedroom unit. You won't be disappointed on the equity gains you see in the future.
I'm Investing In Large Units & Luxury Real Estate
I love to tell you about what I'm personally investing in because there is no better way to show you than to put my money where my mouth is. In the last while I've been buying larger two-bedroom and three-bedroom suites. My most recent purchase was a large family-sized suite at Junction Square, a project by one of my favorite developers Block Developments. Get my recommendations for what projects you should invest in book call here, let's chat.
I've also been recommending this strategy to my clients. I regularly speak with my long-term clients and review their portfolios of properties. Many of my clients have over a handful of properties each with a number of smaller ones and two-bed units. This year I've been guiding all of my clients who can afford to purchase larger properties to do so. If it makes sense financially, this is your best bet to the biggest gains in the coming years.
I should also mention I'm doubling down on my biggest project yet, The Heights. A luxury detached home build in the Rosedale neighbourhood. More on why I love the luxury re-sale market next.
Related: The best pre-construction condos in Toronto launching in 2022
Why I'm betting on the luxury real estate market in Toronto
Whether it's luxury Toronto condos or luxury detached homes this market has realized impressive equity gains in the last year alone. The luxury real estate market in Toronto has been on fire to say the least. Let me tell you why I'm betting on the luxury real estate market in Toronto. Why I love large luxury condos and the luxury freehold market.
The Best Neighbourhoods Are Now Even More Exclusive
Pressure on the Toronto real estate market and continued inventory scarcity has led coveted neighbourhoods in Toronto to become that much more exclusive. These types of neighbourhoods are all about the large and impressive 'forever home'. This typically means buyers don't move very often.
While we have recently seen a number of downsizers choose to leave, inventory in these neighbourhoods is still tight. The Toronto real estate detached market in general is tight, the detached Toronto luxury home market is especially tight. Prices in these luxury markets have outpaced salaries so much so that only a certain income bracket can afford to live there.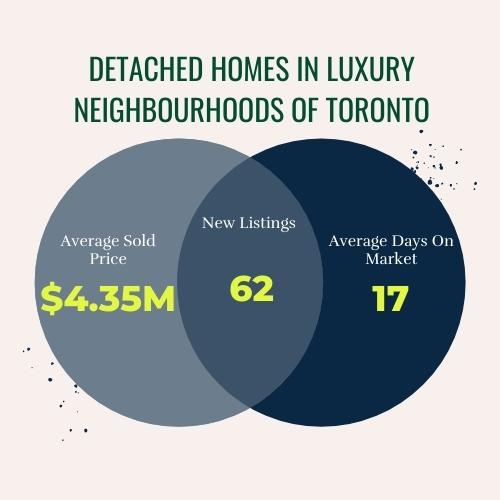 Luxury Detached Sellers Are Choosing To Downsize
These coveted Toronto neighbourhoods continue to hit record sale prices and many downsizers are deciding to take the money and rather than leave — the neighbourhood that is, they find large family-sized condos nearby to move into.
Large Family-Sized Luxury Toronto Condos
As we mentioned above, there are very few large family-sized condos being added to the market. If you're a family in the move-up market looking for space, you will be able to find space, amenities and finishes fit for a proper home in many of the luxury condos across Toronto. Whether you're a party of two or a party of five large family-size luxury Toronto condos will become one of the few suitable options in the near future.
Luxury condos in older buildings in some of the most affluent neighbourhoods in Toronto have set strong price per square foot precedence at over $2000. These buildings are old, outdated and require renovation. But they command a strong price point because of their large floor plans space and their proximity to coveted neighbourhoods.
Luxury Pre-Construction Toronto Condos
When you're purchasing luxury pre-construction you're purchasing a brand new product often purchasing at or below value on the resale market. Of course, every pre-construction Toronto condo is different just like every neighbourhood is different. Reach out and book a call if you need a real estate partner that will help source you the right opportunities.
Our Favourite Pre-Construction Launches with Large Floor Plans
For the best pre-construction Toronto condos, you'll want to check out this blog that's always up to date on our latest Platinum Launches. From the best-priced projects to the most notable architecture we cover it all.
The Best Luxury Condos in Toronto
For the best luxury preconstruction and resale condos in Toronto, you'll want to check out this blog. From move-in ready luxury Toronto condos to the finest condo hotel residences, this article covers it all.