THE BEST OPTIONS FOR INVESTING IN PRE-CONSTRUCTION CONDOS IN TORONTO
In this fast-paced market spotting the right pre-construction condo in Toronto can be tough. There are always a number of new condos in Toronto being built. There are also a number of factors to consider from builder reputation to location and most obviously, Toronto pre-construction condo prices!
I'm constantly scouring the Toronto market for investing in pre-construction condos in Toronto for my clients. In 2021, my investors realized equity gains of 8% to 28% on their 2018 Toronto pre-construction condo investments. See my client returns for yourself here. If you're looking for a great ROI on your Toronto condo investment we should absolutely talk. Book a call with me here and mention you'd like to know what projects I'm recommending to my investors and what Platinum launches are coming out this year that you should know about. I'd be happy to help.
Download: Free Guide to Investing in Pre-Construction Condos Toronto

Register: Become a pre-construction condos Toronto Insider and never miss a launch
Here are my picks for the best pre-construction condo investment in Toronto:
Motto Condos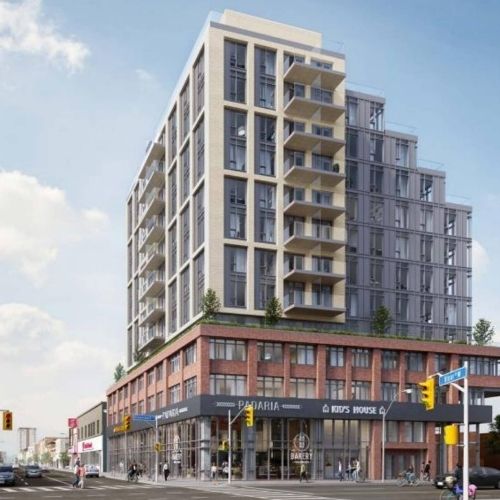 990 Bloor St, Toronto
Neighbourhood: Dovencourt Park, Toronto
Pre-Construction Condo Launch Date: TBD
Completion: TBD
REGISTER HERE
Motto Condos is a great opportunity to be part of a west-end stretch of Toronto's downtown that's seeing some dynamic transformations right now.
This particular pocket – known as Dovercourt Park – is an excellent spot, home to shops, cafes and community resources that are popular with young professionals and growing families. This new condo project is a sophisticated midrise set to both complement and enhance its existing neighbourhood.
Motto Condos is conveniently located between Ossington and Dufferin stations at Bloor and Dovercourt while capturing the city's authentic urban atmosphere. Imagine being able to walk out your door and be completely connected to the rest of Toronto via the metro! Featuring architecture by Diamond Schmitt, the plans for this building show a three-storey podium with a tasteful, brick-accented façade that reflects its surrounding streetscape. Above, a nine-story residential element with a more contemporary feel and a series of terraces is planned. 102 dwelling units are proposed, with a mix including 18 bachelor units, 56 one-bedroom and 28 two-bedroom layouts.
With a 88 out of 100 on its Walk and 91/100 on its Transit Scores, it's a lively, walkable location where almost everything you need is at your fingertips. The Ossington subway station is just steps away and a network of surface transit routes makes it easy to navigate the city.
Celeste Condos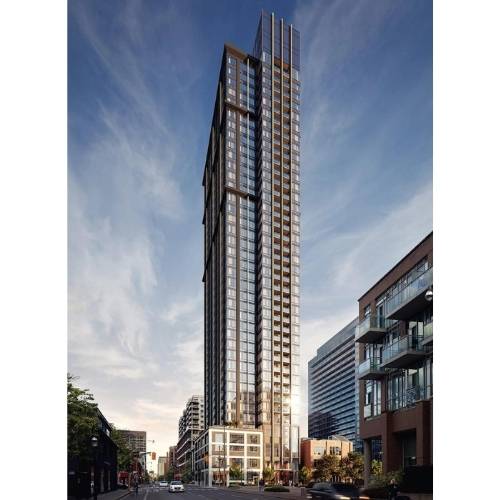 121 George St, Toronto
Neighbourhood: Downtown, Toronto
Pre-Construction Condo Launch Date: March 2022
Completion: TBD
REGISTER HERE
Celeste is on the top of our list of pre-construction projects launching this year in Downtown Toronto. As land supply in Toronto's Downtown core becomes tighter and tighter we've watched as builders have turned much of their attention to the GTA. But, in real estate location is still King. While you'll be paying a premium for the location, with all of the constraints on new Downtown inventory this project is absolutely worth it.
Celeste is a new mixed-use high-rise modern condo development in Toronto. This 40-storey tower pre-construction condo with 516 residential units by DiamondCorp and Alterra is located at 125 George St, on the southeast corner of Richmond Street East and George Street.
This condo development will incorporate studio to three-bedroom units. This tower will also be a great place for students to reside as George Brown College is just steps away from this condominium.
A perfect Transit Score indicates that residents of Celeste Condos will be just mere steps away from world-class transportation options to help them commute throughout the downtown core and travel throughout the city quickly and efficiently.
Four different TTC streetcar routes conveniently run just a short walk away from home, three different TTC bus routes also run nearby, and Queen subway is also located within walking distance. The newly proposed Ontario Line subway will also run nearby.
Register now for this pre-construction Toronto condo launching in 2022
The Groove Urban
129 Vaughn Rd., York
Neighbourhood: Humewood/Hillcrest Village
Pre-Construction Condo Launch Date: 2021
Completion: 2025
REGISTER HERE FOR PRE-PLATINUM ACCESS
When it comes to Toronto pre-construction condos I love a good boutique building. Less inventory typically means more unique units and less competition on the rental and re-sale market. This project also happens to land in a neighbourhood with very few condos, lots of parks and neighbouring Forest Hill. Prices also tend to favour properties on Transit Lines and The Groove is only a 5-minute walk to St. Clair W Subway Station!
A special kind of vibe. It's on the streets, in the parks, around the corner and infused into every single nook & cranny you walk by. Soulful, hip and moving at a steady beat, inspiring the rhythm of your life. Get into Groove Urban Condominiums, a modern lifestyle expression celebrating its own unique grooves in a stylish 15-storey building with 152 suites and amenities that turn up the volume of life. The neighbourhood is vibrant and eclectic. A lively up-and-coming destination neatly tucked in along Vaughan Road just off of bustling Bathurst St and St. Clair Ave West. Closely connected to St. Clair West Village, Wychwood, and Forest Hill, so whatever rocks your world – it's right there.
Lush and lively, your backyard includes the gorgeous Cedarvale Ravine & Park with scenic trails to hike, bike and explore. The popular Artscape Wychwood Barns host artist spaces, an event hall, and a greenhouse for growing local organic food. Celebrated as a truly authentic, close-knit community, you'll find everything you're looking for in flavour and flair from local gems, tiny bakeries and famous Dutch ice cream to chic clothing boutiques, funky bars, and unique restaurants. It's groovy, urban, and a way of life that's in perfect harmony.
THE BEST PRICED PRE-CONSTRUCTION CONDO IN TORONTO
Dawes Condos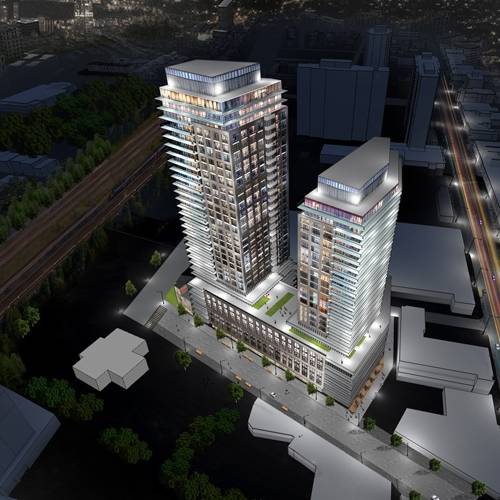 10 Dawes Rd,, Toronto
Neighbourhood: Danforth Village
Pre-Construction Condo Launch Date: March 2022
Completion: 2023
REGISTER HERE
Main and Danforth, also known as Danforth Village is one of our favourite up-and-coming neighbourhoods in Toronto! This area has seen great price growth in recent years and yet is still on the cusp of gentrification. This neighbourhood has been one of our investor favourites specifically the Linx Condos and Danny Danforth projects. Not to mention that real estate values favour properties on transit lines and this is one of the very few projects launching this year within walking distance to a TTC Subway Station and GO Station. If you're thinking about investing in a pre-construction condo in Toronto in 2022, this is the project you won't want to miss out on.
I'd also consider Dawes Condos to be in the running for the below categories, "The Best Pre-Construction Condos on Transit Lines", and "The Best Pre-Construction Condo In an Up-And-Coming Neighbourhood".
Dawes Condos architect is designed by IBI Group. The new project will be located at 10-30 Dawes in Toronto, a major intersection is Danforth Avenue & Main Street IN DANFORTH VILLAGE.
Two residential towers will rise out of a shared 7 storey podium, an intensification that will create some 432 modern upmarket condo suites, a majority 49 percent of which are 2 and 3-bedroom units catering to families. A grand testament to urban chic, this highly stylized building will feature an exterior outfitted with grey-tinted vision glass, white fritted glass balconies, and use metal panels and architectural stone for highlights.
As influential as Dawes Condos will become, it will also literally change the face of the neighbourhood. To allow the site to coalesce into a cohesive single entity, Guest Avenue to the west will be re-routed southwards to the end of the property before making a turn east and re-joining Dawes Road.
Clearly an ambitious undertaking, this luxury residence looks to provide immeasurable benefits to everyone — not the least of which are its own residents, which you can become. To make convenience and luxury yours, make your next residence 10 Dawes Road. The two towers will also share a centrally located lobby that will have pedestrian access from Dawes Road and a passenger drop-off/car entrance from Guest Avenue to the west.
When it comes to public transportation, Dawes Condos is nearly unbeatable with its Rider's Paradise Transit Score of 93. In just 8 minutes by foot, condo residents can walk to the Main Street Line 2 TTC subway station, allowing them to commute downtown in just 36 minutes. Conversely, residents can also walk to the nearby Danforth GO Station in the same amount of time, allowing for downtown commutes of just 23 minutes.
BEST INVESTMENT PRE-CONSTRUCTION CONDO IN TORONTO
Southport in Swansea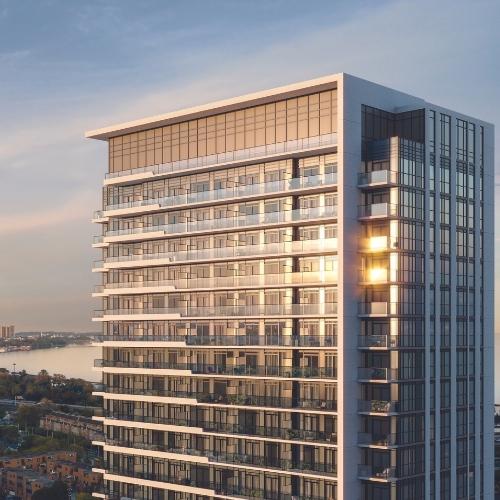 34 Southport St
Neighbourhood: Bloor West Village
Pre-Construction Condo Launch Date: May 2022
Completion: TBD
REGISTER HERE
Southport Condos in Swansea (Southport Square Condos) is a new condo development project currently in pre-construction by State Building Group. Coming soon to Windermere Ave and The Queensway at 34 Southport St in West Toronto. Featuring two 27- and 30-storey towers and total of 625+ Residence Units. Occupancy is to be announced. This mixed-use condominium project is set to rise in the highly coveted Swansea area. With two residential 26- and 29-storey towers connected by a 3-storey podium, 17 townhomes as well as 35,000 sqft of retail at grade, Southport Square will become a community within itself.
THREE SIDES OF STORY
Bloor West Village: Bloor West Village is undoubtedly one of Toronto's most diverse corridors that draws countless visitors from all over the city. Designed for maximum walkability, this close-knit neighbourhood of historic homes and quaint parkettes is a beloved point of interest worthy of recognition.
Lake Ontario Waterfront: Southport Square Condos' desirable location highlights every part of Toronto's pristine waterfront. From this unique waterfront location, you can access Lake Ontario. This includes the Humber Bay Arch Bridge, Humber Shores Park, as well as Toronto's best shoreline trails. Residents will certainly enjoy their time in the coveted waterfront lifestyle available at Southport in Swansea, which is one of the city's most stunning natural features.
Highpark: As Toronto's most expansive and impressive public park, High Park is a lush and remarkable public space that will surely capture the attention of Southport residents. Offering virtually limitless greenspace, High Park's kilometres of hiking trails, beautiful lakefront views, dedicated picnic areas, greenhouses, sports facilities, dog park and zoo, and of course, Grenadier Pond, there's always more sides of the Southport story to explore.
BEST PRE-CONSTRUCTION CONDO IN AN UP AND COMING NEIGHBOURHOOD
HIGHMARK CONDOS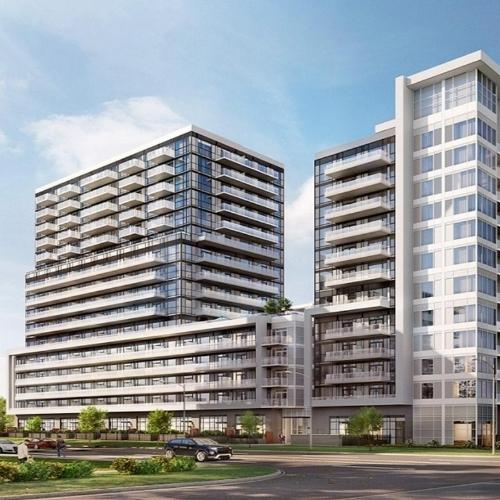 1640 Kingston Rd, Pickering
Neighbourhood: Pickering
Pre-Construction Condo Launch Date: TBD
Completion: TBD
REGISTER HERE
The Highmark is coming soon to Pickering! Featuring a highly sought-after address in the heart of Pickering at Kingston Rd & Brock Rd, residents at The Highmark are thoughtfully placed in perfect proximity to a number of urban and natural amenities.
Pickering's Village East neighbourhood is a bustling and exciting community in the heart of Pickering. The Highmark Condos is situated within a highly sought after and convenient location that boasts a great Walk Score. The area surrounding this new residence is home to many urban amenities and conveniences, many of which are located within walking distance including a collection of brand name and Big Box retailers just steps away from home. The Pickering Town Centre, which is the area's major shopping centre and home to over 150 stores, services, dining, and entertainment options is conveniently located just down the street.
Here, residents will be moments from Highway 401, the Pickering GO Station, Big Box Stores, the Pickering Town Centre, Princess of Wales Park, and so much more than this burgeoning city has to offer! Living at The Highmark Condos is a commuter's dream, its convenient east GTA location allows for quick and efficient commuting throughout the region and city with easy access to major thoroughfares and transit options. Conveniently situated just minutes away from Highway 401, motorists will be able to enjoy a stress-free commute into downtown Toronto in just half an hour. With Durham Region and GO Transit bus routes located at your doorstep, riders will be quickly transported throughout the GTA and will also allow for quick connections to the Lake Shore East train at the nearby Pickering GO Station. Taking transit into downtown Toronto will take only an hour.
Within Driving Distance of The Highmark Condos
SmartCentres Pickering: 2 minute drive
Pickering Town Centre: 3-minute drive
Pickering GO Station: 5-minute drive
Durham Live: 5-minute drive
Pickering Waterfront: 10-minute drive
Ajax Pickering Hospital: 13-minute drive
University of Toronto Scarborough Campus: 15-minute drive
Trent University: 16-minute drive
Scarborough Town Centre: 17-minute drive
Durham College: 12-minute drive
 
VERGE PHASE 2 WEST, ETOBICOKE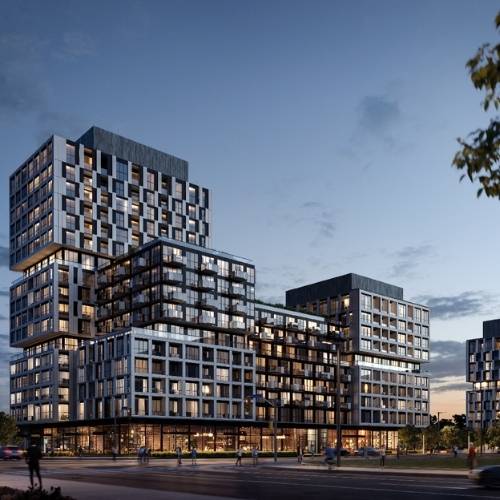 1001 The Queensway, Etobicoke
Neighbourhood: Etobicoke
Pre-Construction Condo Launch Date: 2021
Completion: 2025
REGISTER HERE
Buyers have been flocking to neighbourhoods outside of Toronto and The Queensway neighbourhood with its close proximity to Mimico Station and only a 15-minute ride to Downtown Toronto is a buyer favourite. This is a great up-and-coming neighbourhood for investors and end-users alike.
Verge will revolutionize condominium living in Etobicoke. Residents will enjoy, stylish condominium suites paired with curated indoor and outdoor amenities at one of the most convenient locations in Toronto for both transit and driving.
Be downtown in minutes via the Gardiner Expressway or hop on the subway at Islington Station. With Sherway Gardens shopping only five minutes west by car, and a wide range of restaurants, cafés, and retail close by, The Queensway is where connections, conveniences and indulgences converge.
Located at Islington Ave & The Queensway in Etobicoke. Luxury residences by Riocan Real Estate Investment Trust, one of Canada's most trusted and established builders! This sought-after Etobicoke location has been experiencing growth at a fast pace. It serves as a major access point into the city with close proximity to the QEW/ Hwy 427, TTC Routes, Mimico GO, Islington Station and Kipling Station. This bustling stretch is moments from Sherway Gardens, Humber College, and more.
THE BEST PRE-CONSTRUCTION CONDOS ON TRANSIT LINES
Investing in pre-construction condos on a transit line obviously has its benefits but did you know that real estate values actually favour condos on transit lines, with a direct connection to the subway said to carry an 18% premium to property values? Now those are some stats we can get behind.
The best pre-construction condos we've selected below are on transit lines but Dawes Condods also happens to be our pick for "The Best Priced Pre-Construction Condo In Toronto". Investment condos purchased in up-and-coming communities and on transit lines are the golden tickets for investors.
Register here for live inventory and Platinum Broker pricing.
Dawes
You can read more on Dawes Condos above as our pick for, "The Best Priced Pre-Construction Condo In Toronto"
10 Dawes Rd,, Toronto
Neighbourhood: Danforth Village
Pre-Construction Condo Launch Date: March 2022
Completion: 2023
REGISTER HERE
8 Elm Condos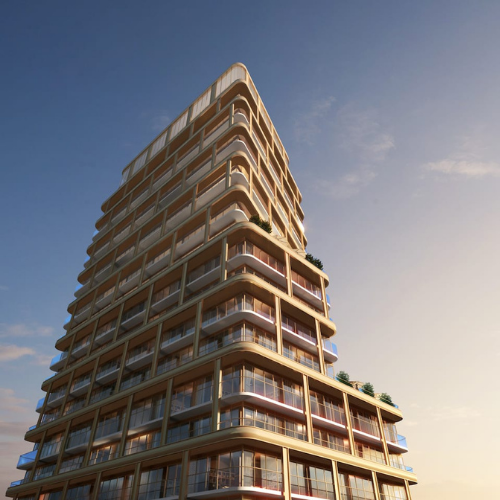 8 Elm St, Toronto
Neighbourhood: Downtown Toronto
Pre-Construction Condo Launch Date: TBD
Completion: TBD
8 Elm Street is the newest addition to Downtown Toronto Skyline, located at Yonge St/ Gerrard st W. The proposal is highlighted by the slender design which creates a tall thin tower. The renderings depicted show the body of the tower rising above a compact base, and supported by cantilevers above the heritage structure. Along with the tower levels, a greenscaped terrace is also visible.
8 Elm Street Condos perfect Walk Score of 100 out of 100. The transit score is 100 out of 100. This location is in the Bay Street Corridor neighbourhood in Toronto. Nearby parks include College Park, Joseph Sheard Parkette and Larry Sefton Park.
The residents of 8 Elm Condos will be just steps from Dundas Square and the newly-renovated Eaton Centre, one of the city's major shopping destinations. Dundas Square is a major urban hub, lined with restaurants and office space, while the square offers festivals, live music and other attractions all year round.
This condominium is also extremely well-served by transit:
Perfect 100/100 on its Transit Score.
 
Steps from Dundas station,
Two 24-hour streetcar lines running east and west.
Ryerson University is just across the street and the University of Toronto and OCAD University are minutes away by public transit.
 
Downtown areas like this command high rental rates and are unceasingly popular with some of the city's top tenants, thanks to their proximity to world-class shopping, dining, transit and high-density employment districts. If you're looking for an investment property in one of the city's most buzzing pockets, this could be your ticket.
THE COOLEST ARCHITECTURE & DESIGNED CONDOS IN TORONTO
Forma Condos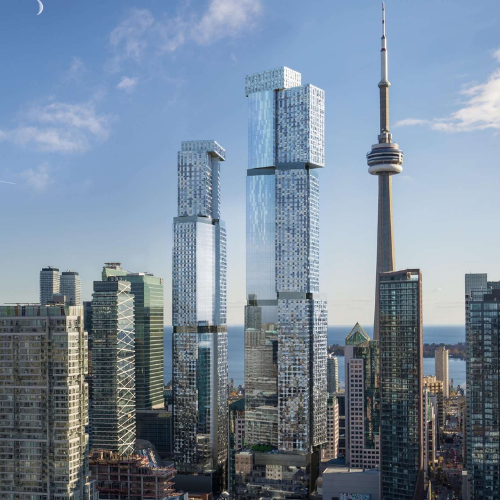 266 & 277 King Street West, Toronto
Neighbourhood: Entertainment District
Pre-Construction Condo Launch Date: 2022
Completion: TBD
Register here for access to the Forma Condos launch
Location! Location! Location! It doesn't get any more Downtown or more exciting than The Forma Condos. This is the hottest and most architecturally significant project to launch since Bjarke Ingel's building on King. While you'll be paying a premium to own in this historic Toronto building you'll own a piece of history. Plus, this project isn't set for completion for 8 years. That means you'll get a long runway to hold your investment (work and worry-free) while the market appreciates. Get in one the first-phase of this master-planned community. Investment condos purchased in early phases of masterplan communities are great for investors. Phased launches mean that future launches will set price-precedence, meaning you can only gain equity as future phases of the building launch.
The Forma Condos will be a project unlike any other project seen in the last decade in Toronto. Designing sky-scrappers all around the world, Frank Gehry has changed the course of architecture and design on a global scale. Now, he is coming home to Toronto with Forma. It will be the tallest development designed by Frank and comprise of two 6-story stepped podiums, which relate in scale and enunciation to the neighbouring structures, bested by two unique condo towers. Forma presents unparalleled architecture and interior design to create a world-class condominium masterpiece.
Forma Condos is situated within walking distance to some of the city's most popular post-secondary schools. When it comes to public transportation, Forma Condos is is the best you can get with its Rider's Paradise Transit Score of 100 making it the ideal investment for savvy investors.
Forma Condos is a visionary statement of beauty that will define the Toronto skyline: This is where modern luxury meets smart design to provide a mindful and curated experience for both residents and visitors. It is still in the very early phases so details about this pre-construction condo launch haven't been released yet. However, renderings or rather conceptual designs for this two-tower supertall skyscraper pre-construction condo along King West have us excited for Frank Gehry's fresh perspective.
The master plan for Forma will have 209 hotel units, a new art gallery, and includes over 85,000 sqft of multi-level retail opportunities in the heart of Toronto's Arts and Entertainment District. These spaces offer unlimited potential for all kinds of businesses, from national retailers to international brands, specialty restaurants, fashion boutiques and furniture shops. Forma condos is set to house 1716 suites across two towers in this prime King West location.