Disclaimer: Please remember, we are real estate agents, not builders. This blog's information is based on our own research but if you're interested in building a home, it's best to get proper advice from a contractor.
Are you exploring how much it would cost to build a custom house in Toronto? Perhaps you want to do a comparative study of buying a move-in ready home vs. building a house in Toronto. Or maybe you've already decided you want to opt for a custom house. Either way, it'd be good to know what to expect in terms of the costs so you have a good estimate of the budget you need to set aside for building a home.
In Toronto, especially in the east end, it's common to see a small house go up for sale only to see, just a few months later, nothing but the foundation remaining. With Toronto's high home prices, some are choosing to tear down and build their own home rather than pay exorbitant amounts for a home that doesn't check all of their boxes. But how much more does it cost to build a house in Toronto?
Breaking Down the Cost to Build a House in Toronto, ON 2023
Cost to Buy Land
When it comes to building a house in Toronto, you first have to find land on which to build. Ultimately, this means you have to buy a house for its land value. The reality of this is that the average detached home in Toronto currently sits at $1,914,890. Ideally, you are looking for homes that are less than $1,200,000. Hopefully much less. However, depending on where you ideally want to build your home, you may have to increase your budget at this phase.
In doing a quick property search for detached homes under $1,200,000 in Toronto (east of High Park, south of St. Clair West, and west of Victoria Park Ave) only a handful of homes are currently listed. For now, as three of the four homes listed are $1,100,000, let's use that as our benchmark example.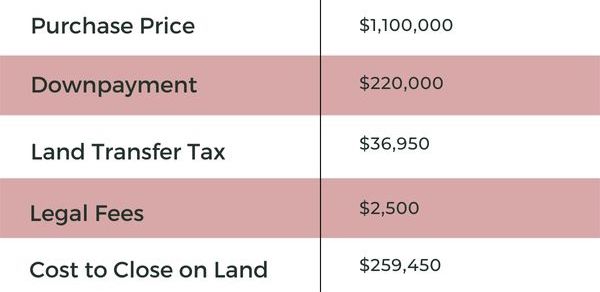 The first affiliated cost to build a house in Toronto is the land. In this case, you're looking at needing just over $259,450 to acquire and close on the land that's priced at $1,100,000. Not to mention the mortgage, which would be about $4,672 per month.
Cost to Tear Down a House in Toronto
The next step, of course, is to tear down the house. You'll want to have a builder hired ahead of this phase in order to consult on ways to save money with what you already have. Depending on the floor plan of the existing house, you'll want to consider preserving the foundation and maybe part of the frame of the house.
Generally speaking, when it comes to budgeting for the teardown of the house, you're looking at about $20,000 and up.
Cost Per Square Foot to Build a House in Toronto
When it comes to building a house in Toronto, the prices are broken down at a price per square foot cost. The cost per square foot to build a house in Toronto starts at about $400 per square foot or more.
If you're building a ≥1500-square foot home, the price would range from $600,000 and up depending on the per square foot cost bracket you choose. For luxury homes, your cost per square foot to build a house in Toronto will be closer to $600 per square foot and up. Just keep in mind, you get what you pay for. High-end materials will lead to a higher price per square foot.
What's Included in the Per Square Foot Cost
Regardless of whether you choose to build a house at $400 per square foot or $550 per square foot, typically included in that calculation are:
Building permits
Architect and designer fees
Construction costs
Hard Vs. Soft Costs
The construction costs to build a home in Toronto are broken into hard costs and soft costs. The Hard Costs will be things that have a fixed rate. These typically refer to many of the trade contracts, such as, the cost for the roof or frame, which would have already been established based on the design. In other words, all the costs for construction (drywall, flooring, plumbing electrical, siding, and others) ranging from the initial site work to the final finished house are a part of the hard costs. These include expenses for labor, equipment, and material. Besides foundation and framing expenses, hard costs include exterior and interior finishing, land development and landscaping, to name just a few. Besides these, the costs of appliances (HVAC systems) are categorized as hard costs.
The soft costs are the costs for supplementary activities, that is, tasks that do not contribute directly to the building of the house. In essence, these are the essential costs but are costs that are not affiliated with labour or materials. The soft costs would be things like inspection fees, legal and agent fees, permit and site survey fees, engineering and architectural consultation fees, management fees, insurance costs, and taxes. Your builder will provide you with a list of the hard and soft costs affiliated with your construction costs early on s. So you can start preparing financially to cover these costs. Even if you're planning to opt for a mortgage, you'll need to know how much it will cost to build a house in Toronto and to start saving for the down payment.
Things that Will Increase Your Cost to Build a House in Toronto
While it may seem counter-intuitive, building a bungalow actually costs more than building a two-storey home. Why?
According to custom home builder, Harlequin Homes, the style of a house will impact your cost to build. The average cost to build a 1500 sq ft house will be more expensive as a bungalow than as a two-storey home due to their more expansive footprint. This essentially doubles the cost for things like your foundation, basement floor, and roof.
It's also worth noting here that your basement's square footage is not included in your property's listed square footage. Having a finished basement will be an additional cost per square foot.
As we mentioned earlier, the type of materials you use will also affect your cost to build. If you're going for the best of the best, those luxury finishes will send your cost to build up. Your builder or designer will be able to help guide you towards great finishes that fit your budget.
Cost of Building a House vs Buying
So how much does a custom home cost? Let's do a rough comparison of the cost to build a house versus buy a house in Toronto, Ontario. If you're looking for a move-in ready detached home in Toronto, the prices will surely vary depending on your preferences. For arguments sake, let's use the average home price for a detached home in the east end (E01, E02, E03 municipalities) which is $2,094,441.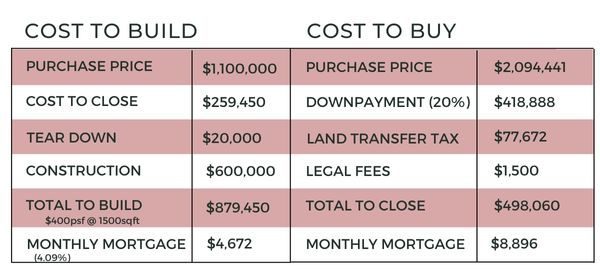 It's an interesting comparable. The cost to build a house in Toronto may cost you about twice as much in upfront costs compared to buying a house, however your monthly mortgage will be half as much as buying a move-in ready house, albeit if those funds are available you can put that towards a downpayment essentially lowering that monthly mortgage on the buy. Alternatively, if you borrow the funds to build your cost carry would also increase.
How you finance the cost to build a custom home will factor in to the equation: are you using the funds from selling a previous property or are you getting a loan or line of credit to finance the build?
While we don't have a house construction cost calculator, there are some things to consider when budgeting the cost of building a house vs. buying one.
First, use our mortgage cost calculator to help determine your closing expenses (Land Transfer Tax) and monthly carrying costs affiliated with both a move-in ready house and a property you'd be buying for its land value.
When determining the cost to build a house in Toronto, beyond your land closing costs, you'll need to add these expenses:
• $20,000+ for the teardown
• Per Square Foot cost depending on desired size and price bracket (ex: 1500sqft x $400+)
Long Term Vision
One other thing to factor into your decision is whether you're building your forever home or if you plan to sell it after a few years. The cost to build and the price of land in Toronto has increased drastically in recent years, making it tough for the newbie to 'flip' with a ton of profit. So, I would say if you are building a custom home you likely need to think long-term. Focus on the details and customizations that will allow you to see that home as your forever home. Building your forever home will also cost you more money upfront than it will to buy a comparable move-in ready home.

So if they're comparable on the resale market, keep in mind you'll have to put nearly double into building your custom home than to buy a move-in ready. You can read more on the topic of Reno vs Ready here. But if you're building your forever home, the ability to customize it to your preferences are so worth it.
If you're thinking about building a house in Toronto, search for houses in your desired neighbourhood or across the city. Just set the max price you're willing to pay for land and get started on your journey to building the house of your dreams today.