When it comes to the holidays, sometimes good things really do come in small packages.
So, it's that time of year again! With a holiday party on the horizon, it's not uncommon to find yourself, hair at all angles, nursing a second rum and eggnog and wondering how you're going to fit a virtual bucket load of RSVPs into a space that could pass for a roomy walk-in closet! We get it. When 'tis the season, hosting in a compact space can leave you feeling a little bit overwhelmed. But don't let that downsize your holiday cheer. First things first, stash non-essential condo décor and general clutter out of sight for a bit of wiggle room. And when you're ready, scroll down for some of our space-savvy decorating tips.
O' Christmas Tree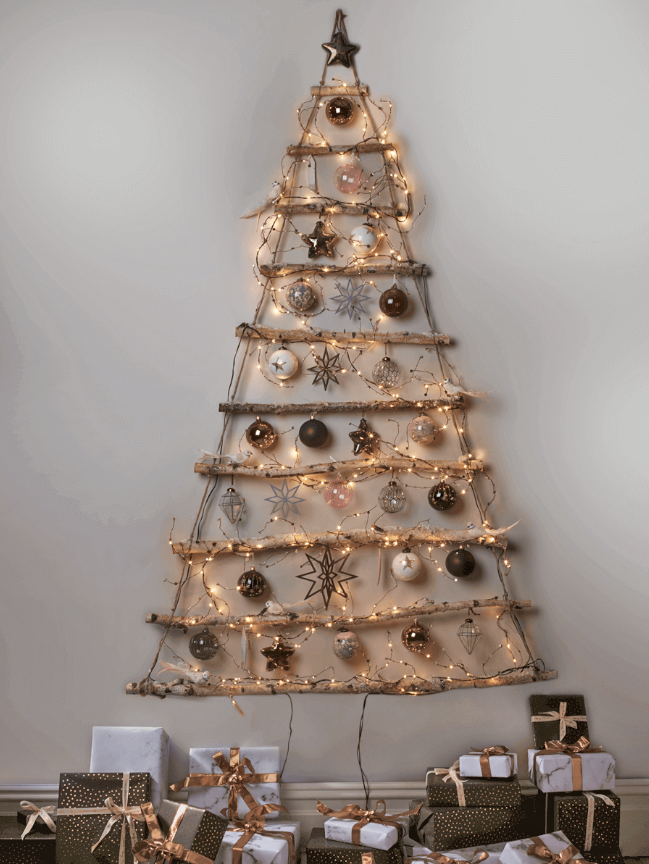 When it's time to spruce up your space (see what we did there), a full-size tree isn't always a necessity. You can opt for a miniature, and if that's not quite right, there are plenty of alternatives. Arrange wooden shelves or conifer branches into the shape of a triangle on the wall and add some simple string lights so it glows at night. If you like it quick n' easy, string up some sparkling twine on an easy-to-make plywood outline. And if you don't have twine – get creative! Try up-cycling bits and baubles from around the house (like unused coffee filters, popped corks or old music sheets) for an environmentally-friendly alternative, on the cheap. And if you want to go all out, splash a couple of festive branches on a large canvas and make it pop with a bit of tinsel. Click here for more Christmas tree ideas.
It's Beginning to Look a Lot Like… Twinkle Lights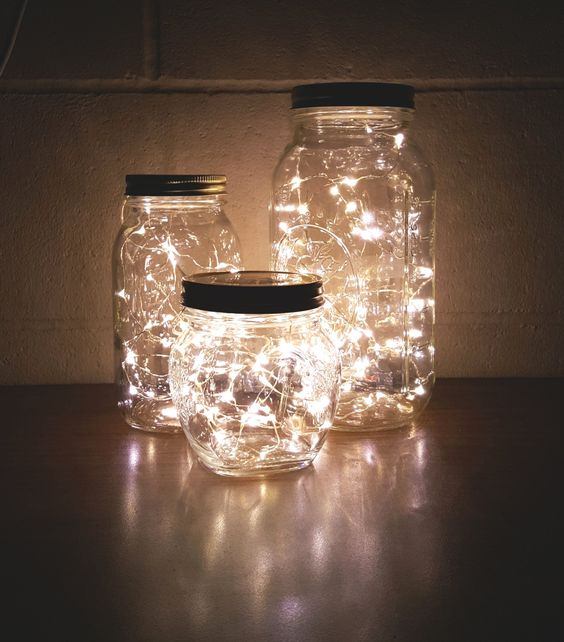 Searching for that cozy Christmas feel? Twinkle lights can add some sparkle to your small space. Wind them around fallen tree branches or cram them into mason jars for an artsy quick fix. If you want to get a little bit more creative, string them along barren walls and clip season's greetings onto each strand for a cheerful holiday display. Twinkle lights come in all shapes and sizes – some are battery powered and LED, with wire or copper strings – so when it comes to this simple, space-saving trick, the sky really is the limit.
Come All Ye Bar Carts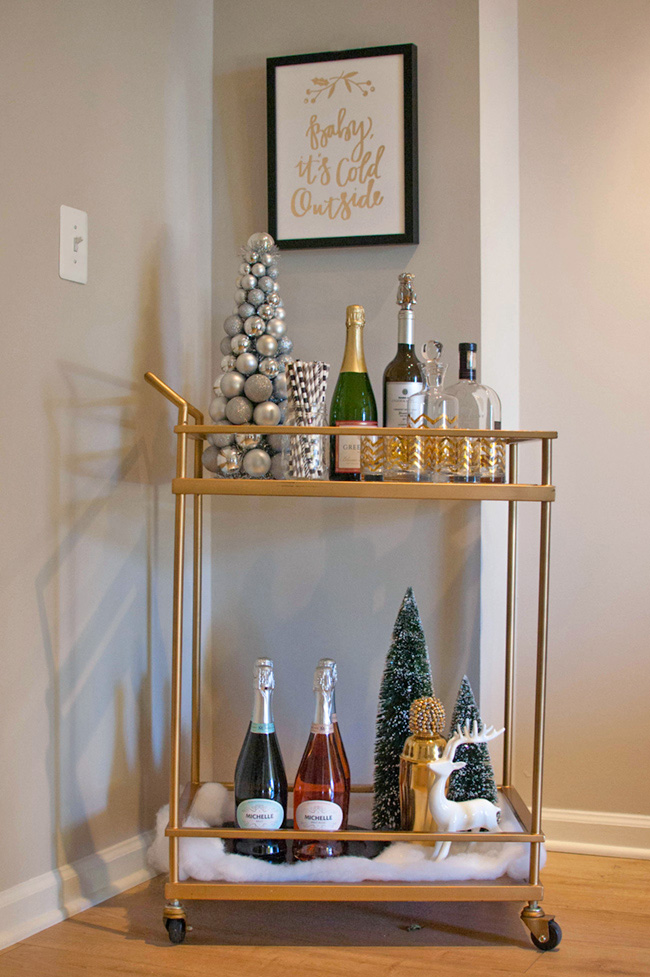 Everyone loves a festive bar cart! Or at least some kind of spirited drink station. If you want to give your mini-bar a holiday twist, why not turn it into a miniature winter wonderland. Put down some cotton ball fluff (for snow) and top it off with a string of fresh cedar garland. Bonus points for snow themed candy decorations like white rock sugar sticks or light blue chocolate 'snowballs'.
For an added touch, dress up your wine glasses and carafes with delicate red ribbons. And if you want to make it really snazzy, throw in some helium balloons (red, green and white of course!). If your bar cart is stationary, you can also hang a chalkboard overhead, welcoming your guests to wet their whistles and suggesting a few. 
Frosty the Centrepiece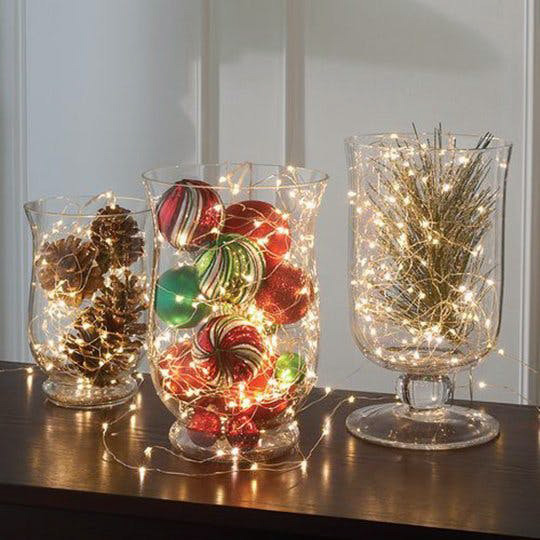 Creating a colourful centrepiece is a no-brainer when it comes to livening up any small space. To keep it simple, fill a bowl or vase with an assortment of brightly coloured ornaments. If you're after a more rustic arrangement, then present an array of fresh evergreen branches in a wooden bowl around a fragrant 3-wick candle (with a healthy smattering of frosted pine cones). For a bit of extra holiday flair, put a red candle into a clear glass vase and fill to the brim with fresh cranberries.
Have yourself a Merry Little Wall Display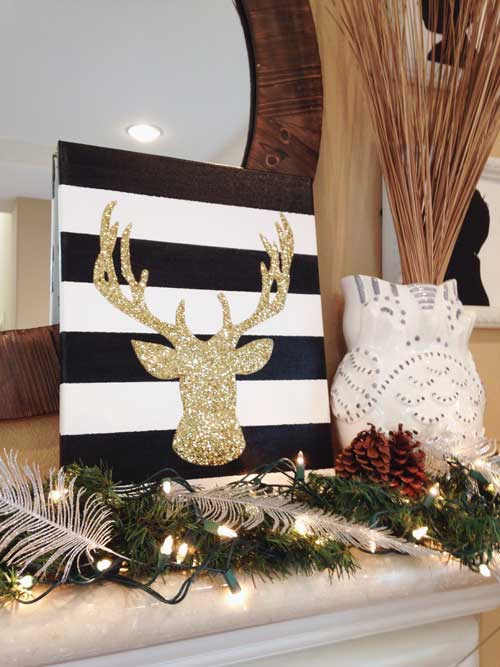 In a small space, your walls can be your greatest asset when it comes to adding a bit of Christmas cheer. For the quick and dirty, swap out your everyday art with old pizza boxes wrapped with shiny paper and curlicue bows. If you want something more extravagant, invest in a package of vinyl wall lettering to compose a cheerful holiday word jumble. Paint your own reindeer silhouettes or try your hand at stencilling on canvas. Create a Christmas card collage or experiment with mounted ornate spruce wreaths. For a more elegant look, try hanging a collection of lightweight cardstock snowflakes.
Joy to the Buffet
Finding a suitable buffet in a small space can be tricky. Pro tip: keep your eyes peeled for any flat surface that you can re-purpose. That old desk in the corner collecting dust, clear it off and drape a patterned table cloth over top. That 37" flat screen looming over the space, haul it into the bedroom for one night and make use of the TV stand. If you have a spare room with a bit of extra storage space, don't hesitate to do away with your everyday décor in favor of more counter space. Try to make use of what you already have in the room.
These are but a few simple ideas to inspire your mini holiday makeover. And just remember, when in doubt – make it sparkly. And don't forget the mistletoe!