We've put together this Home Curb Appeal Winter Edition guide because when selling your Toronto home in the winter, your home's curb appeal is the first impression buyers have with your property. As much as staging the inside of your home can have a positive impact on your sale price so, too, can your home's curb appeal. When you're working against grey skies and cold temperatures, use these essential tips to make your curb appeal in the winter command attention.
TRANSFORM YOUR FRONT PORCH FOR WINTER CURB APPEAL
Start with a little TLC
Whether it's a faulty light fixture, a loose floor board or a missing post on your porch railing, now's the time to make those improvements. You want to ensure everything is in good working order, is safe, and looks presentable. This goes for any Toronto homeowners with fences or gates out front too.
Once you've made the minor repairs out front, give everything a really good clean. Borrow a friend's power washer, grab a magic eraser, and scrub scrub scrub. You won't believe what a difference this thorough clean can do for your home's curb appeal.
Add a Fresh Coat of Paint
By far the easiest thing you can do to make a noticeable improvement to your Toronto home's curb appeal is to add some fresh paint to areas like doors, porches, and even your mailbox.
The front door is the focal point of a home's exterior. Painting your front door with a colour that complements your house is a great way to add a pop of colour in the otherwise dreary winter landscape. Keep your eye on the forecast, it's best to paint during a 3 day warm stretch.
Create a Winter Design for Your Front Porch
Most people clear their front porches during the winter and while it's important to declutter before selling, take the opportunity to make a statement with your front porch.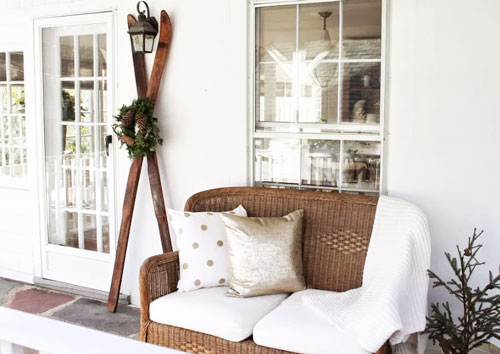 Arrange some evergreen branches (you could even snip some branches from your Christmas tree) with pinecones or birch branches in a planter and bring out some patio furniture with pillows or a throw to create a cozy sitting area. Get inspired with some of these Winter Porch Designs.
Outdoor Lighting is a Must-Have
If you're going for staging curb appeal, consider installing a porch chandelier for a more refined decorative motif that sets you apart from other houses on the block.
Or, if you've used hanging lights over the holidays (simple white lights are best) use them to frame structures like front porches or car ports.
The pros at HGTV say outdoor lighting is essential when it comes to winter curb appeal. "As the days get shorter, having proper outdoor lighting will make your home safer and more attractive for buyers who come to visit at night."
Areas to prioritize are:

• front pathway lighting for safety
• functional lighting like sconces to highlight your home address
• side door lighting for separate entrances or backyard access
TIPS FOR WINTER LANDSCAPING
The Big Tidy
We can all hope for a beautiful snowfall right before your open house, but chances are your front yard won't always be covered in a nice fresh blanket of snow to hide the leaves you neglected to rake in the fall.
Thankfully, in this case, most Toronto homes don't have expansive front yards; but it's time to get to work nonetheless. Go around your property and pick up all of the debris, rake your leaves, pull dead plants from the garden, and trim your hedge or any low-hanging tree branches.
Landscaping during winter months is worth the effort to give your home curb appeal that extra wow-factor. This is the very first thing prospective buyers see when they arrive, make sure it looks its absolute best.
Winter Landscaping Checklist
• rake leaves
• remove branches and sticks
• pull dead annuals from gardens
• add fresh mulch to garden beds
• trim hedges or low-hanging tree branches
• tidy walkways of any overgrown greenery
• clean your gutters
And don't forget, if it does snow, to ensure you clear an obvious and well lit pathway for buyers to follow safely to your front door.
USE THESE SIMPLE DIY CURB APPEAL UPDATES
Give Your Mailbox a Makeover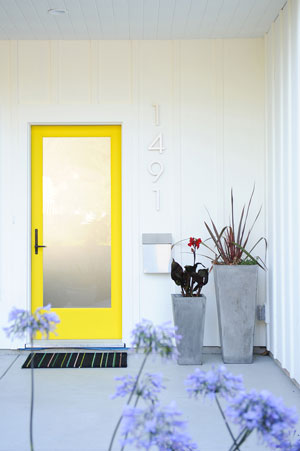 Give your mailbox an upgrade. Swap that plastic mailbox you've had for years for a new more contemporary one.
You may not even need to replace what you have but rather just give it a fresh coat of paint. This is as easy as grabbing a can of spray paint and giving it a new look.
Pro Tip: Take your mailbox into a warm well-ventilated garage or workshop because spray paint won't adhere well to a cold surface.
Refresh Your House Numbers
These days, they come in all different shapes and sizes, from script numbers to digital numbers and everything in between. Whatever your personal preference, find a simple but elegant option for your address house number. Don't underestimate the difference this can make when it comes to curb appeal updates.
Making your home curb appeal a priority when preparing your Toronto home for sale will command the attention of prospective buyers and possibly lead to a higher sale price. Remember, your home's curb appeal is the first impression buyers see. So step back, see how your home looks and fall in love with it all over again.
Main feature image courtesy of Simply Kierste Design Co.