If you've walked along King West in the last several weeks, you may have noticed a peculiar structure taking shape. Tucked away in a parking lot off King and Morrison Street is an architectural exhibit by renowned Danish architect, Bjarke Ingels. But this isn't the only plan Bjarke Ingels has for this site. Bjarke Ingels Group (BIG) is working on a mixed-use development with an undulating topography that would be a first for Toronto's architecture scene.
On Bjarke Ingels' King West project page he says, "It would be strange if one of the most diverse cities in the world had the most homogenous architecture." And he's absolutely right. In a city full of condos, there are few condo developments that choose to take liberties with their designs.
Enter Bjarke Ingels.
The 43 year old renown architect has made a name for himself with his smart, convention-defying designs. He combines the necessity of urban architecture into multi-purpose designs, often with positive social side effects.
BJARKE INGELS' KING WEST PLANS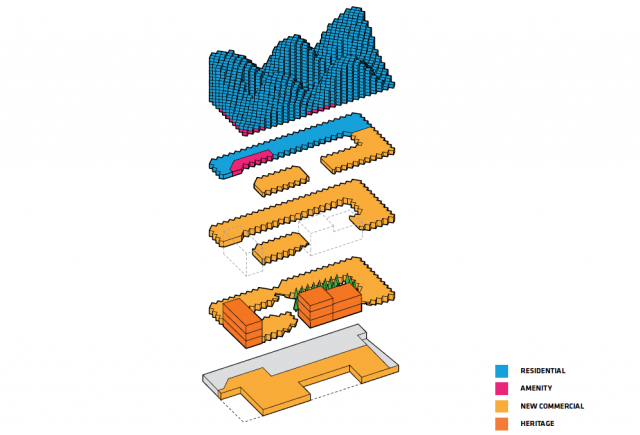 First proposed in 2016, the plans for Bjarke Ingels' King West development have been evolving with ongoing consultations with the city of Toronto and public. This mixed-use development will span the centre third of the King West block between Spadina Avenue and Portland Street (469 to 539 King Street West).
The development will be built around a few heritage properties which will house retail space. The first three levels will be retail and commercial space while the upper-most floors — 16-storeys of undulating volumes — will be residential.
The exterior facade, with the exception of the heritage properties, will be rotated 45 degrees, creating a more spirited sidewalk and street frontage.
The interior will feature an inner plaza on the east, a hemlock forest on the west, and a new open courtyard that will extend to Wellington Street to the south. Along the heritage properties will also be several laneways with art that will change periodically.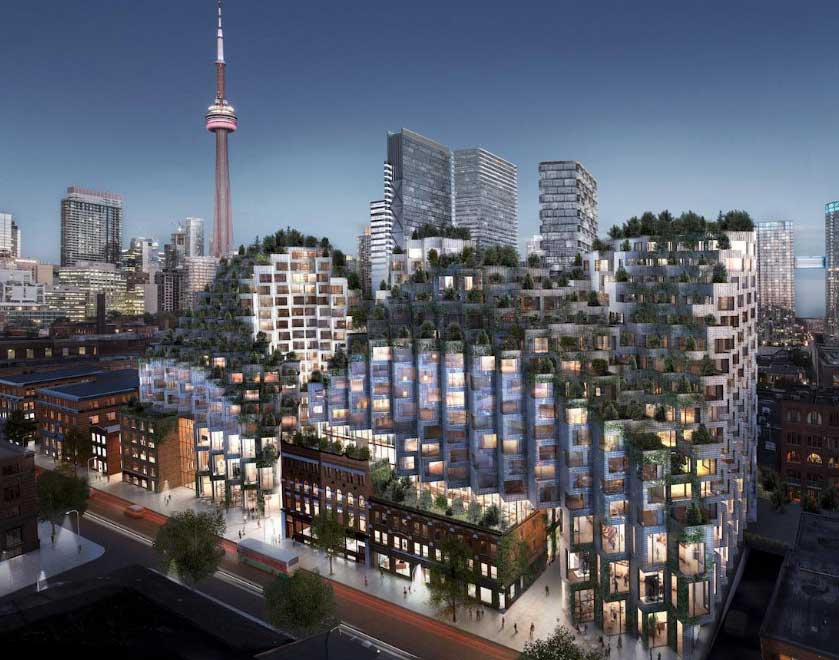 RESIDENTIAL SUITES GET ALL THE BEST VIEWS
Similar to his residential masterpiece, The Mountain, with its cascading design that grants each suite a terrace directly facing the sun; his King West development serves to design suites in such a way that they all get great views and sun exposure.
The 45 degree angle of the suites paired with the rising and falling volumes of the residential levels allows for all suites to have terraces or balconies and promotes the potential for urban farming. Original designs also strive for a 40% window to wall ratio, maximizing the exposure to sunlight and hopefully making those dreary Toronto winters a bit more tolerable.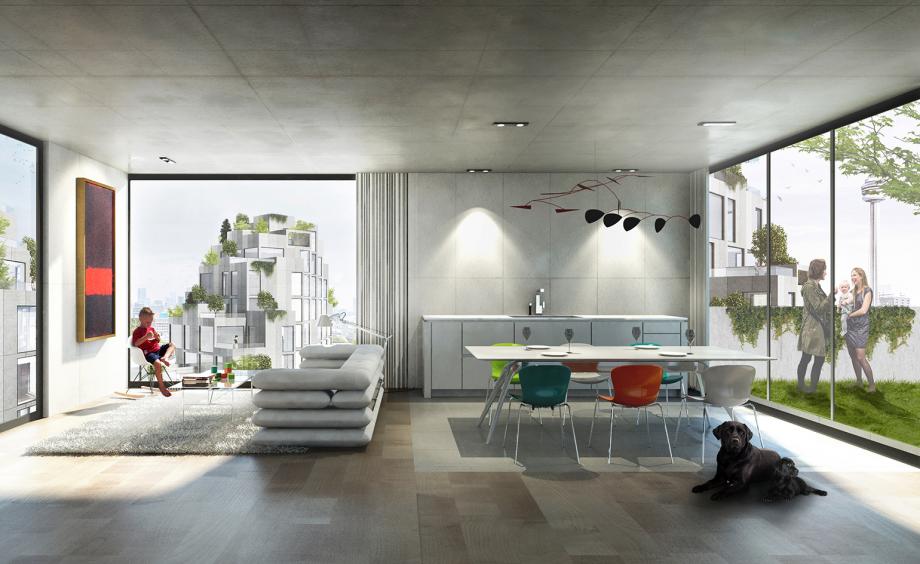 The latest adjustment to the design plans is the use of light glass blocks rather than precast concrete for the residential facade. Inside, there are expected to be 624 residential suites, including at least 62 three bedroom suites which is required of any Toronto condo with more than 100 units.
GROUND LEVEL HERITAGE AND PUBLIC COURTYARD
On the lower levels, the heritage properties will retain their original facades and interior floors, weaving the old in with the new. Along the outside of the heritage buildings will be mid-block laneways promoting connectivity throughout the block and inner courtyard which will be lined with shops and restaurants and surrounded by art.
The open courtyard will be designed by Toronto's Public Work. This spectacular courtyard will feature a public plaza and beautiful hemlock forest, something truly unique for a downtown Toronto development. A literal breath of fresh air.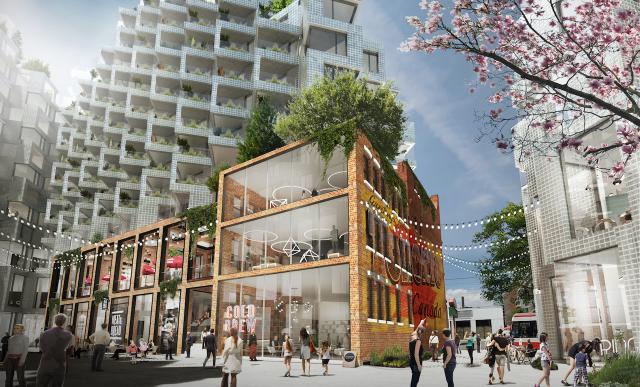 Extending to the south will be an elongated park connecting Bjarke Ingles' King West development to Wellington Street, where The Well, another major multi-faceted development, is currently taking shape.
The hope is that Bjarke Ingels' design approach, pushing against convention and proving that these bizarre designs and unique approaches are possible and will encourage other architects and designers to take more risks in the future.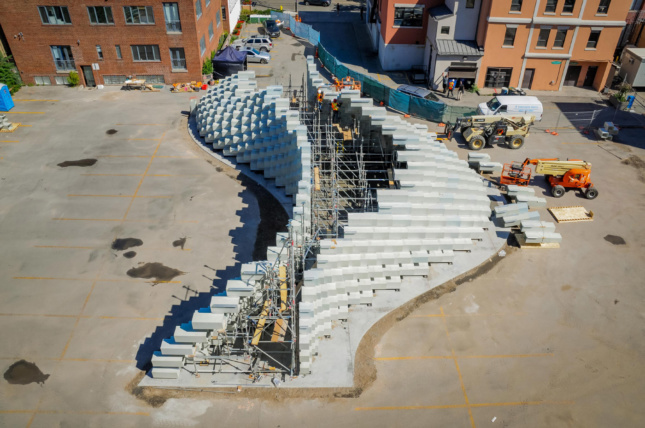 For now, be sure to stop by and see Bjarke Ingels' sculptural exhibition, Unzipped, on King West. The exhibit is on until November and will serve as an interactive sculpture during the day and an event space for developer Westbank, the developer behind Bjarke Ingels' King West development, at night.