We're always told to dream big as kids. However, those wild and crazy ideas your imagination is capable of seem to quickly disappear as you get older. This isn't the case for architect Tye Farrow. Inspired by places like Ontario Place and the Science Centre, Farrow is putting a creative spin on a Toronto staple: The Bloor Viaduct.
THE CONCEPT
Farrow has a vision for a "Living Bridge" community on top of the Bloor Viaduct, which was built in 1918 to accommodate mass transit. The design proposed by Farrow would consist of 5 large arches proportionate to the 5 black-steel arches that support the bridge. These upper arches would be made up of hundreds of cylinders, each one being a residential unit.
Below the two rows of housing would be commercial space, suspended from the arches and above a pedestrian pathway. Taking inspiration from NYC's High Line, the rooftops of the residential arches would be added green space with trails for cyclists and pedestrians alike. Due to the steep nature of the arches, these trails would resemble the zig-zag pattern of San Francisco's famous Lombard Street.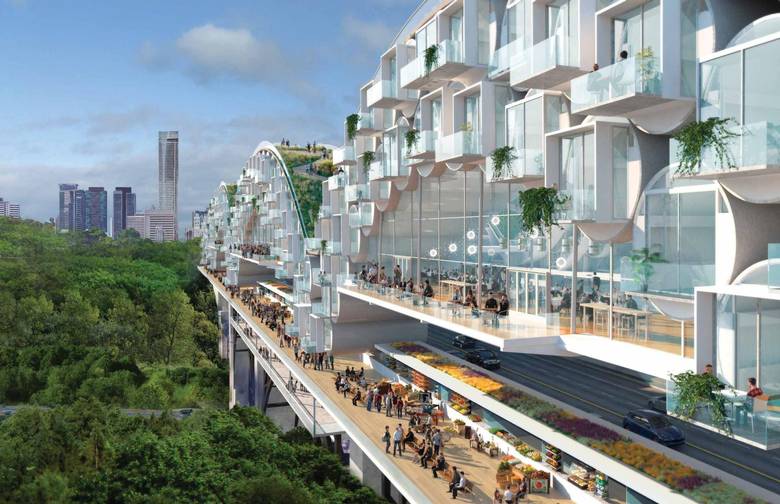 AFFORDABLE HOUSING
At a time where housing prices continue to grow here in Toronto, Farrow's intention is to offer a unique approach to housing and do so in a way that would be affordable. There is huge cost savings in constructing these cylindrical condos because of a new sheet metal designed by GRIP Metal. This new material technology is a light-weight sheet metal with micro-formed hooks that allow for structural strength to be used between the metal and almost any other material; wood, plastics, rubber, concretes — you name it. In addition to saving on material costs, these cylindrical units can be pre-constructed offsite and then stacked into place fairly easily, saving both time and money.

The condos themselves would be modest in size but would be stunning in their own right. The vaulted ceilings would be made of a warm wood veneer that would fuse with the grip-hooked sheet metal. Capped off with floor to ceiling windows and a terrace that would certainly have forever unobstructed expansive views. Creatively nestled between the curvature of the cylinders and the flat walls of the unit would be ample space for plumbing and electrical, not to mention extra depth for a nice soaker tub.
MODERN DAY FLORENCE
While it may be a new idea for a city like Toronto, this idea of a living bridge is not a foreign concept. A post on Farrow's Instagram shows other examples of living bridges, the most famous being Florence's Ponte Vecchio. The idea that a bridge should be a single-use asset is something we should strongly reconsider.
"Farrow's design imagines our city's most costly infrastructure as high performing social and cultural urban revenue generators; that spending on pipes, pavement, single-use bridges and transit could be directed toward the challenges of affordable housing and community-building." [

1

]
There are so many incredible ideas put forth through this design concept. It's thinking like this that helps propel our communities forward. Engineering spaces beyond their initial intent and approaching it in a way that won't require exorbitant costs. Added green space, affordable housing and a new life for the Bloor Viaduct – this is something I would love to see come to fruition.