Tucked away in a valley between Rosedale and the DVP is a beautiful industrial quarry-turned-nature retreat, Evergreen Brick Works, a truly unique public space with a focus on urban environmentalism. This award winning not-for-profit has been in operation since 2010 and has even been named one of National Geographic's Top 10 Geotourism Destinations in the world. Toronto is fortunate to have such an eco-conscious public realm to explore but the irony is that most people have to drive there to reach it. In an effort to make Evergreen Brick Works more accessible while also reducing their carbon footprint, they've proposed building a cable car over the Don Valley.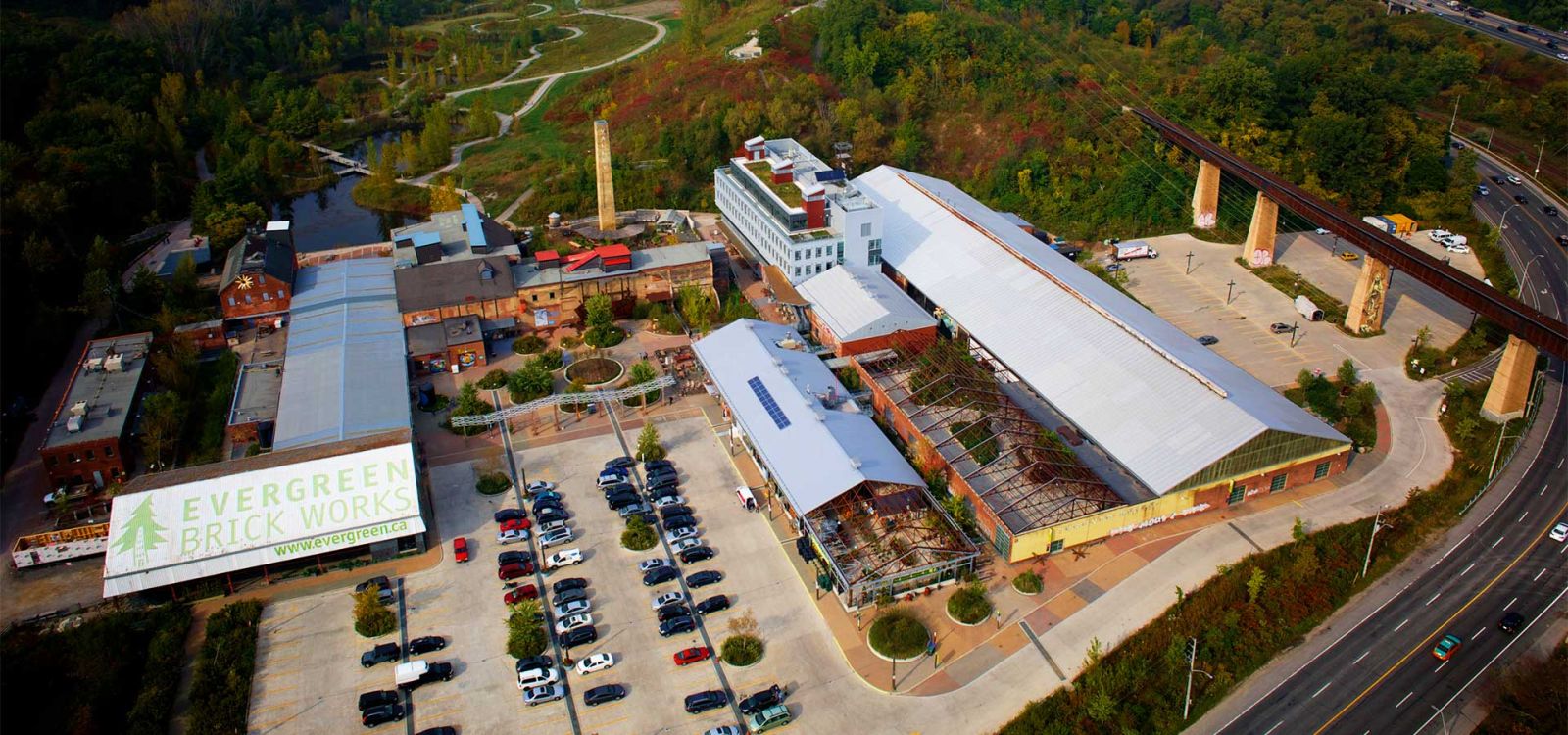 BRICK WORKS' BRILLIANT IDEA
When you arrive at Evergreen Brick Works it's as if you've transported to another time. There's so much history here having operated as one of Canada's most notable brickyards from 1989 to the 1980s. The bricks that make up Toronto's Old City Hall and Massey Hall even came from here. Shortly after closing in 1984, the City of Toronto, along with the Toronto and Region Conservation Authority, actioned to redevelop the quarry into a park and eventually the environmental centre that it is today.
With a focus on environmentalism, the one thing they wanted to address was the relatively inaccessible nature of this nature reserve. Located off Bayview Avenue, most people choose to drive here because it's not exactly walkable — unless you live in Rosedale which backs onto some of the trails.
There is one TTC bus that accesses Brick Works from Davisville Station, but that's north of downtown. In an effort to encourage more visitors, Brick Works pays $20,000 a month for a free shuttle service that brings people to and from Broadview Station just over the Don Valley. But for a not-for-profit, that's $240,000 a year being spent on this service.
From farmers' markets, public events, and environmental programs to the meadows, gardens, walking and bike trails — this unique space has so much to offer with lots of forward thinking ideas being developed and enriched here. One such idea is their proposal for the Don Valley Cable Car that would connect Evergreen Brick Works to Playter Gardens, just west of Broadview and Danforth.
THE CABLE CAR WAY
The idea for a cable car is an innovative way of reconnecting the city with Evergreen Brick Works. Not only would it make for a unique attraction but it's also an environmentally-friendly infrastructure choice.
Originally announced in 2016, the Don Valley Cable Car would be a privately funded endeavour that would carry passengers through a scenic one-kilometre ride over the Don Valley and into or out of the Evergreen Brick Works site.
The plan outlines three to six towers along the kilometre stretch that would service 40 cars, each capable of holding up to eight passengers. Each car would be 100% accessible, pet-friendly, and equipped with bike racks for those looking to hit the trails.
The ride itself would be about eight minutes long at its more scenic route speed of 2.5 metres per second. During peak hours or during special events the ride time would be only four minutes at a speed of five metres per second. The fare? They're proposing a $10 round trip, which is on par — if not below par — to other gondolas around the world. They want it to be accessible and affordable. There's even talk of giving Torontonians a discounted fare to encourage locals to use it, subsequently increasing business in the area.
The Don Valley Cable Car would operate 10 to 12 hours a day, carrying roughly 500 to 1,500 passengers per day and upwards of 515,000 per year.
MAKING IT HAPPEN
The process to bring the Don Valley Cable Car to fruition is about three to four years, most of which are spent in the preliminary stages: planning, community consultations, development and permit approvals. The construction of the cable car itself would take no more than a year.
On the Brick Works' side, the station will be an above-grade elevation on the north side of the western parking lot. In fact, the cable car here would also serve as a flood evacuation system if the valley were to need — which is very possible.
The Danforth Station on the Playter Gardens side would in no way jeopardize the current park and landscape, nor would it disrupt the residents nearby. On the project website it explains that "Neighbours to the north can be shielded from park activity by means of architecturally-designed green walls that act as sound and barriers." The station would be cantilevered off the existing parkette and they would also improve the parkette's current framework from its existing chain fence.
At peak height the cable car would be 50 metres off the valley floor and for those of you who are concerned about safety, the Monocable Gondola technology that would be used for the Don Valley Cable Car is extremely safe and can operate just fine in wind speeds up to 70 kilometres an hour. If you're still not convinced, the National Ski Areas Association, who also use the same technology on their ski lifts, explain that, "a person is 3 times more likely to suffer a fatality riding an elevator than a ski lift and more than 8 times more likely to suffer a fatality riding in a car." So you can rest easy as you take in those gorgeous valley views whether it's summer, fall or the middle of winter.
WHEN IS IT COMING?
As I mentioned, the proposal for the Don Valley Cable Car was originally in the headlines back in 2016 with not much on the forefront since. The project is funded through private investors and stakeholders and has a price tag of $20-$25 million. So how much longer do we have to wait to see this project become a reality?
"We're working with various stakeholders to refine the project in such a way that it will be acceptable to the local community and city as a whole. As you can imagine, this takes a very large amount of time and we don't want to rush things," said Torontonian Steven Dale, the CEO of Bullwheel International Cable Corp., the company Brick Works is working with to put this project in motion.
The project has a lot of community support, including Mayor John Tory. Once they get the green light to proceed and start constructing the cable cars themselves, they will still need time to run through very rigorous testing. So it will be a few years yet before you or I can travel through the air and down into the valley to explore, participate, and take in nature. Until then, be sure to visit Evergreen Brick Works this summer and see all they have going on or just hit the trails. Click here for a full list of their summer events.