Presented like a riveting movie trailer, the video for the revitalization plans at the corner of Bloor and Dundas Streets weaves you in and out of a marvellous new development that features an array of parks, mixed-use towers, bike trails, pedestrian trails, and a soaring glass galleria. The Skyline Plaza on the south-east edge appears to be built from gorgeous almost crystal-like glass that reflects the sky as it rises from the abundant parkland below.
Currently, the lot is home to a Loblaws, an LCBO, Kal Tire, a Catholic school and one big parking lot. Hariri Pontinari Architects, Choice Properties and Public Work are among the teams set to transform the under-utilized ten acre lot at one of the west end's biggest transit hubs.
The proposed plans hold promise for 2,600 residential units, split 50/50 between purpose built rentals and condos for purchase; 3,500 new jobs, with hopes of attracting tech firms; new shops and restaurants; a new modernized school for the students at Bishop Marrocco/Thomas Merton Catholic Secondary School; a new transit station, bridging the UP Express, GO, and TTC; a unique array of parks, including a pear tree grove and secret orchard; as well as new roads and trails for all types of commuters. It's a gigantic undertaking with lots to look forward to.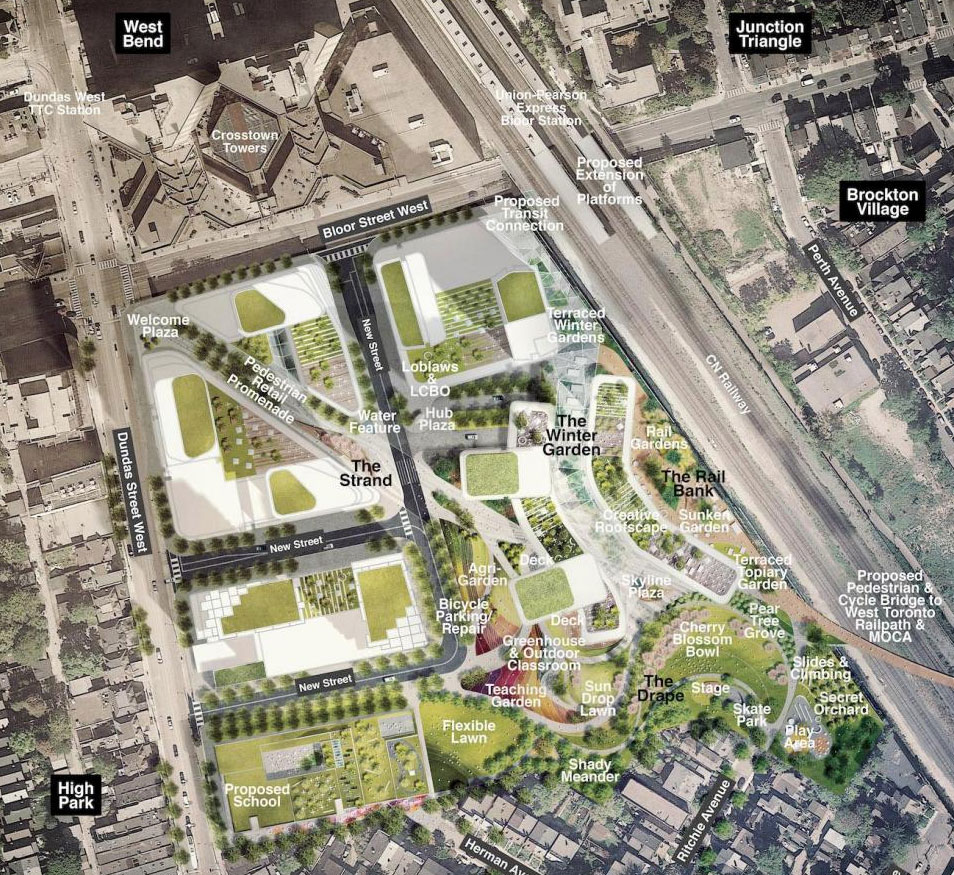 The location of this development is central to many popular Toronto neighbourhoods: High Park, Roncesvalles, the Junction Triangle, and Brockton Village. With the current Loblaws servicing residents in these neighbourhoods, the development would roll out in such a way that shouldn't impact the needs of the community. Before they close their doors, the new Loblaws will be built and ready for business.
The same goes for the Catholic School which will be relocated from the north-west corner to the south-west corner. The new school will be ready for class before the current school closes for good. The school's design is quite impressive, with stacked levels allowing for multiple rooftops functioning as activity fields. (Left in below image)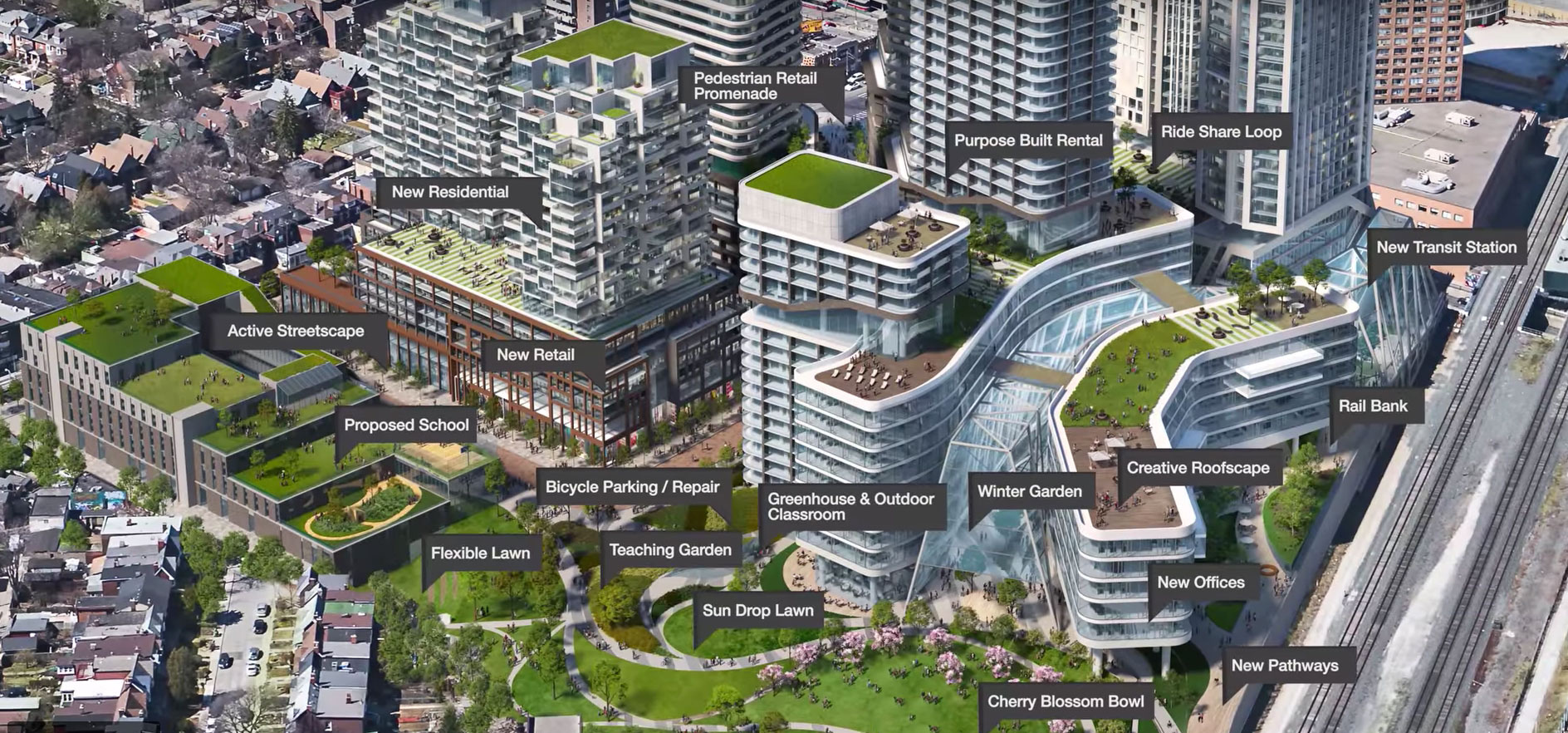 One of the advantages that they have with this location is they're not faced with any hurdles of preserving any heritage properties. Their canvas is a parking lot—a blank slate. One of the most eye-catching features you see in the video is the Winter Garden. Positioning it as a "jacket-free commute", the Winter Garden is a pedestrian pathway housed in a glass galleria. With soaring glass ceilings over grassy knolls and with trees — bringing the outdoors in.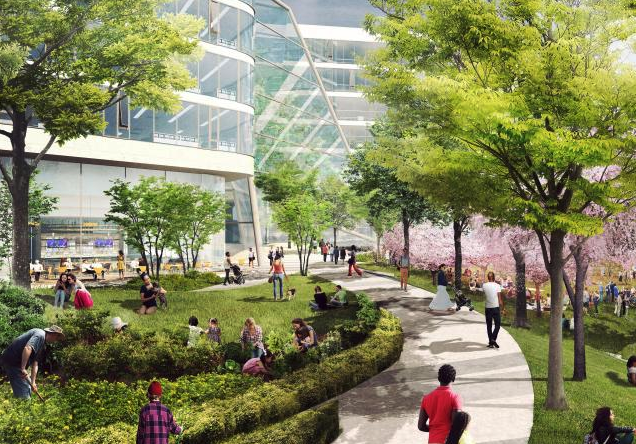 That's not the only place you'll find trees though, it's apparent that green space is a priority. Trees line all streets and are atop each and every building — a far cry from the asphalt slab that's currently there. On the south end of the development capitalizing on sun exposure, is an area being labelled the Drape. This parkland will be thriving with cherry blossom and pear trees, a greenhouse, outdoor classroom, skatepark, even a stage for outdoor theatre.
A trail extension for pedestrians and cyclists is added over the rail corridor on the east to connect with the up-and-coming area off Sterling Avenue. Over here you have Henderson Brewing, Drake Commissary and the brand new Museum of Contemporary Art.
With an ever-growing population, it makes sense that both residential and office space will be added along an area that is directly connected to so many modes of commuter transportation. From this transit hub it is 17 minutes to Pearson Airport, six minutes to Union Station, and directly connected to the Bloor/Danforth line and several streetcar routes.
Of the 2,600 new residential units being added over nine towers, the purpose built rentals will be managed by Choice Properties and a yet-to-be-determined distribution of one, two and three bedroom condos will be for sale. While the timeline for this development is over ten years, it's true what they say: good things come to those who wait.
Watch the development "trailer" here.  
Video courtesy of CBC.ca