Whether it's an old candy factory or a converted church — we explore ten Toronto Lofts whose history is as unique as their industrial finishes.
There are many reasons why Torontonians choose the loft life over a traditional home or condo. They offer a more industrial feel and for hard-lofts in particular, they come with an interesting history. Whether it's an old candy factory or warehouse for CBC props — Toronto has dozens of lofts each with their own unique story. Today we're putting the spotlight on ten Toronto lofts to love!
1. MERCHANDISE LOFTS | 155 Dalhousie St
Located around the corner from the downtown shopping hub that is Yonge and Dundas Square, it's no surprise that our first loft, The Merchandise Lofts, was once a large department store. The Merchandise Lofts were originally home to the Simpsons Department Store and later Simpson Sears before turning into a residential property in the 1990s.
Today, there are nearly 500 industrial style lofts ranging from 487 to 2,618 square feet. Beautifully designed, these authentic hard-lofts have soaring ceilings with exposed duct work, open-concept layouts, mushroom columns, polished concrete floors and large warehouse style windows that can't be beat.
The location is as central as it gets. Not only are you in the heart of Toronto's downtown core with access to restaurants, amenities, transit and shopping galore — but the views here from the upper floors as well as the large rooftop patio offer stunning city skyline vistas.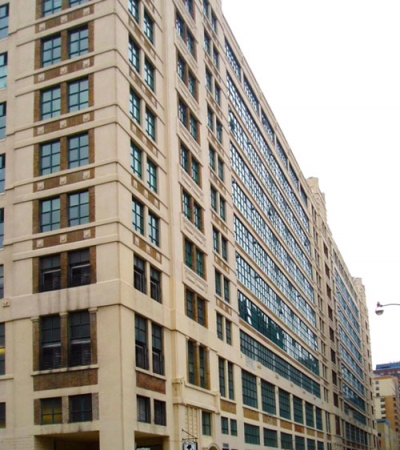 2. CANDY FACTORY LOFTS | 993 Queen St W
Moving to Toronto's Queen West neighbourhood is The Candy Factory Lofts is one of the city's most iconic hard lofts. Its central location and sweet history make it highly desirable for those seeking a true loft experience.
This yellow brick building at 993 Queen Street West was a garment factory in the early 1900s before being taken over by the CeDe Candy Company in 1963. It operated as a candy factory until 1988 making Rockets and candy necklaces among other famous treats.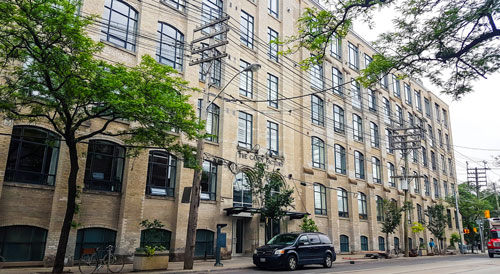 The building was converted into 121 authentic hard lofts in 2000. The history of the former candy factory is evident in the exposed brick, solid wood beams, exposed duct work, hardwood floors, and large warehouse windows.
If you're looking for a lot of space, even the smallest loft here here is 920 square feet. The biggest spans over 4,200 square feet. There are also many amenities, which isn't always so common for hard lofts. The Candy Factory has a 24 hour concierge, fitness centre, rooftop terrace, party and meeting rooms as well as guest suites for your out-of-town guests
Located in the heart of Queen West, residents at the Candy Factory Lofts have the 24 hour Queen streetcar outside their door, while also being within walking distance to all that Queen West has to offer, including Toronto's coveted Trinity Bellwoods Park.
3. TOY FACTORY LOFTS | 43 Hanna Ave
Over in Liberty Village you'll find the Toy Factory Lofts, the only hard loft available for sale in the neighbourhood. Aptly named the Toy Factory Lofts after its original tenant, the Irwin Toy Factory, which was founded in 1926 and is Canada's oldest toy company.
Lanterra Developments did an incredible job rejuvenating the interiors to give this former factory new life as a loft residence with 218 units. The bones of this turn-of-the-century factory are solid with steel beams, Douglas fir posts and brick walls where in some sections is several feet thick.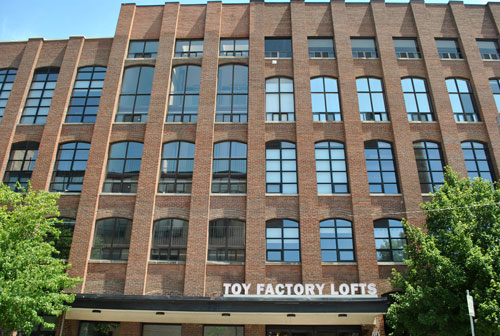 You know when you enter the lobby that this loft residence is well maintained and is loved by its residents. Ceilings inside vary from 9 to 17 feet in height and the lofts range from one bedroom to three bedrooms and showcase large open-concept layouts, stunning hardwood floors and floor-to-ceiling windows.
Located in Toronto's Liberty Village, residents have access to everything they need by foot: groceries, bars, pubs and restaurants. You're also just south of King West and north of Exhibition Place where there's BMO Field, Queen Elizabeth Theatre and the CNE grounds.
4. ABBEY LOFTS | 384 Sunnyside Ave
The Abbey Lofts are unique in that they are the only church conversion on our list — and there's no question when you're in one of the 24 units within that this was once a place of worship. Converted in 2008 by ERA Architects, a firm known for their heritage conversions, the historic details of the former Methodist Church are thoughtfully retained in the residences today.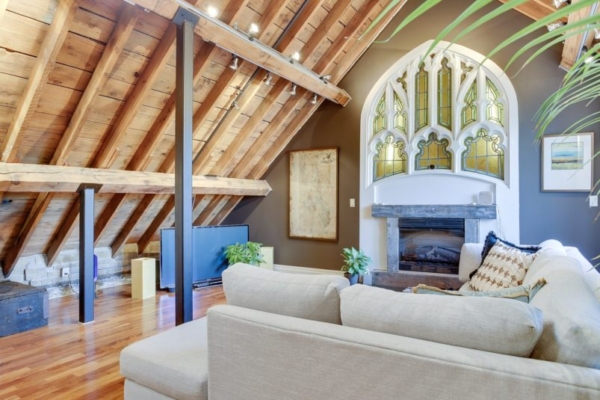 Vaulted 17 foot ceilings, gothic stained glass windows, and exposed limestone walls are just some of the authentic church nuances you get when at the Abbey Lofts. Imagine the views you'd get in your 98 foot tall bell tower? That's right, you could have your very own bell tower.
Suites at the Abbey Lofts start just shy of 1,000 square feet, ranging from one bedrooms to three bedrooms that are as large as 2,889 square feet.
Located in the residential neighbourhood of Roncesvalles, you'll feel like you've died and gone to heaven living at the Abbey Lofts. Roncesvalles Avenue, one block east of the Abbey Lofts, has a friendly collection of boutique shops, delicious restaurants, and cafes. One block west of the Abbey Lofts is High Park with its gorgeous landscape, hiking trails, sports fields and even a zoo.
5. FOUNDRY LOFTS | 1100 Lansdowne Ave
The Foundry Lofts get their name from the Canada Foundry Company Ltd., who was the original tenant of the building. Built in the early 1900s, the long and narrow brick building at 1100 Lansdowne Avenue built and supplied parts for locomotives and the railway industry.
In 2008, it was converted into 104 authentic hard lofts, varying in layout with single, two, and three level floor plans. All lofts have exposed heritage brick, beautiful warehouse windows, hardwood floors, exposed duct work and modern kitchens and upgrades. With lofts as modest as 535 square feet to those with over 2,400 square feet and some with 20 foot ceilings and large warehouse windows for tons of natural light.
What's particularly unique about The Foundry Lofts is the striking 16,000 square foot central atrium with skylights which gives residents a common "outdoor space" even in the cold of winter.
6. BREWERY LOFTS | 90 Sumach St
Of all the lofts on this list, The Brewery Lofts have succeeded in paying tribute to its former life as the CBC's prop warehouse and design studio. The name, Brewery Lofts, relates only to the former 19th century brewery that surrounds it, which was purchased by the same developer. The building was converted into lofts in the late 1990s and was home to many artists and designers in Toronto, some of whom are still occupying since day one.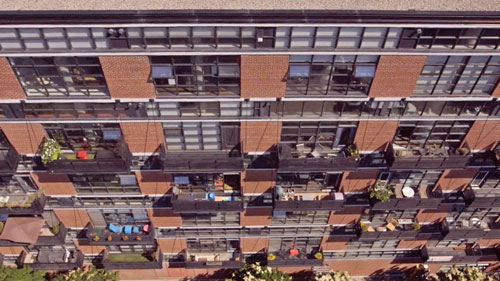 As told in the short documentary The Story of 90 Sumach the designers of the conversion were approached in 1996 to create an "adaptive reuse residential complex". The building has an identity and it's seen in the museum-like lobby and common spaces featuring old props and photographs from the CBC archives.
There is a great sense of community here and everyone seems to know everyone which is unlike the sort of lifestyle you expect from a downtown Toronto residence with over 100 units. Inside, the lofts are very spacious with some lofts nearly 4,000 square feet.
The Brewery Lofts have unique layouts with polished concrete floors, large concrete pillars, 14 foot ceilings and massive windows that go around like a glass band on each floor. Penthouse suites even come with their own private rooftop terraces and split level floor plans.
If you're hoping to buy a loft at this address, you may be waiting a while as suites here rarely hit the market.
7. BROADVIEW LOFTS | 68 Broadview Ave
Just over the bridge in Leslieville south of Queen Street East you'll find The Broadview Lofts. Built in 1914, the building served as a Rexall Pharmacy warehouse and distribution centre for many years. It was the Sorbara Group who eventually revitalized the property in the early 2000's by adding two additional storeys made of glass and steel to tie into the warehouse windows that remain intact in the original four storey warehouse.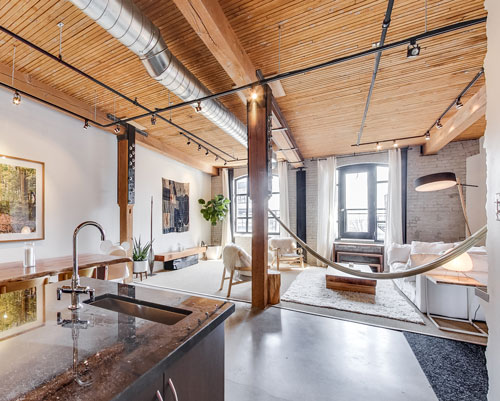 Inside this award-winning residential building you'll find beautiful lofts with 12 foot ceilings, exposed brick, polished concrete floors, original wooden beams (strong enough to hold a hammock) and large oversized warehouse windows. The flowing open-concept lofts range in size from 542 to 1,756 square feet and some even come with multiple balconies.
The Broadview Lofts are hard to miss when driving by on Eastern Avenue with its beautiful brick and warehouse exterior and original rooftop water tower that sits on the common outdoor terrace. Inside the common spaces you'll find the original cage elevator and original warehouse floors.
8. PRINTING FACTORY LOFTS | 201 Carlaw Ave
The Printing Factory Lofts originally stood at only three storeys when it acted as a printing press warehouse in the early 1900s. Since then it has been converted into one of Toronto's most sought after hard lofts. The original brick warehouse along Carlaw Avenue now rises eight storeys with the addition of the five storey modern glass tower. Through the front doors you're greeted with a beautiful grand staircase.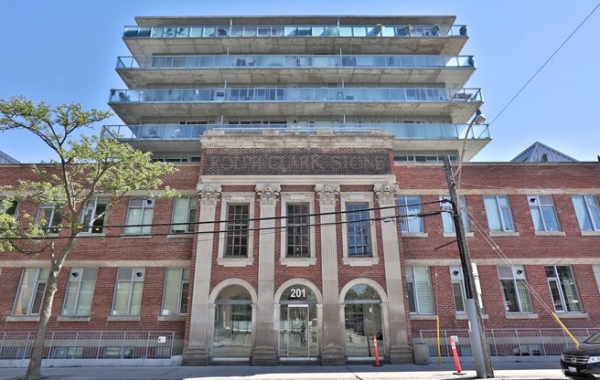 Inside the original warehouse section are large live/work spaces. The two storey suites here feature their original industrial skylights and all lofts feature exposed ductwork, concrete ceilings, and polished concrete floors.
There's something for everyone at The Printing Factory. Suites in the glass tower are two and three bedrooms in size with corner units equipped with large wrap around balconies. Along Boston Avenue they also have a small selection of stacked townhomes which come with large terraces.
This area of Dundas and Carlaw in Leslieville has recently become known as Toronto's Heritage Plaque District for its many heritage buildings, including The Printing Factory Lofts. Up next are two more lofts in the Heritage Plaque District.
9. GARMENT FACTORY LOFTS | 233 Carlaw Ave
I'm sure it doesn't come as a shock that The Garment Factory Lofts once served as an industrial garment factory. This modern hard loft is a perfect balance of old and new, industrial and modern.
Lofts at the Garment Factory range in size from 430 square foot studios to large two bedroom plus dens with nearly 1,200 square feet. Lofts here are open-concept with exposed 11 foot concrete ceiling and concrete floors, large windows with lots of light, and original mushroom columns.
Adding a touch of modern to the address are the soft lofts in the four storey add-on. Staying true to the authentic loft style in the warehouse, the soft lofts are also designed with glass, steel, and brick but with a more modern flair. Residents in the soft lofts also get to enjoy balconies and large terraces.
10. THE WRIGLEY LOFTS | 245 Carlaw Ave
Converted in 1998 into one of Toronto's most desirable hard lofts, The Wrigley Lofts are a five storey residence with only 88 lofts in total. Dating back to 1916, The Wrigley Lofts once manufactured all of our favourite Wrigley gums such as Double Mint, Juicy Fruit and Spearmint.
Designed in the beaux art style, when the factory was decommissioned it was sold to individual buyers for a rather low cost. The buyers, many of which were creatives looking for live/work spaces, were given a clean slate and could customize their suites as they saw fit.
Today, the 88 units feature open-concept layouts with oversized industrial windows — which were used for maximum light during its manufacturing days — concrete mushroom columns, and high 14 foot ceilings. While there are a handful of small micro units most suites are are large, including one bedrooms with over 1,000 square feet and the largest suites as big as 3,000 square feet.
If you've been in the market to buy a Toronto loft, you can explore these lofts and many more all in one place right here. From individual loft listings to the most recent lofts for sale in Toronto, visit our Loft Listings Hub!