Saving for a down payment can be a huge hurdle in the buying process. If the full 20% down payment seems out of reach, let's discuss why paying the premium of mortgage insurance may be better than waiting to save the full 20% down.
In Toronto's real estate market, saving for a down payment can be the most challenging part of the buying process. Buyers that can't afford a 20% down payment are required to pay mortgage default insurance, also known as Canada Mortgage and Housing Corporation insurance or CMHC. If saving for the full 20% down payment seems out of reach, let's discuss why paying the premium of mortgage insurance is better than waiting to save the full 20% down.
WHAT IS MORTGAGE INSURANCE?
Buyers who put less than a 20% down payment on their home will have to pay a slight premium to their lender as insurance in case they default on their mortgage.
In Canada, the minimum down payment buyers must make on a property under $500,000 is 5%. If the purchase price is between $500,000 and $1,000,000, buyers must pay 5% on the first $500,000 and 10% on any remaining amount.
For example, a property that is $600,000 will require a minimum down payment of $35,000 (5% of $500,000 is $25,000 and 10% of the remaining $100,000 is $10,000).
For properties $1,000,000 or higher, buyers must have a 20% down payment.

The insurance premium buyers will need to pay varies between 2.8% and 4%* of your mortgage depending on your down payment and is added to your total mortgage amount.
Let's say two people are each buying a $500,000 condo. The first individual has the full 20% down payment of $100,000, which leaves them with a $400,000 mortgage.
The other individual only has enough for 5% down payment of $25,000 and a mortgage balance of $475,000. This individual will have to pay a 4% premium in mortgage insurance on his balance, which equates to $19,000, increasing his overall mortgage to $494,000.
With a smaller down payment, your monthly payments will be higher. If both individuals had the same 3.29% fixed-rate mortgage over 25 years, let's take a look at where both individuals stand at the end of their 5 year term.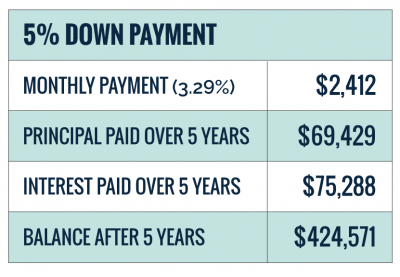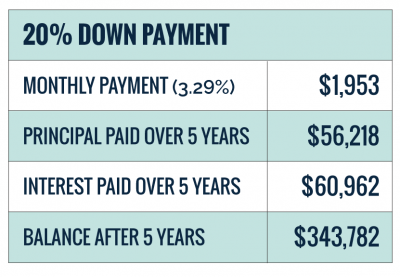 While it's clear you'll inevitably pay more interest overall with a 5% down payment, the monthly mortgage payment is comparable, if not lower than, Toronto's average monthly rental prices — except in this scenario, you're paying into your own mortgage, not someone else's.
ALWAYS CONSIDER THE LONG-TERM
The long-term gains are what's important here. What we haven't factored into the equation yet is the equity gains a property earns with the market.
Conservatively, we say that you can expect 5% market growth per year on a Toronto condo. For the $500,000 property we're using in the above example, that is an additional $125,000 in equity gains at the end of the 5 year term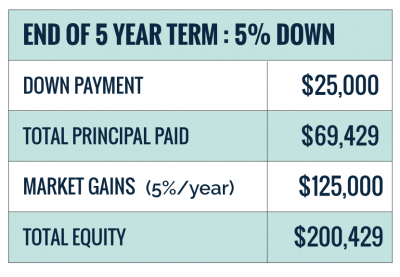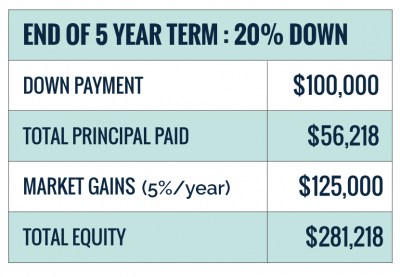 If you're waiting to buy so that you have the full 20% down payment saved and won't have to pay mortgage insurance, you may lose out. What 20% will get you today won't necessarily get you the same thing in four or five years. Read why in "The best day to buy is yesterday".
With a strong condo market and Toronto condo prices continuing to rise, it may be better for some buyers to pay the slight premium in the long-run rather than waiting to save the extra.
Whether you use a $25,000 down payment or a $100,000 down payment, you're still gaining $25,000 per year with the real estate market. So getting into the real estate market sooner is better because your money can start working for you right away.
Now that we've given you a glimpse of hope in knowing you may be closer to that down payment than you once originally thought, there are other factors to consider here. The down payment is just part of the upfront costs needed buy a home in Toronto.
When buying a home or condo you also need to save for your closing expenses. These expenses include Land Transfer Tax and legal expenses and they need to be paid for in good ol' cash.
Use our mortgage calculators to really crunch the numbers, get a realistic idea of your monthly payments and factor in all of your monthly expenses. This includes utilities, car payments, home insurance, property taxes, maintenance fees as well as a portion to put aside in the case of an emergency. It's important to ensure that you are not putting yourself at the very top of your budget.
As an incentive to buy energy efficient housing, CMHC offers partial refunds of their mortgage insurance to buyers who buy or renovate for energy efficiency. As an example, residential buildings that are LEED certified are eligible for a 15% refund on the cost of their mortgage insurance. For full eligibility visit
CMHC Green Home.
If you're a first-time home buyer, you may be eligible for a rebate on your Land Transfer Tax up to $8,475 as well as the First-time Home Buyers Tax Credit.
Learn more on these rebates here.
If you've been thinking about making the switch from renting to buying, let's chat.
Book a call with me here
to discuss your financials, see what you can afford and let's get the ball rolling on you becoming a homeowner.
Pierre Carapetian Group Realty makes no warranty, express or implied, nor assumes any legal liability or responsibility for the accuracy, correctness, completeness or use of the information provided. Opinions are based on our own calculations and fair market value is as determined by us.