If you're looking for something more than a cookie-cutter condo, keep your eyes on Toronto's church-converted residences. These hard-lofts offer more than just brick walls and warehouse windows — these holy houses are designed around vaulted ceilings, gothic-style windows and bell towers that you just can't find in your everyday hard-loft. Follow us on a tour of some of Toronto's most notable church conversions and see why we worship these homes.
ABBEY LOFTS – 384 Sunnyside Ave
The Abbey Lofts are one of the most striking church conversions out there. There's no question when you're in one of the 24 units within that this was once a place of worship. Converted in 2008 by ERA Architects, a firm known for their heritage conversions, the historic details of the former Methodist Church are thoughtfully retained in the residences today. Vaulted 17 foot ceilings, gothic stained glass windows, and exposed limestone walls are just some of the authentic church nuances you get when at the Abbey Lofts. Imagine the views you'd get in your 98 foot tall bell tower? That's right, you could have your very own bell tower. Located in the residential neighbourhood of Roncesvalles, you'll feel like you've died and gone to heaven living at the Abbey Lofts.

GLEBE LOFTS – 660 Pape Ave
The Glebe Lofts came into being in 2005 and happen to be one of the city's earlier church conversions. Built in 1912, this once Presbyterian Church sits at the corner of Pape and Harcourt Avenue in Toronto's east end. Gothic on the outside but cozy on the inside. Designed by architect and loft developer Bob Mitchell, the church was divvied up into 32 units offering exposed brick walls, 14 to 17 foot ceilings and skylights for tons of God's glorious light. The units within are two and three storeys tall, unfortunately with heights like that the quarters are a bit cramped. While open-concept may not be their forté, many come with huge private terraces that will surely make up for it.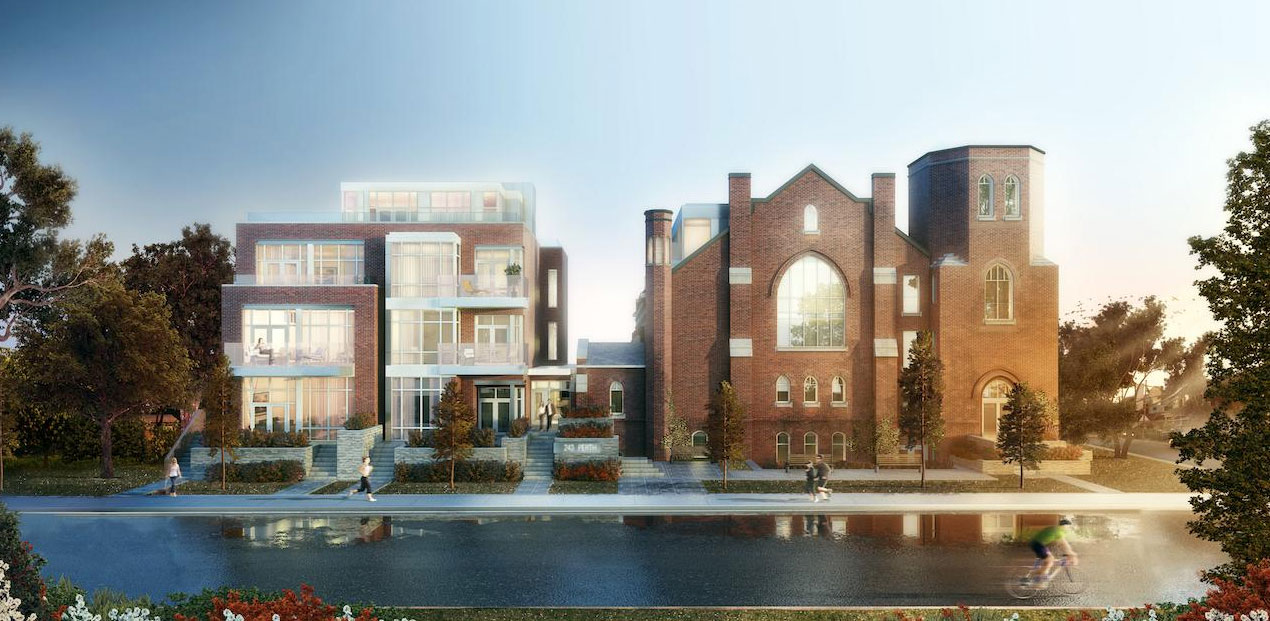 ARCH LOFTS – 243 Perth Ave
The Arch Lofts have had some ups and downs before finally completing their conversion in 2017. Originally a Methodist Church before going United, only to later become a Seventh Day Adventist Church. It had originally launched for pre-construction sales in 2012 as the Union Lofts but as one might expect with a church built in 1913 there were several challenges in the early stages of development and unfortunately the first launch of these lofts fell through. Sparing you the drama, the church conversion eventually relaunched as The Arch Lofts and now have 39 modern units occupying the church and its attached vestry. The interiors are sleek and modern and have premium finishes throughout. The authenticity of this church conversion is more prevalent in the suites that occupy the main church where you'll find the arched windows that were part of the original design over a century ago.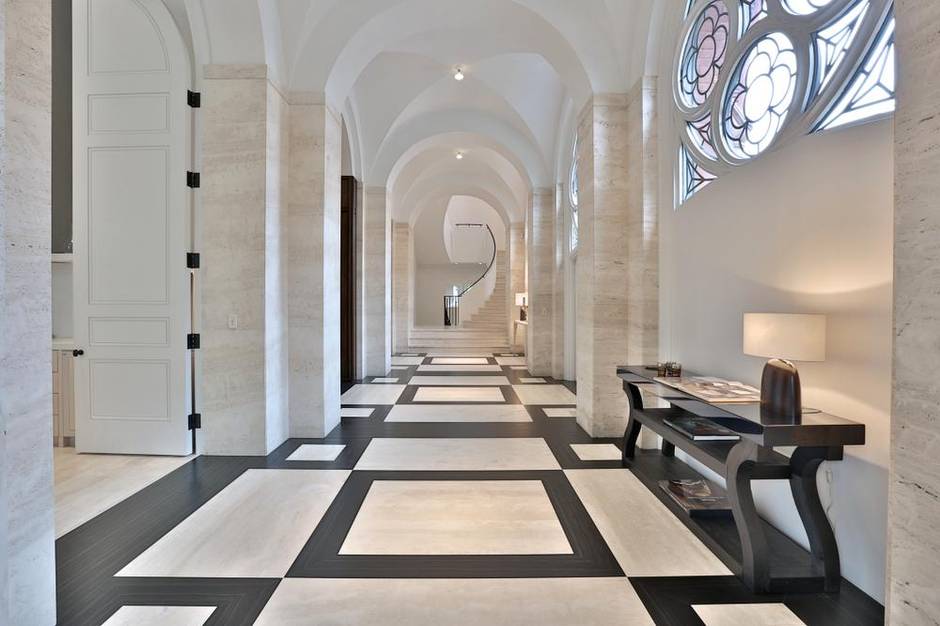 314 PALMERSTON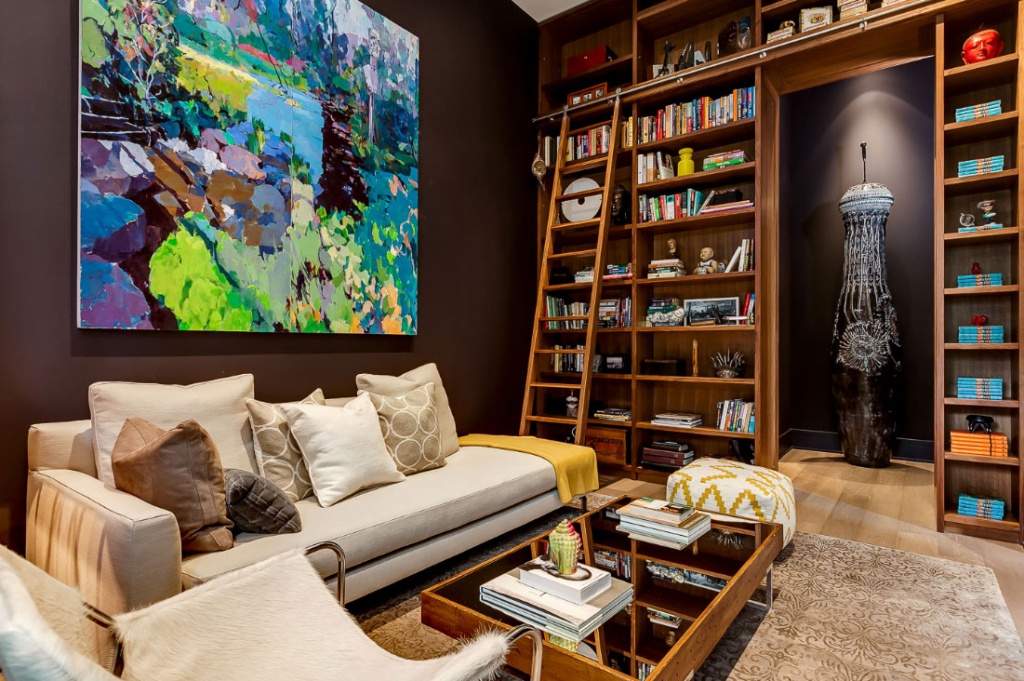 314 Palmerston's story is a bit different than the rest of the church conversions and there's no fancy loft name for this address. The BaptistChurch and adjoining school from 1888 was originally acquired by Matthew Kosoy who had planned on converting the unique property into a multitude of condos. It was Joe Brennan, who was hired to restore the exterior, who had encouraged Kosoy to create a handful of high-end townhomes, something unique for high-end buyers. Today, there exists four large suites at 314 Palmerston: two suites that are 5,500 square feet, one that is 8,000 square feet and the largest is 10,000 square feet and is owned by Joe Brennan himself. Knowing they had something special here they allowed the buyers to design the suites themselves. What remains is nothing short of luxury. Joe Brennan's 3 storey suite has been featured many times in the media for its stunning design and luxurious finishes.
VICTORIA LOFTS – 152 Annette St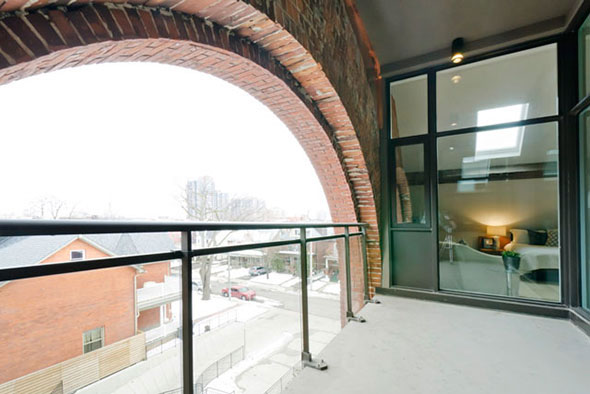 You won't be disappointed with the allure of the Victoria Lofts. This church conversion successfully balances all of the historic details you want with a modern twist. This former Presbyterian Church was built in 1890 and is now home to 34 stunning hard-lofts. One of the most unique features is the wooden roof trusses that were so delicately incorporated into the design of the lofts, weaving in and out of rooms, marking their permanent place in history. If you were worried about not getting that outdoor space in a church, fear not—the balconies are hidden within the old window openings, creating an arched brick canopy for your dose of fresh air.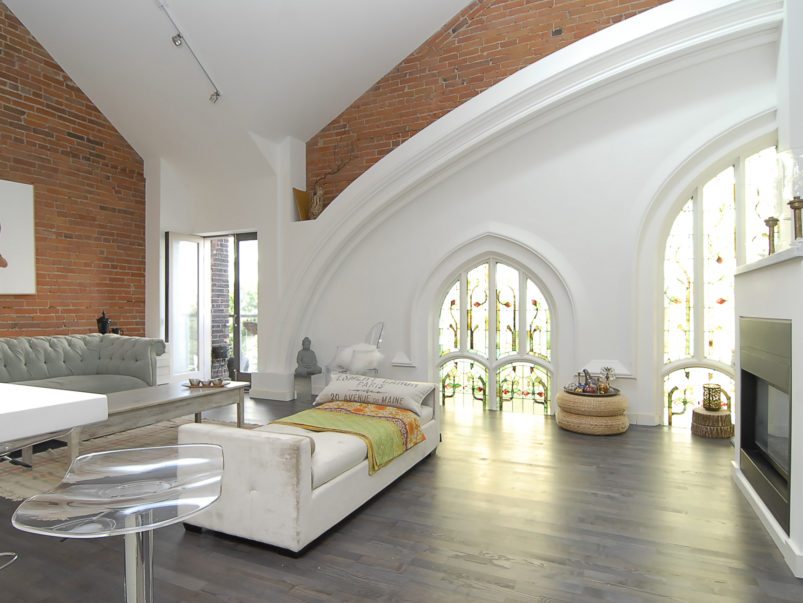 CHURCH LOFTS – 701 Dovercourt Rd
Our last stop is at the aptly-named Church Lofts. This former Neo-Gothic Methodist Church was built in 1906 before becoming a United Church in 1925. The unique design of the residences within offer cropped sections of the former church. One room will have half an archway, the next half a stained glass window. Throughout is beautiful exposed brick, vaulted ceilings, wooden beams, skylights and more. Each of the 28 contemporary lofts is unique and offers its own slice of history.
Although there aren't any church conversions up for pre-construction sale today, Wonder Condos, a hard-loft conversion of the once-was Wonder bread factory, will soon be the hottest pre-construction project to launch in years. We'll have access and all the details when it approaches. Until then you can read all about it here, "Wonder Condos: The Hard-Loft Conversion We've Been Waiting For."