If you bought a Toronto condo in the last decade, you're likely sitting on some great equity gains. The Toronto condo market has seen tremendous price growth in the last few years. You can pat yourself on the back for having had your life together enough to 1) take the plunge into home-ownership, 2) doing so while it was still affordable, and 3) and having the balls to pull the trigger.
Whether you bought because you had some sound real estate advice or just simply wanted to take that next step in your life, how do you turn the equity you've made in your home and start building a real estate portfolio?
WHERE DO YOU STAND FINANCIALLY?
Let's say you bought your condo in Toronto back in 2012 for a modest $300,000 — those were the days, eh! Since then, you've paid a total of $50,325 towards your mortgage principal plus the initial $60,000 down payment (20%).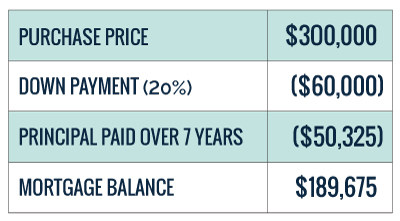 Now, given the success of the Toronto condo market, let's say your condo's current market value is $500,000. Good news: that's $200,000 in equity just based on the market growth. Now here's the really good news: the banks will actually lend you up to 80% of your home's equity for a low interest rate, known as a Home Equity Line of Credit or HELOC.
Let's take another look at where you stand financially: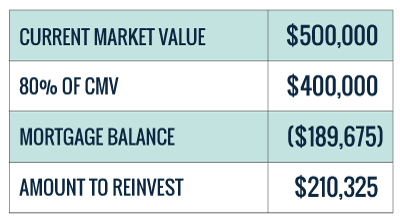 If the bank agrees that your condo's current market value is $500,000 that means you can borrow upwards of $400,000 (80%), minus the balance remaining on your current mortgage. That leaves you with $210,325 to reinvest into a second property… and maybe even a third.
WHAT SHOULD I DO WITH MY EQUITY
With over $200,000 to reinvest, you have a couple of options:
1. Buy a resale condo and rent one of your properties right away
2. Reinvest into one or two pre-construction condos
First, ask yourself whether or not one of the reasons you want to reinvest is for the opportunity to upgrade your own living situation and start renting out your current place. If so, you'll probably want to buy a resale condo. If you're comfortable in your current diggs for a few more years and are eager to start building your portfolio, buying Toronto pre-construction may be the way to go.
Let's have a look at the pros and cons of each option.

BUYING RESALE IN TORONTO
PROS
• you can upgrade to a larger condo
• you can start earning rental income immediately on your current residence
• you'll have two properties generating equity in the market
• you won't have to pay any development charges
• you have the ability to see what you're buying today
CONS
• you need to qualify for a second mortgage today
• you'll need more money upfront (20% down + closing expenses)
BUYING PRE-CONSTRUCTION IN TORONTO
PROS
• you'll need less up front, which means you can invest in two pre-construction condos (provided you can save adequately for the back end costs down the line)
• you'll have three condos generating equity in the market
• no mortgage for three to four years
• more inventory to choose from
• upon occupancy, you'll be exempt from rent control
CONS
• you won't earn any rental income until it takes occupancy three to four years later
• you pay development charges and higher closing costs
Keep in mind, both of these scenarios are only feasible if you can qualify for a mortgage, whether it's today (resale) or in a few years (pre-construction), so it's always good to talk to your mortgage broker sooner than later.
Read "Which Investment is Right for You" for more on the resale versus pre-construction debate.
BUILDING YOUR REAL ESTATE PORTFOLIO
If building your real estate portfolio is your main goal then reinvesting your home equity into two pre-construction properties in Toronto is the best way to get your money to start working for you today.
With $210,325 to invest, you won't want to over extend yourself by spending every last dollar so ensure your realtor can guide you towards the right pre-construction deals. Working with a real estate agent who is well versed in pre-construction investing is invaluable to building a successful portfolio. We are always on the lookout for lucrative pre-construction investment deals to extend to our clients.
We do so by recognizing which developments have the most profit potential, comparing the prices in that building to the market and look for the units where we see real value. We don't just recommend pre-construction developments in Toronto, we recommend units that are primed for profit.
You can see some of the returns we've helped our clients earn through our tenured advice and platinum access to new developments here.
Let's say you reinvest your equity into two $500,000 pre-construction Toronto condos. Depending on the deposit structure, you'll need enough for 15% to 20% down typically spread out over the first year and a half — and then that's it, until the condos take occupancy three to four years later. Download our Pre-Construction Investment Guide for a comprehensive breakdown of this type of investment.
WHY IT WORKS
Investing in pre-construction is a low risk, high return investment plan. Real estate is one of the few things that you can buy without having to pay the full purchase price, so you are leveraging off a smaller sum of money.
So while you put $100,000 down on each of your investment properties, the equity growth is based on the full value of the asset, which in this case is $500,000 per investment. If the market grows 5% each year (though that's a very modest projection), you'll have earned $75,000 per investment by the time they're ready for occupancy three years later. Collectively among the two investment properties that's $150,000 in three years, which means you've already earned 75% of what you put into your investment.

Shortly after occupancy, the buildings officially register with the city and it's at this time that your mortgage will kick in, but you'll also be able to start earning rental income from two properties. And if you've paid attention to the Toronto rental market, the average one bedroom condo rents for roughly $2,500 per month and those prices continue to rise. But that's a topic for another day.
Be sure to download our free Pre-Construction Investment Guide to get a better understanding on the payment structures, timelines, and gains affiliated with this type if investment.
In the end, what we're trying to illustrate with all these numbers is that as a Toronto homeowner, you may have the ability to start securing your financial future by building a real estate portfolio. Not only were you wise enough to make the leap into homeownership when you did, but by choosing to do so in a city like Toronto where the real estate market is thriving, you're already richer than you think!
As an experienced real estate investor myself, I can analyze your assets and debts to determine the most efficient solutions to best leverage the equity you have in your home in order to maximize your money. In other words — I figure out how to make you the most money using what you already have.
If you're looking to build an investment portfolio and want to discuss your options, book a call with me here. Building wealth through real estate is our business.
Disclaimer:
Pierre Carapetian Group Realty makes no warranty, express or implied, nor assumes any legal liability or responsibility for the accuracy, correctness, completeness or use of the information provided. Opinions are based on our own calculations and fair market value is as determined by us.