As an investor in Toronto real estate, the best way to make long-term gains is to track gentrification and recognize what's trending before it's hot. I'm like the Anna Wintour of real estate, especially when it comes to finding you an affordable Toronto neighbourhood.
Buying real estate in up-and-coming neighbourhood that's on the verge of taking off is the best way to buy low and sell high. I've put together this list so that you'll have some insider insight into which up-and-coming neighbourhoods in Toronto to watch out for in 2023.
4 Up and Coming Neighbourhoods In East Toronto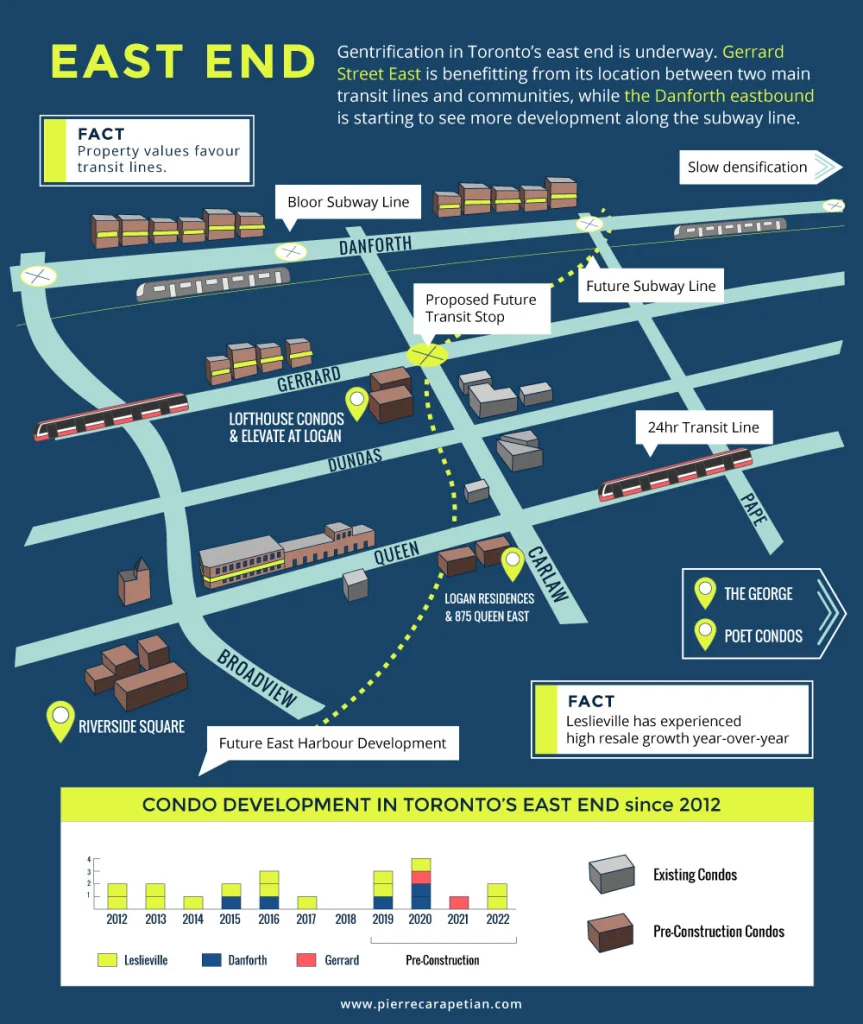 Gerrard St. East
Gerrard Street East is what Leslieville was ten years ago. This up-and-coming Toronto neighbourhood located on the east end of the Greater Toronto Area has seen major transition and gentrification over the last year with new storefronts and restaurants along Gerrard Street East — and it makes sense. It's smack dab in the middle of the Danforth and Queen Street East, both of which have accessible transit lines and much to offer.
Here you can find affordable detached homes and semi-detached homes. I love this neighbourhood for all the vibrancy and culture it has to offer and I see massive potential in its growth. 
In our blog about gentrification, we said, "one of the best ways to tap into growing residential markets is to target areas that are a couple of blocks away from the go-to hot spots that are already developed, in demand, and selling for top dollar."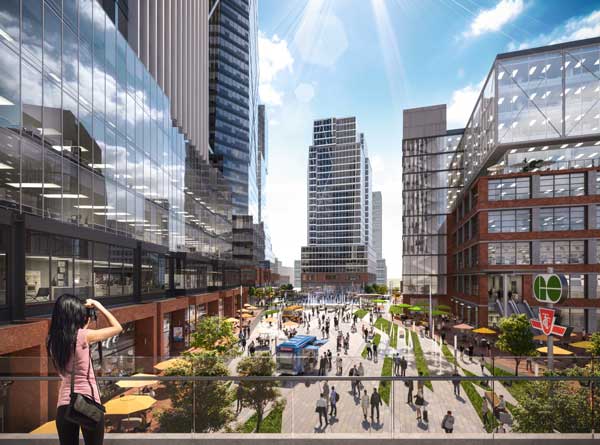 With Leslieville as the best neighbourhood of Toronto's east end, it's no surprise that restauranteurs and shop-owners are looking at Gerrard Street East to set up shop. And they're wise to do so. The real estate here is still affordable compared to other neighbourhoods.
There's also lots in store for Toronto's east end in general with the development of East Harbour coming to the old Unilever site and talks of a new transit stop at Gerrard and Carlaw. If all goes as planned, this stop will serve both GO Transit and a new subway relief line and will bring more growth to the area. Even Gerrard Square Mall is about to get a new subway stop on the newly proposed Ontario Line. All this development is sure to drive gentrification and increase profits for investors and equity for homeowners.
You can read more about Toronto's upcoming transit plans in " Why You Should Invest in Toronto Real Estate: The 20-Year Transit Plan ".
East Danforth
The next up-and-coming Toronto neighbourhood is East Danforth. It recently ranked fourth in Toronto Life's neighbourhood guide! Areas along transit lines are always bound to bring new development and much of the subway's east end is still untapped making it an affordable neighbourhood for buyers who'd like to find a home along the subway line.
There's basically zero current inventory available along the Danforth as it pertains to condos. When you couple this with the intrigue and buzz of the Danforth it really is one of the hottest up-and-coming neighbourhoods Toronto has to offer in 2023.
Over the last years, a few new developments have sprung up here and it doesn't seem to be stopping there. A number of new developments planned are expected to come to fruition over the next 4 years, many hitting the east end of the Danforth. It's only a matter of time before you start seeing more of these residential developments here.
Note: This blog was first published in 2019. Since then, over 9 new buildings (2 of which have launched and completely sold out already) have been planned around the corner of Danforth & Main. Trust us when we tell you that a neighbourhoods is up and coming primed for profits!
Platform Condos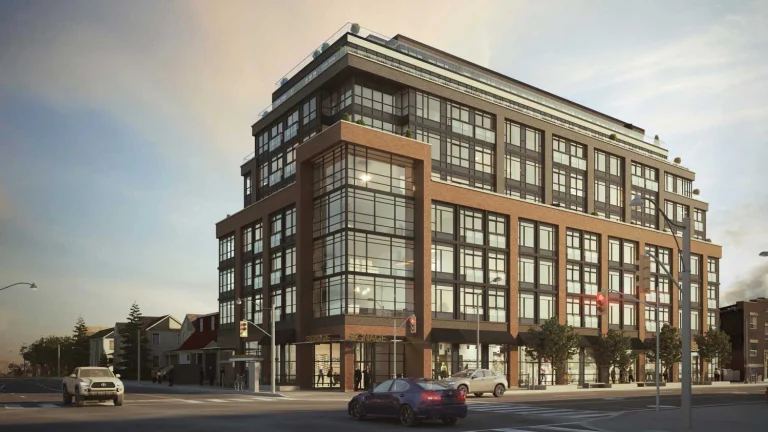 In 2018 we sold Platform Condos at Danforth and Greenwood. This pre-construction launch sold out fast and many of our investors had profit built-in on signing. It's opportunities like this that I advocate for.
When it comes to investing, my clients expect tenured advice and appreciate that I have my finger on the pulse of the Toronto real estate market. I advise on projects with which you can achieve good margins and buildings that I anticipate will have great returns. You can see some of my clients' returns here.
As we mentioned, there are big plans for transit in the east end. In addition to the stop at Gerrard and Carlaw, the subway relief line will also connect at Pape Station and bring you into Downtown Toronto in a fraction of the time. Homes around areas that are set to become more accessible by transit have already begun to see high resale price growth.
As I said, the east end has room to build, in particular, areas east of Pape. To ensure you're always in the loop, become an Insider and you'll get all of the hottest pre-construction launches sent right to your inbox.
Read more on why the TTC's Line 2 is an underutilized resource waiting for new development
Birch Cliff
Following a similar trend eastbound is the redevelopment happening along Kingston Road in the neighbourhood of Birch Cliff. While this might not be the best place to set up shop in the coming years, it's definitely worth a second glance! With its close proximity to the Beaches , it's a natural progression of gentrification. A couple of years ago we saw four great pre-construcion project launches go underway for the Birch Cliff neighbourhood: Terrasse at the Hunt Club, Merge Condos, Clonmore Urban Towns, and Birchcliff Urban Towns.
Clonmore Urban Towns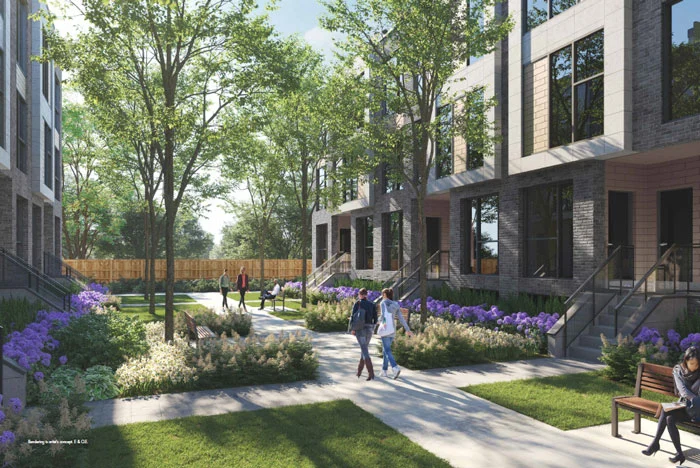 The area is already highly residential and the developments here are maintaining the charm through boutique condos and urban townhomes. A large part of the appeal to Birch Cliff is that it is still very affordable for an area that is only a 20-minute drive to downtown. Clonmore Urban Towns, for instance, has three-bedroom townhomes in the $600's. You just can't find that price in Toronto anymore. If you're looking for a family-sized condo, the Birch Cliff neighbourhood is the most affordable opportunity Toronto has by far.
Scarborough Village
Scarborough is another up-and-coming neighbourhood like Birch Cliff that's worth looking into in case you can't find something that you like in areas like East Danforth & Gerrard Street East. It's an artsy neighbourhood that's gentrifying at a rapid pace. There are lots of new developments planned – Scarborough Town Center being a big one that's gotten everyone's attention. Much like what's happening in Dupont Street with the Galleria Mall redevelopment – there are a couple of mall redevelopment plans like the redevelopment of the Malvern Town Centre that is bound to bring in a lot more residents in the coming years! 
3 Up and Coming Neighborhoods In West Toronto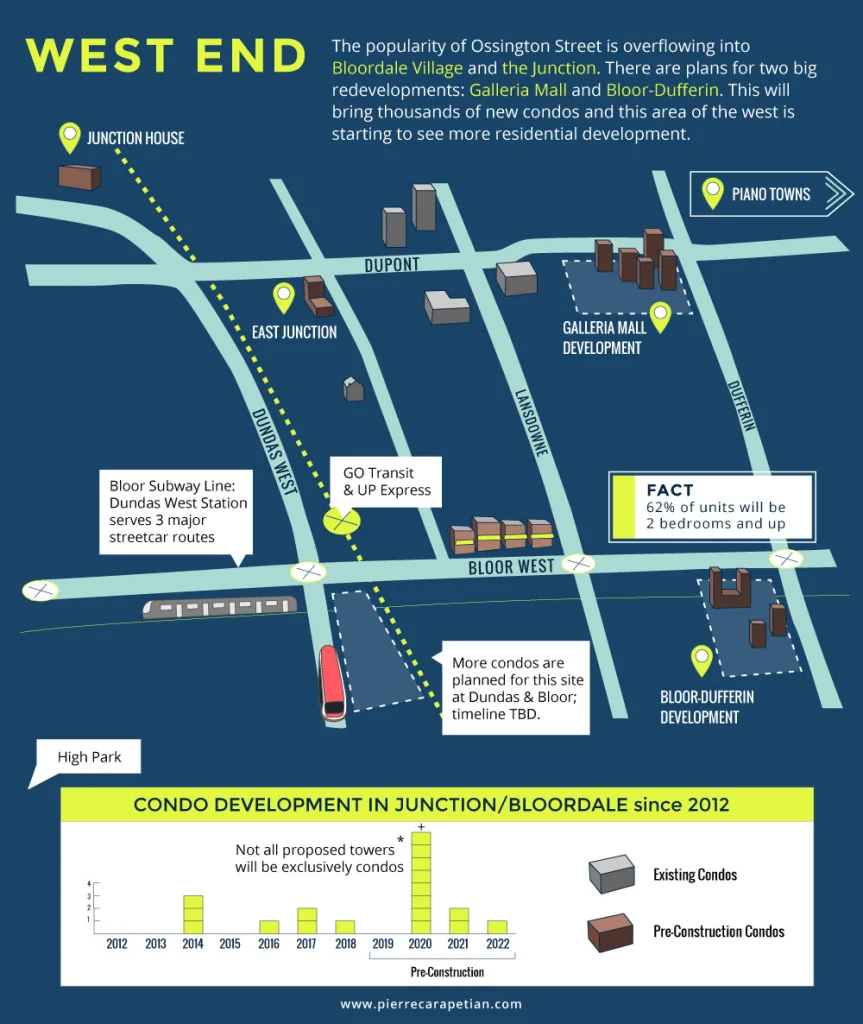 Bloordale Village 
Over in the west end of Toronto, I've got my eye on Bloor West Village – between Dovercourt and Lansdowne. With Ossington being the trendiest street of the city's west end – the bars, cafes, and boutique retailers are overflowing out of the west end of Ossington. Much like Leslieville is bringing life to Gerrard Street East, Ossington is doing the same for this up-and-coming Toronto neighbourhood at Dufferin and Lansdowne.
The corner of Bloor and Dufferin is expected to get a major face-lift. Capital Developments is planning to transform the area by adding new retail and office space, lots of green space, and over 2,000 residential units. They're designing with families in mind. There will be five mixed-use towers all with designated residential space, 62% of the units will be two bedrooms or larger.
Making the area more accessible is always a bonus too. Already located along the subway line, the area is also very close to the Bloor GO Station which services the Union-Pearson Express. You can get to Union Station in seven minutes from here. They've also proposed a future GO Station at Lansdowne and Bloor.
Dupont Street + Junction Triangle
Just north of Bloordoor Village comes Dupont Street – another one of the up-and-coming neighbourhoods on the west end of Toronto. The city has approved the plans for the redevelopment of the Galleria Mall at Dupont and Dufferin. This roughly 853,000-square-foot site will bring eight new residential towers. Of the 2,846 condos being added, 150 will be designated for affordable housing and 50% will be two bedrooms or larger.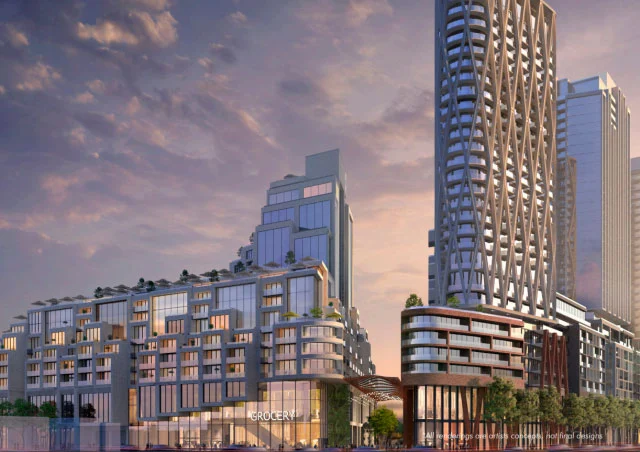 Designed by Hariri Pontarini Architects and Urban Strategies Inc., the plans also include a diagonal street partitioning the residential from the newly designed Wallace Emerson Park, adding a more convenient thoroughfare.
In addition to new retail, office space, and a new and improved 7,500 square-foot community center, they're designing Point Plaza, a centralized gathering space. We've seen this trend in residential projects like Riverside Square coming to Leslieville as well as Mirvish Village and the redevelopment of Bloor and Dundas. Developers are building residential communities, not just condos.
Read more on the Galleria Mall redevelopment project here
We've begun to see condos coming to the west end of Dupont Street. A couple of years ago, Fuse and Fuse2 Condos took occupancy just down the street from Galleria Mall and this past year construction began on Bianca Condos. Other than that, there really isn't much in the way of condo inventory for this area.
When East Junction Condos launched at the end of the summer, it was very popular among investors. Similar to Platform Condos on the Danforth, adding new inventory to an area that's only just starting to show signs of gentrification, the prices to buy at East Junction were the best in the city at the time.
With its proximity to Junction Triangle and Bloordale Village, I'd keep my eye on new developments coming to this area next year. Remember, it's about recognizing where the growth will be ahead of prices rising to match the already established Toronto neighbourhood values.
Junction Triangle is one of my personal favorites. In fact, full disclosure – I personally own properties in this neighbourhood. I believe that this area is undergoing a massive transformation and you almost won't be able to recognize it in 10 years' time!
St. Clair West
The pocket from – Spadina to St. Clair – and – Yonge Street to St Clair – has a reputation for being one of the most sought-after neighbourhoods in Toronto. It's a very affluent neighbourhood filled with attractive downsizing options, particularly in Forest Hill and Summerhill. While this pocket may be the best place to be on the west end, to the west of St. Clair – from Bathurst to Dufferin and beyond – I spy another up-and-coming neighbourhood that's going to benefit from all the opulence and luxury that's developing around it.
This little pocket has been growing for a while now and while not there yet – I suspect that it's right on the precipice of a boom! Recently, a couple of low-rise, boutique condominiums were completed in this area that saw great demand.
Further west along Bathurst Park, there is a new proposal coming in for some ultra-luxury real estate projects. This little street is slowly but steadily taking on the likeness of its more affluent, sought-after neighbourhood. The entire neighbourhood – homes, and condos – are becoming more posh and luxurious – almost as if to keep up with all the new luxury real estate developments!
If I were you, I'd be keeping close tabs on properties being listed in this neighbourhood.
Bonus: One Up and Coming Developing Area Around Toronto
Unionville, Markham
I primarily focus on neighbourhoods around core downtown Toronto. But I just had a listing in Unionville, Markham that went bananas. Honestly, despite my years of experience, I did not see this coming. The listing got 100+ showings in a week, receiving 19+ offers and selling for a record price in the neighbourhood!
I confess – I have some homework to do. I have a lot to learn about the real estate market in Toronto's suburbs. But here are my takeaways about the neighbourhood from my experience listing there:
There's a massive demand for real estate in this neighbourhood that's not matched by the supply. Going by my research, there are no major developments slated for this neighbourhood in the next 4 years. As a result – I do envision bidding wars for properties listed here in the coming future!
Identifying Up and Coming Neighbourhoods In Toronto
How To Identify Up and Coming Neighbourhoods In Toronto?
This is not a science. There are a number of factors that decide the fate of a neighbourhood. But here are a couple of things that I look at to find up and coming neighbourhooods in Toronto: 
Look for areas with new, developing, or upcoming infrastructure projects such as new transit lines, highways, bridges, or malls. New projects often attract new developments and businesses – which attracts new residents to the neighbourhood. 
Keep an eye on neighborhoods with strong cultural and artistic scenes. Young professionals and creatives are attracted by the vibe of these locations and this sometimes leads to the gentrification of the entire neighbourhood.  
Research areas with lower crime rates, good schools, and access to public amenities such as parks, libraries, and community centers. These factors tend to attract families and may lead to long-term growth and stability in the area.
Observe the presence of popular chain stores, particularly Starbucks locations. These chains often serve as indicators of gentrification and may signify that an area is on the rise. In case you're curious, we have an entire blog on the 'Starbucks Gentrification Effect' and believe me – I have seen it in practice in real life! 
Is It Worth Investing In Real Estate In Toronto?
Yes, I repeat investing in real estate is still worth it in 2023. I have been saying it for a while now and in April 2023 – we finally saw the market rebound and touch pre-pandemic levels. There is a clear mismatch in demand and supply that can be a boon for real estate investors. Toronto's popularity is growing, 2023 is the record year for the number of immigrants and most importantly – the market is protected by stringent lending guidelines. 
I cover all of this and more in my blog 'Real Estate Investment In Toronto: Is It Profitable In 2023?'
Final Words
Well, that's a little sneak-peak of what our Insiders get. If you liked the content, sign up as an Insider or book a call to have more of my hand-selected picks meet you in your inbox. 
Full disclosure: I always look for projects that are primed for profit and will never advocate for something that I wouldn't buy myself.