There are a number of reasons why it's a great time to invest in Toronto real estate, our planned transit infrastructure is just one of them. Today I discuss why these planned additions will continue to positively impact the Toronto real estate market.
1) Toronto is a world class city with a growing population

The Toronto Region's population base is one of the fastest growing in Canada. Toronto has more than twice the proportion of recent immigrants (8.4%) as Canada (3.5%) with approximately two million more expected by 2023. In Toronto those are typically highly skilled workers that will need housing downtown and this will continue to put pressure on Toronto's rental market.
2) Rental prices in Toronto are high

Despite the good intentions of the Rent Control Act, Toronto has recognized increasing rents due to the low vacancy rate and heightened rental competition. Renters love properties on transit lines and if you're purchasing a small unit for investment a parking spot won't be necessary.
3) Property values favour transit lines

We know first hand that properties on Toronto's transit lines sell for higher than their less accessible counterparts. The areas set to become more accessible by transit have already begun to see high resale price growth. We expect this to continue and so does one of the mayoral candidates who while campaigning for a transit addition actually said property values in the areas around the future transit addition would rise. So much so that the additional property taxes would fund the build of that future transit line.
Read the entire post on "Why it's actually a good time to invest in the Toronto Condo Market"
 As our city rapidly grows in population, our transit lines and highways are becoming increasingly congested. Below are four projects that are set to bring relief to commuters and profit to investors. Note: Premier Doug Ford made an announcement on April 10, 2019 regarding the province's new Toronto Transit Plans which directly affect the Relief Line South, mentioned in this article. To read the updated Toronto Transit Plans click here. It is unclear whether Smart Track and the Waterfront Transit Line are still in the 20 year transit plan for the City of Toronto.
Over the next 20 years, there are four major transit projects for Toronto:
Eglinton Crosstown LRT [2023]
SmartTrack [2025]
Relief Line South [2028-2032]
Waterfront Transit Line [2033-2037]
EGLINTON CROSSTOWN
The Eglinton Crosstown LRT Transit line is currently under construction and is expected to open by 2023. The 19 kilometre stretch along Eglinton between Weston Road and Kennedy Station will have 25 stops, ten of which will be underground. They say that the Eglinton Crosstown will be 60% faster than commuters' current travel time. In addition to connecting the city to attractions like the Ontario Science Centre and Aga Khan Museum it will also link to 54 bus routes, three TTC subway stations, the UP Express and three GO Transit lines.
In anticipation of the new transit line, the area along Eglinton has seen an increase in proposed developments that are slated for completion after the LRT line opens. As Toronto's downtown core gets denser, developers are turning to areas like Eglinton to add much needed residential inventory. The Cardiff is one of the projects currently in the pre-construction phase between the future Leaside and Mount Pleasant LRT stops.
At the end of May, City Council approved the plans to extend the Eglinton LRT to Scarborough's Malvern neighbourhood. The project extension would likely cost an additional $400 million. City transportation staff will have a more detailed plan to present on this extension early next year.
Read Toronto's plans to turn the Hydro Corridor into a 16km long park
SMARTTRACK
John Tory's Get Toronto Moving campaign has largely revolved around SmartTrack. It was announced in May that the City of Toronto will pay $878 million of the $1.46 billion price tag to bring the six SmartTrack stations to fruition by 2025. The remaining funds will likely come from the federal government's transit fund.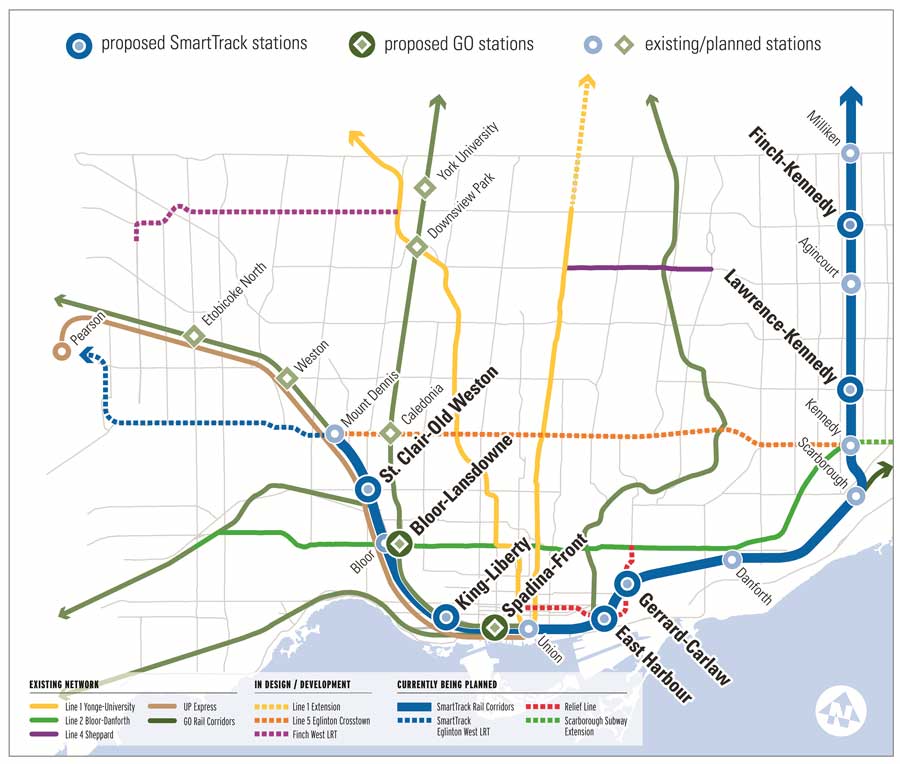 SmartTrack will utilize the current Metrolinx Go network for more frequent service. The six new stops will be at 
St. Clair & Old Weston

King & Liberty

East Harbour

Gerrard & Carlaw

Lawrence & Kennedy

Finch & Kennedy

 
The development of East Harbour at the old Unilever site will become a significant transit hub for Toronto. With the addition of roughly 50,000 new jobs that is said to accompany the development, the addition of the SmartTrack stop along with the Relief Line (more on that next), will be invaluable to the area's changing landscape.
We've sold over 50 suites at Riverside Square, a development which is in close proximity and will greatly benefit from the addition of the SmartTrack and Relief Line. Another phase of Riverside Square was just announced that it will launch later this year. If you want access make sure to sign up as an Insider here.
RELIEF LINE SOUTH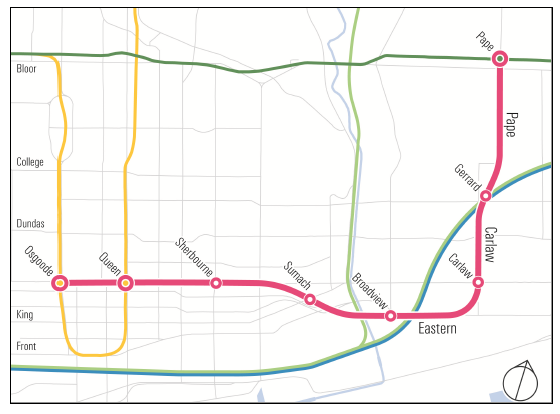 The Subway Relief Line South is the highly anticipated 7.5 kilometre subway addition connecting Line 2's very busy Pape Station running south through Leslieville before heading west to connect to Line 1's Queen and Osgoode Stations.
The new proposed stations will be at Gerrard and Carlaw, Carlaw and Queen, East Harbour, Sumach and King, Sherbourne and Queen before passing through Line 1 along Queen.
East Harbour is going to transform the east end. The redevelopment of the 60 acre Unilever industrial site will soon be home to 12 million square feet of retail, office space and, of course, a brand new transit hub. 
This new transit hub will feature a new SmartTrack stop, an extension of the Broadview LRT, the future Queen's Quay LRT and the downtown subway Relief Line. This development will serve as the biggest transit hub beyond Union Station, servicing both local and regional transit lines.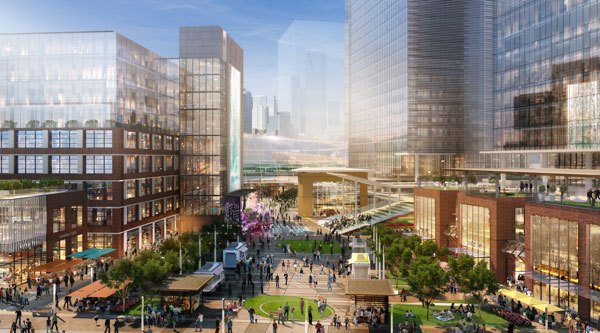 The highly anticipated Wonder Condos —the first hard-loft conversion Toronto has seen in nearly a decade — is expected to launch this fall. Located at the old Weston Bakery adjacent to the East Harbour site, this is an investment opportunity that you do not want to miss out on.
WATERFRONT TRANSIT LINE
The city has been spearheading a variety of projects in an effort to reconnect Toronto with its waterfront. The biggest undertaking so far to move these plans forward is the rerouting of the Gardiner Expressway. City Council passed the motion to reroute the east Gardiner north along the rail corridor, effectively opening up waterfront area and allowing for better use of the land below.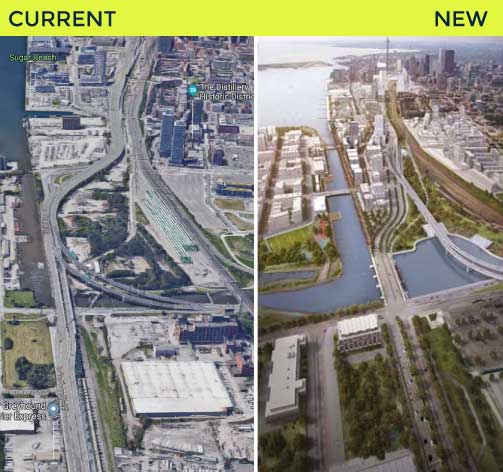 On the transit front, there is a four phase transit reset proposed to connect Woodbine Beach to Long Branch servicing the waterfront area that is home to so many cultural and recreational events. The phases are being executed from west to east due to higher ridership in Toronto's west end.
The plans include several sections between Bathurst Street and the Humber Bay Shores to have newly designated LRT right-of-way areas as well as general operational improvements. The design and proposals for the Waterfront Transit Line are still in early stages but the improved waterfront LRT system will connect to Woodbine Beach, East Harbour, Union Station, Exhibition Place and Long Branch.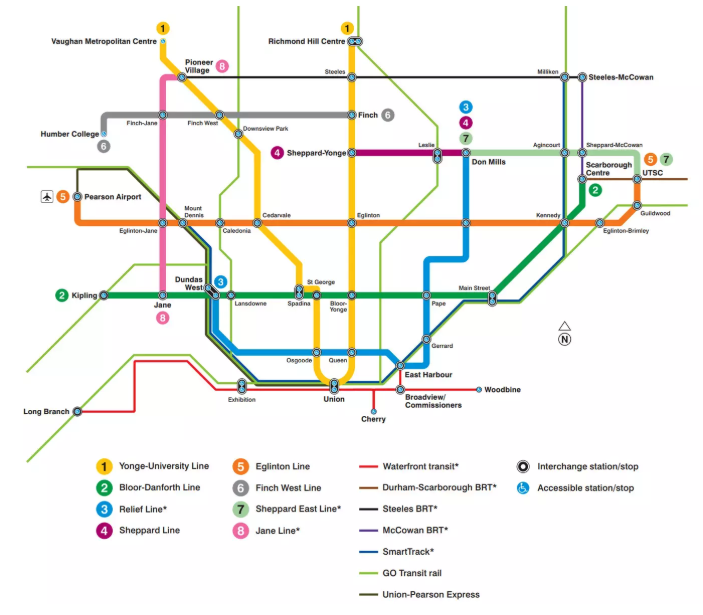 We're excited for the potential these new transit lines offer commuters. As investors though, we're excited about the impact they'll have on real estate. We know that prices favour locations on transit lines, so expect the value in these areas to rise.
If you want to learn more about investment opportunities that we're launching book a call with me and we'll run through how these areas are primed for profit and what buildings I'd recommend you invest in. Book a call with me today!