In Toronto our homes are neck and neck with our neighbours and sometimes you just want a bit of privacy. However, there are a few guidelines you need to know before you build that fence. Learn the essential Toronto backyard fence height guidelines, fences surrounding residential pools, what materials you can use to build a fence, cost sharing, and even some design trends to elevate this otherwise mundane topic.
HOW TALL CAN I LEGALLY BUILD A FENCE?
In Toronto, residential fences must be no higher than 2 metres from grade. This applies to both the front and backyard fence height. The same fence height regulation applies to uncovered decks capping out at 2 metres high from the deck floor.
If you're looking for the best height for privacy a fence at 2 metres equates to 6.5 feet, so unless you want Wilson lurking over the fence from the nose up, the full 2 metres is probably the way to go.
Not tall enough? There are no height restrictions for residential properties in Toronto who use vegetation as their fence. Shrubs, hedges and the like can be used as a fence and you can let that baby grow as high as you like.
There are some variations to how high a fence can be in Ontario depending on your proximity to a public highway or recreational facility. Click here for the City of Toronto fence detail outline.
GUIDELINES FOR FENCES SURROUNDING RESIDENTIAL POOLS
If you're one of the lucky few who have a backyard pool, you'll want to ensure you're following these city guidelines. Fences surrounding a pool on a private residence must not exceed 1.2 metres in height. For those pools on a multi-residential property, the fence must be no higher than 1.8 metres.
Pool areas must be completely enclosed by a fence with no openings aside from a gate. The gate of the pool enclosure must be self-closing and on substantial hinges. If the gate has an electronic closing mechanism it must have a back-up power system.
The building height is only part of the guidelines, the fence surrounding a pool can't be built any closer than 1.2 metres from the edge of the pool. The fence surrounding the pool can't be closer than one metre of anything deemed climbable. Be wary of the proximity to trees or large rocks in your landscaping.
In order to build the proper fence enclosure for your pool you must apply to the City of Toronto for a proper permit. Click here for more on this process.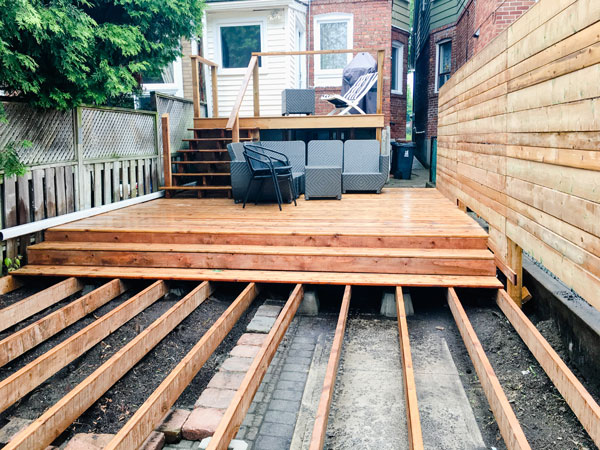 WHAT MATERIALS CAN BE USED TO BUILD A BACKYARD FENCE?
While the common choice for backyard fences is wood, if you were hoping to go against the grain, there are some material restrictions to know about. Your residential Toronto fence cannot be built with:
barbed wire

chicken wire

sharp metal

sheet metal

corrugated metal panels
It's also worth noting that fences built within 2.4 metres of any driveway have to have some visibility and so the materials required to build these fences should be chain-link or something similar.
FENCE COST SHARING TORONTO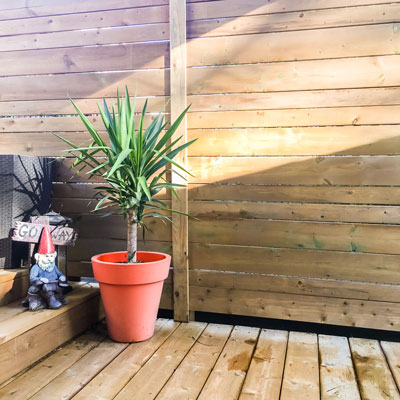 If you are chummy with your neighbours and are interested in building a line fence, you may be able to come to an agreement to split the cost of building a fence. However, there is no obligation by your neighbour to share the cost of a fence that you want to construct.
Be sure to know your property boundaries ahead of building your backyard fence to avoid any disputes. If you run into any issues with your neighbours regarding your fence or think it is within reason that the cost should be shared, the Line Fences Act was created to arbitrate between neighbour disputes.
BACKYARD FENCE TRENDS 2019
Now for the fun stuff. If you want to build a fence in your backyard but don't know where to begin with the design, here is a bit of fence inspo to help frame your backyard with style.
Horizontal Fences
The latest trend we've seen in the city is more homeowners turning their fences sideways. So simple and yet adds a much cleaner look than your average backyard fence. Building your fence horizontally is more soothing compared to a series of vertical slats along the edge of your property.
Black Fences
Looking for something unique? According to Gardenista, black fences are a perfect backdrop for backyards with lots of greenery. This modern approach can set your home apart from the block.
Fences with Built-In Shelves
Whether you're DIYing your own backyard fence or hiring the pros, consider adding built-ins. Whether it's built-in shelves or built-in planters, consider how you'll use your backyard and how the fence can contribute to its function.
While we've highlighted the essential information regarding Toronto fence height regulations and other important details, if you're planning on building a fence in your backyard be sure to review the details in the City of Toronto fence detail outline.