Living in a studio condo may be small but it doesn't mean you need to sacrifice style for space. Living in a small space challenges your creativity and forces you to live efficiently. So how do you make the most of your limited layout? We've got 7 design hacks and 14 ways to use them in order to optimize your studio condo.
1. DESIGNATE SPACES
Living in a studio condo means you're living in a truly open-concept space. By defining the sections of your studio you can actually add value to the space through its design.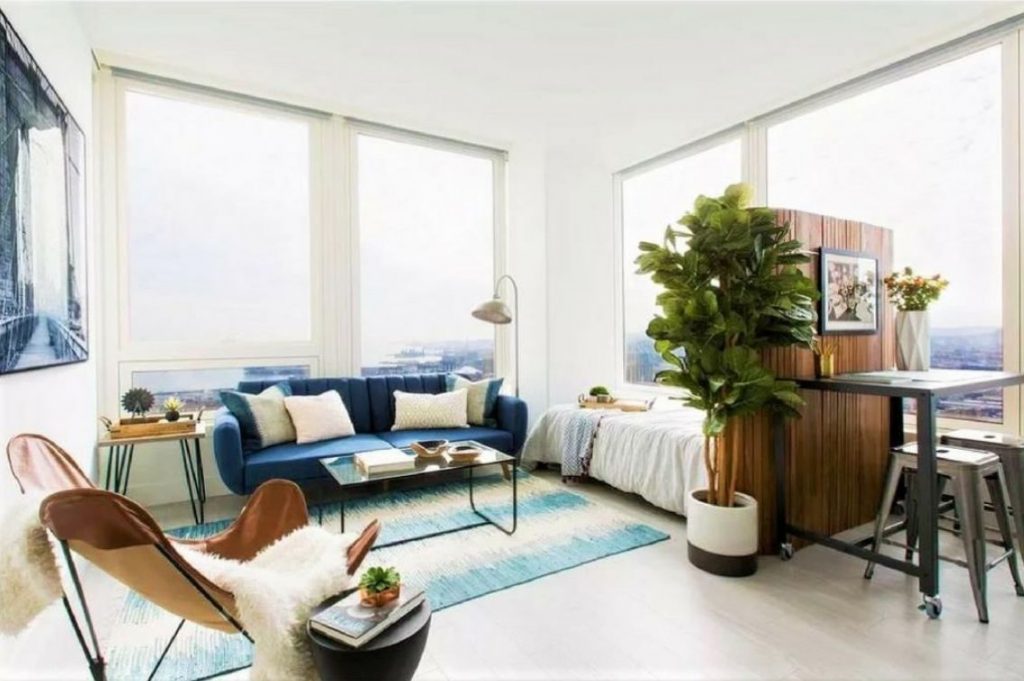 [I] An area rug is an easy way to designate your living area from your bedroom. Aim for a rug that can tuck under the full width of your sofa and any additional seating, if you can have the room. The rug will unify the seating arrangement and define the space. [II] Alternatively, consider painting the wall behind your bed or sofa a contrasting colour to claim it as its own space.
2. INVEST IN MULTIPURPOSE FURNITURE
Investing in furniture that can do double duty will minimize the amount of furniture you actually need and free up some precious breathing room in your small pad. [III] Look for a coffee table that lifts and expands into a dining table. Just because you're in a studio condo, doesn't mean you can't host a dinner party.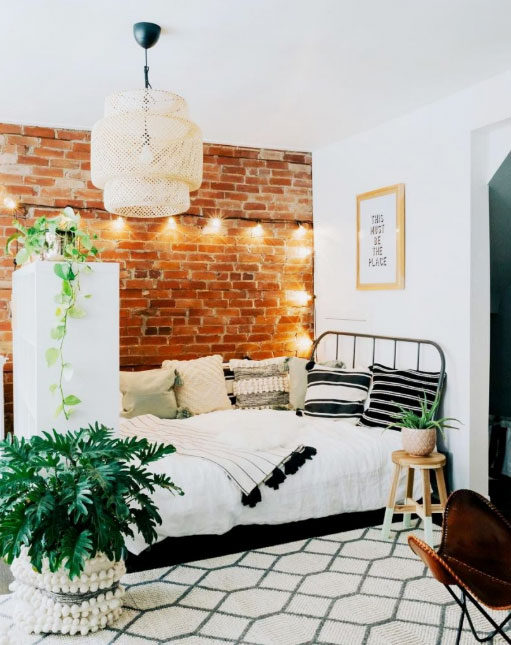 [IV] If you want a sofa that looks chic, there are lots of stylish sleeper sofas on the market that are ideal for studio condos. Unless you're truly disciplined though, you may end up using it as a full-time bed rather than dealing with the hassle of transitioning the set-up each day and night.
[V] If you're looking for something that's trendy but low maintenance, stylist Alexandra Gater turned this studio condo bed into a cozy lounge area with the use of a just a few great throw pillows. The string lights and plants compliment nicely too.
3. LIGHT IT UP
One of the easiest solutions to making small spaces feel large is proper lighting. [VI] If you're fortunate to live in a condo that gets lots of natural light, think about adding a large mirror to reflect some of the light while also adding depth to your space.
[VII] A creative way to incorporate more lighting without sacrificing space are pendant lights or sconces. With so many unique designs out there — and even some great DIY designs — you can get rid of your floor lamp and add some personality to your space while also illuminating any dark corners.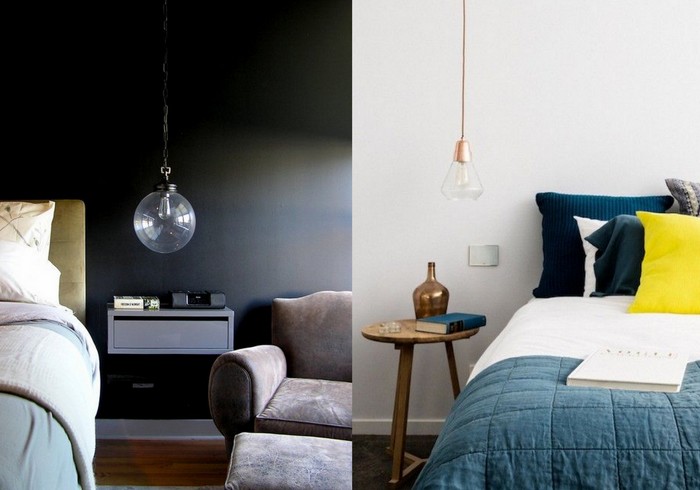 4. NEVER UNDERESTIMATE A GOOD SHELF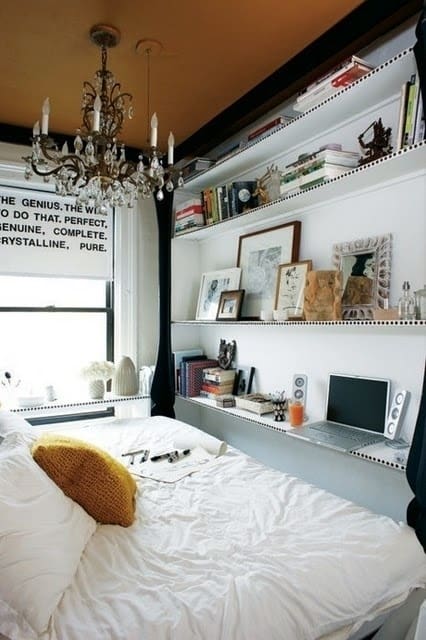 In our continuous effort to get things off the floor, we're taking to the walls. Shelves are a studio-dweller's secret weapon. No matter what spatial issue you're dealing with — there's a shelf for that.
[VIII] For the entryway, get a thin shelf that can be used to throw your mail, keys and other through-the-door junk you want to toss aside. This way you're not reliant on a chunkier item occupying your entryway.
[IX] Get creative and mount a shelf low on a wall and use it as your desk. Locate it close to your bed if it suits the overall design, that way your bed doubles up as a very cozy desk chair too.
[X] If you're looking for more storage solutions, mount shelves above a doorway or inside a closet for more surface area to put things without cluttering your general living space.
5. RETHINK UNUSED SPACES
I challenge you to really look around your studio and take note of the dead spaces within it. They may not be obvious right away but really try and see what areas aren't being used to their fullest.
[XI] Taking a tip from our last suggestion, try installing a shelf across a window near the kitchen and make a dining table or pseudo breakfast bar that can neatly house a pair of stools underneath.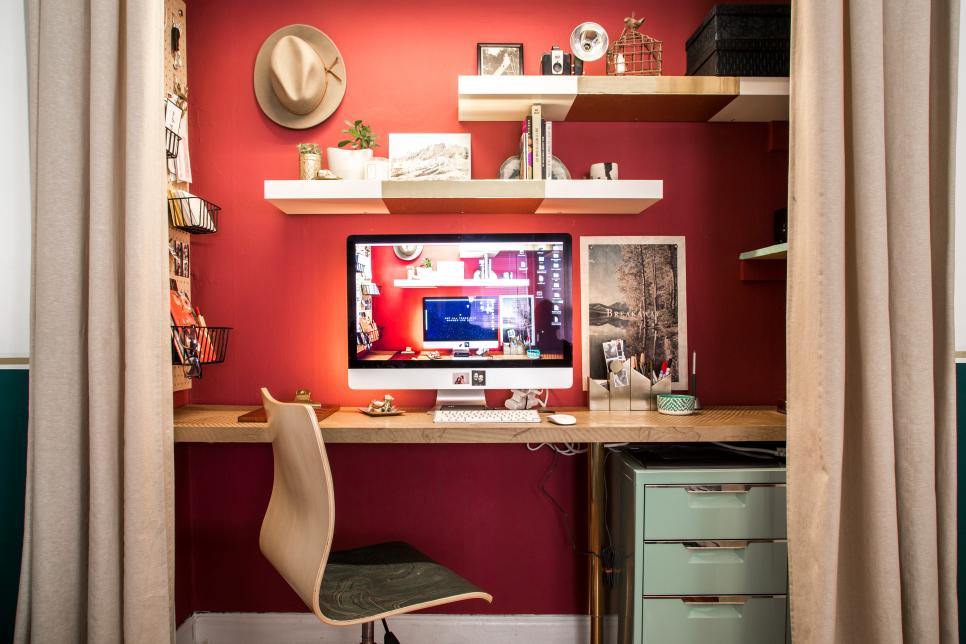 [XII] The genius' at HGTV transformed this individual's closet into a mini-office . By removing the closet doors and adding a contrasting paint colour, they've easily carved out the space. Install a few shelves and a shallow desk and your new office is ready to go. Don't need a home office? This space could also be a vanity, artist studio, or be your entertainment centre.
6. INVISIBLE FURNITURE
[XIII] A popular design trend for condos is lucite furniture. This lucite desk we used to stage a condo at The Carlaw was a fantastic way to furnish the space without cluttering. These aptly-named ghost desks and chairs make spaces feel larger overall.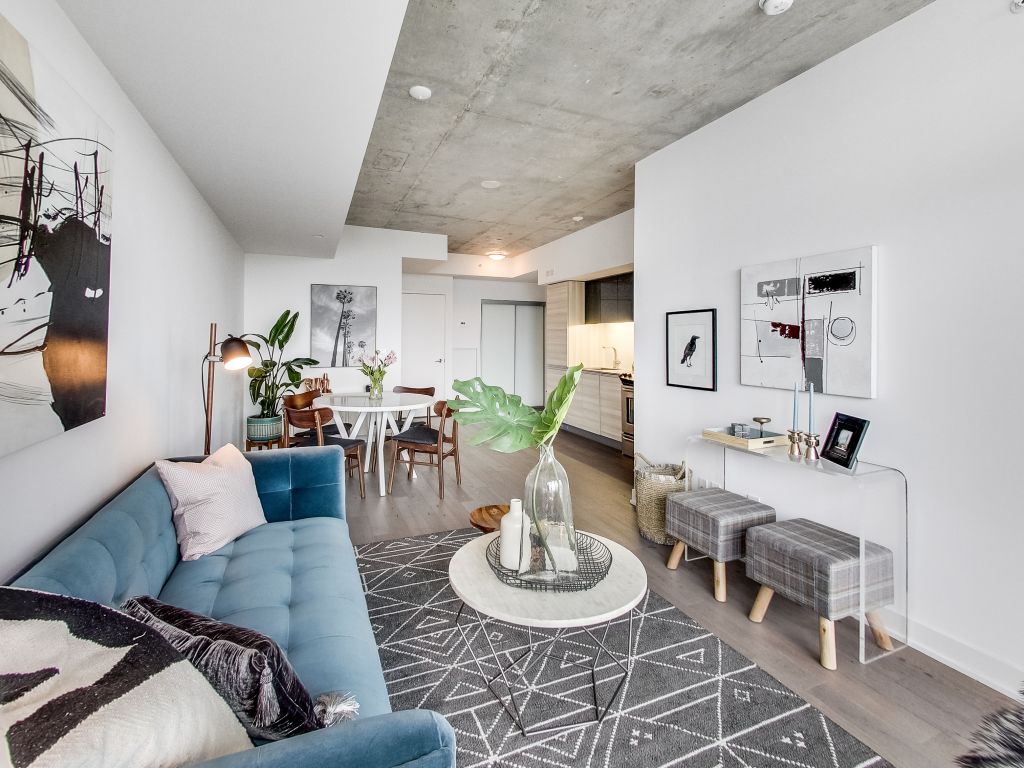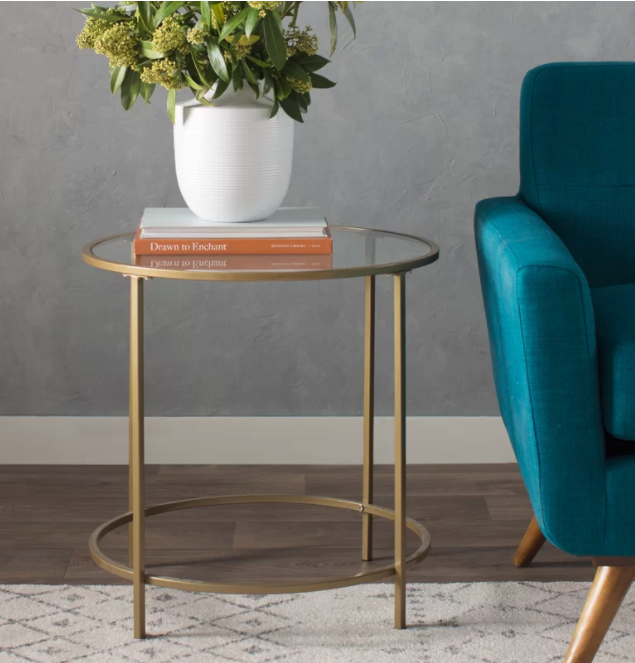 [XIV] Tables like this Casanova end table from Wayfair is a great item to have that appears to take up no space at all. The thin legs and glass top allow your eyes to see all of the space around it.
7. STAY ORGANIZED
The last piece of advice I can provide for you is to keep organized. Your biggest challenge in studio condos is not letting your things take over every square inch of space you have. Less is always more. The fewer things you have cluttering your counters, tables, and desks, the more open your place will feel. Try and make a schedule for yourself by doing a general purge of things you don't use every season. Anytime you have an urge to buy something new, ask yourself, is it a need or a want?
Every studio condo will be different but one thing's for sure, using any one of these design hacks will surely make your studio feel large. Take pride in the space that you have… then get out your pen and paper and see where you can design your studio condo into the spacious sanctuary we know it can be.