1. Earth Tones
Picking swatches reminiscent of the outdoors automatically makes a space inviting and homey. Often times earth tones are confused with neutrals but don't be afraid to go bold. This could mean incorporating colours like rich chocolate brown, wine or ochre as an accent in the room. Leading paint manufacturers have a good grasp on upcoming colour trends. Benjamin Moore thinks that the new decade will bring in a much more vibrant colour palette stating "we've been in the neutral zone for a long time, and we love neutrals, but we feel people are ready to bring colour into the home." Navy blue seems to be taking over and most interior designers are pairing navy with bright colours such as magenta and yellow. Sherwin Williams, another leading paint manufacturer chose Naval SW 6244 as their colour of the year. He states that Naval is the perfect colour to represent the fusion of a "fresh decade of change" and the "inspiring power of nature." If you are someone who generally sticks to neutrals, muted tones such as dusty greens are also gaining traction within the home and will give that pop of colour.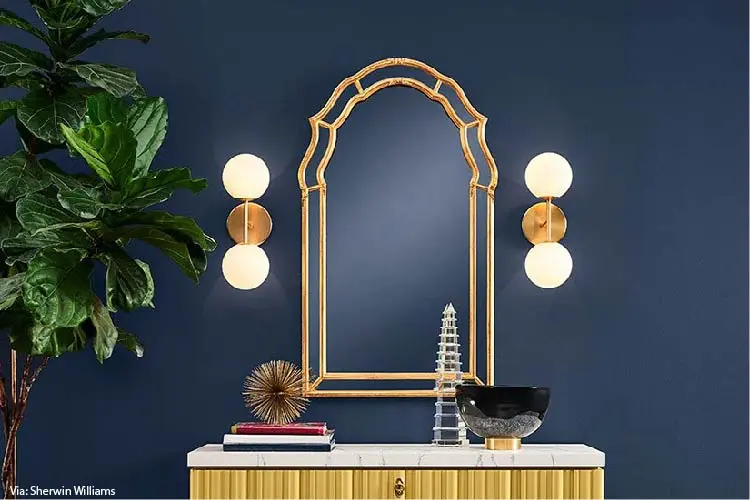 2. Mixed Metals
Mixed metals have been an increasingly popular design trend in 2020. There are different tones of metals such as warm (brass, gold, copper), cool (aluminum, silver, stainless steel) and neutral (cast iron and black metals). Avoid mixing more than 3 types of metals in one room because this may be busy and overwhelming. Neutral metals are a safe choice because they mix well with both warm and cool metals. If you are using one type of metal as a coffee table, use the same metal for the light fixture. This will serve as your dominant metal in the room and will add a cohesive element that ties everything together – similar to how an accent colour works. When you are combining your metals (warm with cool), focus on matching things like texture and finishing to stay consistent.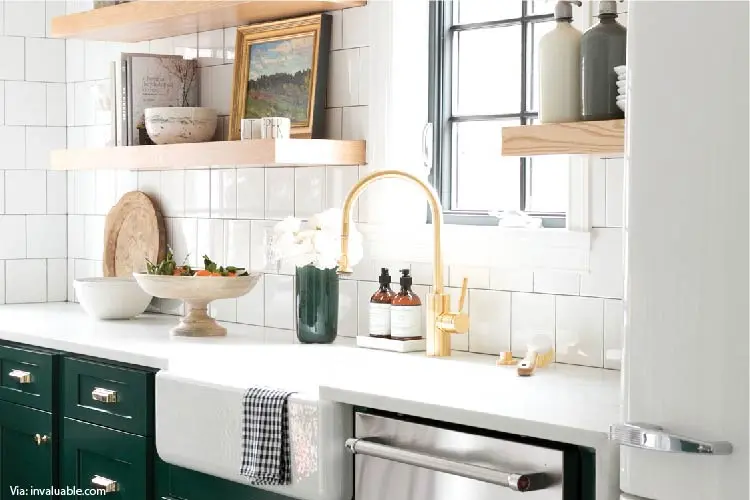 3. Biophilic Design – Integrating Nature
Biophilia is a holistic approach to design that is becoming popular in a society that focuses on promoting wellness and sustainability. According to archdaily.com, "Biophilia is the idea that humans possess an innate tendency to seek connections with nature." In design, we bring in elements of the natural world into built spaces such as water, greenery, and natural light, or elements like wood and stone. Biophilic design not only looks beautiful, it "can [also] reduce stress, improve cognitive function and creativity, improve our well-being and expedite healing." states terrapinbrightgreen  in their article on the 14 patterns of biophilic design. Some core features of biophilia to consider when you are designing your interior include scattered vegetation, blurred boundaries between indoors and outdoors, diffused light, natural scents, proximity to water and the use of natural and local materials.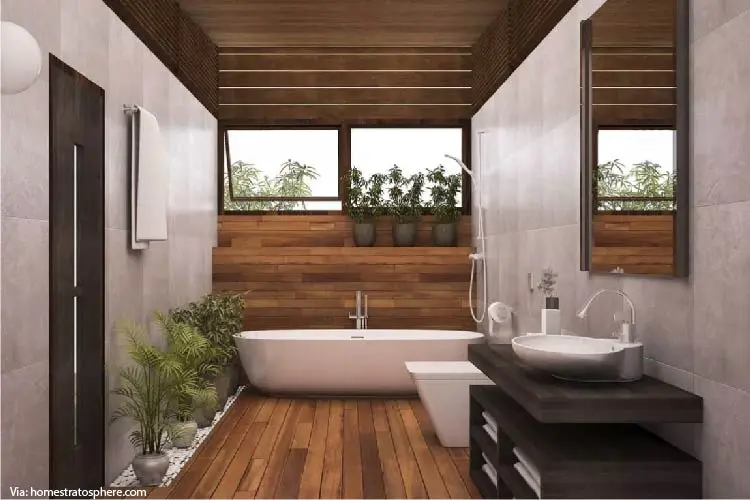 4. Curvy Furniture
Curvy furniture is making its way back in 2020 with a modern twist. Furniture with curves embraces form and shape emulating softness. This trend is strongly inspired by 70's decor and brings in a whimsical and comfortable element to the room without compromising luxury. Curves still pair well with geometric designs so mixing and matching curves and lines will result in a truly interesting space. The curved trend is not just furniture but also includes light fixtures, rugs, paintings etc. Anything emulating waves, circles, and curves will offer a relaxed feel. Alex Sheldon, founder of The Home Stylist advises "to get the look, add a curvaceous statement chair and a retro circular side table to your living room." Achieving this look has become so popular that items that fit the style are easy to find and cost efficient.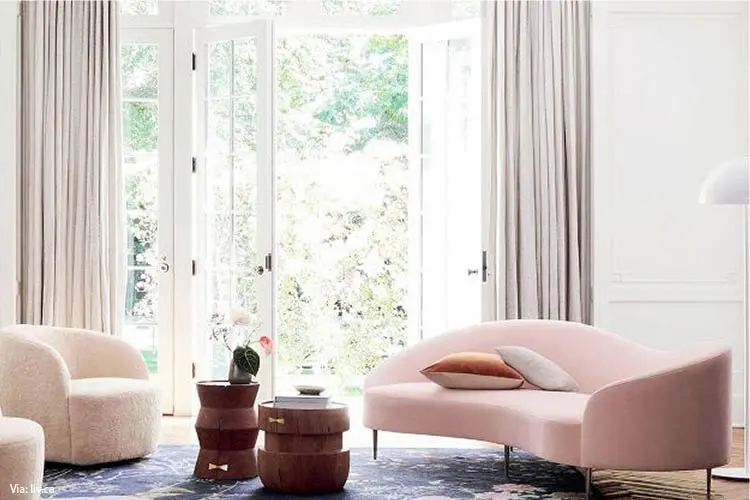 5. Light Woods
Light wood is making a comeback from the '90s. Light wood pair well with all colour palettes and will brighten up any space, especially with the addition of natural light. Another great thing about wood is that it can go in any room and can transform your house entirely. Kitchen cabinet design is starting to move away from solid whites and greys because natural materials introduce warmth and depth. Wood also works well with earth tones and is a strong element in biophilic design. Light wood paired with exposed brick, navy and wicker cane creates a very modern, refined look.
6. Modern Rustic
The term "rustic" is an all-encompassing term for many different design styles. It is a broad term that can mean natural, rough, aged, casual etc. and each of those styles are drastically different from one another. Modern styling for an entire interior with flashy over-styled decor is a thing of the past, but modern rustic is a grounded aesthetic that is becoming increasingly popular. The characteristics of a rustic interior are natural and soothing and the major materials used to achieve this trend are wood and stone. When combining these materials with contemporary furniture and textiles your home will reflect an informal elegance – comfortable and modern living at its best. The "rustic" factor mostly pertains to the interior or exterior build of the house itself. If you are looking to achieve the modern rustic style, it is important to preserve the character and original architectural detail. The modern factor then comes in with your choice of furniture. The best way to present modern rustic decor and furniture is in minimalist arrangements that can be seen and appreciated.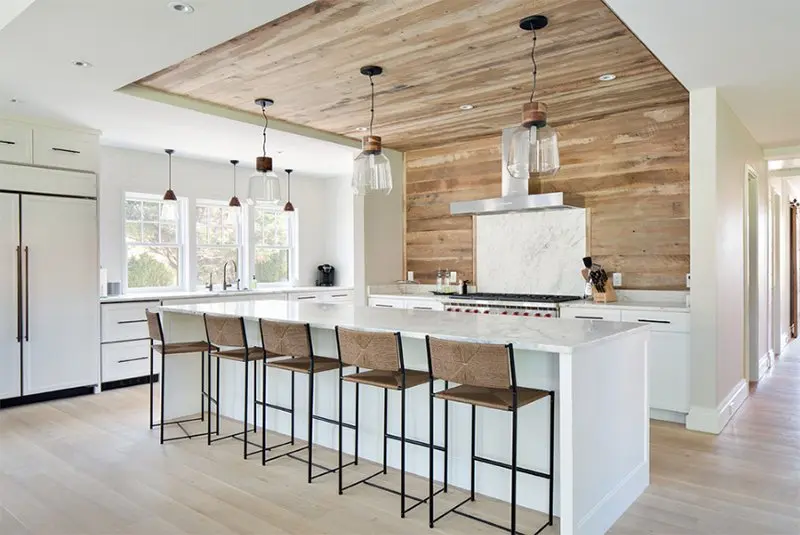 7. Modern Industrial
Similar to modern rustic, the modern industrial style is achieved by combining rustic elements like worn-out wood flooring and brick walls with metal bars exposed from the ceiling and metallic staircases. Industrial elements will look good when balanced with modern fixtures such as shiny metal appliances, Edison-style bulbs and a kitchen island made from wood. The difference between modern rustic and modern industrial is the use of metal and cool colours. Industrial spaces are usually old warehouses or factories as opposed to a modern rustic cottage or log cabin as the foundation of your home. Colours like black, grey and white will provide a sleek minimalist look. Make sure that the function is the focus and use as little furniture as possible to make your space look larger and really focus on the raw attributes of your foundation as the centre piece of your home.