So you've built yourself a nice nest egg by investing in Toronto's real estate market and built yourself a healthy investment portfolio. With the success the condo market has been experiencing, you decide you're ready to add another investment property to your portfolio but the banks say you've reached your lending limit. How do you know if you should sell one of your assets in order to keep growing your portfolio?
"Can we reinvest the money from the sale to make more money than if we held the asset?"


WHEN IS IT THE RIGHT TIME TO SELL?
I'm a strong advocate for not selling an asset unless the profit from the sale is enough that the returns you could gain from reinvesting it outweigh the returns you receive by holding the original asset.
In Canada, our lending guidelines are quite conservative which makes for a safe and stable real estate market and economy but it may occasionally put a hindrance on your ability to grow your portfolio. So if you're at a roadblock with your lender, it may be time to evaluate your investment portfolio.
Sit down with your real estate agent and evaluate each property in your portfolio by comparing the gross value of the assets with the remaining debt on those assets. For each asset you'll want to know:
What is the property's current market value (CMV)?

What balance is remaining on the property's mortgage?

What projected growth will this property earn each year?

How much of your principal will be paid off each year?
Learn how to maximize your financial situation and retire on $10MM
HOW MUCH WILL WE MAKE IF WE HOLD FOR FOUR MORE YEARS?
As an example, let's say one of your portfolio's investment properties in Toronto had been purchased for $300K several years ago and the current mortgage balance is $180K. The property has been building equity in your portfolio for several years and the current market value is now $550K.
How much will you earn if you were to hold this property for four more years?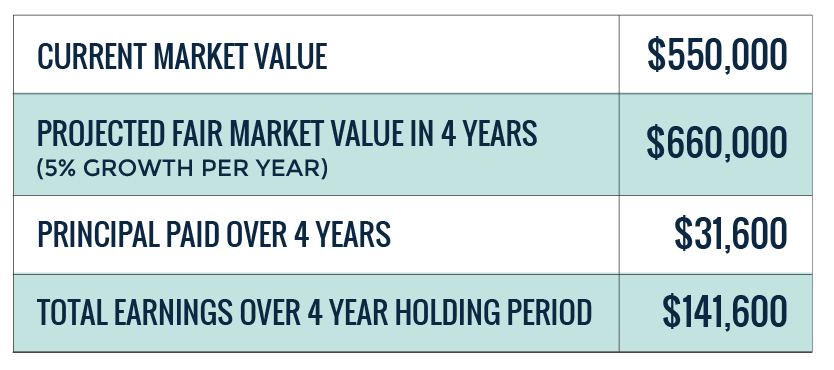 HOW MUCH WILL WE MAKE IF WE SELL?
Holding the asset from the above example for four more years would earn you roughly $141,600. The question you need to ask yourself, "Is there a better way to use this asset in order to make more than the projected $141,600?"
Let's see how much money we'd have to reinvest if we sold that same asset today: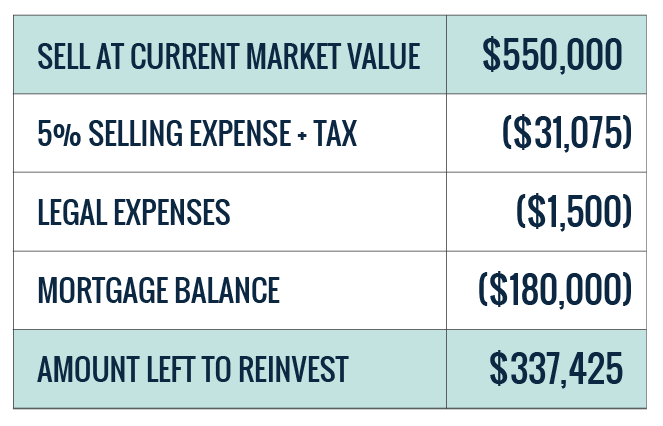 Now, let's assume we re-invested a portion of the $337,425 using our leveraging strategy into two assets that can simultaneously build equity at the same projected growth rate of the market.
Let's break down the earnings we'd make from investing in two $500,000 pre-construction condos from deposit to occupancy (four years):
By reinvesting a portion of the profits earned from selling that original asset, you are actually able to earn 41% more over four years ($200,000 versus $141,600) and you still have $88,525 leftover from selling your original asset.
So the answer to our earlier question is: Yes! We can definitely make more money if we analyze our real estate portfolio, sell that asset and reinvest those funds.
Keep in mind, this is a conservative projection based on Toronto's average historical growth rate. Toronto's condo market has seen year-over-year growth between 5-20% in some cases. Another benefit of selling and reinvesting into two new builds is that when you attain the asset you'll have one of the newest resale buildings in the area. These brand new buildings typically command the highest price per square foot in the area.
It's also important to note that when you invest with us, we're always sourcing lucrative investment opportunities that are primed for profit and will generate great returns. Many of my Pre-Construction Picks have built-in equity on signing; meaning my clients get Platinum Access at prices BELOW today's current market value. See some of the incredible returns I've been able to get my clients here.
WHY YOU NEED A PARTNER
There's a lot to wrap your head around and a lot of numbers to crunch when you're evaluating each property in your investment portfolio. The whole process is like a puzzle and it's critical to have a real estate agent that can help assess the best moves to make based solely on logic and math.
This is why you don't just need a real estate agent, you need a partner. A partner agent knows how the entire puzzle (your portfolio) fits together and knows all of the components that make that puzzle work. A transaction-oriented agent will only know one piece of the puzzle at a time.
Much like an investment banker, a partner agent like myself will analyze your assets and debts to determine the most efficient solutions to best leverage your portfolio in order to maximize your money. In other words – I figure out how to make you the most money using what you already have.
If you're looking to build your investment portfolio and want to discuss your options, book a call with me here. Building wealth through real estate is our business.
Disclaimer:

Pierre Carapetian Group Realty makes no warranty, express or implied, nor assumes any legal liability or responsibility for the accuracy, correctness, completeness or use of the information provided. Opinions are based on our own calculations and fair market value is as determined by us.